Love flying foxes or ziplines? Who doesn't? The speed, the thrill and the teamwork make this playground staple very popular. Where can we find free flying foxes or ziplines in Singapore? We have eight fun play spots where you can find free ziplines or flying foxes play equipments in Singapore!
---
8+ Places With Free Ziplines / Flying Fox Play Equipment In Singapore
West Coast Park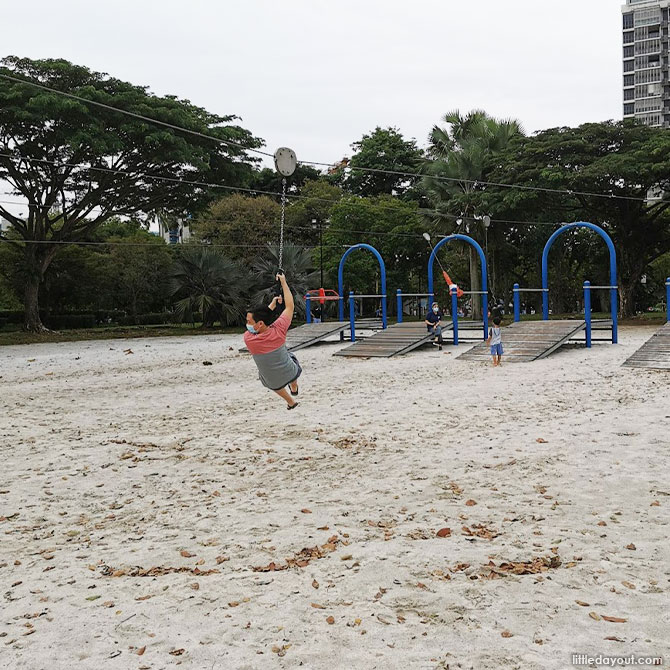 The ziplines at West Coast Park are iconic as there are four ziplines at sandy zipline play area. Located right next to the Pyramid Play Zone, look out for the row of four ziplines stretched across the wide expanse of the sand. The ziplines here are pretty long and sometimes a push is needed to get the child across the entire length.
Climb up (preferably with shoes otherwise you could slip) jump onboard and get ready to jet across the sand! This is one great way to play "The Floor is Lava!"
---
-- Story continues below --
---
Jurong Lake Gardens Forest Ramble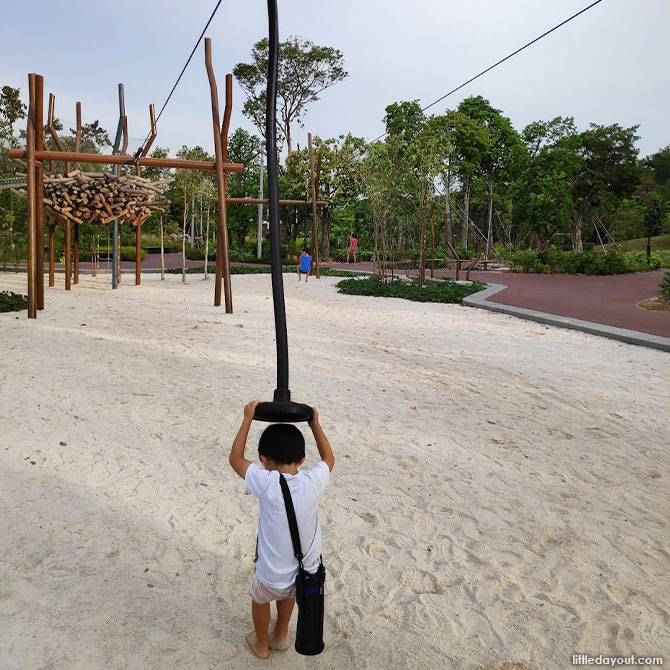 Head to the right side after you enter Forest Ramble and Jurong Lake Gardens and there you will find not one, but TWO flying fox ziplines to try!
Soar through the air as a pair and compete to see who is the faster one to fly across!
---
Pasir Ris Park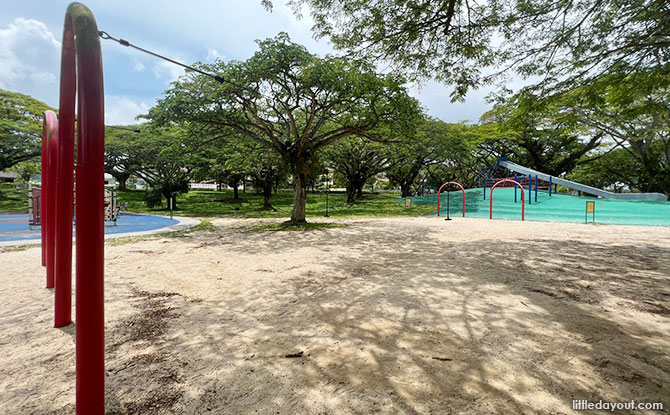 In the East lies Pasir Ris Park which has a beautiful playground full of climbing structures, slides, swings, see-saws and of course ziplines!
There is a pair sitting right next to the tubular pipes and swings.
---
Tampines Greenview Playground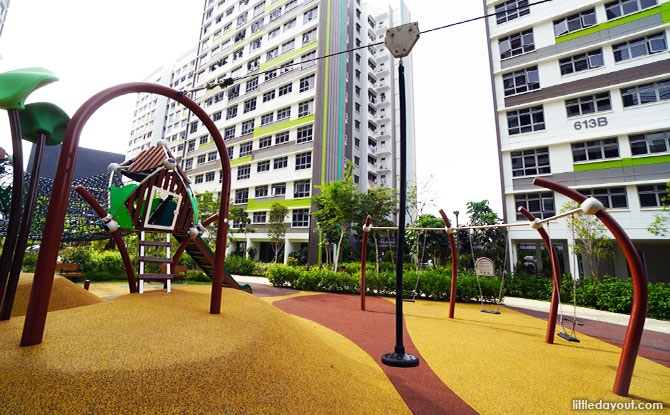 Another eastern gem – Tampines Greenview Playground has plenty for children!
The jungle and plant themed playground has climbing poles, treehouses, swings, hopscotch areas and a zipline that is great for younger children to try.
---
Jacob Ballas Children's Garden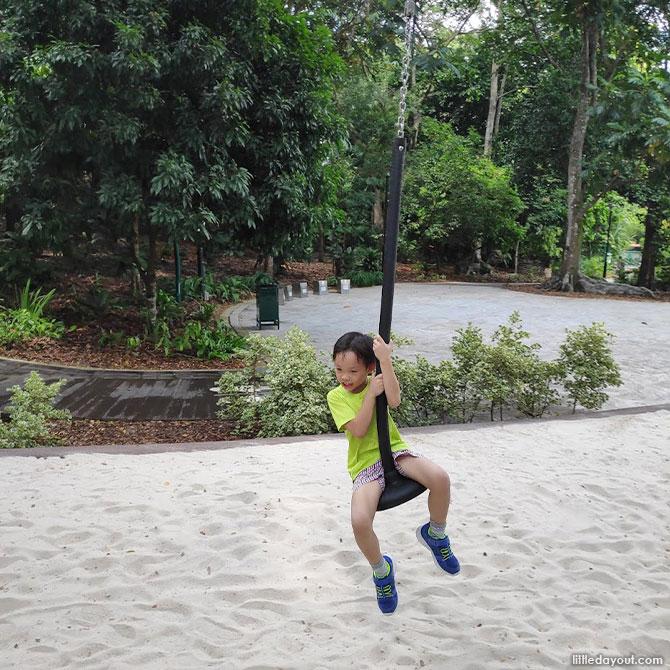 The flying fox is located in the Forest section of this well-loved park.
Look for the playground all about Adventure Play with climbing ropes, suspension bridge on the West of the garden. There is usually a queue here for the Flying Fox so be patient, wait for your turn and get ready to fly!
In our experience the bounce at the end could result in the child flying. So hang on real tight!
---
Watten Heights Playground at Greenwood Crescent
Despite its size, the Watten Heights playground is a well-appointed one with its own zipline!
This hidden treasure in a private housing estate is worth a visit.
---
Hindhede Nature Park
We love Hindhede Nature Park for its tranquillity and mesmerising view of the granite quarry. It is also an easy place to head to for the young and elderly as the paths are smooth and relatively flat. Besides the rich biodiversity you can enjoy, did you know about the zipline?
Nestled amongst the trees is a clearing with a zipline, some tree-like climbing poles and picnic benches. This would make a wonderful spot for playtime!
---
Admiralty Park & Playground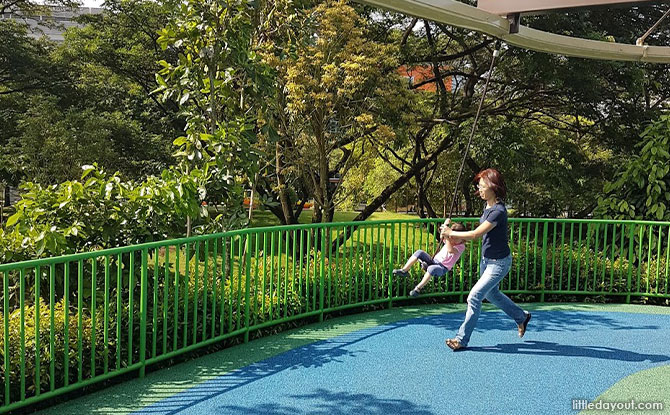 How can we fail to mention Admiralty Park in the north? As inaccessible as it may be, we think it's one of our favourite playgrounds!
It has awesome slides – 26 in total! Aside from that, it has junior play areas, adventure play, suspension bridges and of course a horse-shoe shaped zipline circuit right at the top! There is a start and finish point which helps the children know where the safest start point is.
We would recommend adult supervision for this zipline as the jerks can alarm the children. Others should stand a distance away to avoid being hit by the child zipping around.
---
Play @ Heights Park, Toa Payoh
The latest heartland sensation – Play @ Heights Park has a playground with a flying fox and a huge water play park too! There's something for every member of the family as there is an exercise corner next to this playground too.
---
Ziplines in Singapore to go Wheeeee for Freeee!
Best thing about the 8 ziplines – free of charge! It doesn't cost you anything to try them since they are all located at public playgrounds!
If you know of a free flying fox zipline that is not included in our list, drop us a note at hello@littledayout.com