Pasir Ris Park has always been a favourite getaway in the East. With its idyllic seaside setting, ample cover from mature trees and cool breeze blowing in from the shoreline, it is no wonder that the park has always been a staple of weekend escapes and holiday retreats.
The stretch of park in front of Elias Road is especially known for the Pasir Ris Park Playground. It can be reached by the vehicular road or by the connector at Sungei Api Api.
Just like the park it is located in, the Pasir Ris Park Playground is pretty widely spread out. Each play area provides glimpses of the next, promising something new to explore and discover over just the next ridge.
---
King of the Hill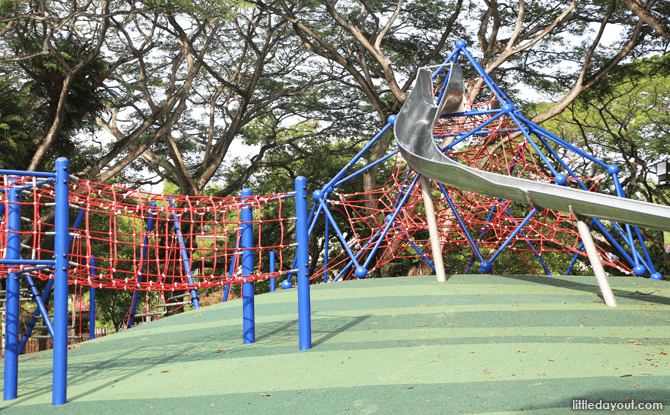 The Pasir Ris Park's playground's centrepiece is a hill ringed with contour lines. Sitting at the top of the hill is a polygonal rope climbing structure. Red climbing ropes cling like a spiderweb to the structure's blue frame. Climbers who make it to the top are rewarded with a silver serpentine slide that takes them from the top of the structure to the bottom of the hill.
Also on the hill is a bright red, rectangular rope tunnel. It cleverly makes use if the hill's slope on one end and has a sloped climbing net on the other.
Kids can also take on another bridge made out of rope and metallic poles.
Facing the hill is a terraced knoll. Three approaches to the hill have been fitted with brightly coloured climbing holds that aid little ones making their way to the top of the knoll.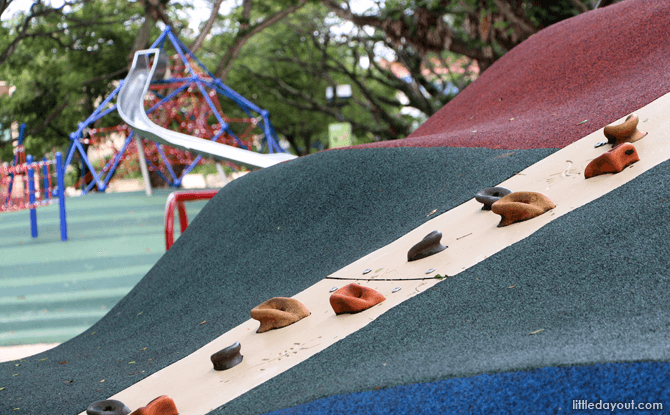 Once there, two slides provide a quick escape back to the base of the knoll.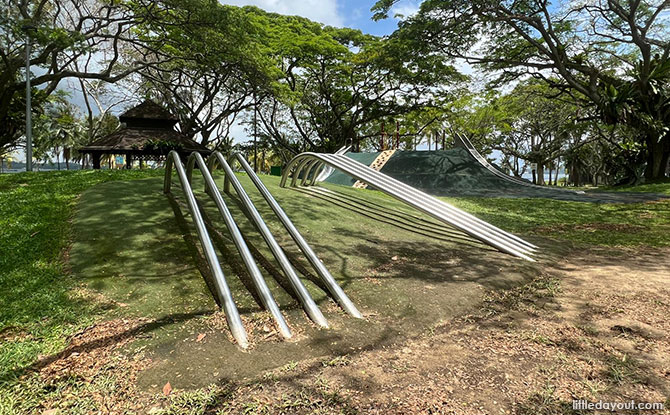 Lying between the hills is an octet of tubular pipes. Behind these is the old Rope Pyramid, an icon of Pasir Ris Park Playground from yesteryear, sitting a bit tiredly under a canopy of trees.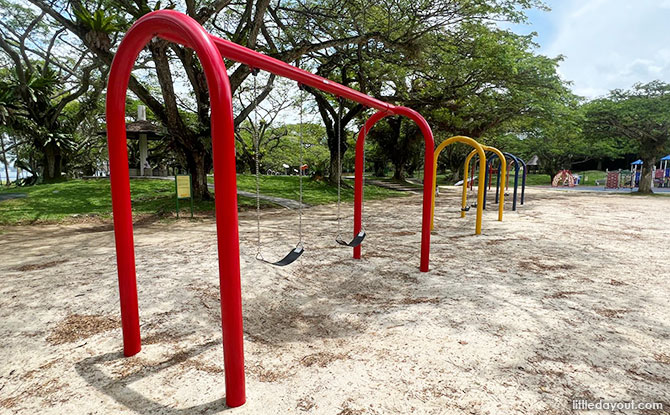 Also at this play area are swings.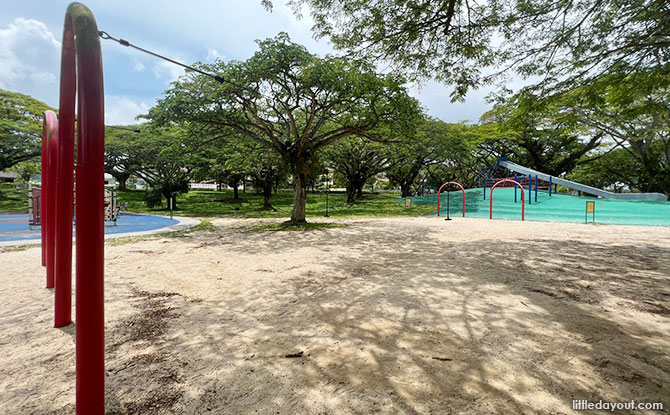 There are also zip lines where kids can take turns whizzing back and forth.
---
Transport Playground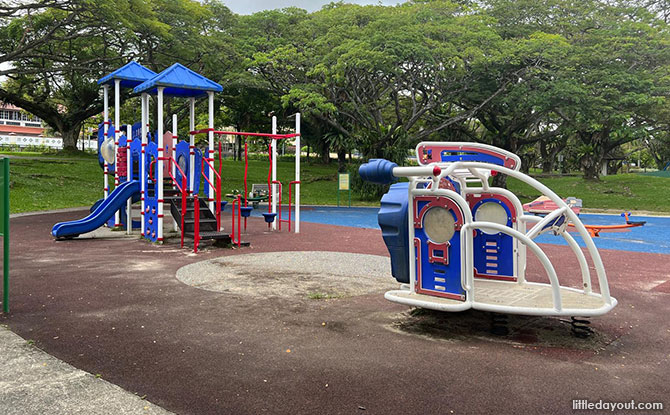 Next to the "King of the Hill" play area is another fitted with soft foam flooring. The theme here is vehicles and all things in motion. A space ship sits eagerly awaiting a crew of young astronauts and there is also a spring swing disguised as a hydroplane.
Carrying on the vehicular/transport theme, the area's main play structure is also fitted with a steering wheel and dashboard for imaginative play. There are also two see-saws, a four-seater and a two-seater, and two climbing structures here.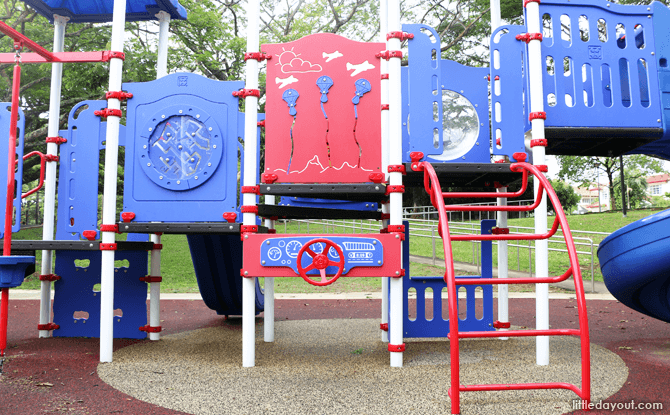 The Transport Playground nicely complements an older one, just up the hill, which also has a transport theme with a sailing ship and smiley-looking fire engine.
---
Bridge to Nowhere
A suspension bridge with a single central pylon stands close by. Anchored on both sides to the ground, the bridge promises wobbly fun for kids of all ages.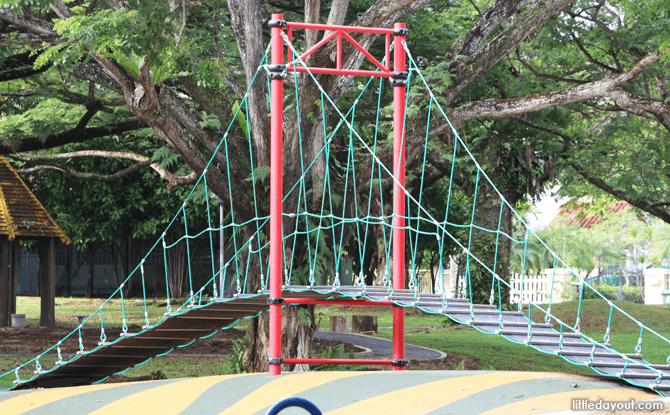 Closer towards the sea, are the older play areas.
At the Music Play Area, Children can beat away on drums and create their own symphony of music.
A stone's throwaway is the Galactic Play Area where futuristic "wind-turbines" climbing structures are interspersed with planets peeking out from the ground. There are even two merry-go-rounds disguised as giant satellite dishes where kids can go spinning till they start seeing stars.
Pasir Ris Park Playground probably has the highest number of swings in any playground around Singapore. Just beside the Galactic Playground are another eight swings, perfectly located facing out towards the sea. Two of these are fitted with bucket seats for toddlers.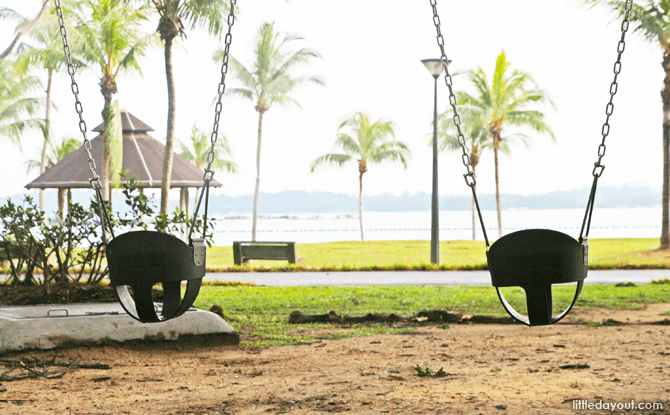 If that's not enough, there is also a little maze for little ones to play in.
The park has many well-shaded areas skirting the playground's perimeter. This allows parents and caregivers to relax under the shade while keeping an eye on the kids. A set of public toilets are also conveniently located nearby. The sandy beach and a wonderful view of the nearby kelongs offshore await.
With such a perfect setting and with its reopened playground, it is therefore no wonder that the Pasir Ris Park Playground is a perennial favourite with families and looks set to be for a long time to come.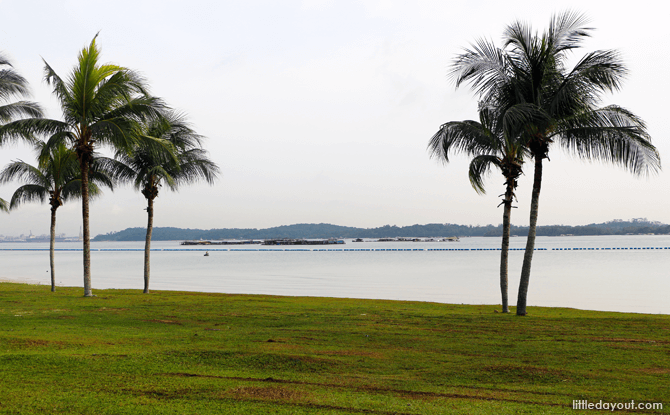 ---
Little Day Out's Pasir Ris Park Playground Map
We know that the Pasir Ris Park Playground is pretty sprawling so we've done up a simplified map of the places mentioned above (not to scale of course). Download Little Day Out's Map of Pasir Ris Park Playground by clicking on the image below.
---
Getting to Pasir Ris Park Playground
Pasir Ris Park Playground is located along Pasir Ris Road, near the Pasir Ris Sea Sports Club. Vehicles can enter in through Elias Road. Those who are walking can also reach the park via Sungei Api Api Park.
Bus 403 from Pasir Ris Interchange stops in front of the playground.
See a location map here.