Singapore is amazingly family-friendly and there are plenty of things to do in Singapore with kids. From big-time attractions to outdoorsy activities to iconic playgrounds, there are countless kid-friendly activities and places for families with young children to explore around Singapore.
---
52 Things to Do in Singapore With Kids
Looking to plan your next day out? Here is our list of 52 things to do in Singapore with kids, one for each week of the year, so that you can enjoy year-round fun.
---
#1 Press Noses with Animals at Singapore Zoo
A place where animals become more than simply pictures in a book, Singapore Zoo is a wonderful place to introduce children to the animal kingdom in all its shapes and sizes.
---
#2 Enjoy Fun with Nature at Jacob Ballas Children's Garden
Kids can explore a nature spot created especially for them at Singapore Botanic Garden's Jacob Ballas Children's Garden. Learn about plants and have fun with the play equipment found in the garden.
---
#3 Swoosh Down the Slides at Admiralty Park
Admiralty Park, located at Woodlands, is the ultimate slide park. It has more than 20 slides for kids to ride on and enjoy. You'll also be amazed at the variety of slides found at the park.
---
#4 Experience the Tides at Clusia Cove
Clusia Cove at Jurong Lake Gardens is a water play area that mimics the ebb and flow of the tides. Wade through channels of water and play on a little "beach" and enjoy some watery fun. For more fun things to do in Singapore with kids, you can head over to Forest Ramble, the nearby children's play area, too.
---
#5 Hang Out on the Canopy Web at the Learning Forest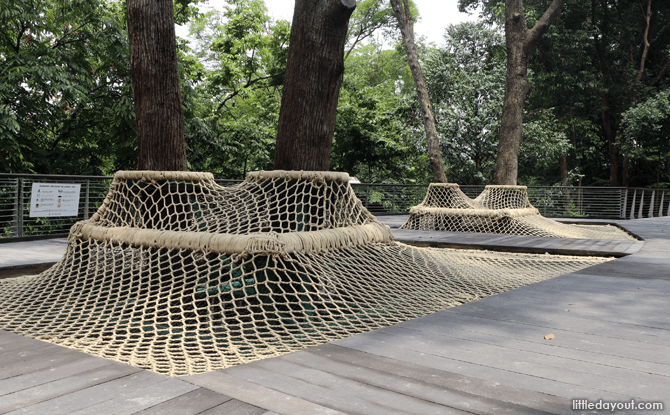 Venture into the SPH Forest of Giants at Singapore Botanic Gardens' Learning Forest and get up close to one of the towering trees at the Canopy Web. After that, venture to the Keppel Discovery Wetlands and learn about the habitat and creatures that live there.
---
#6 Get an Art Introduction at Keppel Centre for Art Education
Have an art encounter at National Gallery Singapore's Keppel Centre for Art Education where various rooms feature hands-on, art-related activities. While at National Gallery Singapore, be sure to complete your visit with a tour around its various galleries too.
---
#7 Scramble Through Rope Obstacles at Pasir Ris Park Playground
Looking for outdoorsy things to do in Singapore with kids? Take on the rope obstacles such as a tunnel and pyramid at the sprawling Pasir Ris Park Playground.
---
#8 Power Up the Machines at Diggersite
Kids can get behind the controls of actual construction machinery (under supervision, of course) and take part in hands-on challenges at Diggersite in Yishun.
---
#9 Go Bird-spotting at Kranji Marshes
Climb the Raptor Tower or duck into the Swamphen Hide at Kranji Marshes. Stay still and try to spot the birds that call the Kranji Marshes home.
---
#10 Participate in a Quiz Game at S'pore Discovery Centre
Discover the quirky things that make Singapore what it is at S'pore Discovery Centre. One of the activities includes a quiz game that tests participants' knowledge about Singapore. There is also a movie theatre and 4D ride at this westside attraction.
---
#11 Experience A Digital World at ArtScience Museum's Future World
At the FutureWorld exhibition at ArtScience Museum, kids get to play with interactive projections and digital art installations. They can also pick up the Into The Wild mobile device and play the part of a ranger protecting the rainforest and its inhabitants.
---
#12 Man the Fire Hose at a Fire Station Open House
Head out to the fire station on Saturday mornings to watch demonstrations by firefighters and even get up close to their operational equipment. This activity is one of the must-dos when it comes to things to do in Singapore with kids.
---
#13 Pedal Go-Karts at the Park
Get behind the wheel of a pedal go-kart at West Coast Park and take on the turns at a "driving course" at the park.
---
#14 Send a Kite Soaring into the Sky
Pick up a kite and head to a breezy spot in Singapore where you can fly a kite. Our favourite kite-flying spot is Marina Barrage's Green Roof with its splendid view of the city.
---
#15 Lace Up the Shoes and Participate in a Family Fun Run
Looking for sporty things to do in Singapore with kids? Take part in one of the many family-friendly runs held throughout the year.
---
#16 Play Masak Masak at KidsSTOP
Kids get to be a doctor, play masak masak and more at KidsSTOP, a children's science centre designed for children eight years old and below. A must-visit place when it comes to things to do in Singapore with kids.
---
#17 Learn a New Board Game
Tabletop games are a great way for families to spend quality time interacting with each other (provided it doesn't get too competitive and everyone ends up fighting). Venture beyond the usual Monopoly and Uno and spend time learning a new board game together and if you need some suggestions, we have some here.
---
#18 Visit a Library
Spend a day at a library and discover the wonders of reading. Most Singapore libraries have well-stocked children's book sections. Bukit Panjang Public Library even has an entire dedicated children's wing. For younger children, there are Early Learning Literacy sections at selected libraries such as Tampines Regional Library and Bedok Public Library.
---
#19 Have an Adventurous Day Out at West Coast Park Playground
West Coast Park Playground has many different play areas that cater to children of all ages. There is a Viking Ship playground for young children, obstacle courses for older children and an inclusive playground too.
---
#20 Search for Mudskippers at Sungei Buloh Wetland Reserve
Pay a visit to Sungei Buloh Wetland Reserves' Mud Experience area. Pause to look for mudskippers and horseshoe crabs hiding in the mud. You can also take a walk along the shoreline path and look out over the water.
---
#21 Explore the Air Force Museum
Get up close to static displays of fighter jets, military helicopters and menacing missile weapon systems at the Air Force Museum. Discover the history behind the Republic of Singapore Air Force and get to try out hands-on exhibits too.
---
#22 Deep Dive at S.E.A. Aquarium
Introduce your child to the wonders that lurk below the sea. From puffer fish to eels to sea stars, have a mesmerising encounter with these marine creatures at S.E.A. Aquarium.
---
#23 Visit a Waterpark in Singapore
Looking for a way to cool down in tropical Singapore? A trip to a water park may be in order. Choose from a variety of waterparks in Singapore. These range from large parks such as Adventure Cove and Wild Wild Wet to public facilities such as Jurong East Swimming Complex and Sengkang Swimming Complex.
---
#24 Go Yabby Hunting at Lower Pierce Reservoir
Equipped with a fishing net and plenty of patience, you can go hunting for yabbies around the fishing grounds at Lower Pierce Reservoir Park. Alternatively, you can also enjoy the boardwalks and green spaces at this off-Thomson Road park.
---
#25 Get a Job at KidZania Singapore
Step into the City at KidZania Singapore, sign up for a job and earn KidZos (i.e. money). This is the ultimate play experience for kids with plenty of realistic jobs and experiences to choose from.
---
#26 Cram Into An Ice Box at Snow City
Snow City may be just a huge freezer but kids still love it. Experience frigid temperatures, snow on the ground and a slope to slide down on at this Jurong attraction. Snow City has recently introduced icy bumper cars too!
---
#27 Watch a Children's Theatre Performance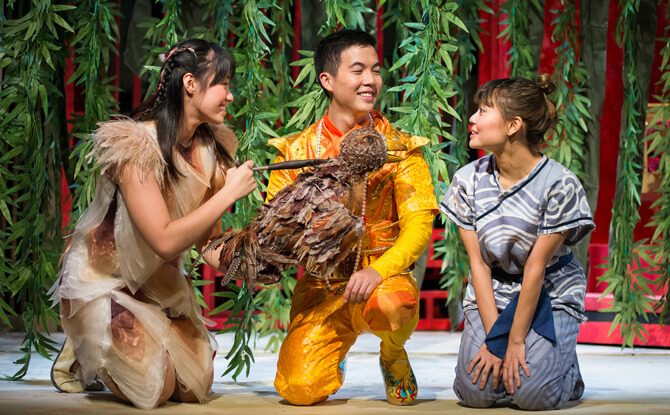 Introduce your kid to the joys of the theatre from an early age. There are children's theatre companies in Singapore such as SRT's The Little Company, Act 3 International and Paper Monkey Theatre that put out entertaining shows tailored to younger audiences throughout the year. Definitely something to consider when looking for things to do in Singapore with kids.
---
#28 Have an Art-venture at The Artground
Home to exhibits that change three times a year, The Artground at Goodman Arts Centre is a space where kids can interact with exhibits on display and watch specially staged performances.
---
#29 Make Friends With A Singapore Icon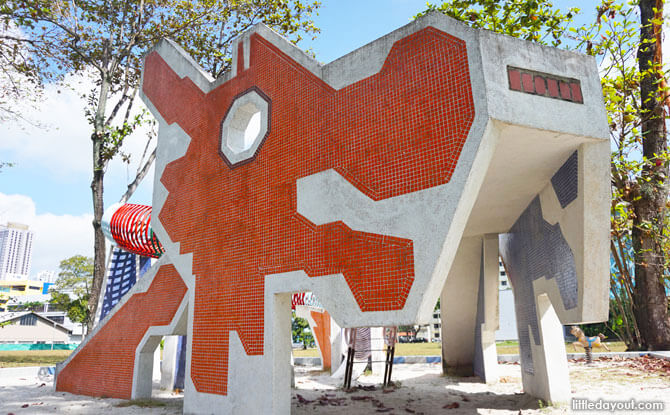 Go old school and play at the Dragon Playground at Toa Payoh Lorong 6. This iconic mosaic playground still welcomes visitors to climb up upon its back. Relive the past with this classic choice of things to do in Singapore with kids. Alternatively, visit the Toa Payoh Dragon Playground's northern cousin, the Dragon Playground in Ang Mo Kio.
---
#30 Venture Down to the River at Bishan-Ang Mo Kio Park
Enjoy the scenic Bishan-Ang Mo Kio Park which has wet and dry playgrounds for kids. This immense park also has restaurants such as GRUB that offer scrumptious food. Families can also head down to the naturalised river that flows through the park.
---
#31 Visit Two Houses on Pulau Ubin
After arriving by boat at Pulau Ubin, get a taste of the kampong way of life at a conserved Kampong House that is open on selected days. After that, rent a bike and go on an expedition to Chek Jawa to see House No. 1, designed like an English cottage complete with fireplace.
---
#32 Enjoy Water Play at Hydrodash
Make a splash at Hydrodash. The floating water park at Palawan Beach is great fun for kids. Find out more about Hydrodash.
---
#33 Tackle the Attractions at Canopy Park
Go on an adventure at Jewel Changi Airport's Canopy Park. Wander through the mazes or bounce about the suspended nets. Take a seat in the foggy bowls or test gravity at the Discovery Slides. Find out more about what you can do at Canopy Park.
---
#34 Play by the Sea at Marine Cove Playground
Explore a play tower and other playscapes at East Coast Park's Marine Cove Playground. After working up an appetite, there is a choice of family-friendly restaurants located nearby.
---
#35 Experience the Outdoors at ORTO
Engage in activities such as prawning and karting at ORTO in Yishun.
---
#36 Go Longkang Fishing
Armed with a net and pail, kids can go longkang fishing at various establishments around Singapore. Scoop up little fish and bring your prize home at the end of the visit.
---
#37 Watch Goats Being Milked at Hay Dairies
Visit Hay Dairies Goat Farm when its goats are being milked for an education experience. Buy some alfalfa and feed the goats at the farm. Remember to purchase some fresh goat milk as a memento of your visit.
---
#38 Let Gravity Take Over at the Luge
Get into a luge and choose from different courses to speed along down to the bottom. Even young children can enjoy this ride by riding with an adult.
---
#39 Make a Playdate at Far East Organization Children's Garden
Head to Gardens by the Bay's Far East Organization Children's Garden to have some fun amongst swirling water spouts at the wet play area and at a "treehouse" at the dry play area.
---
#40 Bounce Around at Airzone
Take to the air at Airzone. With different layers of suspended nets, Airzone is a place where  kids and families can have bouncy fun in a unique setting in a shopping mall.
---
#41 Hike to Hindhede Quarry
Take a short walk from the base of Bukit Timah Hill to the lookout point of Hindhede Quarry. There is also playground located along the way. If the beauty of Hindhede Quarry leaves you wanting more, venture on to Singapore Quarry.
---
#42 Go Kayaking at the Reservoir
Pick up the paddles and launch out to the water. There are several reservoirs in Singapore where you can go kayaking with kids. The calmer waters found at the reservoirs are better suited to children who are new to the water-based activity.
---
#43 Locate the Lighthouse at Fort Canning Hill
Looking for historical things to do in Singapore with kids? Go in search of the lighthouse, the Old Fort Gate and even an archaeological dig location at Fort Canning Park, one of Singapore's oldest historical sites.
---
#44 Have Nocturnal Encounters along Night Safari's Trails
Visit the Night Safari and be charmed by nocturnally-active creatures you will encounter along its walking trails and from the attraction's tram.
---
#45 Spend a Day at Universal Studios Singapore
Enjoy different rides and attractions at the Universal Studios Singapore. Even toddlers can enjoy this theme park in Singapore.
---
#46 Go Camping Under the Stars
Rough it out and sleep in a tent for an exciting family adventure. Ok, add in an air mattress and other luxuries if you must. Just be sure to camp out at one of the approved areas around in Singapore.
---
#47 Grill Up Some Food in the Park
Gather some friends and book a barbecue pit for an outdoor party. Those who don't wish to spend too much time prepping for the barbecue can order food from "instant BBQ" suppliers.
---
#48 Prepare for Take Off at an Aeroplane-themed Playground
Fun takes flight at a unique aeroplane-themed playground at The Oval at Seletar Aerospace Park. Climb into the cockpit of a "propeller plane" or ascend a control tower and clear the runway for take-off!
---
#49 Learn About Fire-fighting at Civil Defence Heritage Museum
Big red fire trucks stand proudly on display at the first floor of the Civil Defence Heritage Gallery, while exhibits showcasing fire-fighting techniques can be found a floor above.
---
#50 Explore Singapore's Ethnic Neighbourhoods
Pay a visit to Singapore's ethnic neighbourhoods, Kampong Glam, Little India and Chinatown. Introduce children to the various sights and sounds found in these rich, cultural precints.
---
#51 Go Rock Climbing for a Challenge
Try rock climbing at one of various locations in Singapore. Places where kids can try rock climbing include The Rock School and Clip 'n Climb at Our Tampines Hub.
---
#52 Commandeer a Tilting Train at Tiong Bahru Park
Head out to the Tilting Train playground at Tiong Bahru Park for a spot of fun in the sun. You can also bring along the kids' sand play toys or just enjoy the swings and ziplines there.