Sentosa Skyline Luge and Skyride is one of the must-do experiences at Sentosa. With the addition of two new tracks in October 2017, there are two more reasons to head to Imbiah Lookout and ride down the hillside. That is exactly what we did for this Sentosa Skyline Luge and Skyride review.
---
Skyline Luge Sentosa & Skyride Review
It was a sunny weekend morning as we made our way to Sentosa Skyline Luge and Skyride.
We got off at Beach Station and made our way to the Luge Ticketing Counter to get our tickets.
A combo ticket includes a luge ride and a skyride (basically a chair lift). The luge takes riders down the hill while the skyride sends riders back up the hill in the opposite direction. Riders are free to choose which ride to take first.
Being at the bottom of the hill, we took skyride upwards first.
---
Sentosa Skyride Review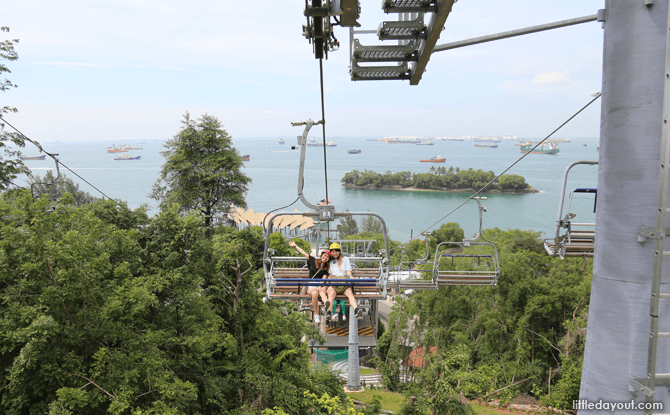 The Sentosa skyride is a scenic adventure on a four-seater chairlift that gives riders an aerial view of the surrounding area.
Keep your eyes peeled for wildlife such as cockatoos that we heard are rumoured to frequent this vicinity. Also, keep your things close so that they do not drop 16 meters down below.
We've heard that the Skyride is also extremely magical at night, and if you're on the ride at the right time, you may even get to catch glimpses of the water, laser, fire effects and music in the multi-sensory show at Siloso Beach, Wings of Time.
The Sentosa Skyride operates in both directions. You can take it both up and down Mount Imbiah. Two-way Skyline tickets and all-day tickets are available at the ticketing booth.
---
Sentosa Luge Review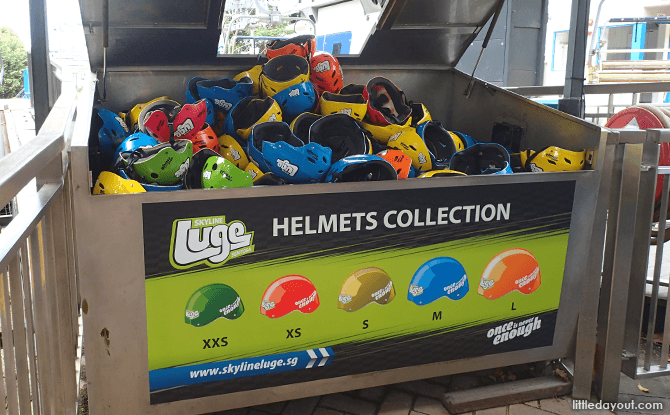 At the top of the hill, after picking up our helmets, we got to the instruction area where we were briefed on how to control the luge.
To do so is a simple matter of pulling back on the handlebars (which look like they belonged on an old-school bicycle) to allow the luge to move forward. Pulling back harder slows down the luge and pulling back all the way brings the luge to a complete stop.
Managing the luge was real simple and even young kids can easily get the hang of it!
To ride the luge solo, children must be at least six years old and 110 cm tall.
Kids who do not meet this criteria need not fret. For a small add-on fee, they can double with an adult on a luge and get to enjoy the exhilarating, gravity-powered ride.
The Skyline Luge Sentosa is definitely a fun and family-friendly activity. If anything, the ride is over way too quickly and you will be left wanting more. That explains its slogan, "Once is never enough".
Skyline Luge Sentosa opens till 9.30 pm, making it a fun activity to do at night too.
---
Skyline Luge Sentosa & Skyride
Address: 45 Siloso Beach Walk, Sentosa, Singapore 099003
Website