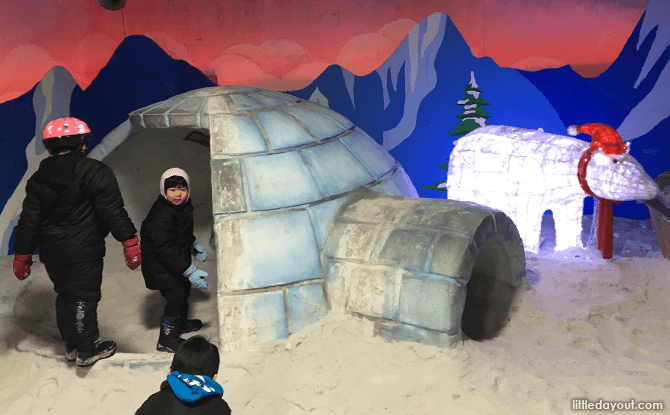 Snow City is Singapore's permanent indoor snow centre. Located at Science Centre Singapore, when you strip it down, it is a huge refrigerator where you can transit from the sweltering heat of Singapore's tropical climate to 5 degree Celsius cold temperatures.
Snow City is a sure-hit with young kids, offering them a unique experience in Singapore. However, before you head to the frigid cold at the freezer box in Jurong, here are 5 things to know before visiting Snow City Singapore.
1. Wear Socks
Admission charges to Snow City Singapore includes complimentary use of winter boots. You will need to wear these boots around the Snow Chamber inside Snow City. For hygiene purposes, remember to bring a pair of socks to use with these boots. If you have forgotten, socks are available for purchase at $2.60 for child and $3.00 for adult over the counter.
2. Bring Gloves and Waterproof Pants (or Rent Them)
It may be stating the obvious but you must wear long pants to enter into the Snow Chamber at Snow City.
---
-- Story continues below --
The use of winter jackets are provided as part of the admission charges to Snow City. These jackets may not be the most fashionable but at least they will keep your body warm.
In addition, we recommend wearing gloves and waterproof pants too. Gloves will keep your fingers from being chilled to the bone. If you are planning to slide down Snow City's slope on the snow tube, the waterproof pants will keep you from walking around with a soggy bottom afterwards. And trust us when we say this can be a very uncomfortable feeling you would want to avoid.
Even if you don't have gloves or waterproof pants, you can rent them Snow City for a fee. Gloves rental for child is $1.60 and $2.10 for adult. Waterproof pants rental for child is $3.20 and $4.00 for adult.
3. Special Snowy Programmes
During the school holidays and other special occasions, Snow City offers events and programmes. These include snow fall sessions, storytellings and science shows. Kids may also be able to meet Oki and friends. Visit the Snow City website for the latest details.
4. Ski and Snowboard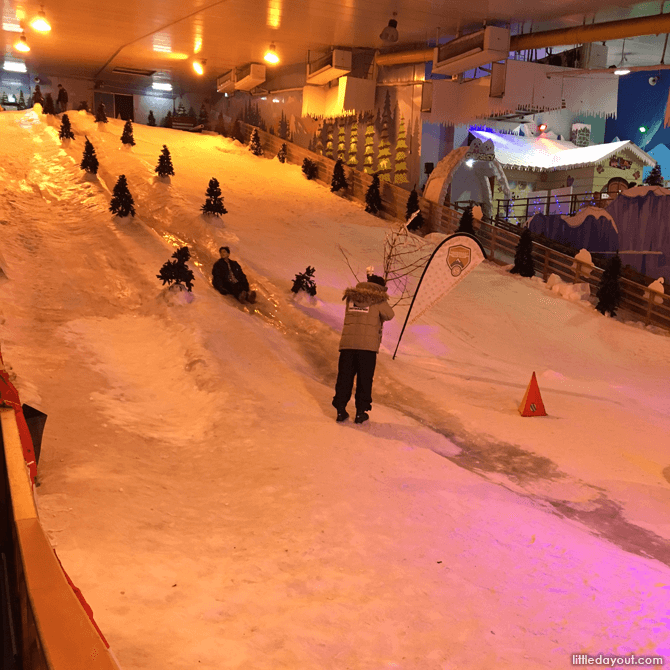 Those interested to give skiing or snowboarding a go can approach SportQuest Snowsports Academy which offers snow sports programs at Snow City with internationally certified instructors. The programmes make use of Snow City's 60-meter beginner-intermediate standard slope and cater to kids as young 3 years old.
5. Restaurant at Snow City
If the cold works up an appetite, Snow City has a pretty nice restaurant that most people miss out on. It is located a floor above the main Snow City reception area. PocoLoco @ Snow City serves Italian food along with beers crafted from its own microbrewery. You can enjoy the food here even if you aren't planning to go into the icebox. Find out more here.