How does one keep cool and have a snowball fight on our sunny island? At Snow City Singapore, you can enter a unique chamber with sub-zero temperature that offers snowy experiences to visitors, young and old, throughout the year.
Beyond the wintery space, you'll find exciting programmes and snow sports lessons for some chilling fun and unique snow experience indoors round the year.
Snow City is Singapore's first indoor snow centre, owned and managed by Snow Venture Pte Ltd, a subsidiary of Science Centre Holdings Pte Ltd.
The centre comprises 4 main zones.
Zone 1 – Arctic Snow Playground
Upon entering, we were greeted by the huge snow sculpture and slide of Snow City's new Artic Avengers since June 2017. There is also the Chipsleys, a family of four arctic seal characters, CHIPSLEY, KHIPPY, DAPPY and PINKO, from the North Pole!
There were also life-sized snow sculptures of Snow City's mascots in a magical winter wonderland – OKI the Inuit Boy who loves to fish and hunt, ILA the Husky who is a sled dog and companion known for speed, NOOKA the Polar Bear, KOKO the Fox and SUKI the Magical Snowy Owl.
Storytelling, mythology, and dancing remain an important part of the peace-loving indigenous Inuit people culture.
Zone 2 – Snow Field

Highlights include a low circular slide for young ones to toboggan and a snowy playground in the centre. Here, there is also a performance space. SUKI's giant nest is where storytelling sessions take place.
Zone 3 – Traditional Inuit's Home @ the Mezzanine Level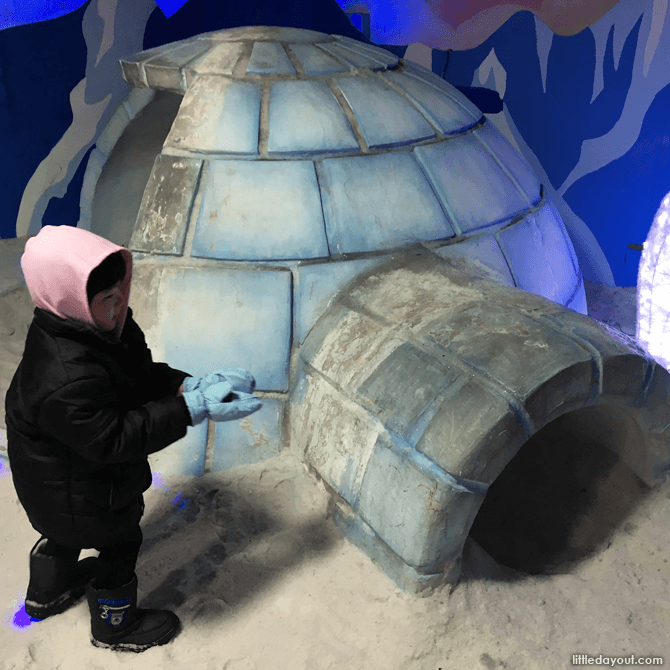 A short flight of stairs leads visitors up to the Inuits' community village where one can learn how Inuits ice-fish or check out a snow cottage as well as a cool Igloo house with interactive videos. This area is framed by huge statues of SUKI the owl and a sleigh pulled by Ila, the trusty husky, and his team.
Zone 4 – Arctic Snow Slide
The main highlight of Snow City is a 60-metre three-storey-high Snow Slope for older children and adults to snow tube away with exuberant whoops! The huge slope is a splendid ride down for the more adventurous!
Tackle the brief climb up and you will be rewarded with a rush of adrenalin when flying downhill!
Snow City Singapore
Address: 21 Jurong Town Hall Road, Singapore 609433
Opening Hours: Daily, 10am to 6pm (last admission at 5pm); School & Public Holidays, 10am to 7pm (last admission at 6pm)