Changi Airport is a favourite destination for families in Singapore. Kids gravitate to the Changi Airport playground at Terminal 3 but there plenty of other play spots around the rest of the airport too. Here is a round-up of the play areas for children around Changi Airport's public areas.
Changi Airport Playground and Play Spots at Terminal 1
The children's play area Changi Airport Terminal 1 is found at the viewing gallery on the second floor. Take the escalators to the floor above the Departure Hall, head past the restaurants, keep left and you will arrive at Changi Airport Terminal 1's public area playground.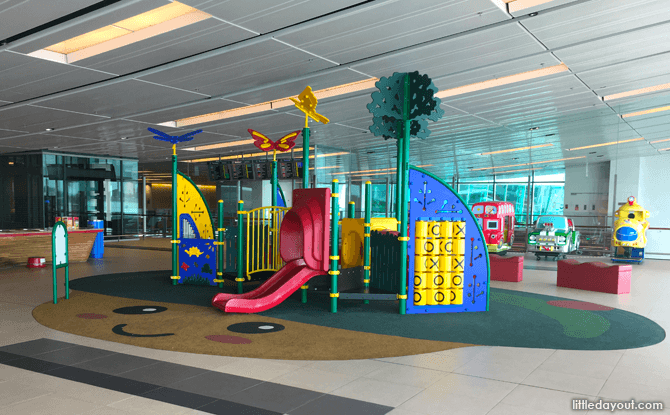 The playground is designed for children between two to six. It features a little bridge, platforms and two low slides suitable for young kids.
A large, yellow tic tac toe board provides little ones with the opportunity to engage in tactile play at this Changi Airport playground.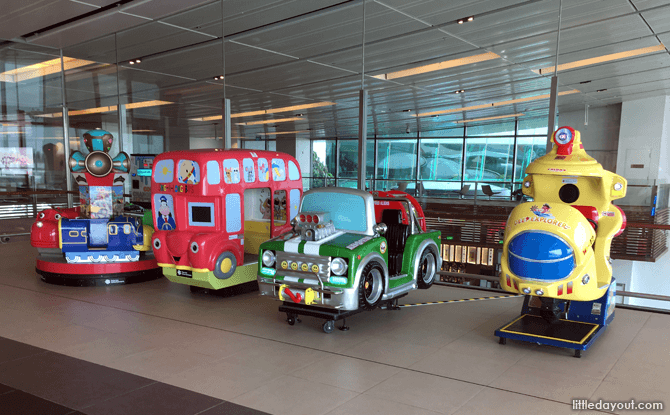 Close by is a coin-operated kiddy ride area. Kids can climb aboard a Chuggington merry-go-round or hop into a Sing-a-long bus. There is a money-changing machine located here too.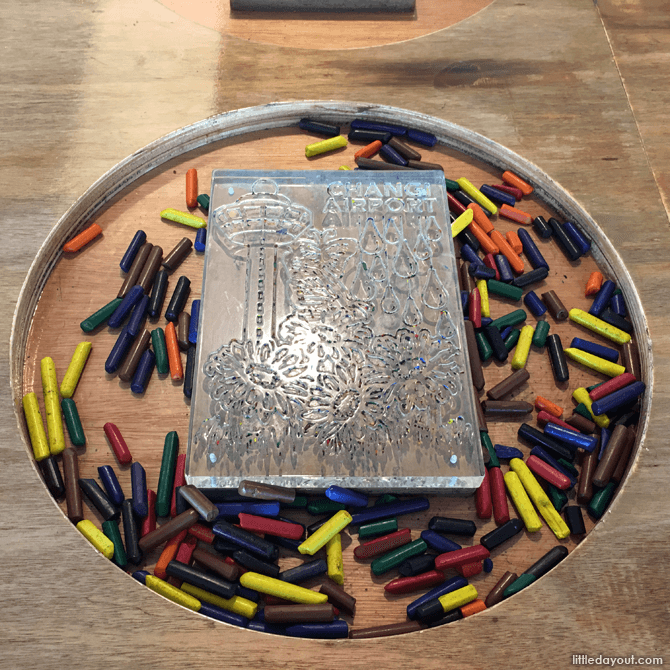 A third activity for kids at the Terminal 1 children's play area is a woodblock rubbing station. Kids can grab a crayon and piece of paper and take home a rubbing of Singapore landmarks or sights around Changi Airport.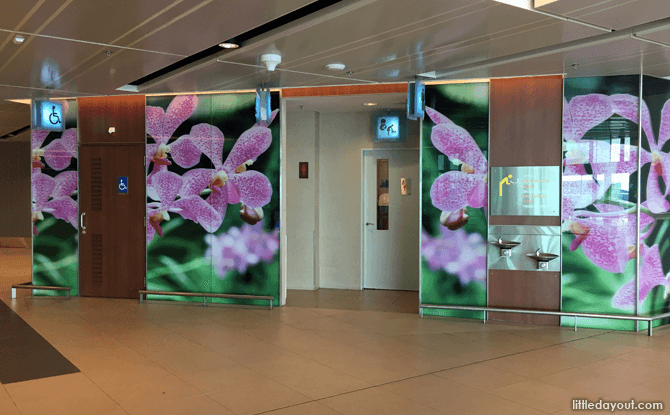 A baby changing room and toilets are located nearby.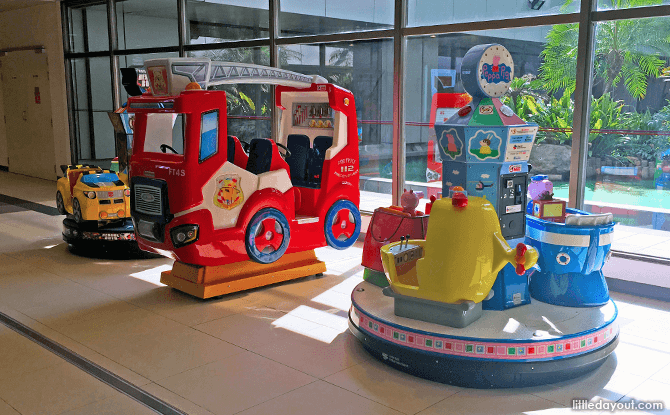 Changi Airport Terminal 1 has a second kiddy ride area on the same level as the children's playground, but to the closer to the restaurants.
---
Play Spots at Terminal 3
[December 2021 Update: The Terminal 3 Basement 2 playground has been updated to a
Kueh Playground
]
Terminal 3 is bursting with play spots for kids.
The Terminal 3 Changi Airport children's playground is located in Basement 2. Catering to kids between two and six, the Sanrio-themed playground different play elements for kids to enjoy.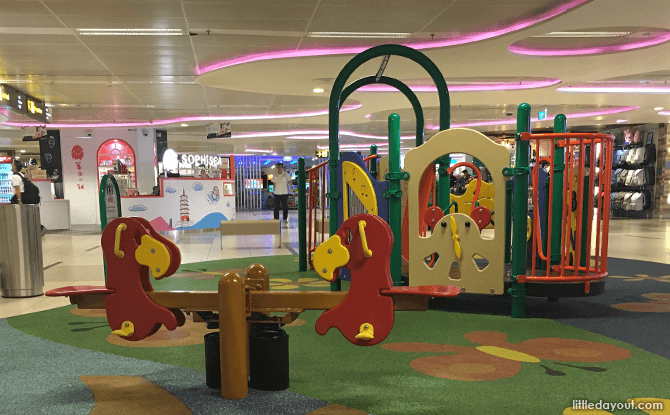 Before it was a Sanrio-themed playground, it used to looks like this above.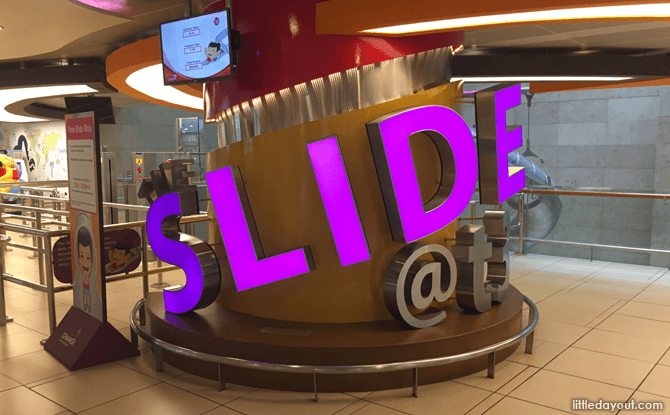 Just beside the Terminal 3 playground is one of two entrances to the Slide @ T3.
Kids must be at least 1.1 metres tall to ride the Slide@T3 from Basement 2. Operating hours are from 12 pm to 10.30 pm.
Next to the slide are coin-operated kiddy rides and a baby care room.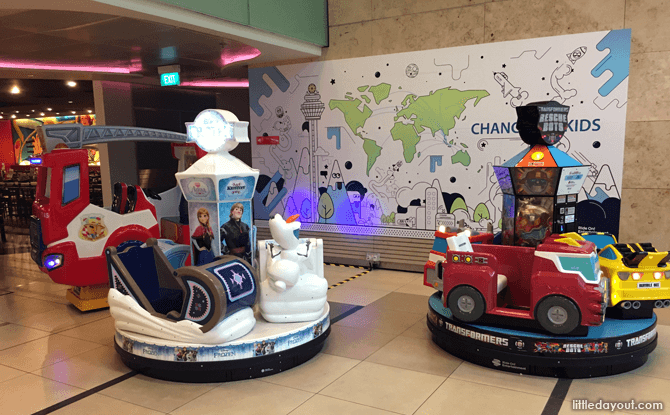 Elsewhere on Basement 2 is a wood rubbing station. Other distractions for kids include a second cluster of kiddy rides and a reading corner.
Changi Airport Terminal 3 also has a games arcade and a Cartoon Network-themed indoor playground, Play!, at Basement 2.
---
Hidden Spots at Terminal 2
[Editor's Note, 2020: Terminal 2 has been closed]
Changi Airport Terminal 2 does not have a children's playground in the public area. Neither will you find any kiddies rides around the T2 public area.
However, we will let you in to a little-known, hidden play spot at Terminal 2. In fact, there are two.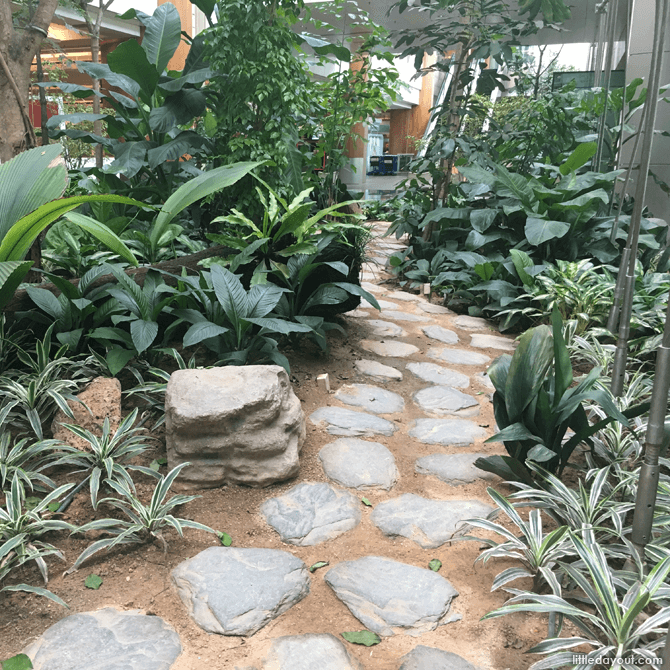 On the Arrival Level of Terminal 2 are two little landscaped gardens hidden in plain sight.
They feature a stone walkway that allows kids to hop, skip and jump through the green garden, all without having to leave the airport building. You can find them behind the hotel booking counters at the Arrival Hall.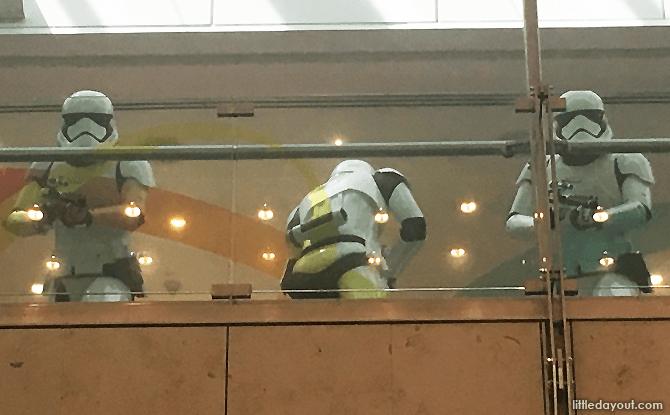 Alternatively, you can go on a hunt for the stromtroopers (above) hidden in plain sight at Terminal 2.
Happy days!