Changi Airport is a favourite destination for families in Singapore. Kids used to gravitate towards the former Sanrio Changi Airport playground at Terminal 3 and it still seems to be draw even though it is now gone. There other play spots around the rest of Changi Airport's terminals too. Here is a round-up of the play areas for children around Changi Airport's public areas.
---
Changi Airport Playground and Play Spots at Terminal 1
The children's playground Changi Airport Terminal 1 can be found at the viewing gallery on the second floor. Take the escalators to the floor above the Departure Hall, keep left and head past the restaurants at Changi Airport Terminal 1's public area playground.
The playground is designed for children between two to six. It features a little bridge, platforms and two low slides suitable for young kids.
---
-- Story continues below --
A large, yellow tic tac toe board provides little ones with the opportunity to engage in tactile play at this Changi Airport playground. It is probably one of the oldest play areas at the airport but it doesn't look too much the worse for wear.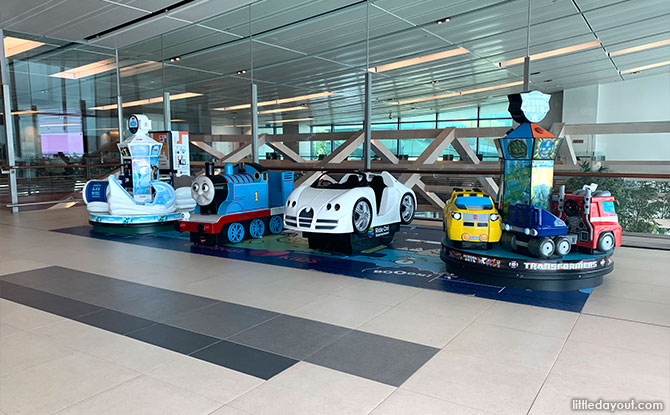 Close by is a coin-operated kiddy ride area. Kids can climb aboard rides with characters like Thomas the Tank Engine. There is a money-changing machine located here too.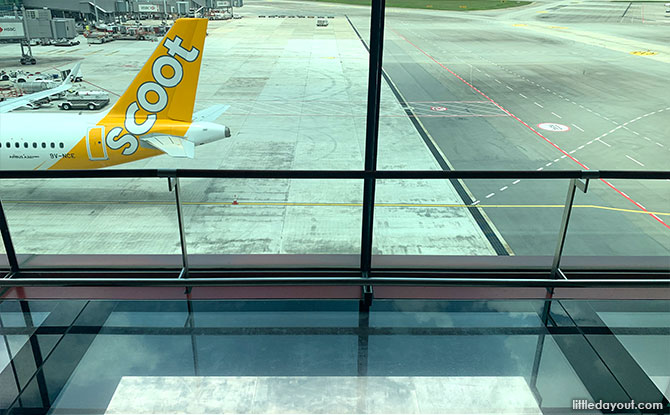 Another interesting feature of the viewing gallery at Changi Airport Terminal 1 is that there is a glass floor by the viewing panes. This let's you stand above the apron of the tarmac below.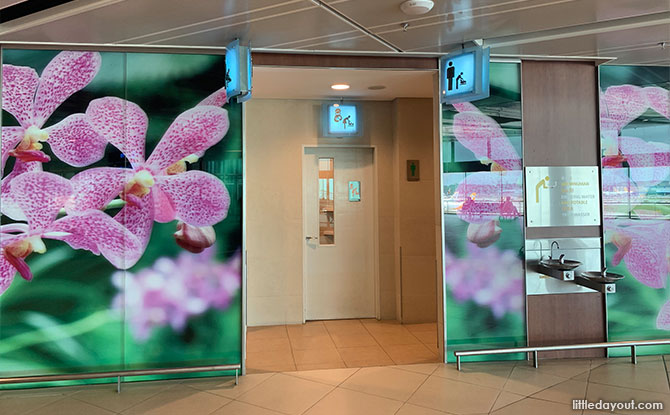 A baby changing room and toilets are located nearby.
Changi Airport Terminal 1 has a second kiddy ride area on the same level as the children's playground. This is closer to the restaurants and can be found beside Burger King.
---
Changi Airport Playground and Play Spots at Terminal 3
Terminal 3 has many different attractions for kids.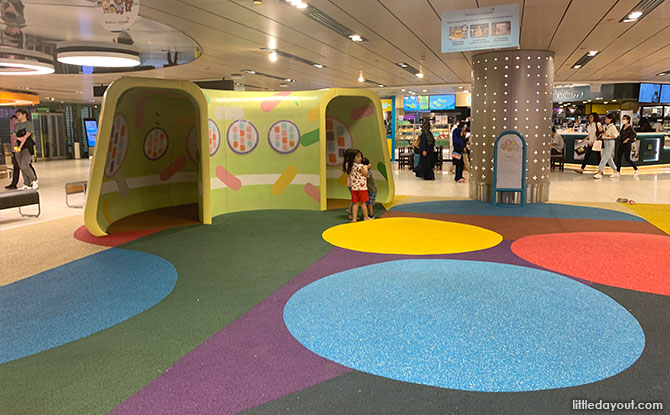 The Terminal 3 Changi Airport children's play areas are concentrated at Basement 2. The playground was previously a a Sanrio-themed playground before it became a kueh playground in December 2021. However, the play elements have since been removed. Now, only a tunnel that was formerly a cake remain. But that doesn't seem to stop kids from having fun and playing around.
Here's a look at the former kueh playground.
Here's what the former Sanrio-themed playground, before the kueh playground, looked like.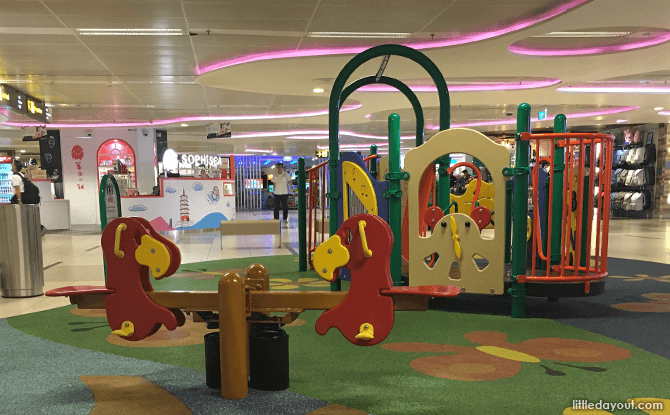 Before it was a Sanrio-themed playground, the Terminal 3 Changi Airport playground used to look like the above.
Just beside the Terminal 3 playground is one of two entrances to the Slide @ T3. The entrance at Basement 2 to the lower slide is free. Kids must be at least 1.3 metres tall to ride the Slide@T3 from Basement 2.
The longer slide at T3 starts from Level 1. Rides for these need to be redeemed from the Terminal 3 Customer Service Counter with the Changi Rewards e-Card. Details on how to do this can be found here.
Operating hours are from 12 pm to 10.30 pm.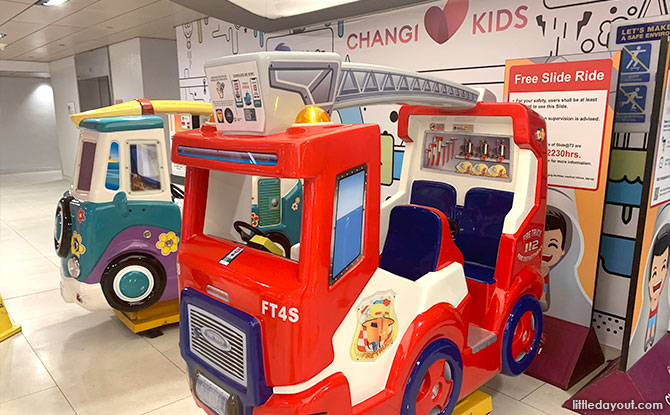 Next to the slide at Basement 2 are coin-operated kiddy rides and a baby care room.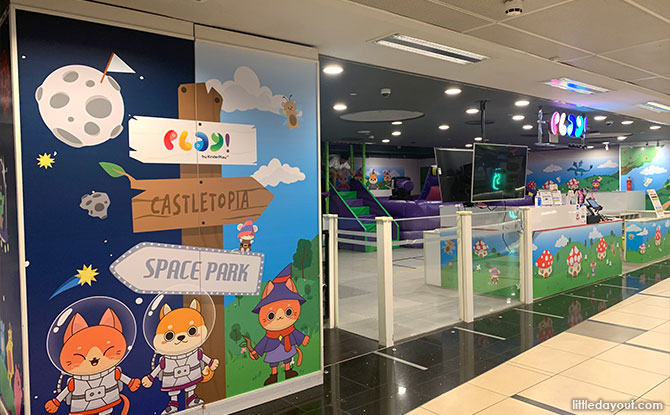 Changi Airport Terminal 3 also has a games arcade and a paid indoor playground, Play!, at Basement 2.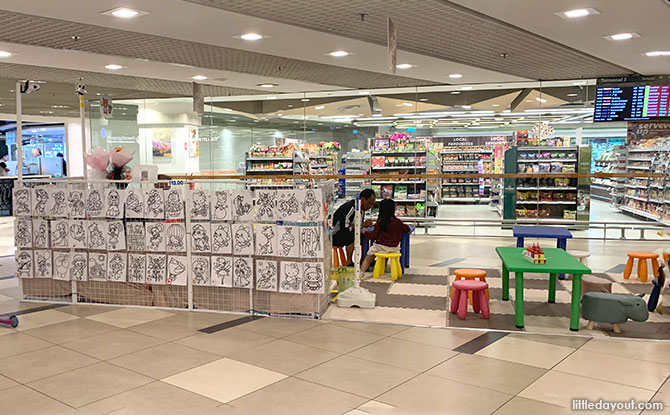 There is also a kiddy activity stall close to the supermarket at Terminal 3.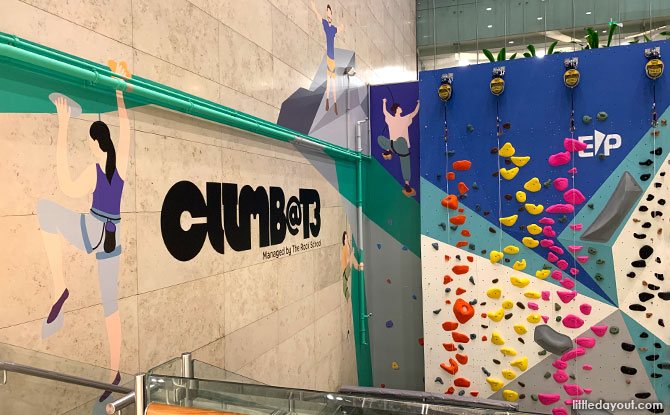 There is also a rock climbing wall at Terminal 3. It is located next to the Slides at T3.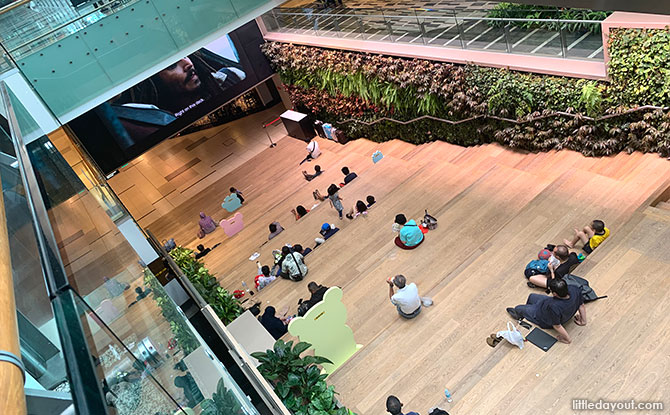 Another useful know about if you are at Changi Airport with kids is the ST3PS. This is an communal amphitheatre where movies are screened on an ultra high-definition, 6 metre wide and 3.5 metre high screen. Great for keeping kids entertained for a little while.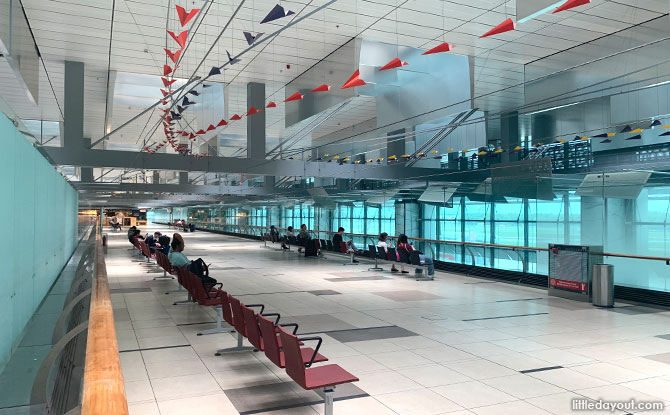 Head up to the Viewing Gallery to watch the planes take off and land.
---
Changi Airport Terminal 2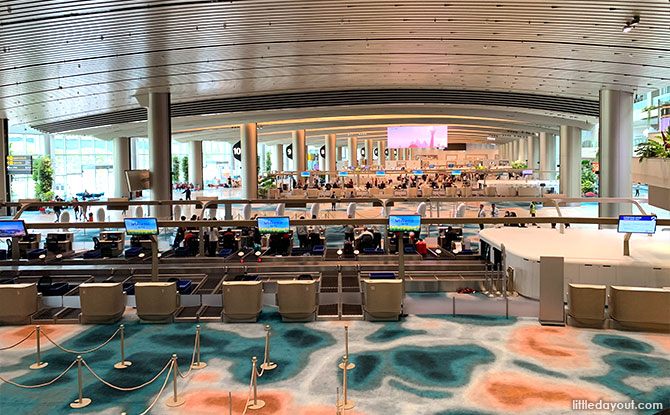 Changi Airport Terminal 2 does not have a children's playground in the public area. Neither will you find any kiddies rides around the T2 public area. In fact, half of Changi Airport Terminal 2 is still being renovated as of March 2023.
The Terminal 2 Viewing Mall is also rather drab because the windows have been rendered frosted.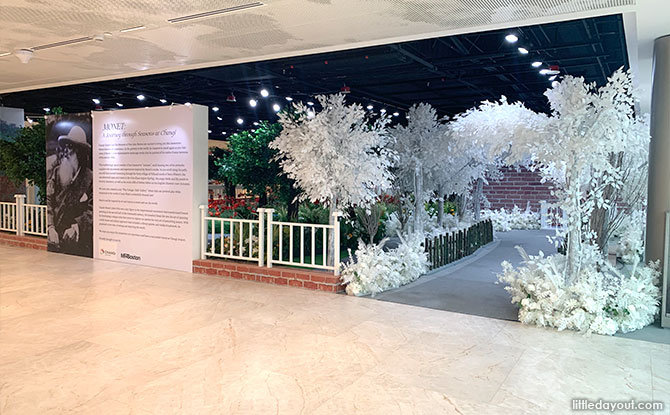 One temporary play spot that you can visit is the Monet exhibition at Level 3. This is a photo spot. It even has a separate area inspired by cats.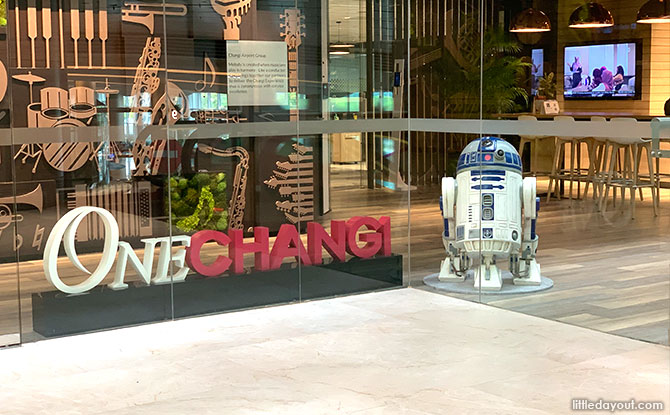 If you are looking for something to keep kids entertained, take them to meet R2D2. The droid can also be found on Level 3 at the entrance to the offices.
If you don't mind venturing a bit further out of Terminal 2, you can head to Hub & Spoke. There is a bike rental company there, and you can also take a walk to visit the outdoor T-rex and Spinosaurus.
---
Changi Airport Terminal 4
Changi Airport Terminal 4 is a modern and efficient model of the future. However, it does still retain some old school secrets.
You won't find any kids playground at Changi Airport Terminal 4's public areas even though there is the super-impressive chandelier playground but it is only for passengers.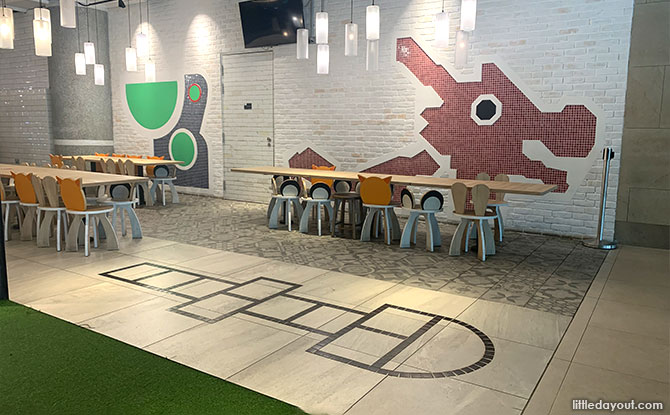 Instead, if you are in the public areas, if you head into the food court at Changi Airport Terminal 4. There is a children's seating area right at the back, close to the viewing gallery. This children's area is decorated with pictures of the Toa Payoh dragon playground and the old Pelican playgrounds on the wall.
On the floor, it is back to the old times with hopscotch markings on the ground. How about that for old school play?
Another spot at Changi Airport Terminal 4 you can visit is at the doors facing Car Park 4A at level 1. It is a little photo spot of dinosaurs.
That's a reminder that the Changi Jurassic Mile is just a short walk away from Terminal 4.
Happy days!