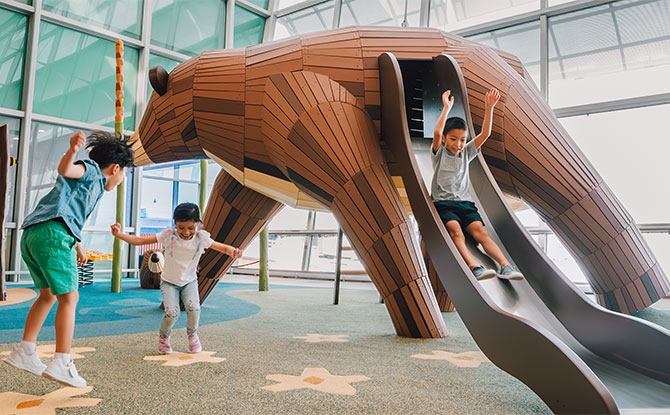 Families travelling through Changi Airport Terminal 2 with kids can look forward to letting the little ones loose at the 2 Bears Hideout, the new themed playground within the transit area.
---
2 Bears Hideout Changi Airport Terminal 2 Playground in the Transit Area
As the name suggests, the 2 Bears Hideout Changi Airport Terminal 2 playground features two of the brown mammals, staking out a corner of the transit area.
They are located next to the large pane windows that overlook the apron.
The pair of bears consist of a large brown mother bear with an adorable snout, along with an accompanying cute baby bear. They look like either grizzly or brown bears, in mid-prowl, making their way through a meadow of flowers.
---
-- Story continues below --
---
Imaginative Play at the Changi Airport Bear Playground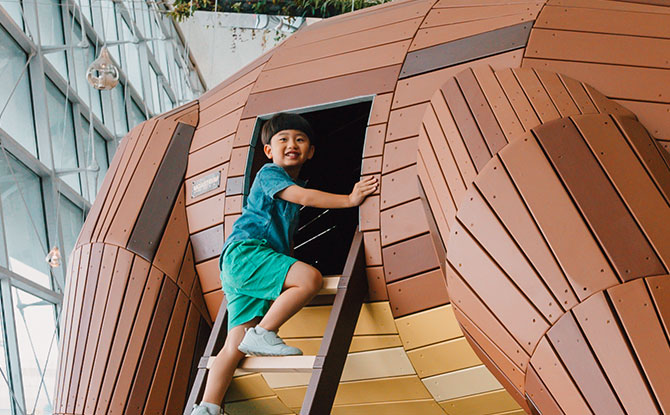 Kids can scale up a ladder and enter into the belly of the mama bear from one side of the Changi Airport Terminal 2 playground while the little baby bear looks on from beside its mum.
Joining the pair of bears at the Changi Airport Terminal 2 transit area playground are some bees. The black and yellow honeybees can be found on some poles where there is a yellow bee hive.
Perhaps that is what has attracted the two bears to this little corner?
On the other side of the mother bear, kids can take the faster way down by taking the short slide to the padded ground of the 2 Bears Hideout playground.
The 2 Bears Hideout playground is a place where kids can have a little fun while waiting for their gate to open and it is nice themed area for an adventure before they have to board their planes.
This Changi Airport Terminal 2 transit playground is designed for children between the ages of 6 and 12 years old only.
---
Amenities for Passengers
It is amongst the new amenities that have been installed at the airport as part of the expansion project that has added 15,500 square metres to the terminal building to support additional infrastructure, new systems and more retail offerings.
Other new amenities in the transit area include a new TV lounge on a large LED screen.
If you are wondering what else there is to do with kids at Changi Airport's public areas, read our guide to the playspots around Changi Airport and Jewel Changi Airport.