After three and a half years of engineering and expansion works, Changi Airport fully reopened Terminal 2. The new and expanded Terminal 2 features new shops, F&B outlets as well as attractions, in addition to expanding the Singapore airport's handling capacity to 90 million passengers per annum.
The revamped Terminal 2 design philosophy is derived from a nature-inspired theme. This is reflected in everything from the ceiling design to the choice of carpet and horticulture displays.
The design of Changi Airport Terminal 2 is intended to create a tranquil and relaxed atmosphere for all who make use of the airport – both passengers and visitors alike.
---
Changi Airport Terminal 2 Attractions: The Wonderfall, Dreamscape & More
The Wonderfall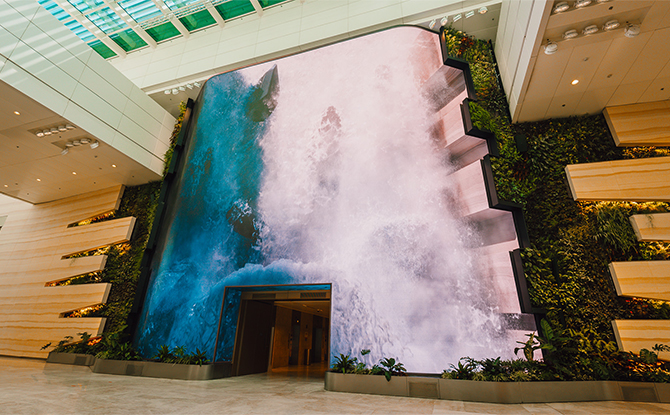 A highlight at Changi Airport Terminal 2's departure hall is a 14-metre-tall digital display called The Wonderfall.
---
-- Story continues below --
This 17-metre-wide digital display at the public area of the terminal shows a majestic waterfall cascading over megalithic boulders, bringing nature's raw beauty indoors in amazing detail.
It is made up of 892 flat and flexi-curved tiles and blends in with the vertical green wall and stucco façade of Terminal 2.
The Wonderfall will show the captivating presentation, 'Rhythms of Nature', with music composed by Jean-Michel Blais. The performance presents a harmony of sight and sound, transforming the torrent into moments of grandeur before returning to its tranquil flow.
The four-minute-long presentation comes on every 30 minutes.
Dreamscape
For passengers, the departure transit area holds more digital delights.
Dreamscape is an area filled with landscaped plants with a "digital sky" above that changes hues throughout the day.
This garden harmoniously combines digital content, horticulture, and fish, bringing a mix of experiences to this space.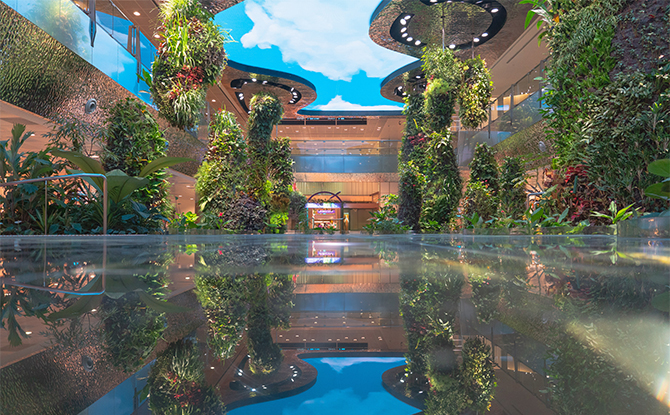 The larger-than-life green structures display a wide array of plant life, featuring more than 20,000 plants selected from some 100 species from ferns to shrubs.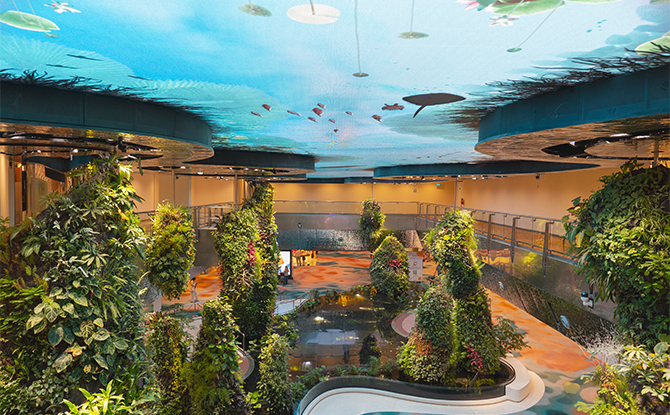 The digital sky opens an overhead window to the world above, emulating daylight and meteorological conditions in real time through integration with the airport weather system. From sunrise to the star-filled night sky, the dynamic garden and digital sky give passengers a sense of time and place while offering surprises in the form of passing planes, birds, hot air balloons, and clouds subtly shaped like animals.
Periodically, the regular forecast breaks as rain fills the sky and transforms the skylight into an underwater portal where fish, otters, and even a Sampan boat float by.
2 Bears Hideout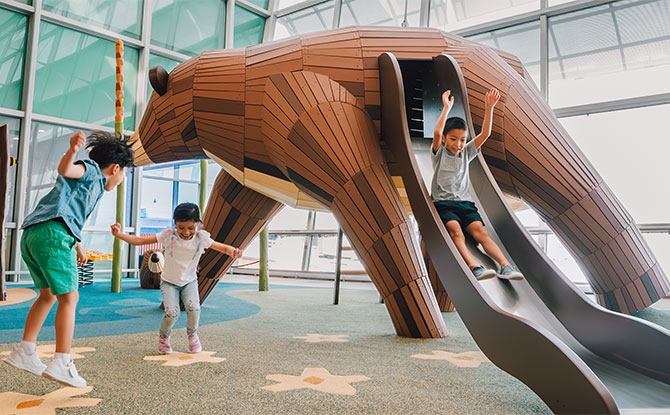 Families travelling through Changi Airport Terminal 2 with kids can also look forward to the 2 Bears Hideout, the themed playground within the transit area.
The pair of bears consist of a large brown mother bear with an adorable snout, along with an accompanying cute baby bear.
Transit Area TV Lounge
They are located next to the large pane windows that overlook the apron.
Other new amenities in the transit area include a new TV lounge on a large LED screen.
Flap Pix
Back in the public area, there is also a kinetic art installation, Flap Pix, on the third floor. This installation makes use of split flaps to create images or portraits.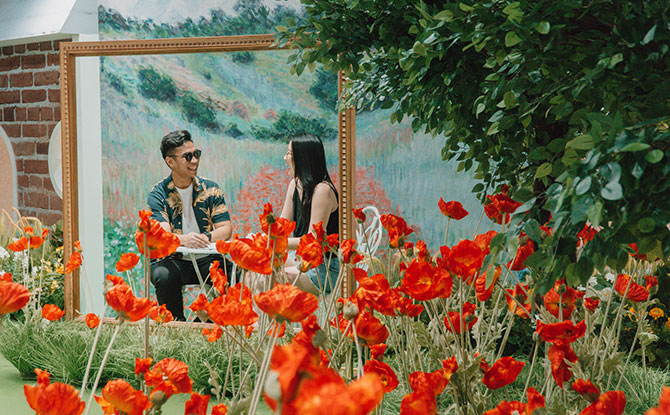 There are also areas to house temporary events on the third floor. The inaugural exhibitions and events at these spaces are a Monet exhibition and a Funko at Changi event.
---
Chaos Lab
From 11 November 2023 till Q2 2024, Chaos Lab will be open at the Viewing Mall North, #03-03.
The family-friendly Chaos Lab was a graffiti wall, slime station, a ball pit, and other activities. Meet the manic mad scientist and their lab assistants, who will show you through different rooms to create, jump, play, and, above all, have fun.
Find our review of Chaos Lab Singapore.
---
New Passenger Infrastructure at Changi Airport Terminal 2
For passengers, some of the new infrastructure at Changi Airport Terminal 2 include automated check-in kiosks and automated immigration lanes.
There are also upgrades to the baggage handling system.
---
Food and Shops at Changi Airport Terminal 2 Public Areas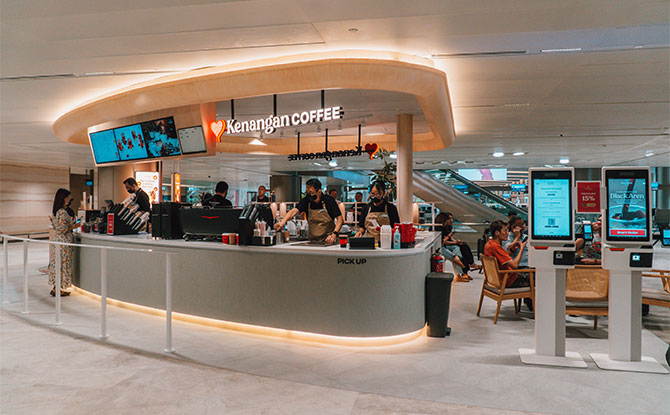 There are several new-to-Changi brands at the Changi Airport Terminal 2 Public Areas.
Food at the Departure Hall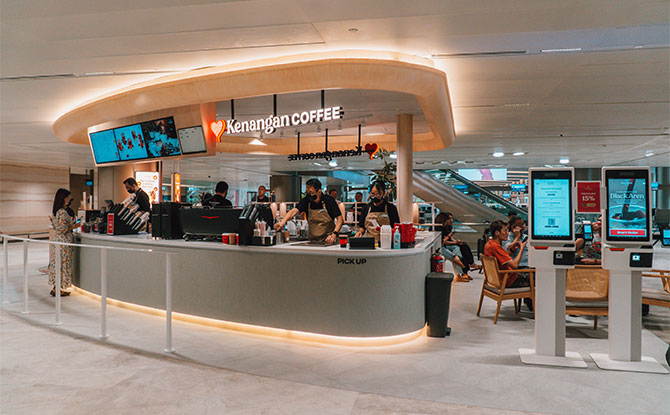 A new-to-Changi brand at the Terminal 2 Departure Level is Kenangan Coffee, from Indonesia. One of its specialties to look out for is the Kenangan Latte which blends espresso and gula aren, a natural sweetener.
Just a short distance away from Kenangan Coffee is a duplex Jones the Grocer.
Chagee, a premium tea brand will also be making its Changi debut with a selection of milk and fruit teas.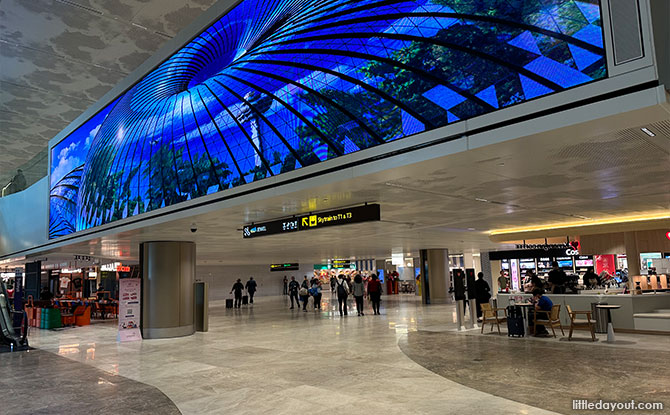 Other food options at the Changi Airport Terminal 2 Departure Level include Jinjja Chicken with a new concept known as Jinjja Kitchen that serves hotplate bulgogi and croffles.
Two homegrown brands are Baker's Well, an authentic Peranakan confectionary, and the local kopitiam-style Café O which features unique prata flatbread delights.
Familiar brands making their return to T2's public areas at the departure hall include Eu Yan Sang along with Starbucks and SingPost, who have returned their previous location at the southern wing of Terminal 2.
Food Options at the Arrival Hall
Homegrown brand Swee Choon will be offering dim sum and it will also be launching its Hong Kong milk tea gelato, developed in collaboration with local ice cream café Creamier, at Changi Airport. This outlet is open 24 hours.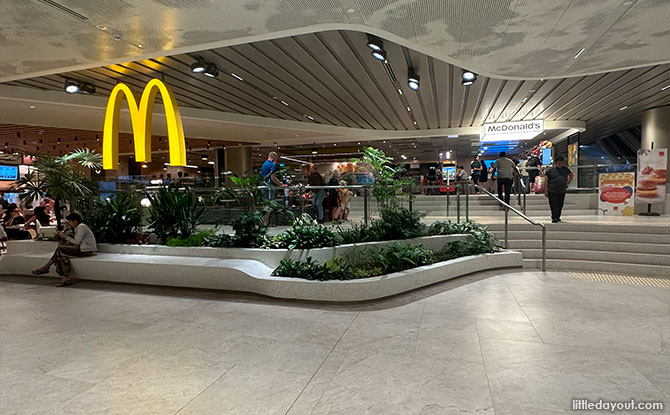 McDonald's has also returned to its previous location at the Terminal 2 Arrival Hall.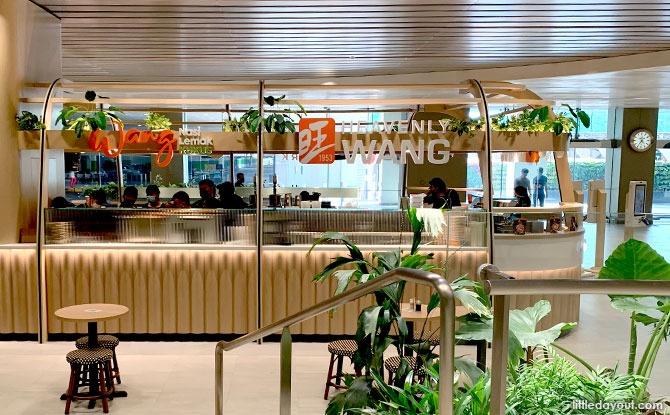 Beside McDonald's is a multi-concept store that sells kaya toast from Heavenly Wang along with nasi lemak from Crave.
Food at Level 3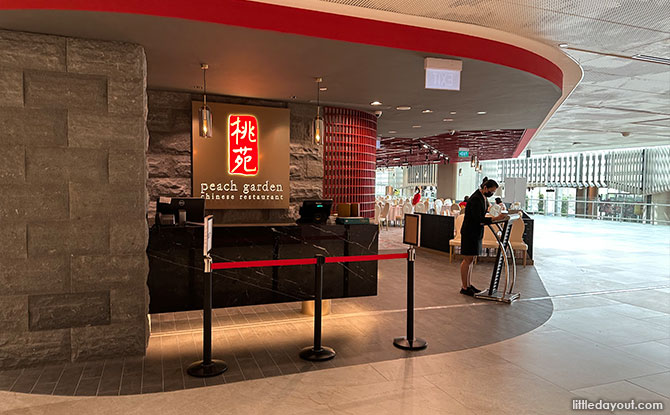 If you want even food options at the public areas at Changi Airport Terminal 2, there are restaurants at Level 3, above the Departure Hall. These include Chinese restaurant Peach Garden.
Chutney Mary and GO Noodle House are also open on the third level.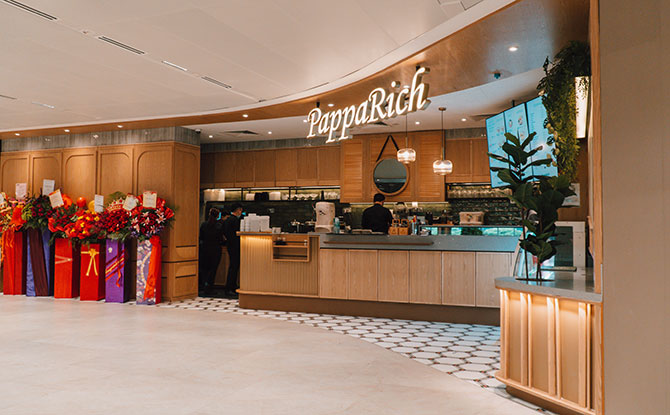 Malaysian restaurant PappaRich, which serves nasi lemak, Kuala Lumpur Hokkien Mee, and Penang Char Kway Teow, is also open on the third level.
---
F&B and Shops at Changi Airport Terminal 2 Transit Areas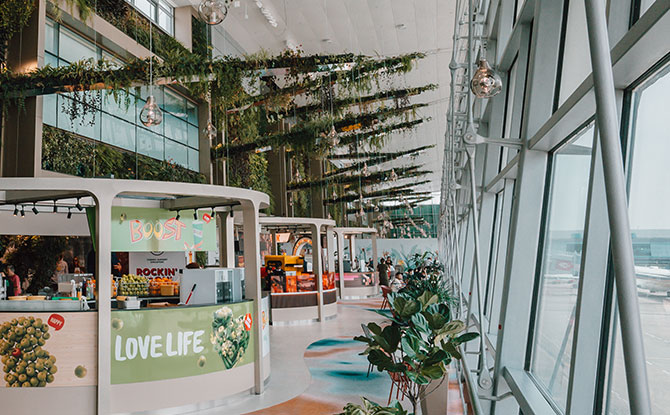 In transit, hungry travellers will be able to head to the Gourmet Garden.
The Satay Club by Harry's, known for its signature skewers, offers local fusion cocktail creations such as Chendol Colada, TSK "Kopi" Ice and the renowned Harry's Singapore Sling.
Wee Nam Kee Chicken Rice is where diners will be able to savour Singapore's iconic chicken rice, while at The Hainan Story bakery and coffee & toast kiosk, freshly made pastries and Kopi Gu You will satisfy those looking for a taste of Singapore's culinary heritage.
Hard Rock Cafe also returns to Changi Airport with its signature offerings such as Legendary Steak Burgers, Baby Back Ribs, popular cocktails, and unique collector-item merchandise.
Diners can enjoy their food while taking in the sight of planes taxiing at the apron. Draping foliage has been aded to give the space a sense of serenity.
Amongst the F&B outlets here include new-to-Changi Korean chain GOPIZZA, coffee house Hudsons, smoothie stand Boost Juice, and donut kiosk Dunkin'.
Other new-to-Changi brands include Buk Chang Dong Soon Tofu and Chef Wei HK Cheong Fun.
Travellers can also indulge in retail therapy at a variety of newly opened shops, including luxury Italian jeweller, Pomellato, and Old Seng Choong, which specialises in heritage recipes and nostalgic baked goods, perfect for souvenirs with a taste of Singapore.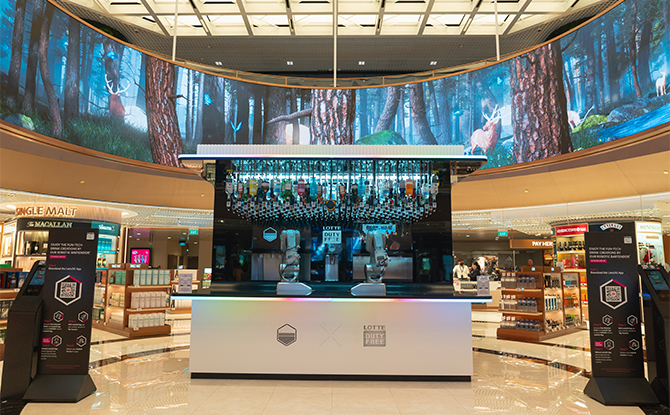 There is also a grand double-storey store Lotte Duty Free Wines & Spirits that not only retails a plethora of fine liquor, but also showcases a first-in-airport robot bartender Toni.
Above the bar, a massive 30-metre circumference LED ring plays scenes of the moon reflected in a lake, a homage to Tang dynasty poet Li Bai's famous work, Drinking Alone Under the Moon.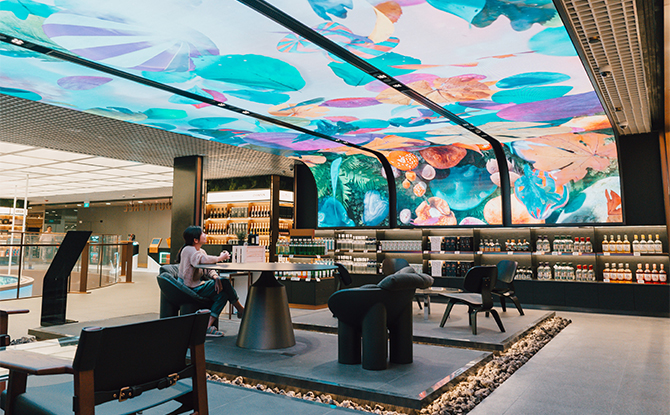 Visitors to Lotte's luxurious lounge at the upper level, known as the Forest of Li Bai, can sample a range of 18 whiskey choices from an impressive wall of dispensers, take photos with famous K-pop artistes in the smart selfie mirror, and admire the vivid colours of the LED video ceiling.
---
Enhancing the Passenger Experience at Changi Airport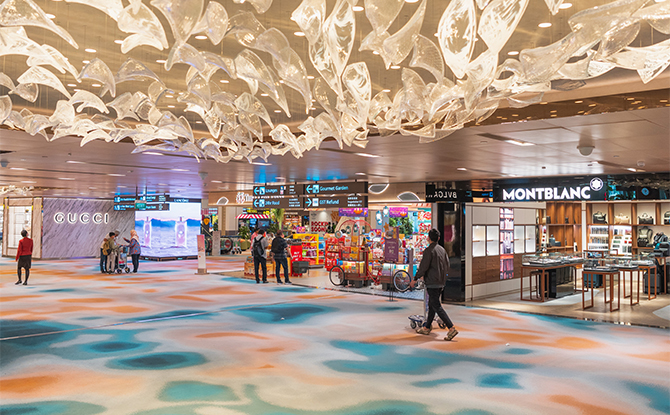 Mr Tan Lye Teck, Changi Airport Group's Programme Director for the Terminal 2 Expansion Project, said, "Changi Airport has always been pushing the boundaries of airport service and innovation, while staying ahead of the latest trends in digital as well as retail and dining offerings. With T2, we sought to enhance the passenger experience, bringing together a modern terminal inspired by nature, with immersive digital experiences, innovative technology, as well as transformative retail and dining concepts that create a sense of place. This expansion project augments Changi's handling capacity, allowing us to serve more passengers in the years ahead. We hope T2 will set a new benchmark for customer service and delight among airports. And we hope every user will find great pleasure and discover wonder whenever they travel through T2."
If you are wondering what else there is to do at Changi Airport's public areas, read our guide to the playspots around Changi Airport with kids and what to eat at Jewel Changi Airport.
You may also be interested in the Changi Festive Village 2023 that is taking place at Terminal 3 for the year end holidays in Singapore.