Kids can get into mad scientist mode and turn on the fun at Chaos Lab, the lab-themed experience in Singapore at Changi Airport Terminal 2 where science turns into play and play is a science!
Chaos Lab is filled with interactive activity stations for kids and opens from 11 November 2023, just in time for the year-end school holidays in Singapore.
---
Overview of Chaos Lab Singapore at Changi Airport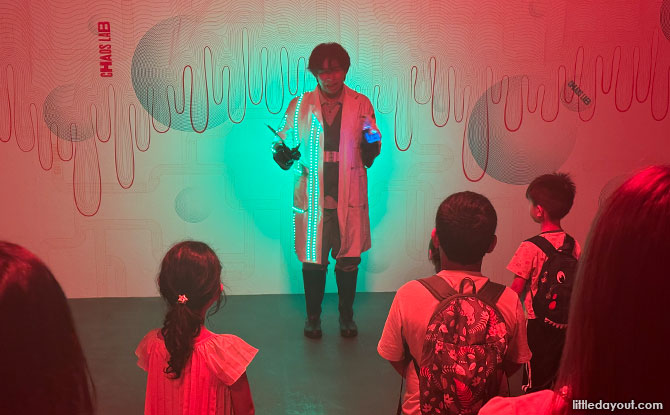 Welcoming the kids to Chaos Lab is Dr Splat. As Chaos Lab's resident mad scientist, Dr Splat takes kids around the lab, introducing them to the immersive stations. Kids can let their imaginations run wild as they play interns to the white-coated Dr Splat.
---
-- Story continues below --
During a media preview, we found that the whacky scientist did a good job drumming up the energy of the kids in the first room, Dr Splat's Laboratory. The room had been decorated with light-reflective murals and its ever-changing colours created vibrant hues.
Once kids have been assessed by Dr Splat to be worthy interns, they will have to go past the Decontamination Tunnel and on to the next part of the lab.
---
Pneumatic Pressure Pipes
Flying balls shoot through the air creating a chaotic barrage at the Pneumatic Pressure Pipes room. Kids have to keep a keen eye on the balls as they travel through the clear, spiralled tubes before blasting out into the open.
They can try to catch the flying balls as best as they can.
The Pneumatic Pressure Pipes a unique experience at the Singapore edition of Chaos Lab.
---
Neon Room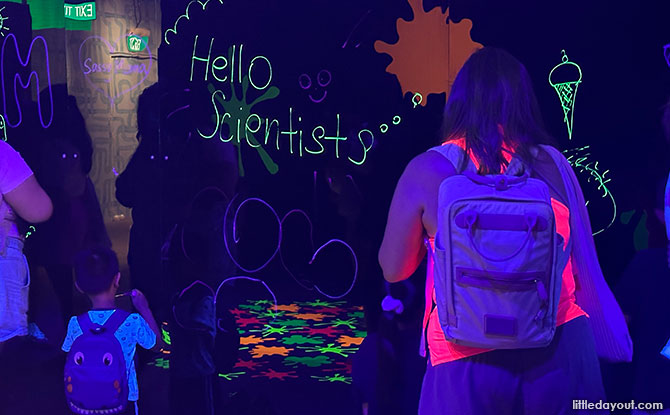 Next, it is time to get messy at the Neon Room. Kids can get down to scribbling glowing messages in different colours on the wall at this darkened room.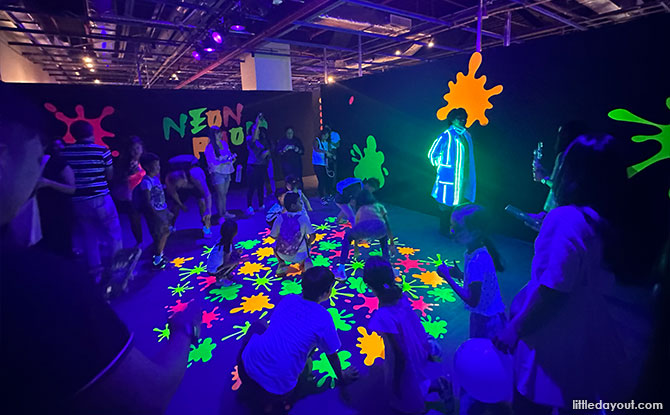 How about a game of twists and turns? Dr Splat was on hand to play a glowing game of Twister with the kids, getting everyone tumbling around the glow-in-the-dark room.
---
Light Lab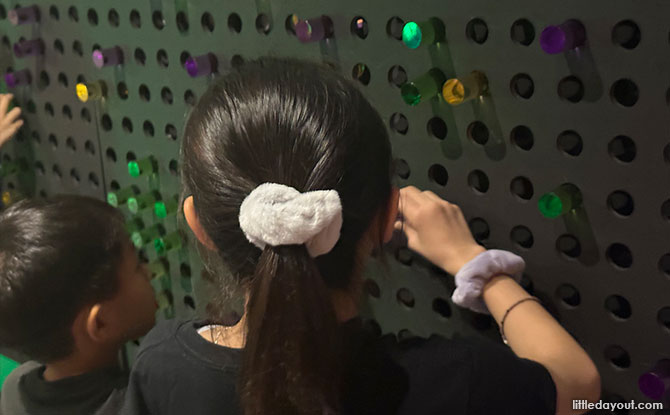 From neon colours, move on to "digital" pixels at the Light Lab. Plastic sticks can be stuck into a wall to create different shapes and patterns. It is a chance for kids to use their imagination and get creative.
---
Gravity Wall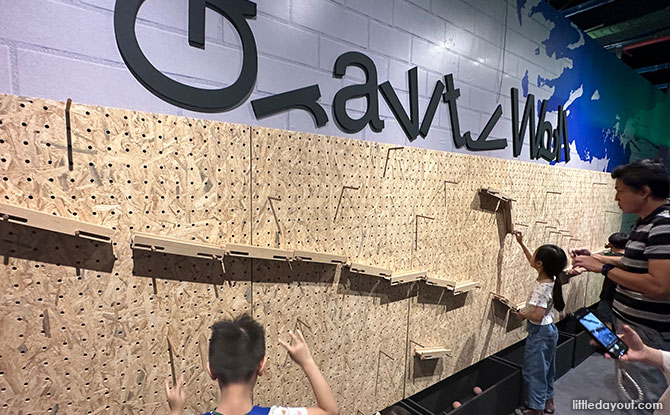 Kids can learn all about the laws of gravity at the Gravity Wall. By moving dowels and ramps around, it is a chance to experiment with different ways of sending a ball down the wall.
---
Slime Station
Then get stuck in at the Chaos Lab Slime Station.
There are two parts to this activity area. Choose to stretch and pull on gooey slime and explore its different textures and types.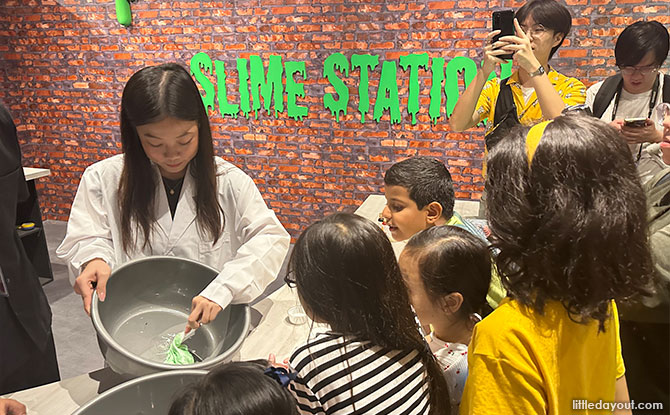 Then kids can work ingredients together to create their own slimy creations that can be brought home.
---
AR Sand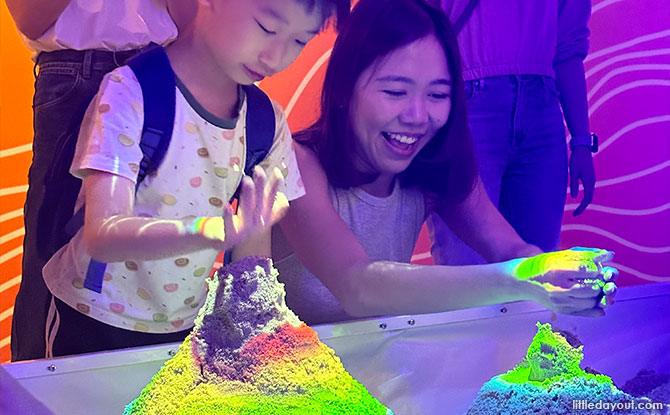 This is sand pit with a multi-media twist. Kids can dig up and pile up the sand. An overhead projector shines down images depending on the height of the sand sculptures.
We liked how there were different modes of play, some even unleashing dragons out onto the sandscape.
---
Bubbling Ball Pit
No kid can resist the temptation of a ball pit and the neon-lit one at Chaos Lab may be more tempting than regular ball pits. The ball pit has changing lights that create different moods (or perhaps chaotic inspirations) for the kids wading around inside.
You can peek in at the Ball Pit from the outside of Chaos Lab through windows to see what's going on inside.
Other experiences at Chaos Lab Singapore include Walls of Wonder, a sequinned wall where you can create patterns, and an ID Tag Photo Station at the end of "internship" experience.
---
Chaos Lab Singapore Review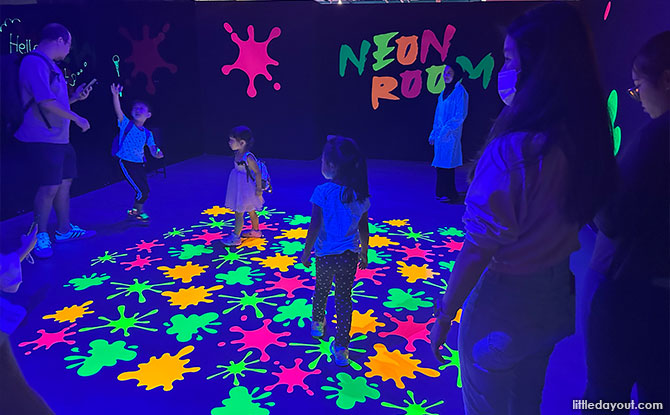 What we liked about Chaos Lab Singapore:
High touch experience
Open-ended activities
Interactions with Dr Splat
We appreciated how there were varied activities for children at Chaos Lab. We feel that the activities will appeal especially to kids 4 to 10. However, all ages are welcomed to experience Chaos Lab.
Because it is a high touch experience, you can just let the kids loose and you don't need to worry about them breaking anything. They will be able to get down to playing right away without much instruction. In case they need some prompting, Dr Splat's lab assistants are at every station, ready to help them along.
We also liked how the Chaos Lab staff added to the theming by wearing white lab coats. And Dr Splat was great too! His job is to play with his "interns", which is what he did!
While the Chaos Lab space isn't very large, the hands-on nature of the activities means that kids can spend plenty of time at a station that they like. The open-ended nature of the play activities at Chaos Lab allows them to explore their favourite activities over and over again. In fact, you might find that you have to pull them away when it is time to leave.
---
Location & Opening Hours
Chaos Lab opens to the public from 11 November 2023 and will run till Q2 2024.
Chaos Lab's operating hours are Monday to Sunday, 11 am to 10 pm. Last entry is at 9 pm. All ages are welcomed.
You can expect to spend approximately 30 to 45 minutes at Chaos Lab, depending on how long you wish to spend at each activity.
Chaos Lab is located at Changi Airport Terminal 2, Viewing Mall North #03-03, Singapore 819643. This is at the side of Terminal 2 that is closer to the Sky Train and Jones the Grocer.
It is on the floor above the Sky Train, next to the walkway leading from Terminal 2 to Jewel Changi Aiport, not far from the Flap Pix kinetic sculpture.
Chaos Lab ticket prices start at $30 for children and $9 for adults (ages 13 and above). Children under four do not need a ticket, but are required to be accompanied by an adult at all times.
---
Purchase Chaos Lab Tickets
Chaos Lab tickets are available on Fever. You can purchase Chaos Lab tickets here.
For more ideas on things to do during the school holidays in Singapore, be sure to check out our Amazing List of Year-end Activities for Kids 2023.
Media Invite
This story contains affiliate links. This means we earn a small fee if you purchase something through a link from our website. There is no additional cost to you and goes towards supporting Little Day Out's efforts to deliver the best news and reporting for families.