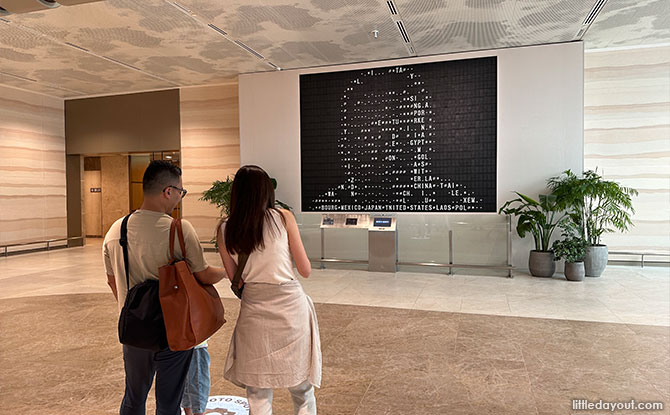 Combining a bit of nostalgia with technology is the Flap Pix kinetic art installation at Changi Airport Terminal 2. This interactive installation features a flip board where you create a portrait of yourself, or select different scenes.
---
Flight Information Display Boards
Changi Airport Terminal 2 was previously home to two flight information display boards that were installed in 1999. For those who are old enough to remember them, there was always something dynamic about hearing the sound of the letters and characters on the flip board fluttering away, as if signalling all the possibilities that come along with travel.
The original Changi Airport Terminal 2 flip boards have now been consigned to the museum.
Nonetheless, a bit of the spirit of the old flip boards have been captured in an interactive flip board kinetic art installation, Flap Pix.
---
-- Story continues below --
---
Flap Pix: Interactive Kinetic Art Installation
Flap Pix makes use of 1080 split-flaps to create a fun pice of art.
There are two ways to interact with Flap Pix.
Over at the touch screen panel, you can choose either scenes or portraits.
Selecting scenes will put up displays of recognisable Singapore scenes and icons on to the flip board.
---
Create Your Own Portrait with Split Flaps
Choose the portrait mode for more personalised fun.
After selecting portrait, you can take a photo of your face using the camera built into to the screen. This will then be computed into an image that gets displayed up on the flipboard.
It is quite fun to see your image on the kinetic art installation.
You will need to take a few steps back to view it from the best angle. There is also a spot where you stand to have a good look at the flip board creation.
According to the Changi Airport website, "It showcases Changi Airport's ability to blend tradition with modernity to create a positively surprising artwork that creatively connects the past and the present."
It is quite a fun addition to the public area at Changi Airport Terminal 2.
Flap Pix can be found on Level 3 of Changi Airport Terminal 2, close to the link bridge that leads to Jewel Changi Airport.