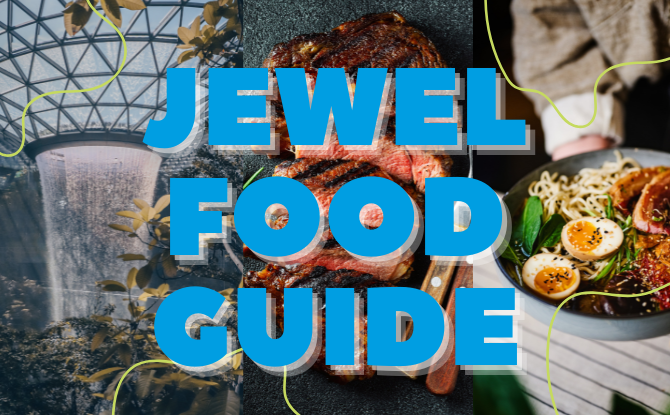 Jewel Changi Airport is packed with restaurants, cafes and eateries that cater to every single taste and price point. We've put together this Jewel food guide to help you decide where to dine and what to eat when paying a visit to the mall at Changi Airport.
---
Ultimate Jewel Changi Airport Food Guide
There are more than 100 dining options available at Jewel Changi Airport. With so many different food establishment, this ultimate Jewel food guide will help you to narrow down the food recommendations for your meal.
Quick Overview
For a quick overview, you may be interested to know the following general areas:
---
-- Story continues below --
Jewel Changi Airport Basement 2 is home to an entire collection of food kiosks that offers quick bites.
Most of the casual restaurants are located at Basement 1 and Basement 2.
There is a food court, Food Republic, located at Basement 2, just next to the food kiosk area.
Another food court that focuses on Japanese food can be found at Don Don Donki at Basement 1.
Choose a restaurant on levels 2 to 4, facing the HSBC Rain Vortex waterfall if you want to dine with a view. But not every table will have a view of the waterfall, so ask if you have your heart set on that
Restaurants on Level 5, the top floor of Jewel Changi Airport, are on the higher-end of the price range.
Here's on to the various restaurants and food spots you can find at Jewel Changi Airport.
---
Snacks and Quick Bites
An Acai Affair
Get a healthy snack in the form of an acai bowl at An Acai Affair. Made from a small berry-like fruit, it is said to be high in antioxidants and has weight loss properties.
Where: #B2-262
Auntie Anne's
These hand rolled soft pretzels are yummy. Some of the best sellers (and our favourites) include Cinnamon Sugar and Almond Crunch.
Where: #B2-272
Birds of Paradise
For a different take on gelato, head over to Birds of Paradise where gelato, flavoured with botanical flavours from fruits, flowers, herbs, spices, nuts and pods await at this kiosk.
Where: #01-254
Boost Juice Bars
The Australian juice bar offers a range of low-fat green smoothies, freshly squeezed juices and dairy-free crushes.
Where: #B2-261
CHICHA San Chen
Originally from Taiwan, CHICHA San Chen marries together the best of bubble tea with traditional tea and has won over plenty of fans who don't mind queuing up to enjoy a refreshing cup.
Where: #B2-213
Chun Yang Tea
Also from Taiwan and using fresh tea leaves grown from their tea plantation, Chun Yang Tea is established to bring forth a fusion of modern tea drinks infused with traditional tea recipes.
Where: #03-207
Dunkin' Donuts
When you want a sweet donut, American chain Dunkin' Donuts will help to fill the spot.
Where: #B2-270
Frozen Heart Fried Ice Cream
Have you ever tried fried ice cream? You can do so at this kiosk at Basement 2.
Where: #B2-258
Gelatissimo
Pick up a gelato at this store brightly coloured store at Jewel.
Where: #03-206
Jollibean
Craving for some soy milk? Head over to Jollibean to quench your thirst.
Where: #B2-259
KOI Express
KOI focuses on brewing aromatic tea with quality. The freshly brewed tea and flavourful ingredients, prepared with passion are the key to KOI's authentic taste.
Where: #B2-263
KANE MOCHI
Originating in Bangkok, KANE MOCHI is famous for its Japanese mochi with premium ice cream filling, also known as "daifuku". It is a nice sweet dessert treat.
Where: #B2-269
Kazo
This Jewel food shop sells Taiwanese pastries and desserts baked fresh with the finest ingredients specially flown from Taiwan to uphold its authentic Taiwanese taste.
Where: #B2-246
Lim Chee Guan
Lim Chee Guan has been making Bak Kwa since 1938, with thin slices of bak kwa are roasted over glowing charcoal.
Where: #B2-222
Lu Xiao Xian
Lu Xiao Xian's sells boneless chicken feet, which come infour flavours: lemon, spicy, garlic, and mala.
Where: #B2-257
Mr. Coconut
Mr. Coconut blends fresh Thai coconuts with other ingredients to create unique coconut-based beverages.
Where: #B2-268
Nine Fresh
Nine Fresh is a Singapore-based, Taiwan-inspired brand serving fresh, chilled taro ball desserts daily. Select from three signature bases (Bean Curd, Grass Jelly and Ai-Yu Jelly) and top it off different toppings.
Where: #B2-244
Old Chang Kee
Old Chang Kee's signature Curry'O – a crispy pastry shell generously stuffed with curried potato, chicken and an egg slice, all cooked with special herbs and spices.
Where: #B2-247
Pita Tree Kebabs
Grab some freshly-prepared kebabs, mezze, rice bowls and salads from the Mediterranean region at this Jewel food kiosk.
Where: #B2-256
Potato Corner
Enjoy freshly prepared fries are prepared fresh, fried to order, seasoned with passionately formulated flavours like Cheese, Barbecue, Sour Cream & Onion and Chili Barbecue.
Where: #B2-264
Rich and Good Cake Shop
A specialist in swiss rolls, the bakery offers at least 10 flavours daily, Rich and Good Cake Shop caters to taste buds of all ages with crowd-pleasing kaya flavour to the fragrant durian flavour.
Where: #01-232
rrooll
rrooll offers a swirl of both sweet and savory flavours rolled up in its signature soft and fluffy dough.
Where: #B2-266
SF Fruits & Juices
Need your dose of fresh fruit? SF Fruits & Juices offers whole fruits and freshly cut fruits as well as blended fresh fruit juices.
Where: #B2-260
The Alley
The Alley is a trendy bubble tea chain that originated from Taichung, Taiwan in 2013. It is best known for its photo-worthy ombre drinks served in unique rounded base cups.
Where: #B2-273
The Backyard Bakers
They are known for their blackout brownie.
Where: #02-234
The Original Vadai
The Original Vadai has been selling Prawn Vadai since 1989.
Where: #B2-267
Tokyo Milk Cheese Factory & Cow Cow Kitchen
Tokyo Milk Cheese Factory & Cow Cow Kitchen has nice and surprising cookies and ice cream.
Where: #B2-265
Yolé
Yolé offers a range of ice cream and frozen yogurt without adding a gram of sugar.
Where: #B2-271
---
Cafes
If you are looking for a place to get a drink, or have some dessert after a meal, Jewel has different cafes that offers a spot for a sit down.
% ARABICA
You will often find this cafe at Jewel Changi Airport, originally from Kyoto Japan, bustling with people. This is simply because of the quality of its coffee. It is a speciality coffee brand where the baristas carefully control the creation of the craft drinks.
Where: #01-K208
7-Eleven / 7Café
While we often think of 7-Eleven as a convenience store, the outlet at Jewel Changi Airport extends the concept into a cafe. It has a relaxed seating space and also serves up light counter food along with drinks. It is a no-fuss spot for you to get a beverage. This store isn't 24 hours but it does open till late at midnight.
Where: #B2-221
Andersen's of Denmark
Satisfy your sweet tooth with ice cream, made with natural ingredients from around the world, to a Danish recipe. You can get it in a cup or try one of their freshly baked waffles cones.
Where: #04-218
Fun Toast
Serving up local coffee and tea along with kaya toast, this is a casual spot to sit down and get a beverage.
Where: #04-246
Ice Lab
Ice Lab is a dessert cafe offering coffee, shakes and Korean Bingsu.
Where: #B2-234
Lady M
The Signature Mille Crêpes at Lady M features no less than twenty paper-thin handmade crêpes layered with ethereal light pastry cream, gently caramelised on top until golden. Sit down to enjoy some of this delectable cake along with a beverage at Lady M.
Where: #02-253
Luckin Coffee
Luckin Coffee offers a range of unique coffee and beverages. It is technologically driven to provide a unique customer experience.
Where: #04-231/232
Maison de PB by Paris Baguette
A stylish bakery café and dining destination, Maison de PB by Paris Baguette offers a trendy menu featuring salads, pasta, steaks and baked goods.
Where: #02-200
Nesuto
Enjoy specialty cakes and desserts at this Jewel cafe.
Where: #01-236/237
Sourbombe Artisanal Bakery
Pick up some of these sourdough donuts and settle down to enjoy them amongst the pink hues of this Jewel cafe.
Where: #02-237
Starbucks
Get a cup of joe along with some cakes or pastries at this large Starbucks outlet at Jewel Changi Airport.
Where: #02-204
1872 Clipper Tea Co.
This cafe serves teas to all corners of the world.
Where: #01-255
The Coffee Bean & Tea Leaf
The Coffee Bean & Tea Leaf is where you can pick up a coffee, tea or other beverage and a cake for a break. It also has the distinction of being open 24 hours.
Where: #01-200
Toast Box
Toast Box is a homegrown coffee chain that seeks to recreate the nostalgic vibes of Singapore's coffee shops in Singapore back in the 60s and 70s.
Where: #B2-231
---
Fast-Food / Fast-Casual
A&W
The American chain, known for its root beer floats and hot dogs, is located at the basement of the Jewel Changi Airport. On Fridays and Saturdays, it stays open till 1 am in the morning to satisfy those with late night cravings for a delicious frosty mug drink.
Where: #B2-209
Jinjja Chicken
Inspired by South Korea's rich food culture, Jinjja Chicken is a trendy restaurant chain, best known for their Korean Fried Chicken and Jjajangmyeon.
Where: #B1-247
KFC
KFC needs no introduction. Pick up a chicken set meal at this fast food restaurant at Jewel Changi Airport.
Where: #B2-275/276/277
Luke's Lobster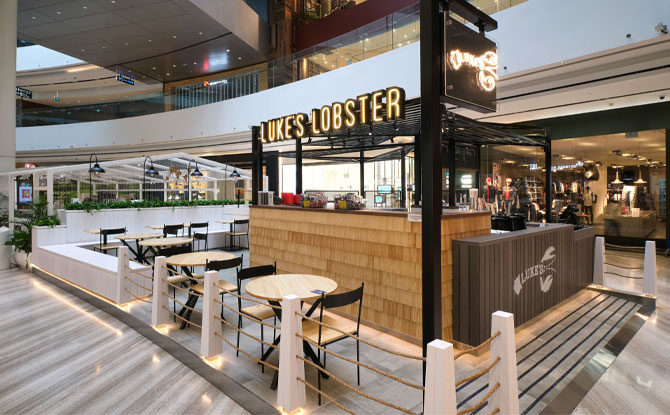 Head over to Luke's Lobster to enjoy traceable seafood. The main product here is the Lobster Roll, which you can choose either cold or warm.
Where: #01-K209
MOS Burger
This burger chain from Japan offer a variety of unique and original tasting burgers including the Rice Burger.
Where: #B2-211
McDonald's
Grab a burger from McDonald's at the basement of Jewel Changi Airport.
Where: #B1-298
Shake Shack
This American brand is known for its 100% all-natural Angus beef burgers, flat-top beef dogs, frozen custard, crinkle cut fries, craft beer and more.
Where: #02-256
Subway
Design your own sandwich at Subway.
Where: #B2-245
---
Casual Restaurants
Aburi-EN
This Japanese restaurant specialises in donburi or rice bowl made with ingredients from Japan. It also makes use of Japanese and Australian wagyu. It is known for its aburi or partially grilled style of serving the food, with a nice torched flavour.
Where: #B2-233
Action City Cafe
This casual dining establishment combines food with toys. It serves a range of creative Western-Japanese fusion cuisine, including Takoyaki Pizza, Japanese octopus balls topped with takoyaki sauce bonito flakes. It also offers a view of the HSBC Rain Vortex waterfall.
Where: #04-223
Dapur Penyet
Love a bit of spice? This Jewel restaurant serves authentic Indonesian food. You can also try the various types of sambal on offer, with different levels of spiciness.
Where: #B2-241/242
Fong Sheng Hao
From Taiwan, popular eatery Fong Sheng Hao is known for its toast, particularly its pork chop toast.
Where: #B2-232
Gochi-So Shokudo
Gochi-So Shokudo is a Japanese restaurant that serves Iberico Pork imported from Spain and grilled over charcoal fire so that every bite is a burst of delicate, nutty, and melt-in-your-mouth flavours.
Where: #B1-289
Greendot
Greendot is an Asian-fusion meat-free restaurant. They repackage traditional vegetarian cuisine into a green casual concept.
Where: #B1-297
Hot Tomato
Hot Tomato is a contemporary casual steakhouse offering grilled steaks, seafood, pasta and sides. It has a view of the Rain Vortex and promises tasty food at wallet friendly prices.
Where: #04-229
Itacho Sushi
Get your fix of sushi and sashimi at this Jewel Changi Airport sushi restaurant.
Where: #B2-210
Japanese Soba Noodles Tsuta
Japanese Soba Noodles Tsuta is the world's first Michelin-starred ramen restaurant. Its signature dish is the Shoyu Soba – ramen in soy-based broth and topped with truffle puree.
Where: #02-242
Kei Kaisendon
Kei Kaisendon is a Japanese restaurant that serves delicious rice bowls topped with fresh sashimi from the seas of Japan.
Where: #03-213
Kiwami Ramen & Gyoza Bar
This food menu at Kiwami Ramen & Gyoza Bar brings together a range of premium selections of ramen with local fusion flavour.
Where: #01-225
LENU
Enjoy a bowl of Chinese noodles in a bowl of rich pork bone or braised beef broth.
Where: #04-244/245
Monster Planet
This Jewel Changi Airport restaurant serves demi-glace Japanese curry rice in monster size that is made from 14 vegetables and spices which is cooked over 2 days.
Where: #03-200
Nuodle
Tuck into a bowl of hand-pulled Chinese La Mian at this Jewel food outlet, located at the basement of the Changi Airport mall.
Where: #B2-255
PAUL Bakery & Restaurant
Choose from freshly made French breads and pastries or a savoury collection.
Where: #B1-225
PAZZION Café
The café features a curated all-day dining menu and quality coffee.
Where: #B1-243/244
Pizzamaru
From Korea, Pizzamaru serves interesting pizza creations with interesting toppings along with interesting dough.
Where: #04-222
Qiji Signature
Qiji is known for its Singaporean fare such as nasi lemak.
Where: #B2-223
Sukiya
This gyudon chain from Japan serves up beef rice bowls quick and fast.
Where: #B2-200
Saap Saap Thai
Savour authentic Thai street food at Saap Saap Thai, a self-service restaurant serving fried chicken, stir-fry rice dishes, noodles, spicy salad and more.
Where: #B1-299
Sampanman
The Sampanman honours traditional seafarers by catering fresh seafood on custom-made grillers and deliciously hearty crab bee hoon while featuring interiors inspired by pastoral offshore villages.
Where: #B1-223
Shiki Hototogisu Ramen
Inspired by the four seasons, Shiki Hototogisu Ramen offers four signature ramen dishes featuring seasonal ingredients. Diners can also choose from a range of matcha desserts, including from popular matcha dessert brand, Kagurazaka Saryo.
Where: #B1-300
So Pho
Experience the Vietnamese way of savouring and sharing street food favourites with dishes like Summer Rolls, Banh Xeo (Vietnamese crepe) and Banh Mi.
Where: #B1-248
Song Fa Bak Kut Teh
This Jewel food outlet serves pork ribs that have been carefully simmered with garlic and pepper to yield the trademark clear and peppery soup, popularly paired with braised dishes and Kung Fu tea.
Where: #B2-278/279/280
Sushi Tei
Enjoy sushi and sashimi at this homegrown Japanese restaurant that has a menu of more than 370 dishes.
Where: #03-209
Sushiro
Sushiro serves more than 100 varieties of sushi and Japanese dishes on a conveyor belt. We particularly like the unusual sushi varieties that they offer.
Where: #B2-227/228
Tai Er Suancai & Fish
Tai Er focuses on its signature dish: Chinese sauerkraut fish.
Where: #03-208
Tempura Makino
Tempura Makino is a tempura specialty restaurant chain using the "Tsudoage" style, when the tempura is made-to-order.
Where: #01-223
The Hainan Story
The Hainan Story celebrate the love of Hainanese food.
Where: #B2-201/202
Tim Ho Wan
Tim Ho Wan is a dim sum restaurant that is best known for its famous Baked BBQ Pork Buns.
Where: #02-223
Tonkastsu by Ma Maison
Tonkastsu by Ma Maison serves up aromatic, tender and succulent breaded Kurobuta pork cutlets, accompanied by shredded cabbage, tonjiru soup and pickles.
Where: #02-211
Tsui Wah
Tsui Wah extensive selection of signature Hong Kong dishes are prepared using age-old recipes and traditional cooking method.
Where: #03-230
Tun Xiang Hokkien Delights
Tun Xiang Hokkien Delights offers Hokkien food dishes.
Where: #B1-290
White Restaurant
White Restaurant serves local comfort food including its signature White Beehoon.
Where: #B1-245/246
Yun Nans
Yun Nans is the largest casual dining restaurant chain from Yunnan, China, specialising in Yunnan cuisine.
Where: #02-217
---
Restaurants
Artestiq
This restaurant is said to be inspired by Singapore history and offers its own take on the afternoon tea set. You can also enjoy all day dishes here for exquisite dining experience.
Where: #05-201
Artestiq de Patio
Head to the top floor of Jewel and you'll find this rather elegant looking restaurant. There are two dining concepts here. Artestiq de Patio is a European Street-style restaurant that serves modern dishes like Pancetta Roast Pork Belly (a slab of savoury, juicy pork belly), Gemelli Parmigiana (traditional Italian cheese eggplant spaghetti), Paccheri Beer Butter (which is also known as beer pasta), and Al Taglio Pizza to Flattened Potatoes.
Where: #05-200
Beauty in the Pot
Those who love hot pot will enjoy a meal at Beauty in the Pot. Known for its rich collagen soup, the restaurant is great for sharing a nice meal together. It is also a haven for night owls as it stays open till 3 am in the morning.
Where: #B2-224/225/226
Burger & Lobster
Burger & Lobster is a famous UK chain. Feast on their prime burgers or wild, fresh Atlantic lobsters. Burgers are made from three cuts of meat: chuck, tri-tip and brisket, and the lobsters can either be had as a classic whole lobster or as a lobster roll.
Where: #05-203
Coucou Hotpot
Coucou Hotpot was founded in 2016 and is a mid-to-high-end hot pot brand incubated by Taiwan's hot pot brand Xiabuxiabu.
Where: #02-208/209
Dian Xiao Er
Dian Xiao Er is known for its Herbal Roast Ducks and mouth-watering specials such as the Pan-Fried Cod Fish and Wheatgrass Tofu. It aims to offers a home-cooked Chinese meal dining experience.
Where: #B2-229
Din Tai Fung
Din Tai Fung is best known for signature dishes like the Xiao Long Bao (Steamed Pork Dumplings) and their award-winning Fried Rice. It uses fresh premium ingredients paired with a relish for simple cooking styles for a winning combination.
Where: #03-214/215
Earle Swensen's
Try western dishes such as Smashed! Burgers, The Earle's IMPOSSIBLE™ Burger, hand-stretched, artisanal Neapolitan-style Pizzas, and more at Earle Swensen's restaurant.
Where: #03-219
Elfuego by COLLIN'S
Enjoy western dishes with main courses such as seabass, lamb rack and steak at this halal restaurant.
Where: #02-216
Hitoyoshi Izakaya
Hitoyoshi Izakaya is a Japanese restaurant under Hitoyoshi Group, focusing on kebabs, sashimi, sake and other specialties. They offer high-quality sashimi and meat, which are perfect to pair with sake or various liquors.
Where: #05-205
Hoshino Coffee
At Hoshino Coffee, you can savour specialty hand-dripped coffee made from premium Arabica roasted coffee beans, or enjoy fluffy soufflés and pancakes, along with other delicious Japanese-Western food items.
Where: #B1-249
Jack's Place
Known as a place for sizzling steaks, Jack's Place also serves up other western meals like pastas and other meats.
Where: #04-219
Jumbo Seafood
Looking for seafood at Jewel Changi Airport? Jumbo Seafood is the place to go to get your chilli crab cravings satiated.
Where: #03-202/203/204
Kam's Roast
The Roast Duck is one of their signature dishes and other menu highlights include Crispy Roast Pork, Iberico Char Siu, Pipa Duck, Orange Peel Red Bean Soup and braised dishes.
Where: #02-210
Kko Kko Nara
Kko Kko Nara's fried chicken is crunchy, spicy, perfectly non-greasy, and deliciously addictive. The restaurant has been around in Singapore and serves popular Korean dishes such as bibimbap and ramen.
Where: #02-243
Mamma Mia Trattoria E Caffè
Enjoy artisan pastas that are handcrafted with fresh ingredients along with antipasti, rice and other mealtime dishes and mouth-watering desserts at this Italian restaurant.
Where: #04-200
O'Coffee Club Roastery
Not only does O'Coffee Club Roastery serve a collection of gourmet coffee & ice blended beverages but they also offer mains that include uniquely created pastas and pizzas.
Where: #03-216/218
Paradise Classic
Paradise Classic offers Chinese cuisine inspired by Nanyang spices, ingredients and cooking styles. Enjoy dishes like superior double-boiled soups, stewed pork belly, hot plate tofu, and dried sakura ebi.
Where: #04-244/245
Poulet Bijou
Poulet Bijou is a modern French-themed bistro. The French Roast Chicken maestro serves freshly roasted chicken that is brined overnight using an in-house secret recipe. The Poulet Roti is complemented with signature sauces: delicious homemade Mushroom Cream Sauce, Diane Sauce, Cranberry Sauce and Black Pepper Sauce.
Where: #01-227
Privé
Located at Canopy Park, at the top of Jewel, this restaurant has an all-day menu of western favourites, local delights and baked treats paired with cocktails, wines or beers.
Where: #05-204
Putian
Singapore-based Chinese restaurant PUTIEN serves authentic Putian cuisine from China's Fujian province.
Where: #02-249
Sankranti
Sankranti serves traditional Indian Cuisine including fish curries to shrimp biryani, as well as vegetarian options.
Where: #03-229
Sanook Kitchen
Sanook Kitchen offers wide variety of authentic Thai food classics ranging from appetisers, soup, curries to seafood and more.
Where: #03-223/224
Shang Social
Shang Social pays tribute to three distinctive Chinese cuisines – Cantonese, Huaiyang, and Sichuan.
Where: #01-219/220/221/222
Soup Restaurant
Soup Restaurant signature is the Samsui Ginger Chicken along with other steamed dishes, double-boiled herbal soups and heritage dishes.
Where: #03-201
Tanuki Raw
Tanuki Raw offers a mash-up of Japanese-inspired cuisine with the playfulness of American street food and global influences.
Where: #05-202
Tapas Club
Helmed by Executive Chef Jose Angel Alonso and one-star Michelin Chef Manuel Berganza, Tapas Club presents diners with tantalising Spanish fare and flavours.
Where: #03-220/221/222
TONITO
TONITO serves Latin American inspired dishes. It also has a nice view of the HSBC Rain Vortex.
Where: #02-248
Violet Oon Singapore
Violet Oon Singapore showcases the nation's culinary treasures and heritage from Nyonya, Chinese, Indian and Malay cuisines.
Where: #01-205/206
Wa-En Wagyu Yakiniku
Wa-En Wagyu Yakiniku specialises in premium and delicate A4 and A5 Wagyu from Miyazaki, Japan, for Yakiniku.
Where: #01-224