Since Jewel opened in April 2019, it has attracted an endless stream of visitors and admirers. These include plenty of families with kids. And there are different attractions within Jewel that cater to families, plus others which will appeal to all generations.
---
Jewel's Play Area: Canopy Park
Canopy Park on Level 5 is where you will find the main Jewel play area. This is a 14,000 square metre space effectively acts as the Jewel playground – it is suitable not just for children but for adults too. Parents can have fun alongside their children at this sure-hit Jewel Changi Airport play area. Here are some of the attractions at Canopy Park.
Canopy Bridge
Take a walk 23 metres off the ground on the Canopy Bridge. We hope you don't have a fear of heights because the centre portion of the Canopy Bridge has a glass bottom.
Manulife Sky Nets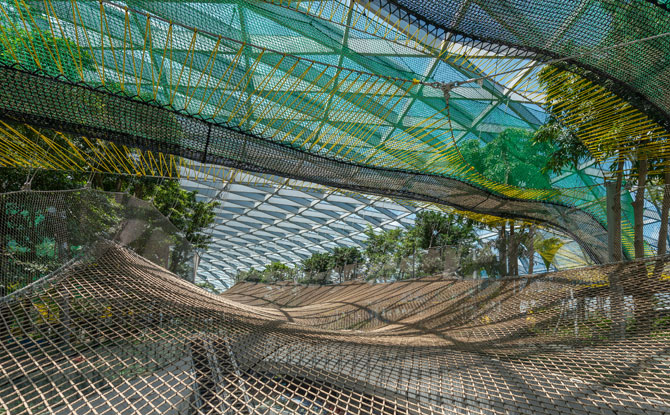 Suspended high above Canopy Park are the Manulife Sky Nets. You can choose to do either the bouncing or walking nets.
---
-- Story continues below --
Mazes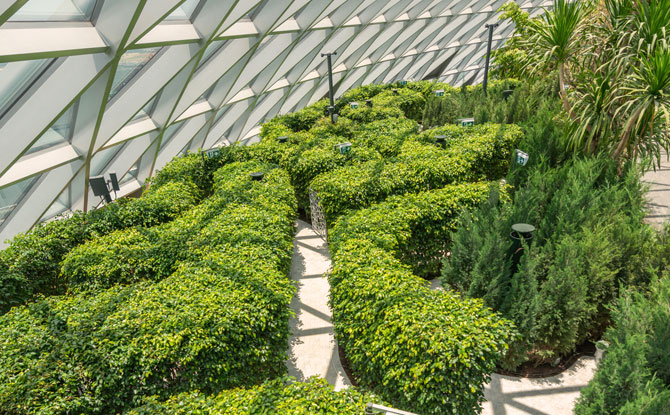 Navigate through two mazes, either the Hedge Maze or the Mirror Maze, for an amusing time.
Do take note the above are paid attractions, over and above the Canopy Park admission price.
However, included in the Canopy Park admission price are the Discovery Slides and "garden" areas including the foggy bowls.
---
Changi Experience Studio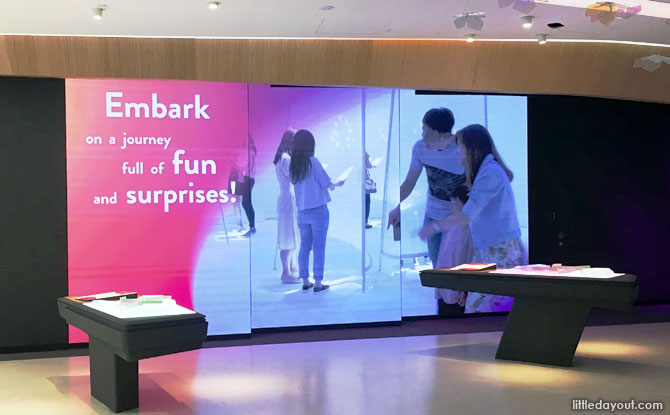 Changi Experience Studio is a digital experiential studio that will take you through the virtual world of Changi Airport. Look out for touchpoints that reveal different aspects of the airport.
---
HSBC Rain Vortex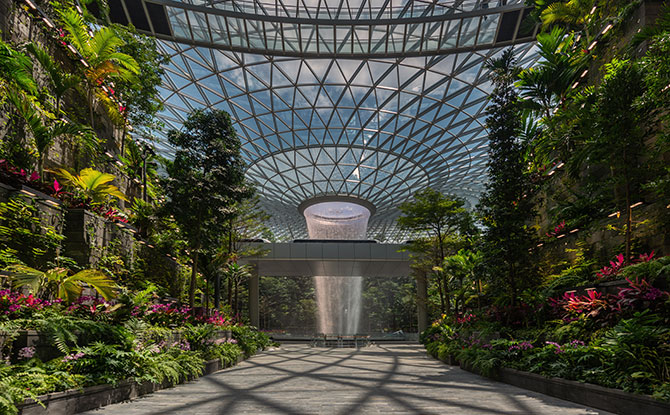 By now, you would have definitely seen the centrepiece of Jewel Changi Airport – the HSBC Rain Vortex. Watch it come to life at the nightly light and sound shows.
The HSBC Rain Vortex can be admired from different vantage points including the Level 2 Viewing Deck, along the Shiseido Forest Valley and from the basement levels where you can get a view of the water as it funnels away.
---
Beauty in the Pot, Jewel
Located at Jewel Basement 2 is hotpot restaurant Beauty in the Pot by the Paradise Group. This restaurant is the only one that we spotted with an indoor playground for kids at Jewel. However, take note that the playground may be closed at the moment due to COVID-19.
---
Fun Toast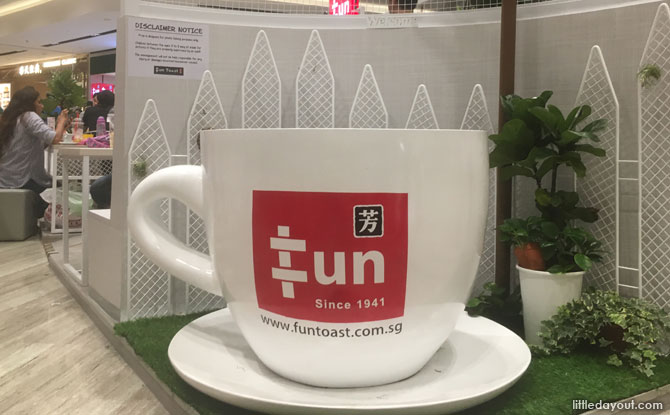 Fun Toast at Level 4 also gets a call out for the cute, very Singaporean, coffee cup prop which kids can pose with. In fact, children between the ages of 3 and 8 may even sit inside it if properly supervised.
---
Children's Shops on Level 4
Many family-oriented shops can be found at Level 4. This includes Pokemon Center Singapore.
Some other shops for children and families on Level 4 include Times Junior and The Better Toy Store.
---
Jewel Cinema
Jewel has a Shaw Theatres too.
---
Jewel's Children Play Area
In the past, Jewel had a small play area on Level 2. It was located at the side of Jewel is that is closer to Terminal 3.
You can also find a little dinosaur hiding in a corner here.
One floor above, there are electronic foozeball tables.
---
Visiting Jewel Changi Airport with Kids and Family
While we are hoping for the crowds at Jewel to dissipate, it doesn't look like that will be happening soon (especially with Canopy Park set to open). Therefore, if you are planning to visit Jewel Changi Airport, just remember to relax and take your time to enjoy your visit.
You can find out more about the playgrounds and play areas at Changi Airport.