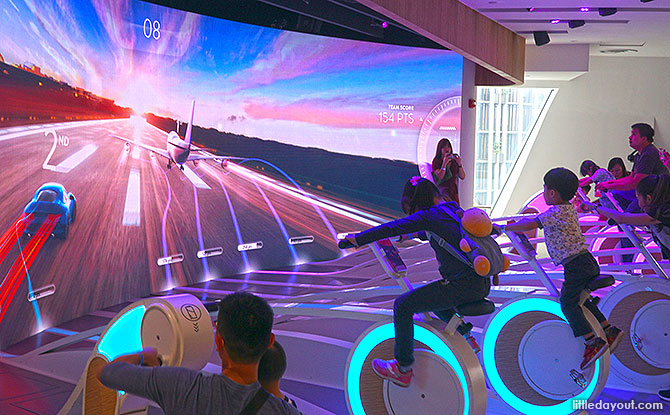 Changi Experience Studio at Jewel, opening 10 June 2019, is an attraction that tells the story of Changi Airport in fun and interactive ways. Found on Level 4 of Jewel Changi Airport, Changi Experience Studio will bring you on a interactive journey through Singapore's iconic airport using new and novel experiences.
There are more than 20 touchpoints laid out across 10 zones at Changi Experience Studio. And, after our visit on a media preview, we were left impressed! There had obviously been a lot of thought and effort put into making the Changi Experience Studio fun and engaging; it is unlike any other experience that we have come across at other airports on our travels.
---
Changi Experience Studio Travel Guide
If every journey begins as a blank page, at Changi Experience Studio that blank page is the Travel Guide.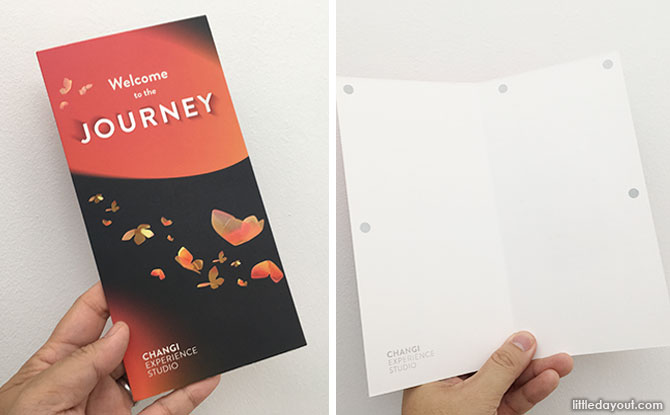 ---
-- Story continues below --
You will receive the brochure-sized Travel Guide as you enter the attraction. Open it up and it looks blank page inside. However, this piece of cardboard is really a smart device disguised as a blank page brochure. You will use the Travel Guide to activate the experiences within the attraction by placing it at designated spots.
---
Cloud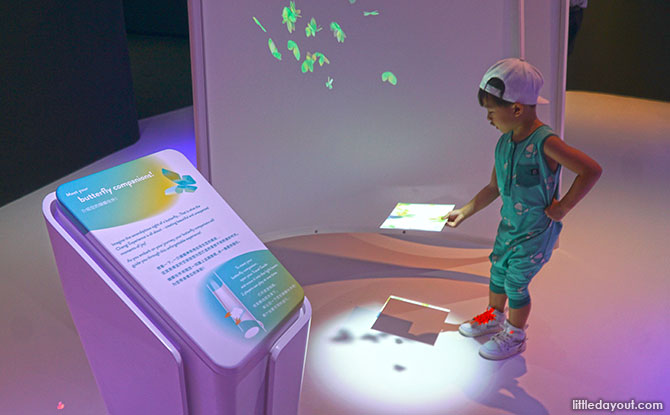 Cloud is the first zone at Changi Experience Studio. This dream-like area filled with fluttering is where you will get acquainted to using the Travel Guide.
---
Time Tunnel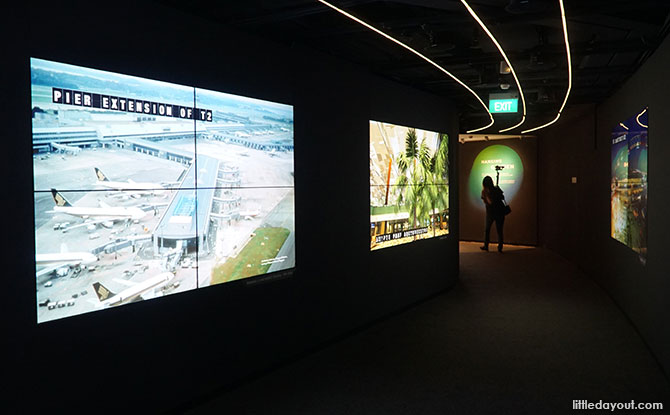 Take a walk through Singapore's aviation history and view informative information and historical photos of the airport. It is amazing how far the airport has come over the years and developed into a modern destination in itself.
---
Hanging Garden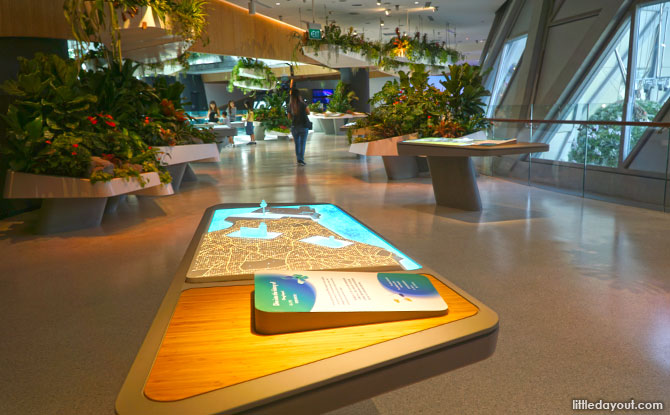 The story of Changi Airport is told at the Hanging Garden. There are seven discovery stations located throughout this zone. At each station, you can make use of the Travel Guide to go behind the scenes at various aspects of Changi Airport.
Simply hold the Travel Guide at the designated spot and watch as the story plays out on it.
---
Amazing Runway
Team up and go head-to-head at the multiplayer game Amazing Runway. Up to 10 persons can relive the runway race that took between a Porsche 911 GT3 Carrera Cup car and a Boeing 747 plane back in 2009. Pedal away and may the best team win!
---
Sky Deck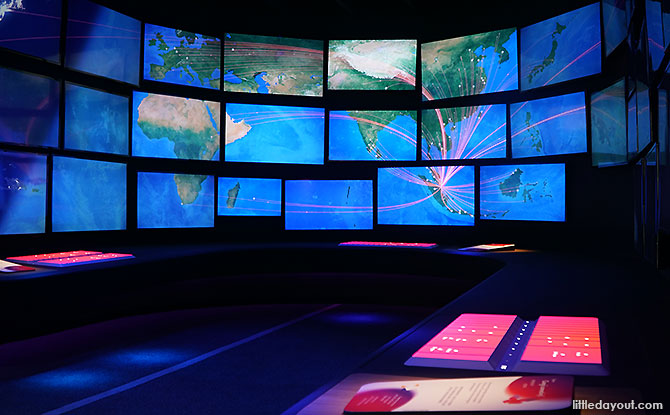 Changi Airport's connections to the rest of the world come into spotlight at Sky Deck. It is designed to look like an airside operations room, or at least as how we'd imagine it to look like. Use the Travel Guide to learn more about destinations and nodes in the global air travel network.
---
Smile Challenge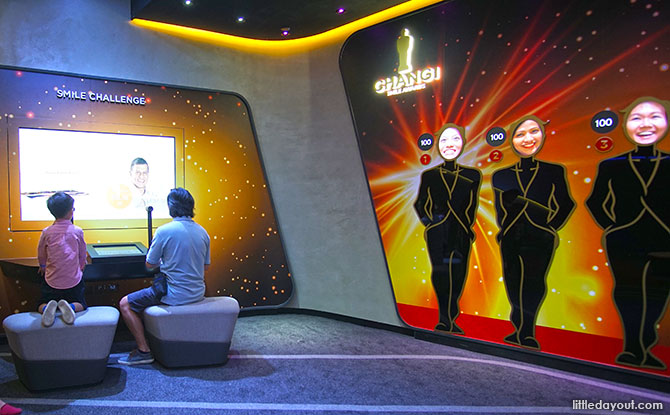 Think it is easy to be a service staff at Changi Airport and have to greet everyone with a friendly smile? Take on the Smile Challenge and find out. Put on the biggest and brightest smile and you may wind up in the Hall of Fame!
---
Backstage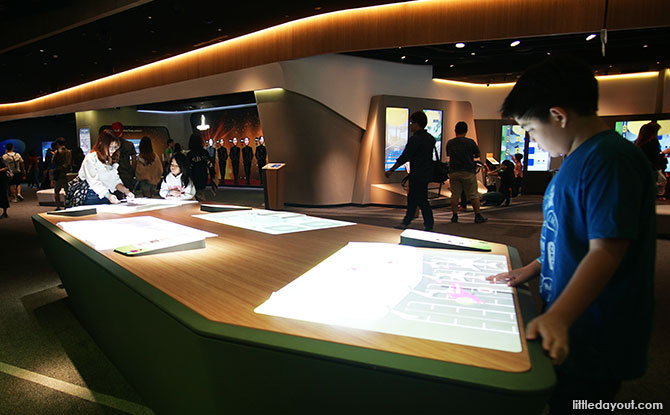 Thousands and thousands of people are required to keep Changi Airport running smoothly day after day.
Using your Travel Guide, try out some of the jobs at the Efficiency Game station – inspired by real airport jobs – and see if you have what it takes to work at Changi Airport.
---
Arena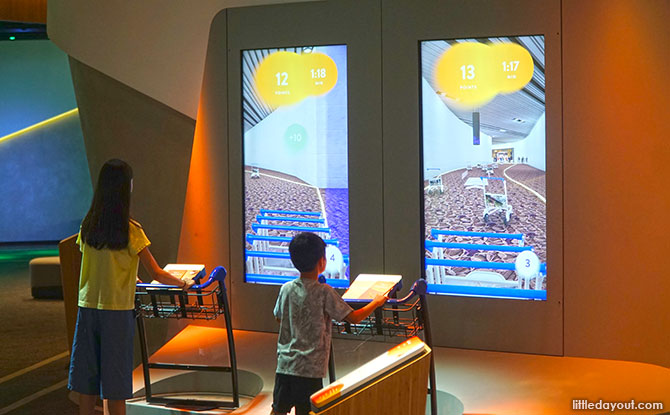 The fun and games continue at Arena. We particularly liked the trolley handler game which allowed us to live out our secret fantasy of running around the airport to collect all the stray trolleys strewn about.
---
Garden of Harmony
Garden of Harmony pays tribute to the countless people who must work in concert together at Changi Airport to keep it running.
Follow the digital butterflies that lead through the garden before coming together with fellow visitors to make beautiful symphonic music.
---
Finale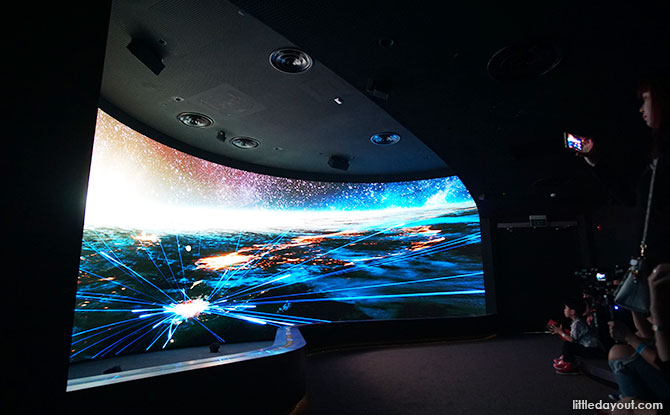 The final stop at the Changi Experience Studio is an audio-visual experience which paints a vision of the future of Changi Airport.
---
Important Things To Note About Changi Experience Studio
Changi Experience Studio is a ticketed attraction at Jewel Changi Airport. Standard rates are $25 for adults and $17 for children and seniors. Local Singapore Residents get to enjoy a special rate of $19 for adults and $13 for children and seniors. Admission is free for children below the age of 6.
Bundled rates (including bundles with Jewel's Canopy Park) are also available.
Entry to Changi Experience Studio is based on time slots with a one-hour window for admission from the stipulated entry time. There is no limit on the duration of play once inside.
Changi Experience Studio opens to the public on Monday, 10 June 2019.