There is now a new way to pay a visit to the airport – the Changi Airport Connector, a 3.5-kilometre cycling and jogging path, which includes a dinosaur-fill section known as Jurassic Mile. This links Changi Airport to East Coast Park and the Park Connector Network (PCN).
---
Changi Airport Connector & Jurassic Mile Open
The Changi Airport Connector and Jurassic Mile allow visitors and members of the airport community to cycle and jog to and from East Coast Park and Changi Airport. The opening was officiated by Mr Ong Ye Kung, Minister for Transport.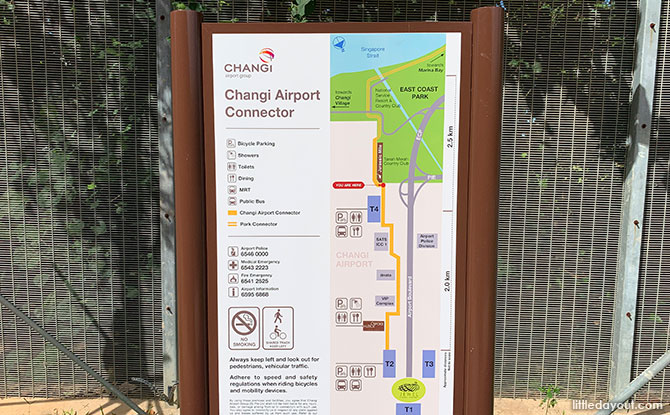 This opens up another way to access Jewel Changi Airport and Changi Airport's terminals.
With the Changi Airport Connector, the airport is now part of the attractions along the East Coast of Singapore.
---
Jurassic Mile: Dinosaurs at Changi
For families and the curious, one section of the Changi Airport Connector is sure to attraction a lot of attention.
Changi Jurassic Mile is home to Singapore's largest permanent outdoor display of life-sized dinosaurs.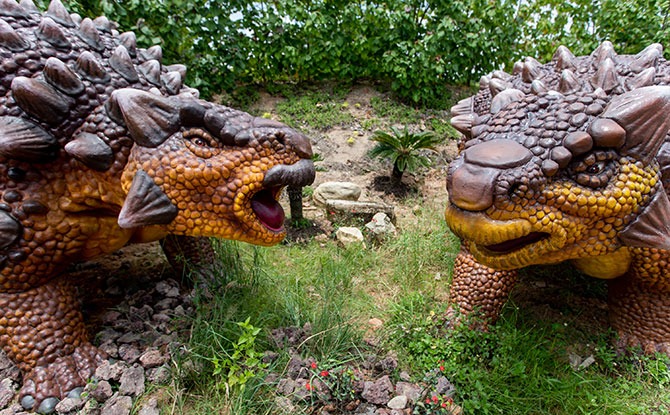 There are more than 20 different pre-historic creatures from nine species on display along the one-km long Changi Jurassic Mile.
Come face to face with a Tyrannosaurus Rex, raptors and gigantic dinosaur eggs. It is sure to be a treat for kids and families. Jurassic Mile and the dinosaur walk runs along next to perimeter of the airport and ends up at Terminal 4 which then connects onwards to Terminal 2.
---
HUB & SPOKE Changi Airport: Cafe, Bike Rental & Cycling Amenities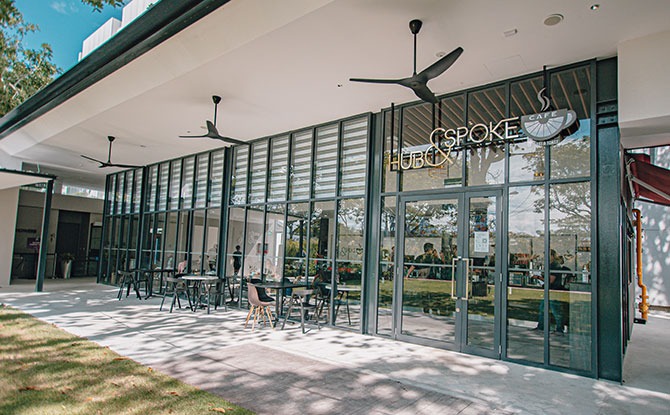 The end point of Changi Airport Connector is at HUB & SPOKE Changi Airport, a new facility at the southern end of Terminal 2. This hub is also where visitors can rent bicycles, cool off with a shower after exercise, or have a meal with family and friends.
The bike rental service at HUB & SPOKE is operated by GoCycling. With seven other GoCycling outlets around Singapore, including Changi Beach Park and East Coast Park, it is possible to pick up a bike from Changi Airport and return it as far away as Jurong Lake Gardens.
HUB & SPOKE also has complimentary bicycle parking and bicycle lockers for rental for those wish to "bike and fly".
There are also pay-per-use showers that come fully equipped with bath amenities and lockers for safekeeping of personal belongings.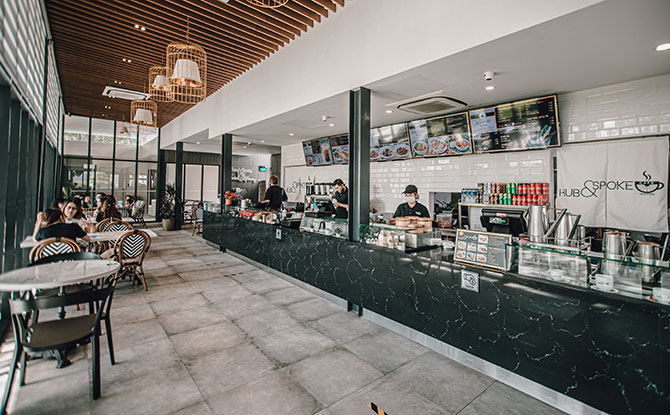 The HUB & SPOKE Café offers both local and western dishes in a colonial-themed setting, with the option of outdoor alfresco dining. On the menu are local breakfast options as well as café grub like eggs Benedict. There is also bubble tea and milk tea, as well as a range of local cold and hot drinks.
Mr Jayson Goh, CAG's Managing Director for Airport Operations Management said, "We wanted to connect Changi Airport with East Coast Park and the rest of Singapore's Park Connector Network for the benefit of our airport community and local residents. With the support of NParks and the Singapore Tourism Board, we are now able to offer airport staff an alternative route to get to and from the airport, and a new recreational option for local residents. The new experiential elements injected along the Changi Jurassic Mile will offer all who visit a sense of adventure and surprise. With the Changi Airport Connector, we hope to give visitors a different experience of the airport."