Stretching out from the city to Xilin Avenue, East Coast Park is one of Singapore's largest parks. Looking out towards the sea in the South, the breezy, beachside park attracts droves of visitors looking for some fun and food each weekend.
Wondering what you can do and where to get started? Here is a guide to 10+ things to do at East Coast Park. (By the way, there are dinosaurs too!)
Quick Orientation
Before we get started, here is a quick orientation to the nomenclature used in reference to East Coast Park. The park space is divided into various areas labelled from A to H.
Area A is closest to the city while Area H is the part of the park closest to Changi Airport. Car parks at East Coast Park are labelled by the area they are located in and with a running number if there are multiple car parks, e.g. Car Park E2.
Things to Do at East Coast Park
---
Beach Life
East Coast Park has a sandy beach which are ideal for families who want to let their kids play in the sand. We'd recommend the stretch of beach off Car Park E2, near the Lagoon. And if you forgot to bring your sand toys, the bike rental kiosk nearby sells sand toys too. Another stretch of beach you can visit is in front of Parkland Green at Area C, opposite from Parkway Parade shopping mall.
---
Cycling
When it comes to things to do at East Coast Park, cycling is one activity that immediately comes to mind. The flat terrain of the park makes it ideal for pedalling about on two wheels. Bring your own bike or rent one from a bike-sharing company or a bike kiosk.
Bike rental kiosks at East Coast Park are located at Area B, close to Fort Road, at Area C near Car Park C4, and at Area E, close to the Lagoon Food Centre and Car Park E2.
---
Try Out a Sea Sport
Want to try a sea sport? Aloha Sea Sports Centre offers windsurfing and stand up paddling (SUP) courses from beginner to advance levels. Call in advance to book a course with one of their instructors. You can also rent windsurfing and SUP equipment from Aloha Sea Sports Centre (including SUP boards for kids). Aloha Sea Sports Centre is located close the Lagoon in Area E.
---
Water Ski Park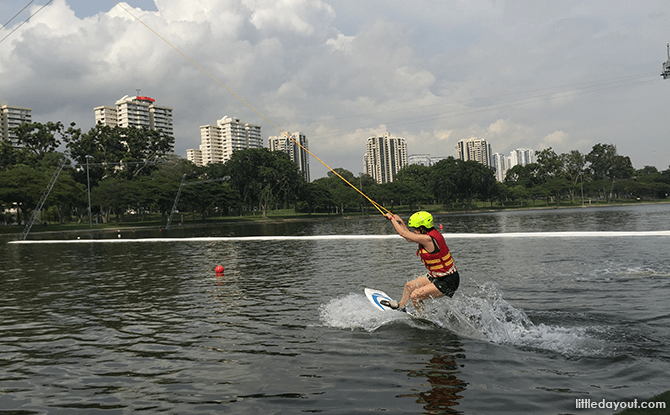 To experience a water sport without going out to the open sea, head over to Singapore Wake Park. This is a cable-ski facility built on East Coast Park's former swimming lagoon. Whether you are a complete novice or have some experience, you can enjoy water skiing here. It is open to children as young as 6.
---
Xtreme SkatePark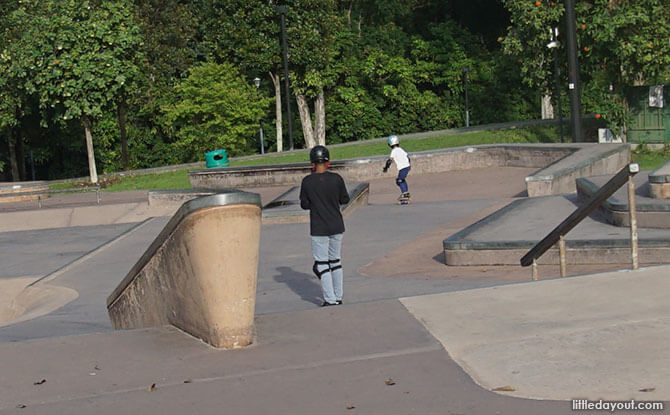 The size of approximate two-and-a-half football fields, the Xtreme SkatePark offers a range of circuits for all levels of proficiency. It features ramps, rails and bowls, providing challenge, and a place to let loose, for the kids, teens and adults alike. For skaters, cyclists and scooterists (is that even a word) looking for extreme things to do at East Coast Park, head down to Xtreme SkatePark at Area F, beside Car Park F1. Remember your helmets and safety gear.
---
Bedok Jetty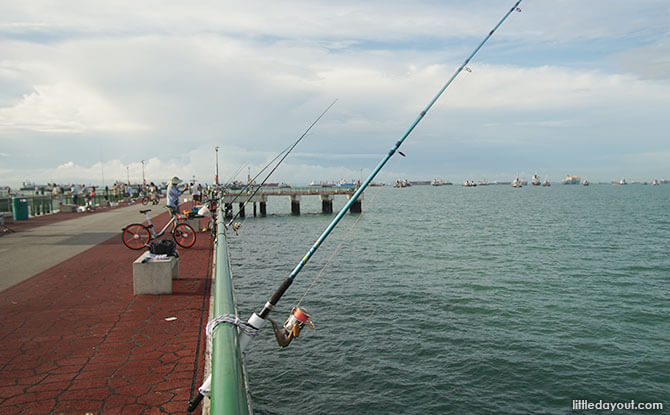 On any given day, you will find plenty of anglers perfecting their craft along the 300-metre-long Bedok Jetty. Even if you aren't into fishing, Bedok Jetty is a nice place to stroll out to and enjoy the view and sea breeze. Bedok Jetty is found at Area F.
---
Laser Tag
If don't feel like running around outdoors, you can run around INDOORS at Tag Team. This laser tag facility at Parkland Green has two rooms which can accommodate up to either 10 or 20 persons. It is best to call ahead to make sure there aren't any private bookings during the timeslot when you intend to head down. Once given the all clear, get your squad together and get ready to rumble! Tag Team is located at Area C. The closest Car Park is C1.
---
Marine Cove Children's Playground
With the kids and looking for things to do at East Coast Park? Well, there's plenty of fun to be had at East Coast Park's Marine Cove Children's Playground. With a designed inspired by the lighthouse, kids can climb up and about the playground structure, enjoy swings and have all manner of fun here.
---
East Coast Park Food Options
Food, glorious food. Getting together with friends and family is always a good idea and there is plenty of makan choices available at the park. East Coast Park food options include hawker food at East Coast Lagoon, casual dining outlets at Marine Cove and Parkland Green and restaurant-style seafood at the East Coast Seafood Centre. It is no wonder that the number of visitors to East Coast Park swells at mealtimes.
---
BBQ
If you want to do it yourself, book a barbeque bit at East Coast Park and cook up a feast looking out to the sea. Barbeque pits at East Coast Park can be booked through AXS machines.
---
Camp Out
To really soak in the atmosphere at East Coast Park, go camping! Enjoy the simple pleasures of hanging out close to the water and pair your stay with a barbeque session. The designated camping areas at East Coast Park are at Areas D and G. Apply for a permit at an AXS station.