What would make for an adventurous day out? How about a bike ride – cycling from Punggol to East Coast along the north eastern and eastern coastline of Singapore?
Cycling is a fun way to explore new places. My soon-to-be 13-year-old and I decided to attempt the ride from Punggol to East Coast as it would provide a physical challenge (at least for us), a fun time doing something together and a chance to do something out-of-the-ordinary.
Route for Cycling From Punggol to East Coast
For our starting point, we headed over to SAFRA Punggol.
We rented bikes from the bike rental shop at SAFRA Punggol for two reasons. Firstly, their rental bikes had suspension and were in decent condition. Secondly, as part of a chain with three locations, it was possible to pick up a bike from one shop and return it to another.
The possible return alternative locations were their shops at Marine Parade and Stadium MRT.
We set our sights on cycling from Punggol to East Coast and returning the bikes at Stadium MRT at Singapore Sports Hub.
Our cycling route would make use the Park Connector Networks and bring us from Punggol to Pasir Ris to Changi to East Coast Park (from Areas G to A) before finally ending at Kallang.
Cycling Punggol To Pasir Ris
We started our journey just before 1 pm.
The first leg of the cycling expedition is fairly straightforward. Simply follow the track along the Punggol Waterway towards Lorong Halus.
Once we had arrived at the brown Lorong Halus Bridge, we pushed the bikes over the bridge to cross from Punggol to Pasir Ris.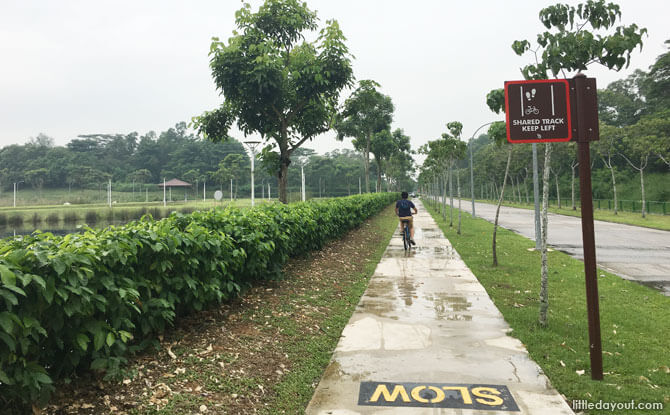 At this junction, it is a right turn to join up with the Park Connector Network which runs along the Pasir Ris Farmway 3 towards Pasir Ris Town.
A quick note here that while there are Park Connectors available, there are still plenty of roads and junctions to be crossed. It is important to be aware of traffic and to exercise caution whenever crossing road junctions.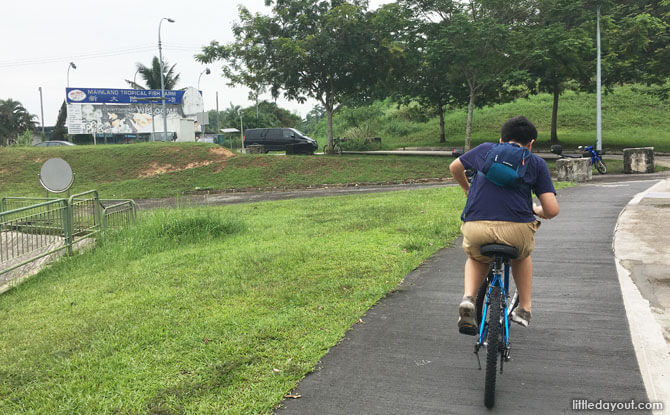 The Park Connector from Punggol to Pasir Ris leads on past Pasir Ris Farmway 1 and past Mainland Tropical Fish Farm.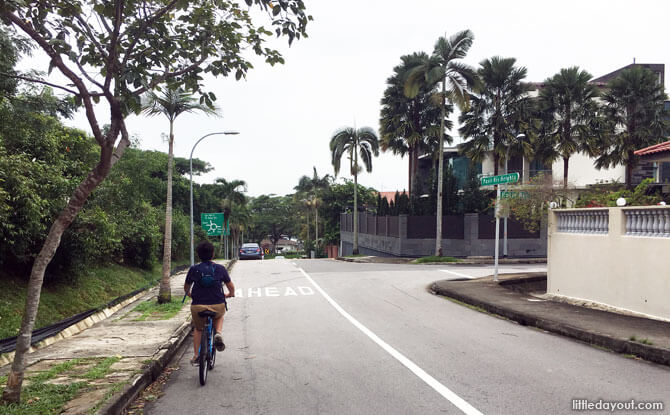 Turning up Pasir Ris Heights (towards Vue 8 Residence), we connected in to Pasir Ris Park, cycling past landmarks such as the Pasir Ris Park Playground and the Maze Garden.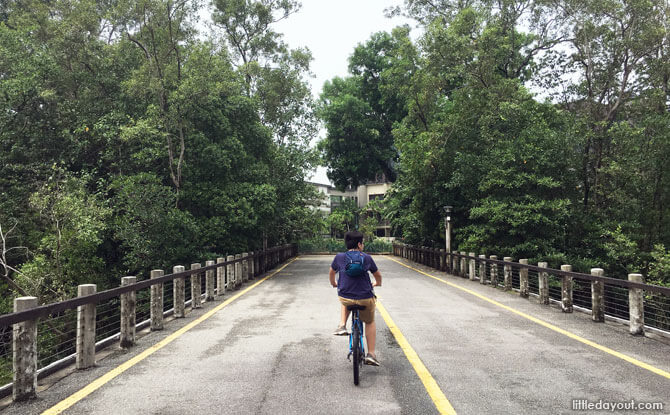 Pasir Ris Park is great for cyclists. We pedalled on eastwards past the Api Api and Tampines Rivers and D'Resort Downtown East.
Cycling from Pasir Ris to Changi Village
Our next waypoint was Changi Village.
To get there from Pasir Ris Park, we had to exit through Pasir Ris Park Carpark A. This carpark is located between Cherryloft Resorts and the Civil Service Club @ Loyang.
From Carpark A, to get back to the Park Connector Network, we had to cycle eastwards along Jalan Loyang Besar, through the residential area of Loyang Place and along Pasir Ris Drive 4 before connecting back to Pasir Ris Drive 3.
From Pasir Ris Drive 4, turn left join up with Loyang Avenue (not Loyang Drive).
Loyang Avenue is a busy road. Thankfully, the Park Connector allowed us to stay off the road.
The Park Connector at Loyang Avenue led us all the way to Changi Village.
It was 3 pm by the time we pulled into Changi Village. With eateries and shops, Changi Village is a good mid-way stopping point for those cycling from Punggol to East Coast Park. We broke for food and to replenish our drinks.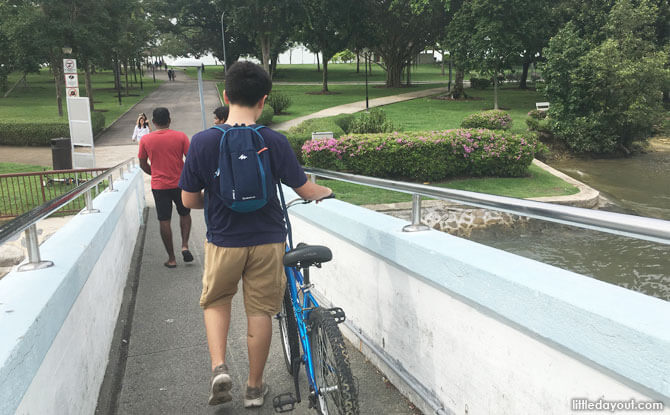 After pushing the bikes across the pedestrian bridge, we carried on along Changi Beach Park. This is one of the nicest stretches that we cycled past on our journey.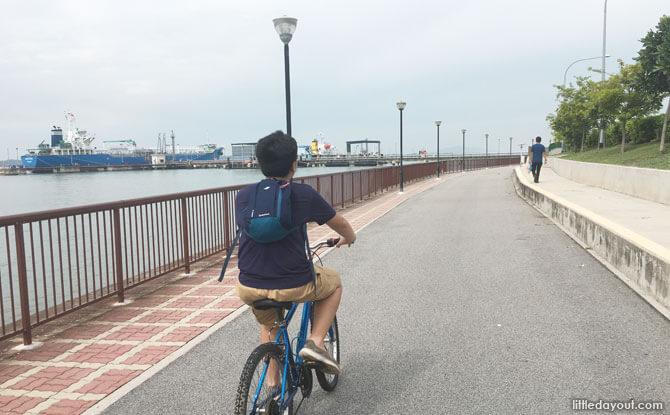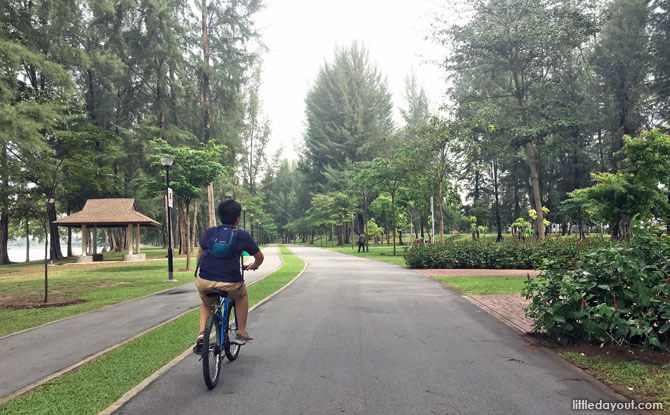 The cycling route hooks around the eastern end of Singapore and provides refreshing views out to sea.
Cycling from Changi to East Coast
Little did we expect that the idyllic setting of Changi Beach Park would be followed by one of the most "desolate" stretches of the journey.
Previously, the route from Changi Village to East Coast Park took a fairly straight line in the form of Nicoll Drive which was well shaded by casuarina trees.
Nowadays, the road has been re-routed along the coast because of construction. It follows Aviation Park Road and Tanah Merah Coast Road.
Once again, the Park Connector Network allowed us to stay off the road which has plenty of large construction vehicles driving by. However, there is scarcely any shade on this stretch of the Park Connector Network.
The long and straight cycling path is devoid of any major landmarks expect Changi Naval Base where the Navy Museum is located. This made this stretch of the journey seem almost unending.
The distance between the greenery of Changi Beach Park and the greenery of East Coast Park is about 13 km.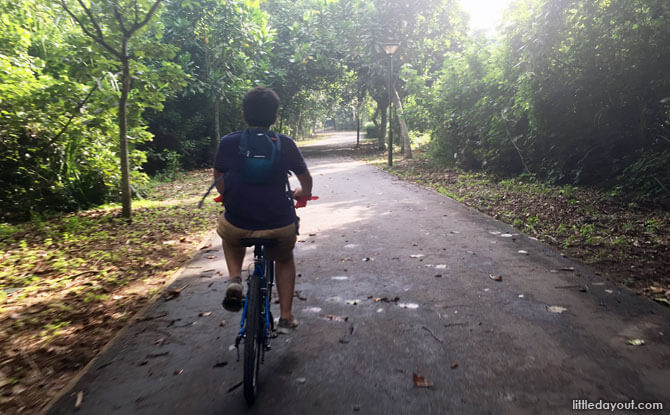 Eventually, we were relieved to reach the East Coast Park where we were welcomed by the shade of mature, green trees.
East Coast Park Area G to A and to Singapore Sports Hub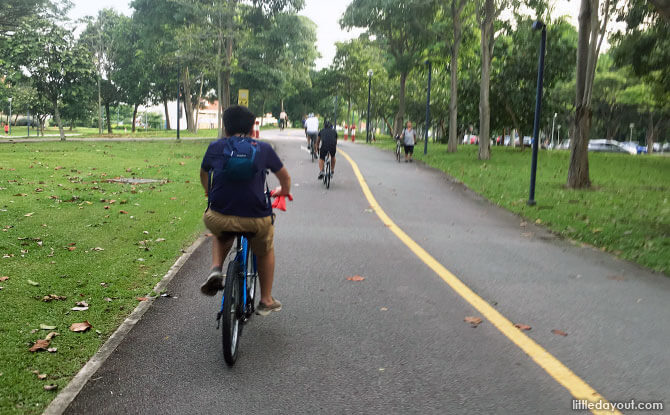 If the stretch from Changi Village to East Coast Park was the most tedious stretch of the bike journey, East Coast Park was probably one where we had to be most cautious, simply because the sheer number of people in the park.
By the time we arrived at East Coast Park, it was around 4.30 pm and the park was filling up with people.
We made our way from the MOE Sea Sports Centre, past Bedok Jetty, Marine Cove Playground, Parkland Green and towards Fort Road.
After going up and over the bridge at Fort Road, it was on to Gardens by the Bay East Visitor Centre.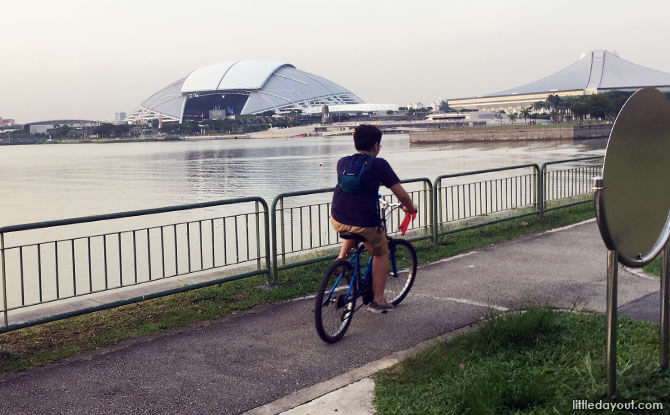 From there, it was a right turn on to Rhu Cross which then connected to the Tanjong Rhu Promenade.
Crossing the Tanjong Rhu Suspension Bridge, we arrived at Singapore Sports Hub.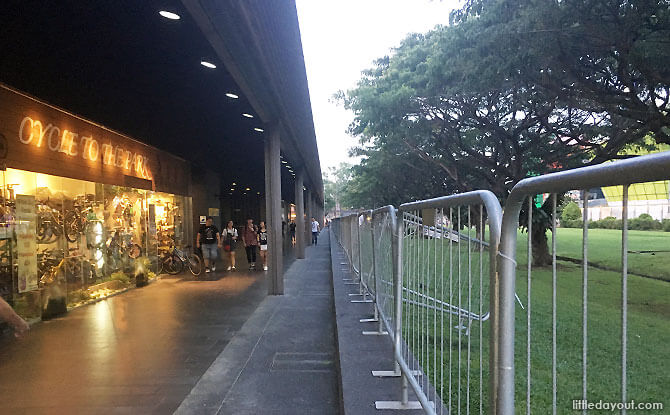 We finally returned our bikes at the Cycle to the Park shop located along the side of the Stadium MRT building, facing Kallang Theatre. It was 7 pm.
Editor's Note: The Cycle to the Park shop has shut down.
In total, we had covered around 45 km on our cycling journey from Punggol to East Coast / Kallang. It had taken us around six hours but that included stopping for food, making some detours and rest stops.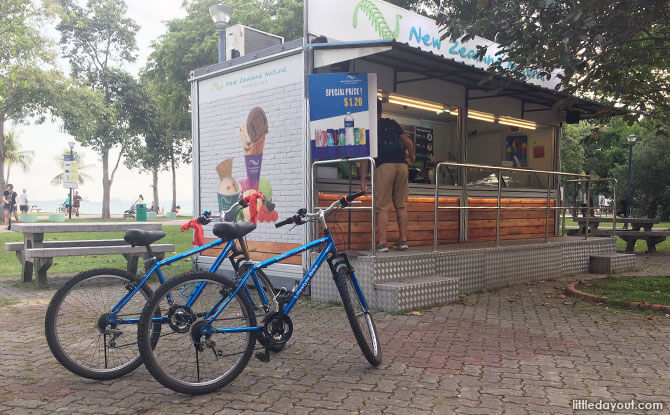 Would we do it again? Sure, why not? It was a fun, adventurous day out!