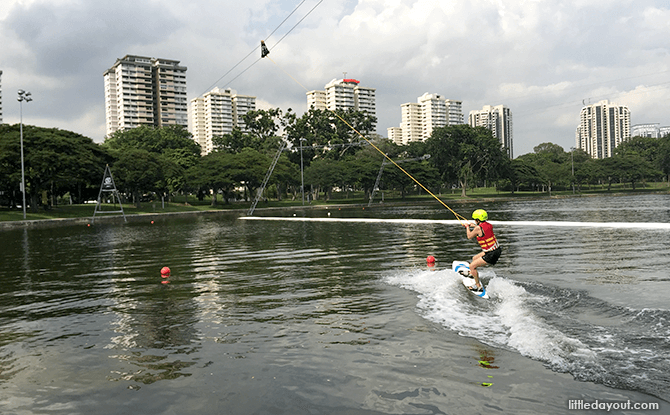 Looking for a water sport to expend the endless energy your children have? Want a fun half-day out as a family while imagining you're on the set of Hawaii Five-O? Try wakeboarding at the Singapore Wake Park in East Coast Park. It'll change your perspective of wind, water and waves. Plus, you'll get that adrenaline rush and more!
Newly-opened on 31 October 2016, Singapore Wake Park replaces SKI360 (the previous cable-ski park operator) after a two-year hiatus. Its new management has brought in three German-made state-of-the-art cable systems and implemented thoughtful measures. This makes the whole experience more accessible for clueless beginners and even easier for kids as young as six years old.
Here, we outline some things to note if you intend to wakeboard for the first time with your kids!
Tips for First-Time Wakeboarders at Singapore Wake Park
#1. An Enclosed Body of Water
---
-- Story continues below --
Unlike wakeboarding in the open sea where you get dragged by a motorboat, Singapore Wake Park is situated where there is a lagoon at East Coast Park, close to the East Coast Lagoon Food Village. So fear not, there are no mysterious creatures nor huge waves in the water, just some fishes. And it's nice to know that you will be falling into seawater that has been filtered.
#2. System 2.0 at 70 metres and 140 metres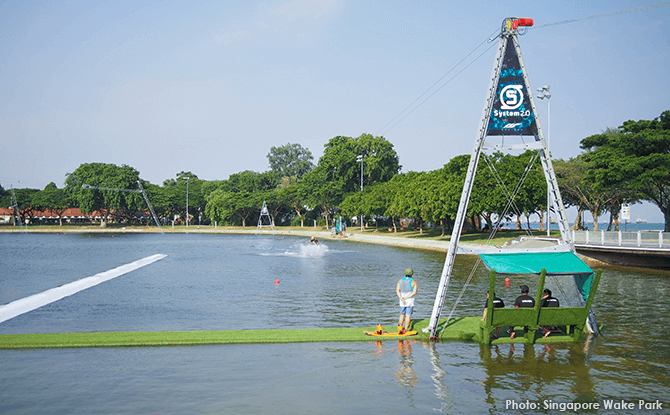 It's mesmerising watching experienced riders go effortlessly non-stop in circles, with occasional jumps and twirls over obstacles. But if you're a newbie, it can get quite intimidating and that body of water seemingly swells up in size! Well, the two new System 2.0 saves the day. Stretching for 70 and 140 metres, each of the two-tower system allows only one rider at a time and has a gentle increase in speed from 0 to 25 km/h. With this setup, it becomes a whole lot more manageable when you're just starting to learn the basics of wakeboarding.
#3. Stable Floating Walkways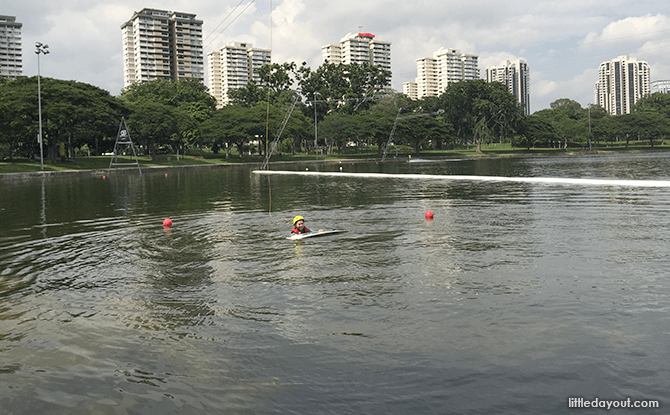 Get ready to fall into the cool waters (many times) when you try wakeboarding for the first time. Even if you make it through to the end of System 2.0, you will still need to let go of the cable and make your own way back through the water.
The folks at Singapore Cable Park have built white floating walkways along the whole stretch just for you. So, just paddle to it, haul yourself up with the help of the handles, then sashay your way back on the catwalk like a cool dude or babe with your wakeboard. We're kidding. You're more likely to be gasping for breath after that adrenaline rush and can't wait to steady your feet.
#4. Be All Suited Up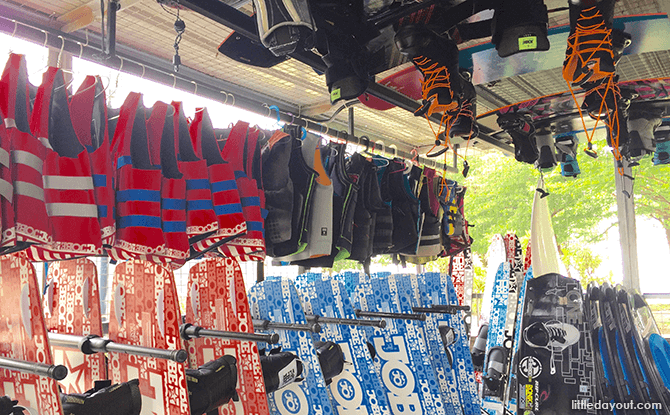 After you sign your life away, you'll be given a full set of protective gear including a helmet and a life vest.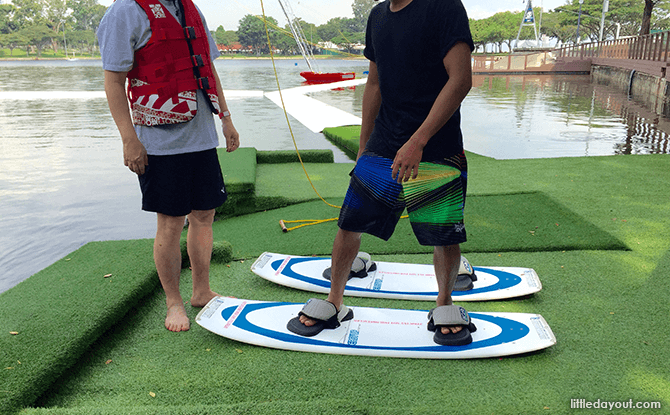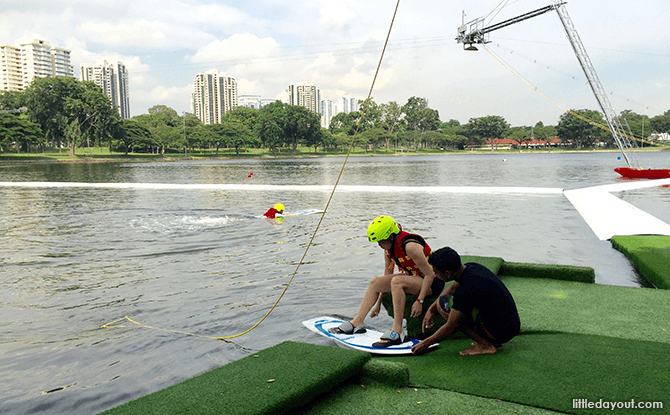 Listen closely to the instructions from your coach, grab a suitable wakeboard and you're good to go.
#5. Safety Measures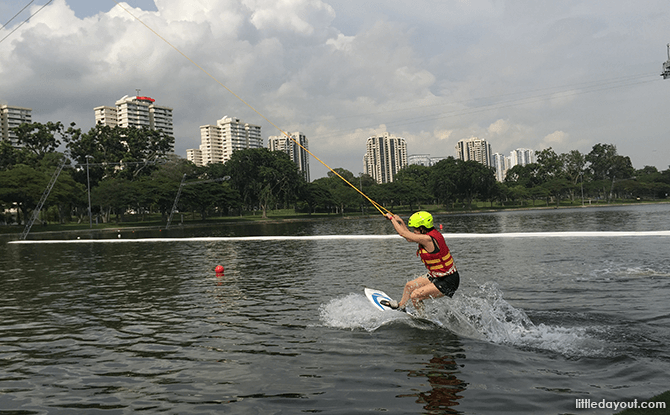 Is it safe for kids? This is probably the first question that will come to mind. Each time you start your session at Singapore Wake Park, you go through a safety briefing. As long as kids are confident of moving about themselves in the water with a life vest, they should learn quickly, like a duck takes to water. Typically, there's one crew to instruct you and another one who controls the speed. For kids, additional crew will be on standby in the water to assist and supervise. Furthermore, kids can start off with kneeboards, rather than wakeboards.
#6. Full Facilities
Singapore Wake Park has developed an all-in-one facility. Drop your things off in the locker, change and shower in the nearby changing rooms. Get free WIFI to immediately showcase your pictures and videos to the world too.
#7 A Pit-Stop

For mums and dads who like to watch instead of taking part in the action, there are wooden decks for lounging.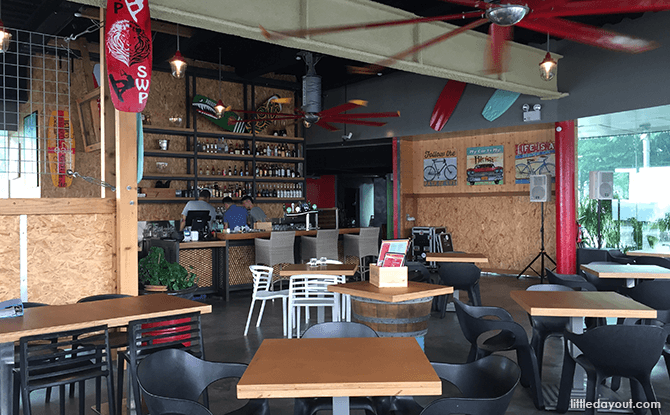 The café and bar, Coastal Rhythm, is also decked with a full food and drinks menu. One of its sister restaurants is The Coastal Settlement.
#8. Wakeboard Day or Night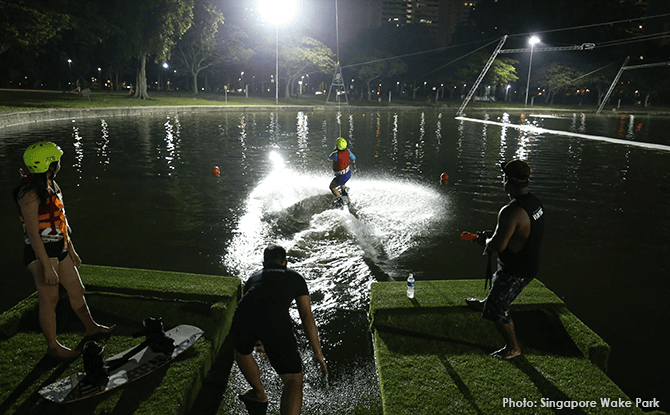 If you like to stay out of the sun, you will be pleased to know that Singapore Wake Park is opened till 10 pm daily. All this is possible with the installation of floodlights to illuminate the area.
#9. Prepare for the Day Out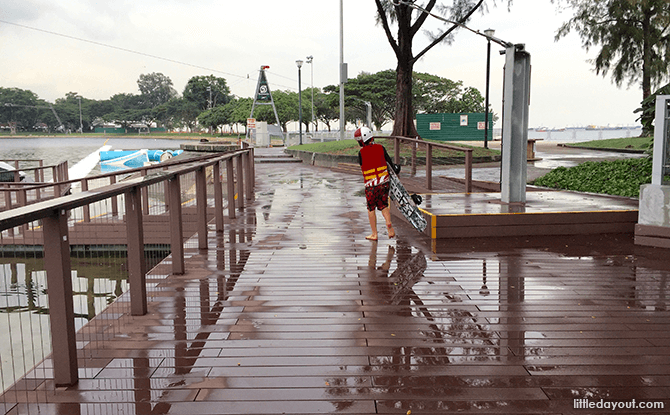 So, what can you do to get ready for your first endeavour? Here are some tips from the personnel at the Singapore Wake Park:
Practise standing on beds to get ready for the rocky motions!
Slap on sunblock before you get out.
Prepare to spend a good half a day out.
And of course, have fun!
Now, you're ready to literally set foot on Singapore's only cable-ski park. Get on board. Wakeboard, kneeboard and cable-ski to your heart's content! Just remember not to overdo it and give your arms some time to rest.
1206A East Coast Parkway Singapore 449891
Tel: 6636 4266
Rates: From S$40 (weekdays) and S$60 (weekends)
Opening Hours: Mondays to Fridays: 10 am – 10 pm;
Saturdays, Sundays and Public Holidays: 9 am – 10 pm
How to Get to Singapore Wake Park
By Bus: Board buses 401 (operates only on Saturdays and Sundays) and 197 from Bedok Interchange. Alight at Laguna Park and walk 1km through the Pedestrian Tunnel to Singapore Wake Park.
By Car/Taxi: Via ECP highway, exit 7A and take the Laguna Flyover into East Coast Park Service Road. Park at Car Park E1 and walk 500m to Singapore Wake Park.