Lush greenery, gentle waves, and the calming sea breeze and the open sky (at least as open as it gets here in Singapore). You can take it all in at the Woodlands Waterfront park, located in the North of Singapore.
---
Woodlands Waterfront: See the Sea
Officially opened in January 2011, Woodlands Waterfront is a coastal park whose main highlight is its 400-metre refurbished jetty – the longest recreational one in Singapore. It also offers a 1.5km waterfront promenade and views of the Causeway and the Straits of Johor.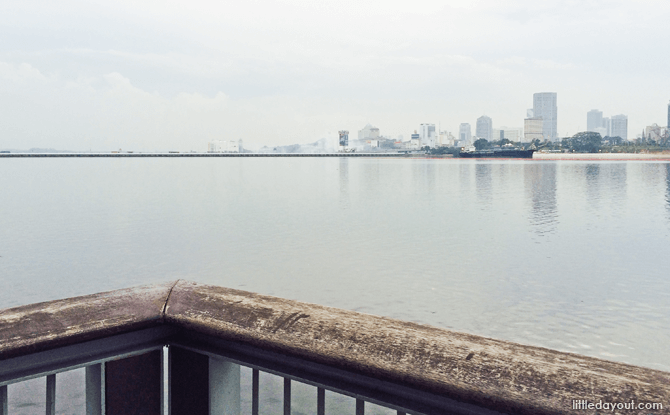 ---
-- Story continues below --
The ex-naval jetty dates back to the 1920s and has been attracting visitors. This was also where people would come to look over to Johor Bahru when the borders were still closed.
---
Fishing at the Woodlands Waterfront Jetty
You can grab some fishing gear and join the fishing aficionados waiting for a good catch along the jetty. You might even catch a crab or two.
The jetty is good for an evening stroll; many families with young tots in strollers can be found shooting the breeze along its length.
---
Land Ahoy
If crowds are not your thing, avoid the jetty and escape to greener pastures.
Jogging, cycling trails and rest shelters weave through the 11-hectare park.
Take to the promenade to enjoy a waterside stroll.
There's a little butterfly corner close to the jetty too.
Away from the bustle of the promenade and playground, the walking and cycling trails and picnic areas are relatively uncrowded, welcomingly less stressful if you have very young kids. Also good to know – there are many rest pavilions with shelters dotted throughout the park.
---
Sky: Adventure Playground and Sky Walk
Tired of being a 'landlubber"?
Head to the skies at the multi-generational adventure playground.
Play equipment here caters to all from young tots to older kids (there are swings!). There are also fitness points for mum and dad, and even grandma and grandpa.
The centrepiece of the playground is the two-storey-high Sky Walk – a series of six crows nets that are interlinked by mesh bridges which people can climb and cross. Suitable for older kids (and adults who dare), adventure seekers are sure to find it quite a treat, especially when it starts getting wobbly up there.
On the Sky Walk, kids can burn off excess energy as they play round after round of "Ahoy! I'm a mid-air pirate! I spy an island yonder!"
Swings at the Woodlands Waterfront playground also provide a nice place to enjoy the outdoors.
---
Eats by the Water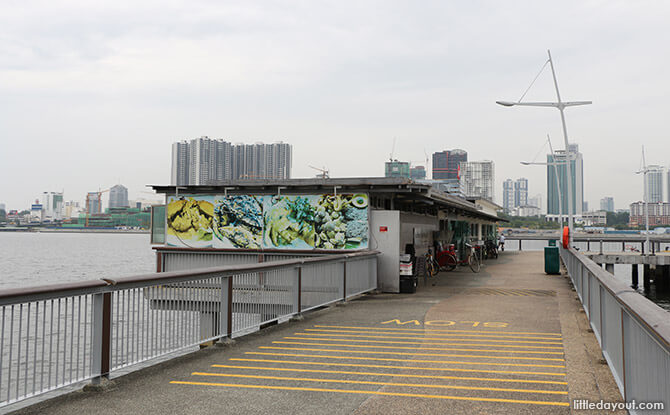 If you have worked up an appetite, Rasa Istimewa Woodlands Waterfront Restaurant located on the jetty offers homely fare at the park.
---
Cycling Thrills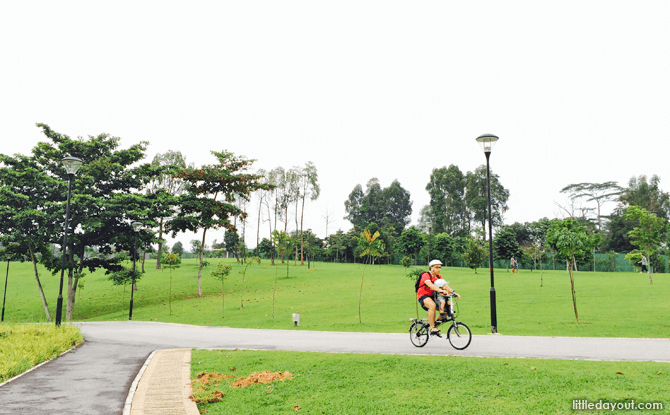 Woodlands Waterfront is great for cycling. The cycling trail around the park offers an undulating track for cyclists, with a variety of gentle and steep slopes – whooosh! Kids will love these slopes – and interesting curves.
If you are more adventurous, you can take your tot beyond Woodlands Waterfront and venture along the Northern Explorer Park Connector Network (NEPCN). Woodlands Waterfront is a node on this trail which connects parks in the North such as Sembawang Park, Marsiling Park and as far east as Lower Seletar Reservoir Park.
---
Waterfront Chill
Woodlands Waterfront is great for little explorations; a chance to enjoy the breeze, soak in the views and slow down with the family. With the jetty to stroll along and its multi-generational playground, head north to this park for a little sea, land and sky escape.
It is also close to Admiralty Park's nature area.