The newly opened Admiralty Park Playground takes advantage of Admiralty Park's hilly terrain, turning the area into a magical, multi-tiered playland filled with slides, burrows, bridges and more slides that children will go crazy over.
Admiralty Park Playground is situated within the urban park section of Admiralty Park beside Republic Polytechnic, a 15-minute walk away from Woodlands MRT.
It caters to different age groups with exciting play equipment that makes use of the park's slopes and hillocks.
An unmissable feature of Admiralty Park Playground is its slides. In fact, there are 26 (yes, 26!) slides at the children's playground, making it the park with the most number of slides in Singapore.
READ: Marsiling Park Playgrounds – The Butterfly, Ribbon, Web and Sound
Junior Play – Family Bonding Through Play
The first children's play area, Junior Play is located closest to the junction of Woodlands Avenue 5 and Riverside Road. It is best suited for younger children between two to five years old.
However, this does not mean that it is short on adventure. Instead, there is plenty to keep kids occupied here.
Multiple slides run down the slopes of two facing hillocks. Enclosed, green tube slides lead down from the highest point of the hill to an intermediate terrace where metallic open slides take over to bring kids down to the base of the slope.
Cargo nets strung between bright blue tubes provide a fun way for kids to make their way back to the top and do it all over again.
Alternatively, kids can hike up the slopes with the help of a series of footholds and climbing poles embedded into the slopes.
In between the two hillocks at the Junior Play Area is a low mound with a sand play area. Tube tunnels burrow underneath while brown-and-beige poles pop-up from the mound like the roots of a mangrove tree.
A highlight at the Junior Play area is Singapore's first family slide. It is designed to be wide enough to accommodate up to a family of four sliding down together its gentle gradient at the same time.
You can also find an Inclusive Playground at the Junior Play area with a swing for wheelchair users and inclusive merry-go-round.
Family Terracing Play Area
Older children, between five to 12 years old, have plenty to be excited about at Admiralty Park Playground's Family Terracing Play area.
A highlight here is a pair of long, metallic tube slides that start from the top tier of the terraced slopes.
This Double Barrel Slides provide tons of gravity-driven fun. It is approximately 23 metres long and 9 metres tall. This makes it the longest and tallest tube slide in a public park in Singapore.
Kids will have awesome fun going head-to-head racing each other to the bottom on these side-by-side slides.
Who needs stairs when there are numerous orange tubes and cargo nets crisscross the hillside? They provide a fun way to get from one level of the terrace to the next.
The Waterfall Climber consists of red-and-yellow cargo nets stretched across a wavy blue frame appended to the hillside. Here, kids can practise their climbing skills as they scale these nets up the hillock.
Bright yellow suspension bridges connect these two sections of the Family Terracing Play area at Admiralty Park Playground.
Adventure Play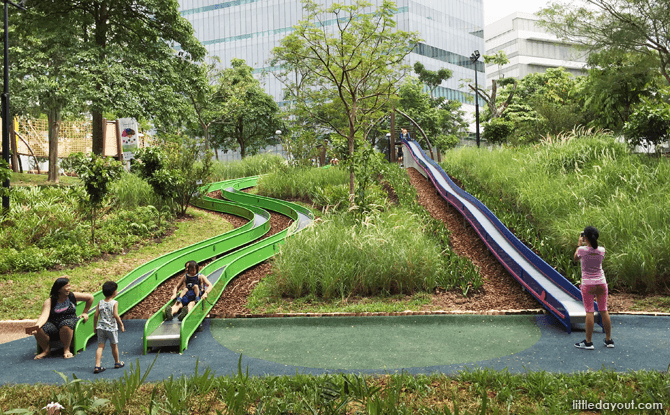 The Adventure Play section of Admiralty Park Playground consists of two sets of roller slides. Designed for mixed age group play, there is a 32-metre long High Adventure Roller Slide with LED lights and a Curved Roller Slide.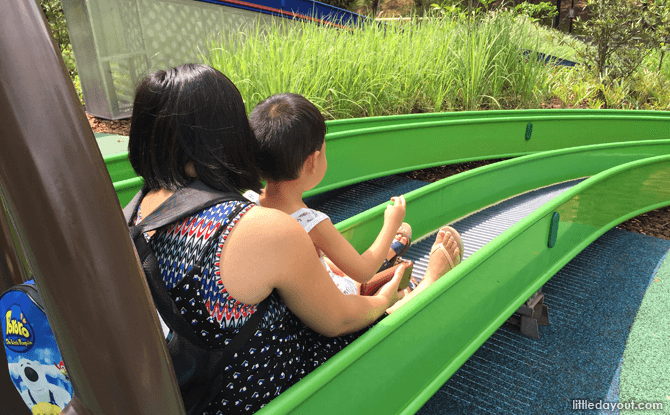 At 34 metres long with gentle curves, the Curved Roller Slide is the longest outdoor slide in a public park.
Admiralty Park children's playground also has two sets of swings with a mangrove-motif frame.
Among these is an Expression Swing at the Junior Play area. It is first in Singapore that allows parents and toddlers to experience the swinging sensation together. It consists of a bucket seat and regular seat on the same swing – so that parents can see their kids' "expressions"!
Sliding Into Adventurous Family Fun
With so much to explore and discover around the Admiralty Park Playground, adventure awaits beckons kids and their families to this epic new family fun spot. It introduces new play concepts through equipment such as the family slide and swing and provides extreme play-fun with super-duper slides.
There is no doubt that this new children's playground in the north is bound to be an exciting destination for fun-seekers for years to come.
Watch Little Day Out's Admiralty Park Video
See what fun you can experience at Admiralty Park!
Click here to subscribe to our YouTube channel and to see more great videos!
Admiralty Park Playground
Location: Admiralty Park, close to the junction of Woodlands Avenue 5 and Riverside Road
Closest Car Park: Admiralty Park West, enter via Riverside Road.
READ: Marsiling Park Playgrounds – The Butterfly, Ribbon, Web and Sound