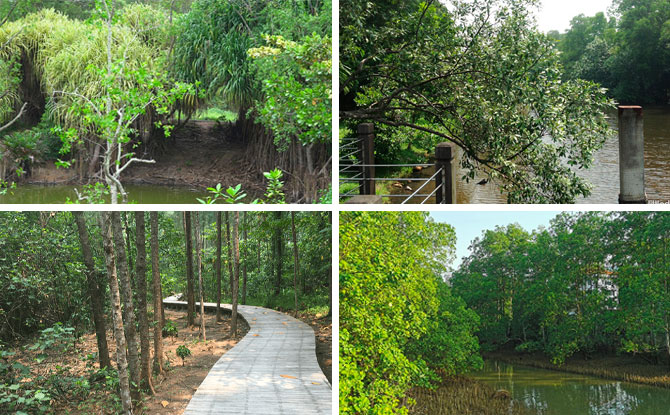 Did you know that a "mangrove" refers to both the mangrove plant as well as the plants that make up a mangrove forest? An interesting sight on many nature walks, these plants are often known for being able to tolerate being partially submerged in seawater during high tide, and can grow soft and often oxygen-poor mud.
To avoid suffocation in the murky waters, mangrove trees have aerial roots that take in oxygen from the air, and thus many will be familiar with the tiny and emerging roots from these trees. Mangroves are crucial to our ecosystem, acting not just as a natural water filter, but also as a stabilisation for the coast and river banks, on top of other uses.
Here are some of the mangroves in Singapore that we can visit and appreciate.
---
Mangroves and Marshlands In Singapore
Pasir Ris Mangrove
---
-- Story continues below --
The Pasir Ris Park Mangrove Swamp is one of the only two mangrove swamps that are conserved in Singapore. It is located within Pasir Ris Park is home to a six-hectare plot of mangrove forest next to Sungei Tampines. Talking a stroll down the Pasir Ris Park Mangrove Boardwalk allows one to admire the flora and fauna within the mangrove. Read more about the Pasir Ris Mangrove here.
Another area where you can view mangroves in Pasir Ris is at Sungei Api Api.
---
Sungei Buloh Wetland Reserve
This spot first opened as a Nature Park in 1993. In 2002, 130 hectares of land was officially gazetted as a Nature Reserve and renamed Sungei Buloh Wetland Reserve to better reflect its status. Visitors who take a stroll down the Boardwalk @ Visitor Centre can weave through the mangroves while walking on wooden stilt structures. One might even catch see shellfish or the roots of the mangroves depending on the tide. Read more here.
---
West Coast Park
Adventure awaits at the West Coast Park, specifically at the western edge of West Coast Park at a small river named Sungei Pandan Kecil. This river drains into the sea and has created a small marshland reserve over two short boardwalks have been built. These boardwalks take visitors to the water's edge, which leads to good bird-watching spots. spot for bird watching. Read more here.
---
Marsiling Park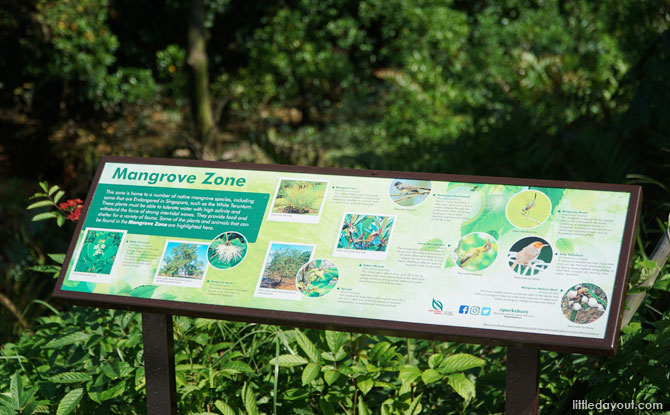 Located on the Western edge of Marsiling Park, the native mangrove forest of the park was carefully restored and enhanced during a park redevelopment in 2018. The mangrove patch is relatively small but are more than 1000 saplings of mangrove species planted here.
The enhancement was done to help in the conservation of native mangrove fauna, such as the locally uncommon Mangrove Dwarf (Raphismia bispina) and a Mangrove Helmet Shell (Pythia plicata). They also reintroduced the critically endangered species of the Berembang (Sonneratia caseolaris). Read more here.
---
Pulau Ubin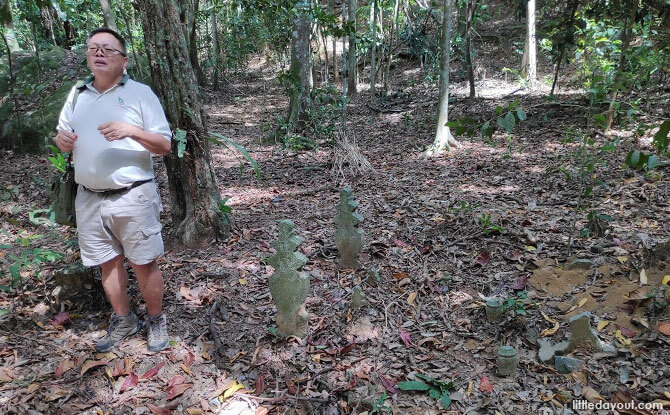 The mangrove system in Pulau Ubin is a part of Chek Jawa Wetlands. Pulau Ubin hosts the largest mangrove areas in Singapore and almost all mangrove plant species are known to Singapore can be found here, including one of the rarest mangrove species in the world, the "Eye of the Crocodile".
Also known as the Bruguiera hainesii, It is estimated that only 200 individual trees of Bruguiera hainesii can be found in the wild, making it one of the most endangered mangrove tree species in the world. Read more here.
---
Coney Island Park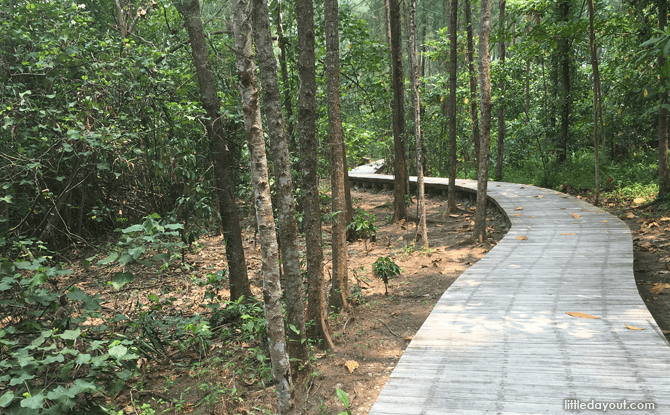 Besides being rich in history, Coney Island Park has a wide variety of habitats. These include coastal forests, grasslands, mangroves, and casuarina woodlands. The beach is split into five areas and the boardwalk which allows visitors to explore the mangrove area is in the middle of beach area B and C. Read more here.
---
Khatib Bongsu
The Sungei Khatib Bongsu mangroves lie in an area near Sungei Seletar and Lower Seletar Dam. It is especially rich in birdlife, attracting a mix of resident and migratory species. It is one of the three major coastal wetland areas in Singapore and has a large mix of mangrove and secondary forest. The mangrove is considered the largest in the north-eastern shoreline of Singapore. Read more here.
---
Admiralty Park
Located in Woodlands, Admiralty Park is the largest park in the north with a 20-hectare nature. It is situated on hilly terrain with the Sungei Cina river running through it and houses the largest nature area within an urban park.
The mangrove area is at the northern end of the park which also encompasses a diverse mix of secondary forest, riverine and open grassland habitat. It is also home to more than 100 species of flora and fauna. Read more here.
---
Berlayer Creek
Located next to Labrador Park MRT, Berlayer Creek is a mangrove boardwalk and is one of the few remaining mangrove areas in the south. There are about 30 species of native mangrove and back-mangrove plants and is a family-friendly location to visit. The boardwalk is flat, even and wide enough for a pram to easily go through. Be sure to stop by the lookout points to spot the wildlife or to take a rest. Read more here.
---
St John's Island
Mangroves often act as living 'seawalls' that protect coasts from storms. At St John Island, one can find a small patch of mangroves made up of two tree species.
The first is the Bakau Pasir, which has prominent prop roots and the other is Tumu, which has knee roots that protrude above the ground. Both species produce long fruits called propagules, which begin to grow even before they fall off from the parent tree. If one were to be lucky, they might spot the mangroves being used as nurseries for young fish. Read more here.