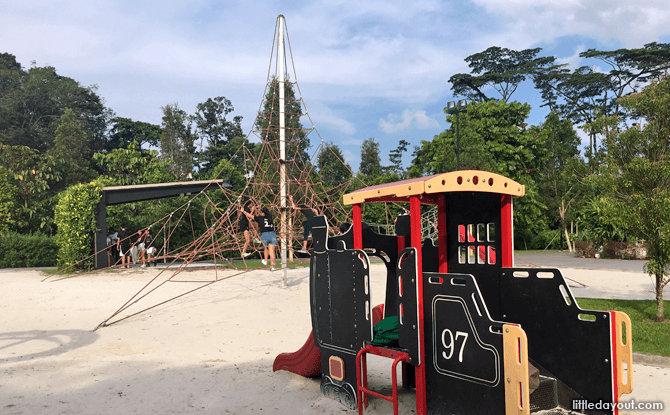 Just 10 minutes walk from Choa Chu Kang MRT and Lot One Shoppers' Mall, Choa Chu Kang Park feels a world away from the hurried bustle of urban life. Instead, it is a green haven. So much so that there is even a spot in the park for the community to grow crops to connect with nature.
Choa Chu Kang Park was officially opened on 11 November 2000. A new extension to the park was added in 2014.
For families with young children, the main draw of Choa Chu Kang Park has to be its playground… oops, playgrounds. In fact, there are four separate children's playgrounds at Chua Chu Kang Park.
Chua Chu Kang Park Playgrounds
At the end of the park closest to the Kranji Expressway, there are three playgrounds, one tailored for toddlers and two for older children.
The toddler playground is a brown-and-green structure with slides coming off the second level. Little rocking seats and a musical play wall cater to very young children.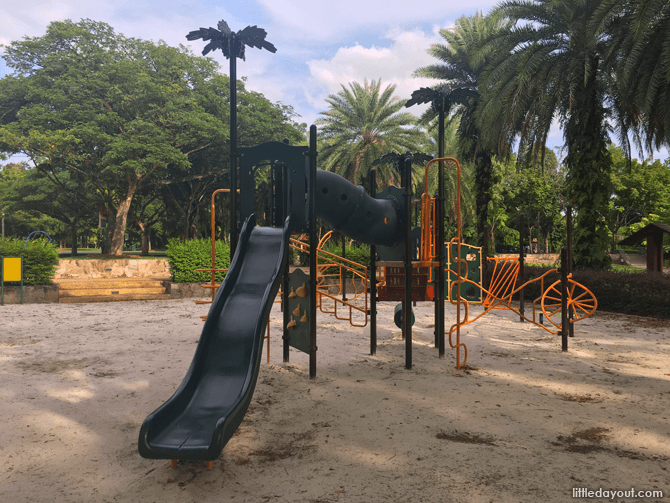 Older kids get play equipment set in a sand pit with palm tree bursting at the top. Bright orange bars challenge them to cross from one end of the playground structure to the other.
Another set of play equipment near is made from tubular frames. The key attraction is the fun disc swing where kids can swing to their hearts' content.
At the other end of Choa Chu Kang Park, closer to Lot One Shoppers' Mall, is the fourth playground. This is the newest of Choa Chu Kang Park's playgrounds.
It features a climbing net pyramid that older kids will love scrambling up.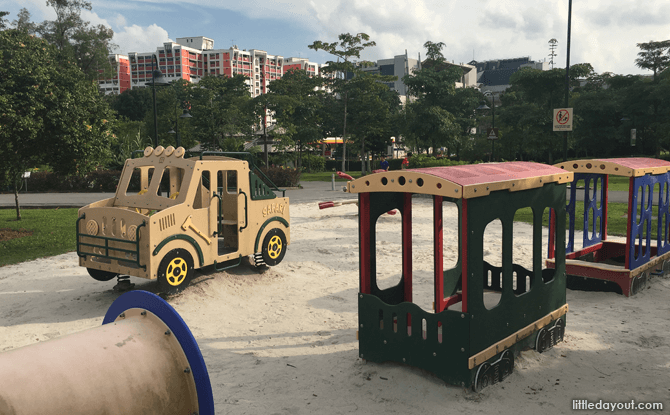 Younger ones are not left out either. There are little train and truck structures that they can play with and swings too.
More Things to Do at Choa Chu Kang Park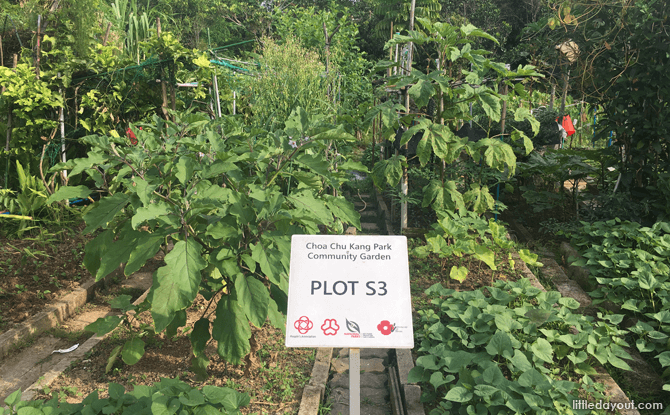 Other facilities around the Chua Chu Kang Park include a community garden that was started in 2014 and a mini skate park.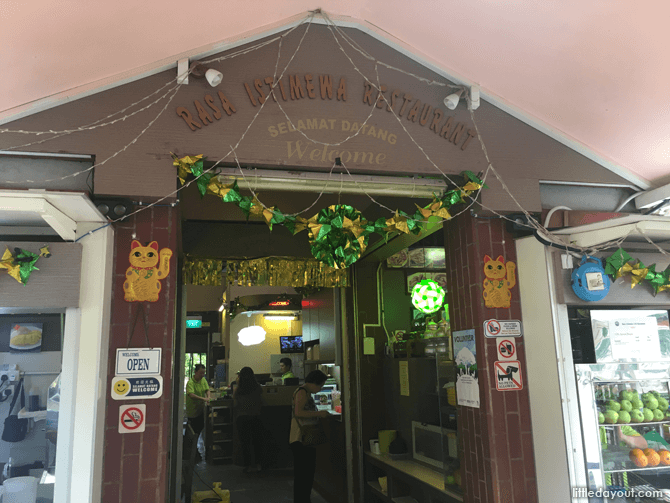 The park is also has a restaurant. The Rasa Istimewa C2k Restaurant is the sister restaurant of the one found at the Woodlands Waterfront Jetty. It serves halal zichar food, seafood, satay and desserts. It opens from noon daily.
Choa Chu Kang Park and its playgrounds provide a nice spot for families to enjoy some time with nature without having to travel too far. Play a visit for lovely day out before heading back to urbanity across the street.
Choa Chu Kang Park
Address: Along Choa Chu Kang Drive, next to the Kranji Expressway.