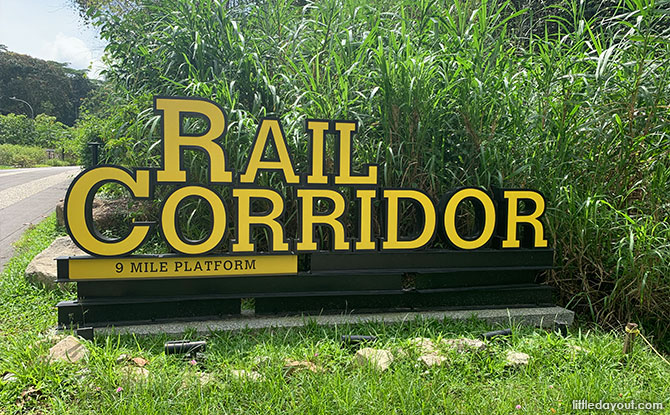 Looking for more walks to learn more about Singapore's history and biodiversity? The Rail Corridor (North) stretches from Kranji to the Rail Mall, where it connects to the Rail Corridor (Central). With its opening, this creates a 21 km corridor from Kranji MRT in the north down to Spooner road in the south. There are now over 30 access paths along the route that provide access into the Rail Corridor.
Rail Corridor (North)
Twelve new access paths have been added along Rail Corridor (North) to connect it with neighbouring communities and green spaces such as the newly completed Kranji-Mandai Park Connector.
---
Kranji Node
The Kranji Node, found opposite from Kranji MRT station, now functions as the northern gateway to the Rail Corridor.
---
-- Story continues below --
There is a new access path from the Kranji MRT station to the Kranji node. Native trees and shrubs have been added along Rail Corridor (North) to enhance the rustic and natural charm of the Rail Corridor, and a new events field has been created opposite Kranji MRT station for community events.
The one of the best ways to access this northern start point of the Rail Corridor is by taking MRT to Kranji MRT and setting out on foot. There is no car park at the Kranji Node and the closest one that we are aware of is at Singapore Turf Club, Car Park V, which is quite a distance away.
---
Kranji to Hillview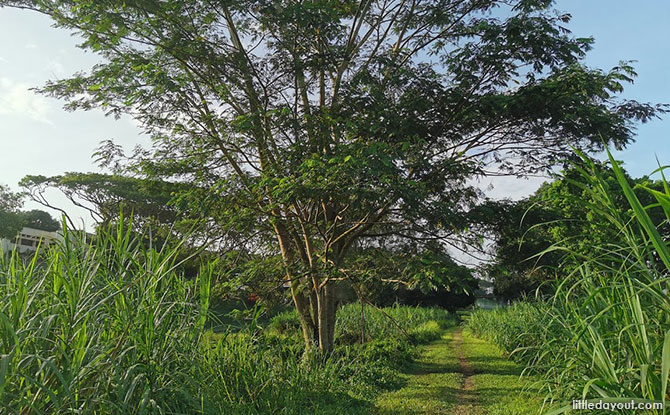 Between Hillview MRT station and Upper Bukit Timah truss bridge, 600 metres of trail enhancements was completed, offering greater accessibility for visitors commuting via public transport or along the Rail Corridor.
Ramps have also been installed to provide barrier-free access for visitors from Hillview MRT station, as well as between Hillview Avenue and Upper Bukit Timah Road.
The northern stretch of the Rail Corridor has been earlier realigned to run along Woodlands Road to connect to Kranji MRT station. This has allowed parts of the original railway land to be amalgamated with adjacent State land to facilitate future development.
To make this section of the Rail Corridor (North) more accessible, there are various access points including a newly completed Kranji-Mandai Park Connector.
---
Hillview to 9 Mile Platform
Hillview Bridge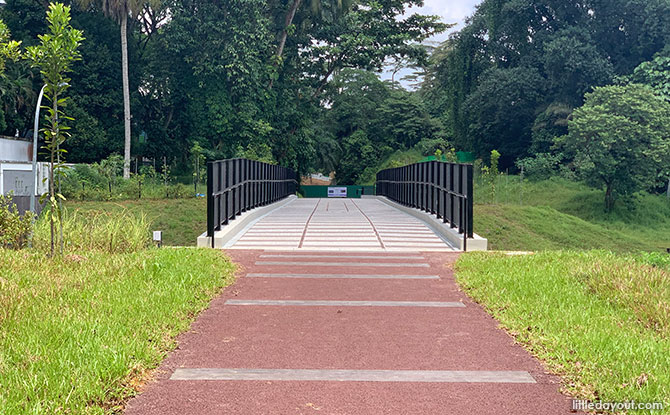 A new Hillview Bridge has been installed at Hillview Road. It is an approximately 6 m-high steel bridge that replaces the former girder bridge that served the Keretapi Tanah Melayu (KTM) Railway Line between Singapore and Peninsular Malaysia.
The original bridge was dismantled in 2011 when the railway land was returned to Singapore.
---
Lookout Deck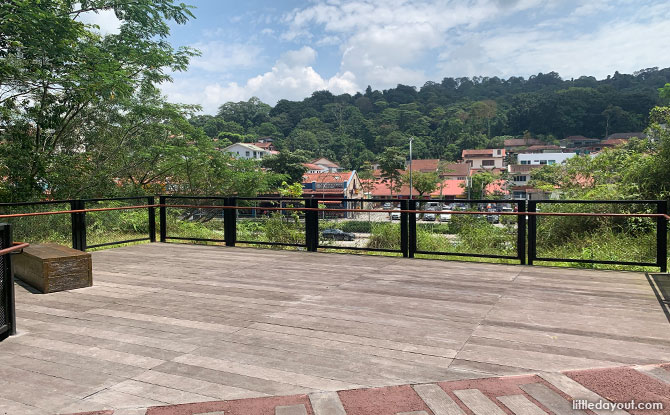 A short walk from both Hillview Bridge and Upper Bukit Timah truss bridge is a lookout deck that offers views of Rail Mall and Fuyong Estate against the backdrop of Bukit Timah Nature Reserve and Dairy Farm Nature Park.
9 Mile Platform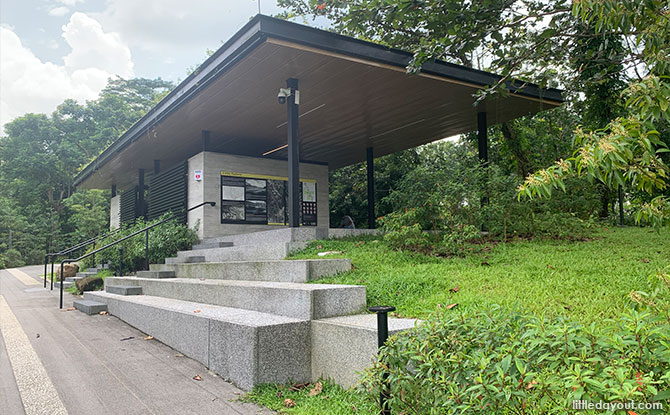 This node beside The Rail Mall has information about the area's history and heritage.
---
Rail Corridor North Map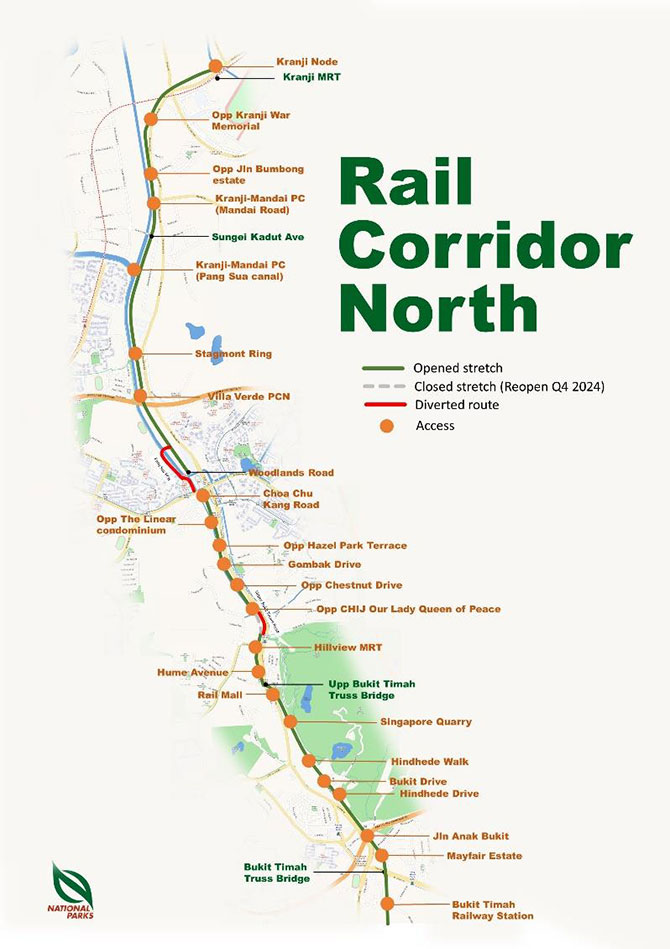 The Rail Corridor (North) is quite walkable and stroller-friendly. It will no doubt be a popular route for cyclists as well as hikers.
More than 52,000 trees and shrubs have been planted along Rail Corridor to enhance ecological connectivity between natural habitats. Critically endangered and near-threatened species of fauna, such as the Straw-headed Bulbul (Pycnonotus zeylanicus), Sunda Pangolin (Manis javanica) and Malayan Colugo (Galeopterus variegatus), have been sighted at the Rail Corridor.
---
Getting to Rail Corridor (North)
With all these enhancements, it is easier than ever to get to the Rail Corridor (North). It is right next to some of the train stations on the Downtown line such as Hillview, Cashew, Bukit Panjang, as well as Kranji MRT station up north.
The Rail Corridor will be further enhanced with the addition of a new community node at Buona Vista. The Buona Vista node at one-north business park will be completed by end-2023. It will be integrated with an upcoming mixed-use biomedical sciences development.
URA and the National Parks Board will be working with local communities and stakeholders to develop other community nodes along the Rail Corridor such as the public space underneath the Queensway viaduct and Tanjong Pagar Railway Station, as part of ongoing efforts to enliven public spaces along the Rail Corridor.
The Tanjong Pagar Railway Station will reopen after 2026.