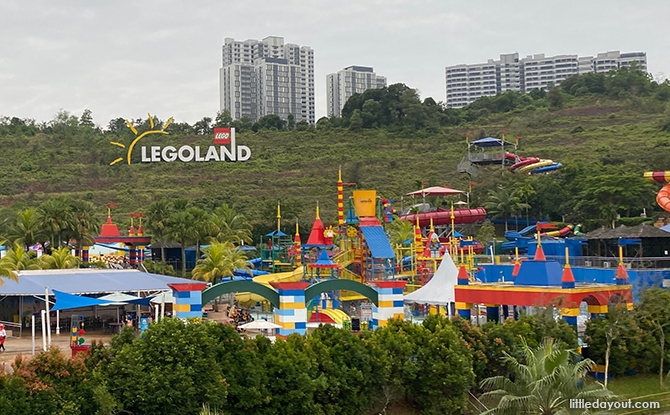 Asia's first LEGOLAND, in Iskandar Puteri, Malaysia, threw open its doors officially on 15 September 2012. Even at more than a decade old, LEGOLAND Malaysia Theme Park continues to delight the entire family making memories there together.
The sprawling 76-acre LEGOLAND Malaysia is a resort designed primarily for families with young children between the ages of 2 and 12.
The LEGOLAND Malaysia Theme Park is one of the highlights of the entire resort. Other part of LEGOLAND Malaysia Resort include the Water Park, the LEGOLAND Hotel and the SEA LIFE Malaysia Aquarium.
---
An Overview of LEGOLAND Malaysia Theme Park
---
-- Story continues below --
In this story, we focus in on LEGOLAND Malaysia's theme park.
The park features more than 40 rides, shows and attractions in eight different themed zones: The Beginning, LEGO Technic, LEGO Kingdoms, Land of Adventure, Imagination, LEGO NINJAGO, LEGO City and MINILAND.
We would recommend spending at least a full day at LEGOLAND Malaysia Theme Park as this is the biggest and best attraction before you head to LEGOLAND Water Park or SEA LIFE Malaysia.
---
The Eight Themed Zones at LEGOLAND Malaysia Theme Park
MINILAND
Right at the centre of the LEGOLAND theme park is MINILAND. It is the unique heart of every LEGOLAND park with an impressive miniature display of 17 of Asia's major landmarks, recreated solely from LEGO blocks on a scale of 1:20. Out of the 50 million LEGO bricks, 30 million were used in this area alone.
Since the inauguration, MINILAND has been expanded to include new clusters such as Johor Bahru and the Kampung. This particular MINILAND is the largest that has ever been built for a new park and the project involved a team of over 100 people from around the world. Several models are animated and LEGO figures, trains and airplanes can be brought to life at the touch of a button.
Here's a quick snapshot of what the other seven themed areas offer.
---
The Beginning
Awesome fun begins here. This area is where the main entertainment stage is. This is where the live shows, fun themed games, meet and greets and lucky draws take place when there are major events or during the holidays.
It is also home to Southeast Asia's largest LEGO shop – aptly named The Big Shop! On the opposite side is The Cafe.
---
LEGO Technic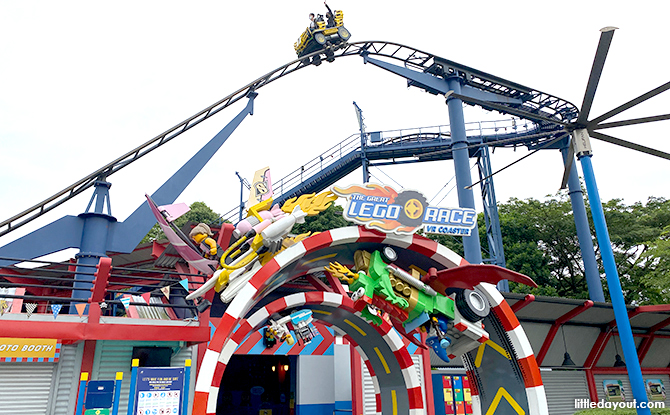 High speed rides and aspiring high-tech LEGO designers are the name of the game here at LEGO Technic. This spot is also home to The Great LEGO Race, the world's first LEGO-themed VR roller coaster ride.
It is all daring kids' favourite roller coaster ride within the LEGOLAND Theme Park.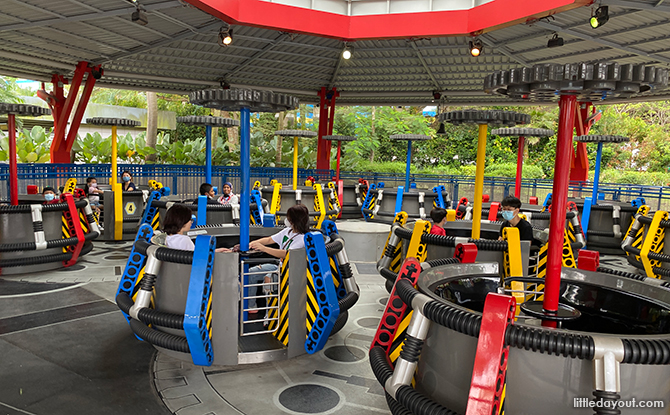 There's also Technic Twister that lets you control how crazy you would like to spin on this whirlwind of a ride. Aquazone Wave Racers is a thrilling wave surf zone with water guns. LEGO Mindstorms, featuring Albert Einstein's face at the front of the workshop area, is a space for budding robot designers.
Next to it is LEGO Academy, a place to help builders of all ages turn designs into reality.
---
LEGO Kingdoms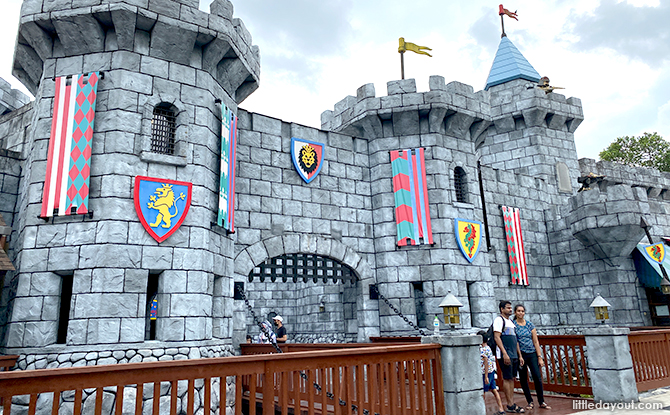 It's the stuff of legends and they come to life at LEGO Kingdoms. Children can be kings and queens crossing the drawbridge and entering the magnificent castles to explore legendary fearsome dragons and encounter fearless knights.
Kids loving more thrills would definitely enjoy The Dragon and The Dragon's Apprentice roller coaster rides, with the latter suited for brave young ones.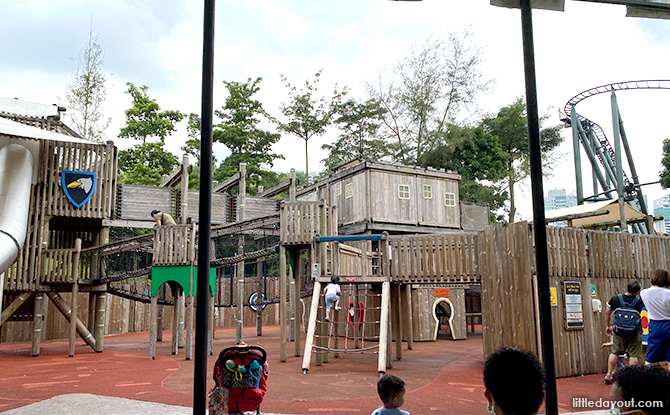 What's a theme park without a fun and challenging playground? LEGOLAND has one in the form of a multi-level treetop playground named The Forestman's Hideout with slides and ropes for the entire family.
Another popular ride is Merlin's Challenge, a high-speed carousel for both parents and children.
For a more passive jaunt, younger kids will enjoy The Royal Joust, a classic medieval contest whilst in the saddle of LEGO horses.
---
Imagination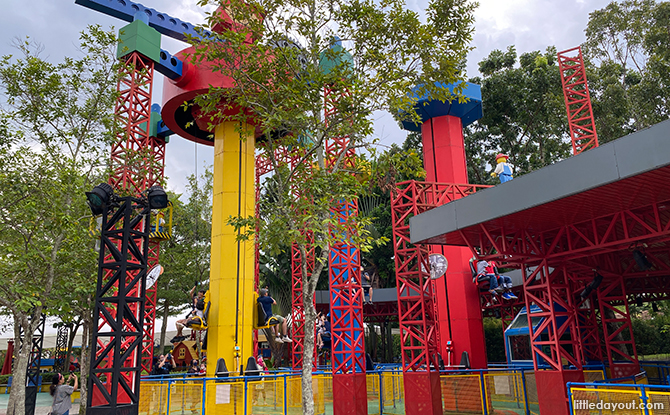 Imagination is where creativity knows no bounds!
You'll spot the Observation Tower from afar for an excellent aerial view of the park. Kids Power Tower engages your muscle strength as you pull your two-seat car up a nine-metre rope.
Build and Test Centre brings inventions to life and is a good spot to park yourselves indoors in the event of rain.
Inventors can use LEGO breaks to experiment, test, build, construct and race cars, as well as test their buildings on earthquake prone tables.
Check out also LEGO Studios as it showcases 3D computer animated exclusive movies. The kids will enjoy the 4D effects of wind, water and fog that come with it!
We suggest going there first to take note of the showtimes so you know how much time you have before returning to queue for it.
If you're with younger kids, you can also head to the large, sheltered child-size city zone at DUPLO Playtown. Young engine drivers will love the colourful five carriage train ride at DUPLO Express.
---
Land of Adventure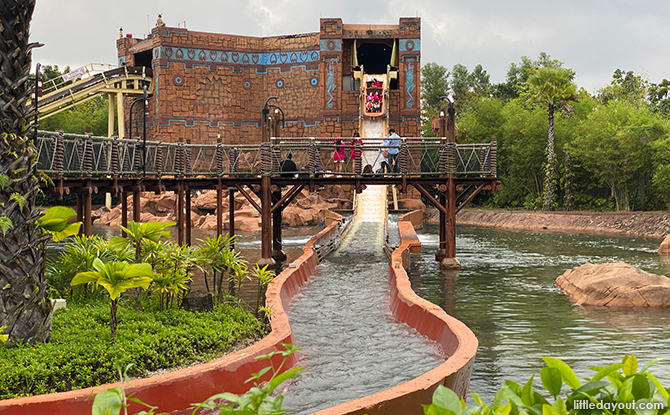 Take the journey back to the great civilisations and forgotten worlds of Pharaohs and dinosaurs at the Land of Adventure! On Dino Island, you have to take the daring boat trip and enjoy the thrill with spills.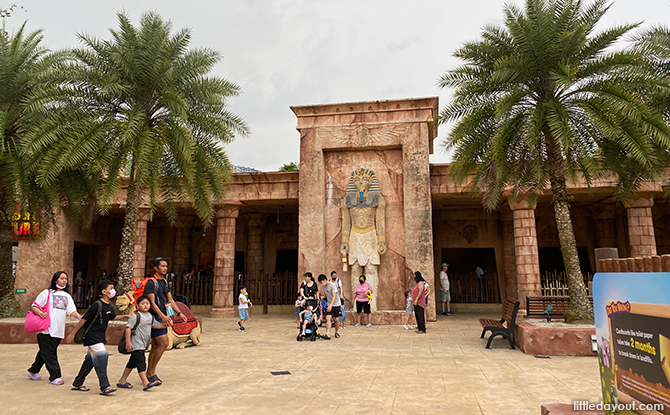 At Lost Kingdom Adventure, indulge in a laster-blasting hunt as an adventure hero in search for hidden treasure. With more energy to boot? Try the Beetle Bounce, and bounce up and down a 15-foot tower. Younger kids can create their own adventures in the Pharaoh's Revenge playground area.
---
LEGO City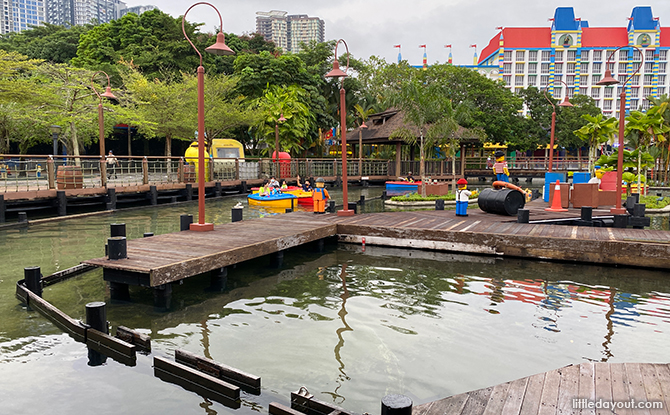 LEGO City is a microcosm of the real world with an actual city where kids take control. They can be schooled to become LEGOLAND car drivers at the Driving School with a true-to-life traffic circuit, or captain a boat at the Boating School.
One favourite is the LEGO Rescue Academy, a classic ride for families to race and put out a 'faux' fire in LEGO Fire Trucks. Another favourite – the LEGOLAND Express – is taking a pause, and when it resumes, one can tour the Park in style from the comfortable full-size LEGO train carriages.
At LEGO City Airport, pilot wannabes can lift off in a LEGO airplane, controlling exactly how high to go. Over at The Shipyard, climbers and crawlers can get their active hands and feet to work in this ship-styled adventure playland.
---
LEGO NINJAGO World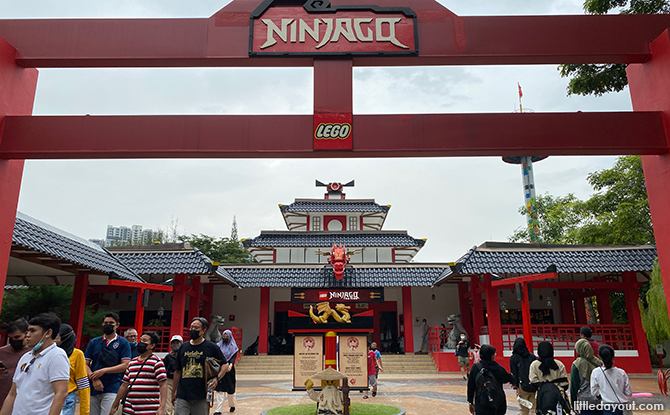 This is the newest themed zone to be included at LEGOLAND's Theme Park for all Ninjas out there.
Here's where Ninjas can put their skills to the test as they get transported to a parallel NINJAGO universe and become a Master of Spinjitzu.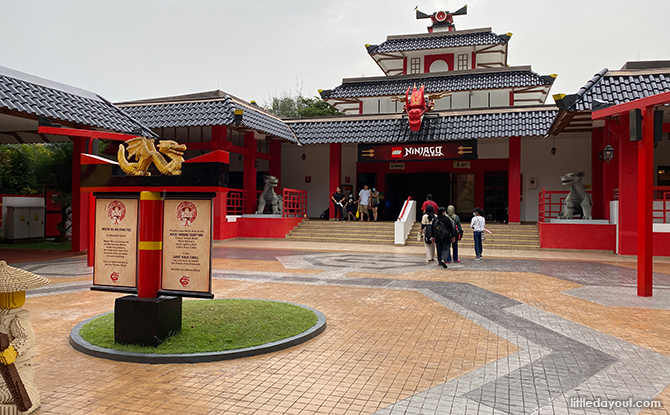 LEGO NINJAGO The Ride is a fully immersive 4D indoor ride where you can defeat the Great Devourer with fireballs, lightning, shockwaves or ice and earn Ninja status! Being the new kid on the block fashioned after the popular LEGO line of NINJAGO toys and TV series, expect longer queues here.
Nya's Practice is the practice zone before the battle with The Great Devourer. Get to master more LEGO skills as you build the NINJAGO monastery at Zane's Temple Build. At the side of the entrance is the Cole's Rock Climb to teach the mind patience and body endurance. Spin away and practise balance at Kai's Spinners to build up the art of Spinjitsu.
---
Best Ages to Visit LEGOLAND Malaysia Theme Park
The majority of the rides are suitable for slightly older children from the ages of 7 to 12.
Probably about a third would suit preschoolers, and only a handful are suitable for toddlers. Height limits are stated at the beginning of the queue and indicate two heights, one for children going on the ride alone, and the other for children with accompanying adults.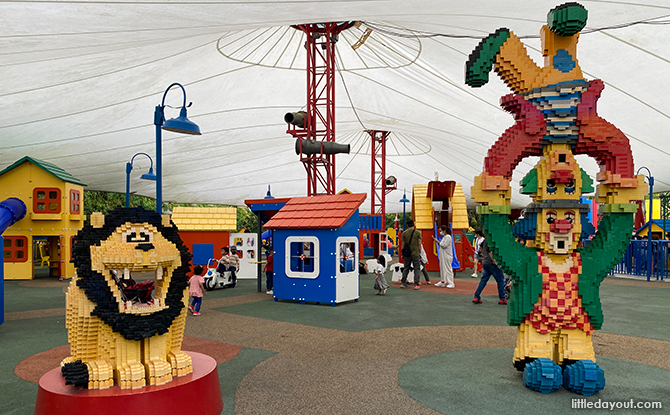 For toddlers, it would be best to head to Imagination and LEGO City zones to the right of The Beginning entrance.
---
Favourites for the Little Ones
Pharaoh's Revenge, located in the Land of Adventure, clearly excites young children the most. The attraction is meant for children between 6 and 12. They will enjoy the barrage of balls flying from all directions.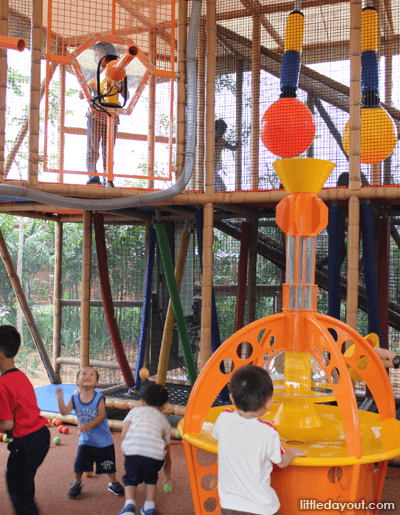 Lost Kingdom Adventure was another enjoyable ride. As a family your goal is to travel together in a buggy and aim your laser device at the hoards of gold, precious stones and other glittering treasure hoards. Family members can then see who got the most treasure from the score indicator in front of them.
Apart from the rides, our young toddler enjoyed wandering in MINILAND tremendously. He was thoroughly enthralled by the architecture of the various "Asian cities".
It was indeed fascinating to see buses and riverboats ply the roads and water areas, and the attention to detail was truly spectacular.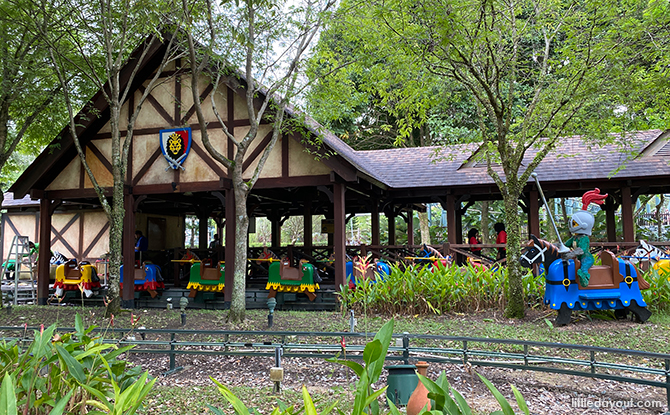 For slightly-older preschoolers, the Junior Driving School in LEGO City and the Royal Joust LEGO Kingdoms may appeal to their desire to discover and explore. Both rides give children a sense of independence by either driving a car, or saddling a horse as if in the medieval era.
---
Favourites for Older Children
Our 7-year-old and 12-year-old enjoyed The Great LEGO Race roller coaster ride best. The 7-year-old had to be accompanied by an adult during rides.
Dino Island at the Land of Adventure was also very enjoyable. Besides just the exhilarating rides, be prepared to get wet with a splash!
And of course, another thrilling roller coaster ride that also got them all excited for a repeat ride was The Dragon at LEGO Kingdoms.
---
Family-Friendly Features at LEGOLAND Malaysia Theme Park
The family-friendly features in the LEGOLAND Malaysia Theme Park are undoubtedly impressive. Apart from the basic amenities such as diaper changing tables and family restrooms, there is a Baby Care Centre in Imagination.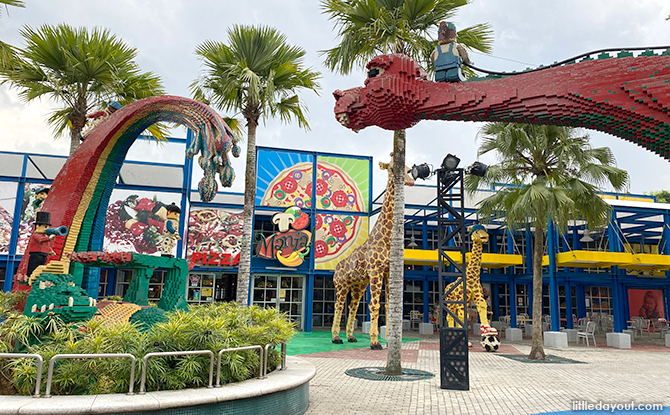 The Baby Care Centre at Imagination is equipped with bottle warmers, high chairs, rockers for nursing mums, baby change facilities and a microwave.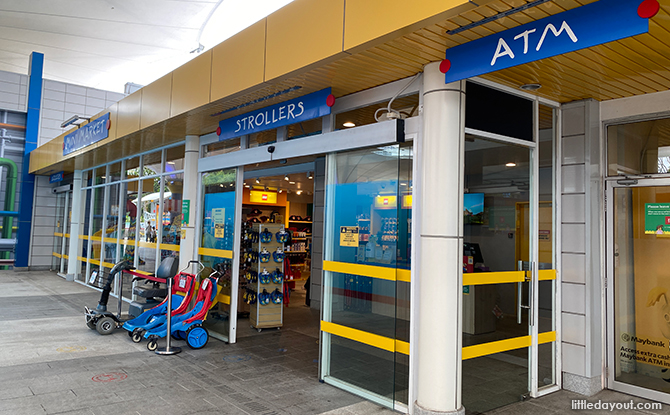 Strollers are available at the Mini-Market located by the entrance area of the park (fee: RM58 (Single) and RM80 (Double)). A deposit is required and is refundable upon the return of the stroller.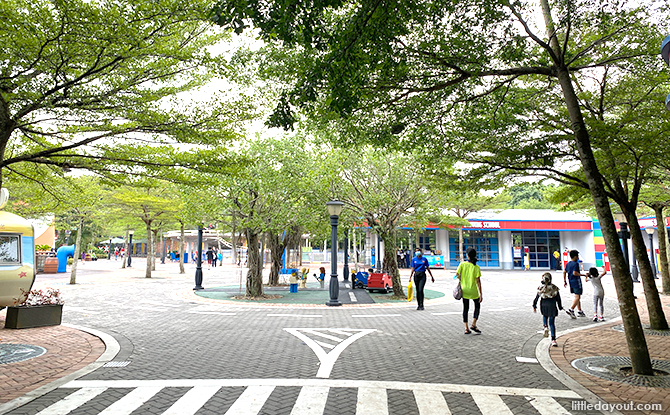 Walkways were also wide enough for strollers, and some of the queue lines even included small play areas where children could play with LEGO while waiting for their turn at the rides.
When the Park first opened, there was a lack of shelters for rest and insufficient seating around the park, which could easily lead to children becoming tired and dehydrated after a long day out.
Since then, trees have grown, and the Theme Park is now more shaded. However, if it rains, it'll still be best to have a poncho with you, otherwise you will be darting from zone to zone, attraction to attraction in the rain.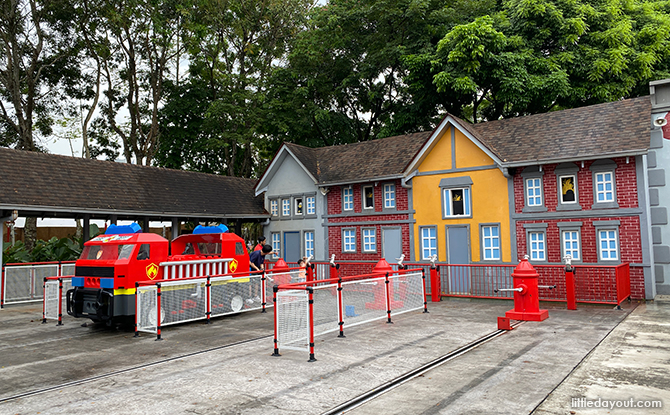 We noticed that most rides were constructed in such a manner that a family of four would be able to sit together and enjoy.
Some even involved an entire family working together to achieve a specific goal, such as the Rescue Academy, where families drive fire trucks up to a burning building and attempt to extinguish a fire in the shortest time.
---
Creativity & The Imagination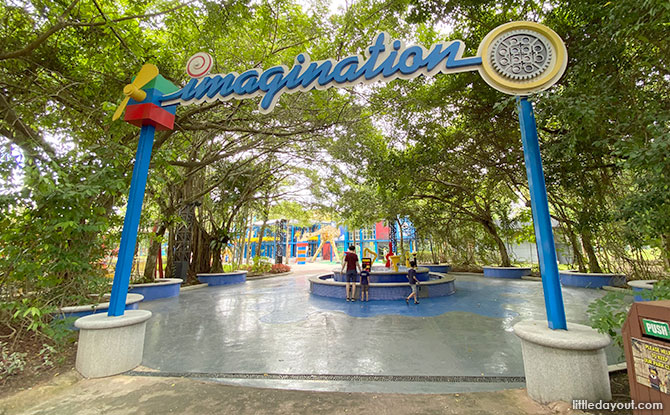 In our opinion, we felt that the Build & Test Centre in Imagination espoused the philosophy of LEGO best. Families can work together (or compete against each other) to design a LEGO car from scratch.
Once done, the cars are lined up on a ramp and at the word "go", the cars race against each other to see which one was most efficiently designed to cross the finishing line first. It is truly a leveller when sons can pit their designs against their fathers, or families can work together to design cars to race against other families.
There are no limits to the creativity that is within each of us. LEGO serves as the building block for such creative imagination to be cultivated in the mind of a child.
---
Tips & Suggestions
In a snapshot, here are our tips and suggestions on how to spend an awesome time at LEGOLAND Malaysia Theme Park:
Getting Tickets to LEGOLAND Malaysia Theme Park: It is cheaper to buy tickets online rather than at the entrance of the park and it saves you the queue time too. Get your tickets to LEGOLAND Malaysia Resort's theme parks here. Book your stay at LEGOLAND Hotel here.
Getting There: Driving there from the Second Link is relatively quick and easy. Look out for the brown signages along the highway that call out LEGOLAND. The distance between the Second Link and LEGOLAND is about 20 km and traffic is light, so you should be there within 20 minutes (excluding the time needed for clearing immigration). For those who do not wish to drive, alternative transport options including coach or private return transport arrangements can be made. These can take you and your party directly to the destination and back again.
Car Park: Parking is located at Zone 1 & 2 (RM10 per entry). Free parking promotion can only be redeemed for parking at Zone 1 & 2. Touch N Go service is available. If you're staying at LEGOLAND Hotel, you'll get to enjoy complimentary parking in the sheltered car park in the two basements. However, the car park lots do run out quickly if you arrive late, but they will allow you to park at the private car park just before the hotel.
Things to Bring: The trees around the large theme park have grown and provides some shade, but do still bring along hats/caps, ponchos/umbrellas, comfortable footwear, sunblock and adequate water. Bring something too for the kids to do while they wait in the long queues. Pack light as there are hardly any lockers along the way besides the ones at The Beginning. We are required to leave our bags on the shelves at the entrance of the rides. Hats and caps also have to be left there and only masks are allowed on you.
Food: There are eight main eateries scattered around the Park at every themed zone except LEGO NINJAGO World. There is also a food kiosk outside at the entrance of the Theme Park. Prices are much higher than those outside the Park so do bring more MYR along. The average adult meal in one of the three restaurants is between 30RM and 70RM. The kid's meal that includes one main, one side and a drink costs around 25RM.
Outside Food and Beverages: All outside food and drinks (except for infants or special medical needs) are not allowed into the Park. We noticed Chilled Food Lockers are now available for rent at RM20 for 4 hours or RM40 for 1 day just outside the Theme Park.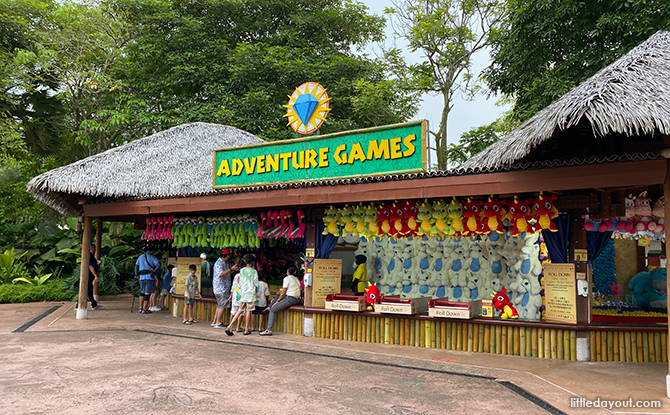 Carnival-like Booths: There are booths with large attractive soft toys. These are game stalls you could try your hand at but the cost of each game is not included as part of the entry ticket.
Best Times to Visit: The weekday crowds are significantly less compared to weekends and the Malaysia/Singapore public holiday period. The Theme Park feels less crowded compared to pre-COVID times with more international visitors, so now is a good time to visit.
When It Rains: Many of the outdoor attractions are halted when it rains and thunderstorms threaten. Shelter yourselves from the rain within the park at the eateries, and other indoor attractions such as Build and Test at Imagination, LEGO Studios or LEGO NINJAGO The Ride.
Moving Around: We suggest that families with older children start at the left side of the entrance, making their way clockwise from LEGO Technic, where they will be able to enjoy the most exciting rides before cooling off at the air-conditioned Pizza Mania restaurant in the Imagination area. To avoid the heat, families could plan for the more popular rides in the morning and late afternoon, leaving the time in between for lunch and a leisurely rest where they can either watch a show in LEGO Studios, or design their own structures in the Build and Test Centre.
Enjoying LEGOLAND Malaysia Theme Park: With over 40 rides, shows and attractions, it is tempting to desire to cover everything. However, do pace yourselves, pick and choose which ride to experience and enjoy quality time with them rather than trying to rush through all the rides. If the children like it, visit again or get an annual pass.
---
About LEGOLAND Malaysia Theme Park
LEGOLAND Malaysia Theme Park is the sixth LEGOLAND park in the world. The first LEGOLAND opened in Denmark in 1968 and the other parks can be found in United Kingdom, California, Germany and Florida. In October 2013, LEGOLAND Water Park opened next to the LEGOLAND Malaysia Theme Park, followed by LEGOLAND Hotel in December 2013 and SEA LIFE Malaysia in May 2019.
---
Note: This story was first published on 19 September 2012 and updated on 29 August 2022 as we visited LEGOLAND Malaysia Theme Park once again with another two children aged seven and 12. Back in 2012, Little Day Out, together with our guest bloggers, Mark, Sue and their two-year old son Z, braved the more than 10,000 strong crowd and the blistering heat to witness the historic moment a day before it opened and on the actual day itself. Below, we share some of the archived photos from the early days.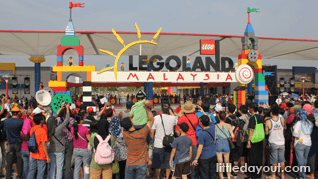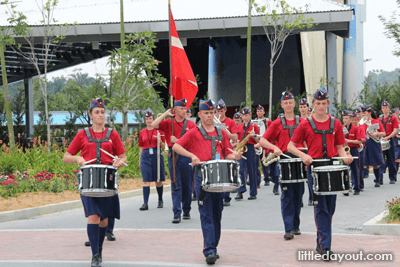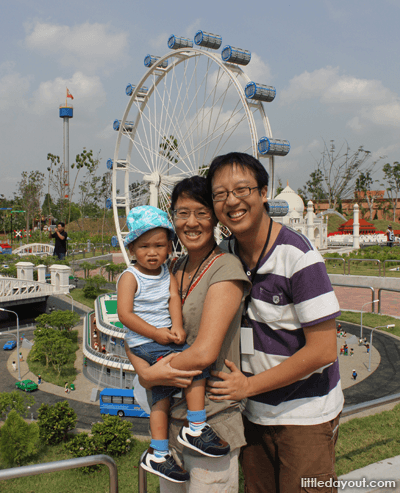 Here are pictures of the area outside the LEGOLAND Malaysia Theme Park taken on Opening Day.
Click here for pictures of the seven themed zones back in 2012:
---
This story contains affiliate links. This means we earn a small fee if you purchase something through a link from our website. There is no additional cost to you and goes towards supporting Little Day Out's efforts to deliver the best news and reporting for families.