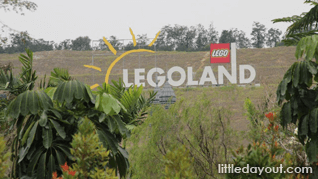 Asia's first LEGOLAND, in Nusajaya, Malaysia, threw open its doors officially on 15 September 2012.
Little Day Out, together with our guest bloggers, Mark, Sue and their two-year old son Z, braved the more than 10,000 strong crowd and the blistering heat to witness the historic moment a day before it opened and on the actual day itself.
Armed with cameras and a sense of anticipation, we began our journey into this sprawling 76-acre adventure land so as to:
1. See which rides and areas children would enjoy the most;
2. Identify and test out the specific family-friendly features; and
3. Arm ourselves with future tips and suggestions with which you too can explore the park.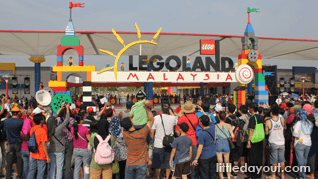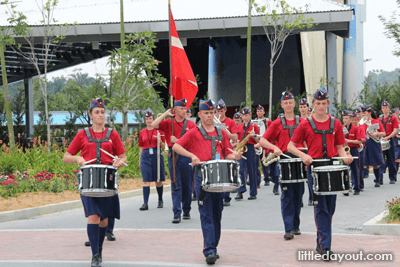 Billund Marching Band, flown in especially from the original LEGOLAND Park in Denmark, plays for Opening Day.
The marching band burst into the music of celebration to the loud applause of all around. Right on cue, the confetti exploded in a kaleidoscope of colour. Z squealed in delight; obviously enthralled by the pomp and pageantry surrounding him. He was clearly overwhelmed by the throngs of people excitedly pushing their way past the turnstiles.
An Overview of LEGOLAND Malaysia
LEGOLAND Malaysia is designed primarily for families with young children between the ages of 2 and 12. It features more than 40 rides, shows and attractions in seven different play zones: The Beginning, LEGO Technic, LEGO Kingdom, Imagination, Land of Adventure, LEGO City and Miniland. Here are pictures of the area outside the Park.
Right at the centre is Miniland – the unique heart of every LEGOLAND park – an impressive miniature display of Asia's major landmarks, recreated solely from LEGO blocks on a scale of 1:20. Out of the 50 million LEGO bricks, 30 million were used in this area alone. Click here for pictures of Miniland.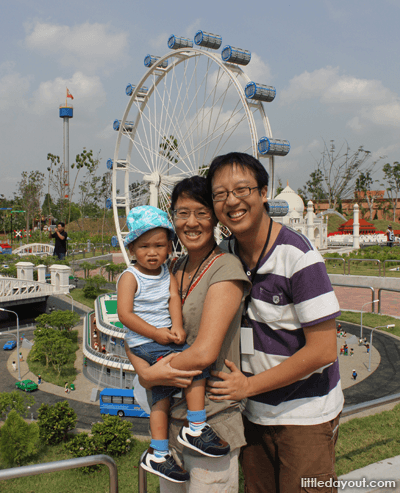 A lovely family portrait of Mark, Sue & Z in front of the miniature version of the Singapore Flyer in Miniland.
Here's a quick snapshot of what the other six themed areas offer:
Play Zones
The Beginning
LEGO Technic
LEGO Kingdoms
Imagination
Land of Adventure
LEGO City
Home To
Largest LEGO shop in Asia,The Big Shop
High speed rides and aspiring designers
Legends
Where creativity knows no bounds
Forgotten worlds of Pharoahs & dinosaurs
Actual city where kids take control
Top Highlights
The Brick Shop: customise your own LEGO creations
Project X: wild roller coaster with steep switchback track

Aquazone Wave Racers: wave surf and water guns

LEGO Mindstorms: for budding robot designers

The Dragon: roller coaster ride

The Dragon's Apprentice: baby dragon roller coaster ride

The Forestman's Hideout: multi-level treetop playground

Kid's Power Tower: overview of the Park from high up

DUPLO Express: for young engine drivers

Build and Test Centre: for bringing inventions to life

Dino Island: Daring boat trip

Lost Kingdom: laser-blasting hunt

Beetle Bounce: bounce up and down a 15 foot tower

Driving School: traffic circuit driving

Boating School: boat ride

Rescue Academy: Race to put out 'faux' fire

Pictures
Click here for pictures of The Beginning
Click here for pictures of LEGO Technic
Click here for pictures of LEGO Kingdoms
Click here for pictures of Imagination
Click here for pictures of Land of Adventure
Click here for pictures of LEGO City
It seems that the majority of the rides are suitable for slightly older children from the ages of 7 to 12. Probably about a third would suit preschoolers, and only a handful are suitable for toddlers. Height limits are stated at the beginning of the queue and indicate two heights, one for children going on the ride alone, and the other for children with accompanying adults.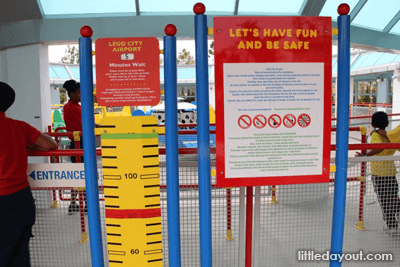 The friendly staff at several of the unsuitable rides was prompt to direct us to those which Z could participate in, mainly those in the Imagination and LEGO City areas to the right of The Beginning entrance.
Favourites for the Little Ones
Pharaoh's Revenge, located in the Land of Adventure, clearly excited our son the most. Although the two-year-old is barred from the attraction (it's only meant for children between 6 and 12), Z enjoyed the barrage of balls flying from all directions so much that he forced his way into the tent on a number of occasions; and we finally had to drag him out even though he was most unwilling.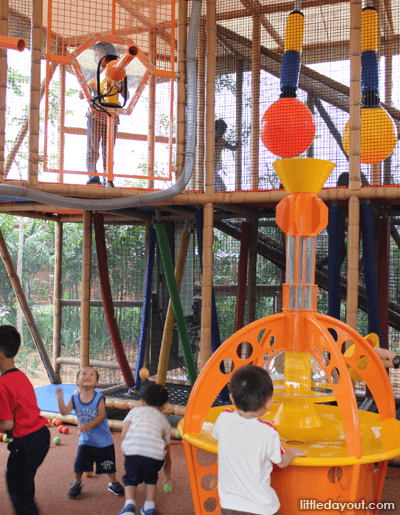 Having a ball of a time at Pharoah's Revenge in the Land of Adventure.
Lost Kingdom Adventure was another enjoyable ride. As a family your goal is to travel together in a buggy and aim your laser device at the hoards of gold, precious stones and other glittering treasure hoards. Family members can then see who got the most treasure from the score indicator in front of them.

Apart from the rides, our son enjoyed wandering in Miniland tremendously. He was thoroughly enthralled by the architecture of the various "Asian cities". It was indeed fascinating to see buses and riverboats ply the roads and water areas, and the attention to detail was truly spectacular.
For slightly-older pre-schoolers, the junior Driving School in LEGO City and the Royal Joust LEGO Kingdoms may appeal to their desire to discover and explore. Both rides give children a sense of independence by either driving a car, or saddling a horse as if in the medieval era.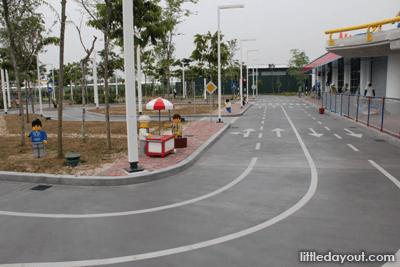 Family-Friendly Features
We were immediately impressed with the family-friendly features in the park. Apart from the basic amenities such as diaper changing tables and family restrooms, there is a Baby Care Centre in Imagination.
The Baby Care Centre at Imagination is equipped with bottle warmers, high chairs, rockers for nursing mums, baby change facilities and a microwave.
Strollers are available at the Mini-Market located by the entrance area of the park (fee: MYR 20-Single Seat, MYR 35-Double Seat).
Walkways were also wide enough for strollers, and some of the queue lines even included small play areas where children could play with LEGO while waiting for their turn at the rides. The only negative point seemed to be the lack of shelters for rest and insufficient seating around the park, which could easily lead to children becoming tired and dehydrated after a long day out.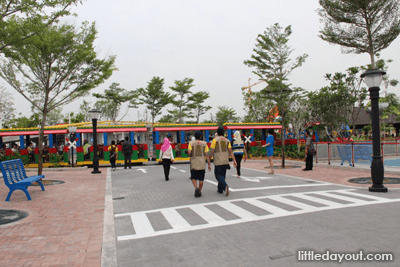 We noticed that most rides were constructed in such a manner that a family of four would be able to sit together and enjoy. Some even involved an entire family working together to achieve a specific goal, such as the Rescue Academy, where families drive fire trucks up to a burning building and attempt to extinguish a fire in the shortest time.
Creativity & the Imagination
In our opinion, we felt that the Build & Test Centre in Imagination espoused the philosophy of LEGO best. Families can work together (or compete against each other) to design a LEGO car from scratch.
Once done, the cars are lined up on a ramp and at the word "go", the cars race against each other to see which one was most efficiently designed to cross the finishing line first. It is truly a leveler when sons can pit their designs against their fathers, or families can work together to design cars to race against other families.
It was a delight for our son, as he clapped his hands each time his Daddy and Mummy took their cars to the top of the ramp to race.
There are no limits to the creativity that is within each of us. LEGO serves as the building block for such creative imagination to be cultivated in the mind of a child. In encouraging critical thinking among children, perhaps schools in Singapore can learn a thing or two from this ingenious toy that has provided hours of entertainment for children of all ages.
Tips & Suggestions
In a snapshot, here are our tips and suggestions for you:
Getting Tickets: It is cheaper to buy tickets online rather than at the entrance of the park and it saves you the queue time too.
Getting There: Driving there from the Second Link is relatively quick and easy. Look out for the brown signages along the highway that call out LEGOLAND. The distance between the Second Link and LEGOLAND is about 20 km and traffic is light, so you should be there within 20 minutes.
Car Park: At present, parking is free. However, hourly car park rates will apply to the lot adjacent to the Mall of Medini, which is nearest to the entrance of LEGOLAND. The price structure has yet to be determined.
Things to Bring: The trees around the large theme park are too young to provide any shade, so bring along hats/caps, comfortable footwear, sunblock and adequate water (although mineral water can be purchased at MYR 2.50 a bottle). Bring along something too for the kids to do while they wait in the long queues. Pack light as there are hardly any lockers along the way besides the ones at The Beginning. Most people leave their bags on the floor at the entrance of the rides.
Food: There are three restaurants, four food stands and 11 food carts scattered around the Park. Prices are much higher than those outside the Park so do bring more MYR along. The average adult meal in one of the three restaurants is between MYR 10.50 and MYR 23. The kid's meal that includes one main, one side and a drink costs around MYR 15.
Carnival-like Booths: There are booths with large attractive soft toys. These are game stalls you could try your hand at but the cost of each game (around MYR6 for one throw) is not included as part of the entry ticket.
Moving Around: We suggest that families with older children start at the left side of the entrance, making their way clockwise from LEGO Technic, where they will be able to enjoy the most exciting rides before cooling off at the air-conditioned restaurants in the Imagination area. To avoid the heat, families could plan for the more popular rides in the morning and late afternoon, leaving the time in between for lunch and a leisurely rest where they can either watch a show in LEGO Studios, or design their own structures in the Build and Test Centre.
Practical Tips
LEGOland Malaysia is about 20 minutes away from the Tuas Checkpoint by car. For those who do not wish to drive, alternative transport options including coach or private return transport arrangements are also available from websites such as www.traveldelight.biz. These can take you and your party directly to the destination and back again.
LEGOLAND Malaysia is the sixth LEGOLAND park in the world. The first opened in Denmark in 1968 and the other parks can be found in United Kingdom, California, Germany and Florida. In the second half of 2013, LEGOLAND Water Park will open next to the current LEGOLAND Malaysia, followed by LEGOLAND Hotel in 2014.
Have a great LEGOLAND Little Day Out!
by Mark & Sue Lim
with additional reporting by Little Day Out
Related Articles