The bright yellow, blue and red colours of the LEGOLAND Malaysia Water Park first opened on 21 October 2013. Designed especially for families with young children, the new LEGOLAND Water Park at Iskandar Puteri, Johor, is the largest LEGOLAND Water Park in the world and the first to have a gate adjoining the LEGOLAND Theme Park.
The entrance to LEGOLAND Water Park can be found to the left of the LEGOLAND Theme Park's entrance. Tickets to the Water Park can be purchased at this entrance.
Built on a hill, LEGOLAND Water Park's 20 rides and attractions roughly rise in "excitement-quotient" with the terrain. These water-based rides and attractions cater to younger children and can be surprisingly fun even for adults.
One aspect of the LEGOLAND Water Park that came through was the interactivity of the rides and attractions. The Water Park features attractions such as a lazy river that invites families to play with blocks while floating along in it.
---
-- Story continues below --
There are also side-by-side racing water slides and water slides that two, four or even six persons can enjoy together. Rather than catering to individual adrenalin junkies, LEGOLAND Water Park feels like a place that was built for families to enjoy together.
---
At a Glance: Why We Love LEGOLAND Water Park
| | |
| --- | --- |
| Family Friendly Rides | If this is your child's first time at a water park, he or she will simply enjoy it. The rides at LEGOLAND Water Park offer plenty of fun for kids and families. We love how families can experience the rides together, making it a less daunting experience for first timers. |
| Colourful LEGO Theming | Has your child ever taken his or her LEGO bricks into the bathtub? Well, LEGOLAND Water Park is a place that will totally soak him or her into the world of LEGO. We love how bright the colours are, just like LEGO, and there are so many opportunities to immerse into the world of LEGO like never before. |
| Activities for Kids to Exercise the Imagination | The fun of LEGO is the ability to create something new using the different LEGO blocks that are available. In this respect, we love how this spirit of creativity extends to the water park with activities such as the Imagination Station and Build-A-Boat. |
Because of these reasons, we think that LEGOLAND Water Park is one of the best and most family-friendly water parks that visitors, including Singaporeans who are making their way across the Causeway or Second Link, can enjoy.
---
Getting to Know LEGOLAND Water Park
LEGOLAND Water Park is roughly divided into three sections – the lower, mid and upper sections with 20 body slides as well as tube slides.
The lower section is best for younger children. Rides and activities here include the DUPLO Splash Safari, Build-A-Boat, Imagination Station, Build-A-Raft River, Joker Soaker and the LEGO Wave Pool.
---
DUPLO Splash Safari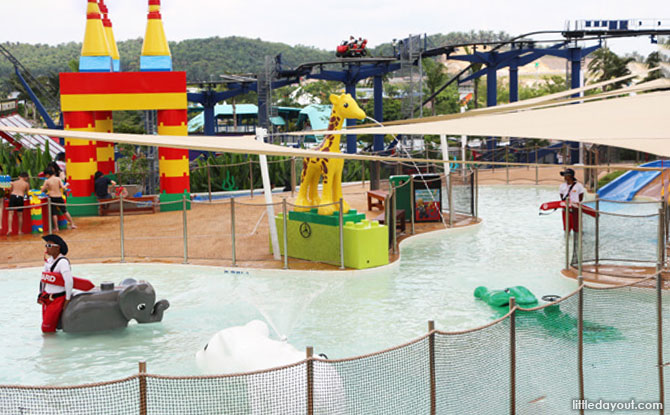 Designed for toddlers, this shallow wading pool is home to oversized interactive DUPLO animals such as an elephant, giraffe and polar bear. Fountains come alive with a twist of a handle, and there are broad, gentle slides for toddler-sized swooshes.
Minimum height: 91 cm and above
Children under 6 years old will need to be supervised by an adult
---
Build-A-Boat
What is a LEGO park without a chance to get creative? At Build-A-Boat on the LEGOLAND Water Park website, children can make use of special boat hulls with LEGO stud surfaces to build something imaginative with standard LEGO bricks that are available at the bottom of the rapids.
Minimum height: No minimum height requirement
Direct supervision of the child by a guardian is required at all times
---
Imagination Station
Set your imagination to work at the Imagination Station which has plenty of interactive and educational activities that kids will enjoy.
Kids can take on the role of a master building using DUPLO bricks and get about to building bridges, dams and cities before testing them against the flow of water. It is a fun activity that kids simply enjoy. While they may normally be frowned at for playing with their bricks in water, this is the ultimate chance for them to do so because they can get creative and test out their creations in a moving water environment.
Imagination Station is super fun for younger children and we love how it is educational too.
---
Build-A-Raft River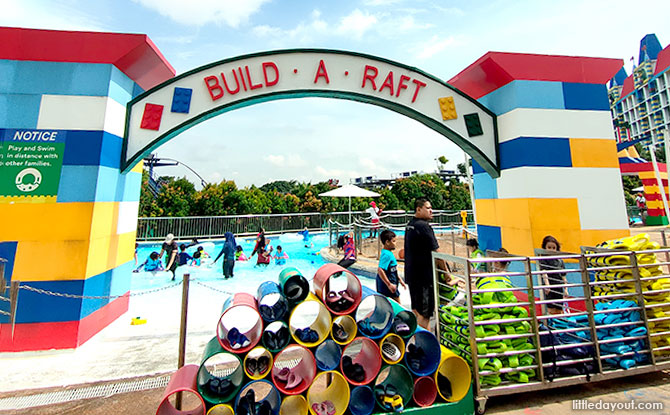 Every water park needs a lazy river. LEGOLAND's twist is to have hard foam LEGO pieces floating along theirs. Kids can grab at these colourful soft blue, red and yellow bricks to snap on to their floats as they sail along.
Minimum height: 107 cm and above; Children below 107 cm will need to be accompanied by an adult
---
Joker Soaker
We were wondering why it was called Joker Soaker until we stepped inside. This brightly coloured water play structure feels like a circus fun house. There are many corridors with hidden water bobby traps waiting for unsuspecting "victims" and dangling ropes with a surprise at the other end that are not possible to resist pulling.
Have fun scaling the Joker Soaker and make your way back down the fun way through one of its many slides. A surprise punch line awaits when the LEGO jester model pours out 350 gallons of water!
Minimum height: 102 cm and above to enjoy the ride at the top of the structure
Children under 6 years old will need to be supervised by an adult
---
LEGO Wave Pool
This wave pool has a LEGO dolphin flanked by two LEGO mermaids as its centrepiece. Only 1.4 metres at the deepest end, the pool has gentle to moderate intensity waves.
The next section of the Water Park is just beside the LEGO Wave Pool. It consists of three water rides – Red Rush, Splash Out and Twin Chasers.
Minimum height: Children under 107 cm must be accompanied by an adult at all times.
---
Red Rush
Hop into an inflatable raft and swish down a 312-feet long curving track with a super wide half-pipe. Families can ride together in the raft, and it is a good way for children to have a go at a water slide together with their parents.
The Red Rush can take between three to six persons (depending on weight – there is a weighing machine used by the slide operators to determine this) on its red tubes. The maximum group weight limit on this ride is 454.5 kg in total.
Families with younger children may particularly enjoy the Red Rush water slide as it is relatively short and not so swirly, making it an easy first water ride for young children.
Minimum height: 102 cm and above
---
Splash Out
This blue-coloured water slide heads off from the same platform as Red Rush. This is a fun one-person slide that splashes out to the pool below. Riders will get to experience splashing out with a 60 foot drop in this open body slide.
Minimum height and other requirements: 102 cm and above and weigh under 136 kg
---
Twin Chasers
Great for a two-person contest, racers start off side-by-side at the top of the two green water tubes before disappearing into them and eventually emerging at the splashdown pools side-by-side.
It is a 130 foot slide and racers don't who know if they have won until they emerge at the end of the tunnel!
Minimum height and other requirements: 102 cm and above and weigh under 136 kg
---
Even More Fun at the LEGOLAND Water Park in Johor, Malaysia
The last section of the park is home to five water rides, Brick Blaster, Splash 'N' Swirl, Wave Rider, Tidal Tube and LEGO Slide Racers.
Brick Blaster and Splash 'N' Swirl both require floats and can accommodate multiple riders, whereas Wave Rider and Tidal Tube are rides for individuals.
Right at the back of the park is the LEGO Slide Racers.
---
Brick Blaster
You will see many people clutching green floats and queuing up the stairs for the red-and-yellow Brick Blasters ride. Two tunnels and a huge funnel make this ride highly popular and expect long waiting times.
The Brick Blaster can take between two to three persons at a time on its green floats.
Families who want more excitement together should definitely try the Brick Blaster. It has more exciting twists and turns and is also a longer ride than the Red Rush.
As a fun tip, we suggest that families start off with the Red Rush first and then graduate up to the Brick Blaster once the kids have got their adrenaline going and are hyped up for a longer ride.
Minimum height and other requirements: 102 cm and above and weigh under 250 kg as a group
---
Splash 'N' Swirl
This orange water slide can be done individually or as a tandem ride. As the name suggests, get ready to be taken for a swirl.
It is a great place where you can scream your lungs out while splashing and swirling down slide. You can go either as a single rider, which is already great fun, but we personally enjoy it the most when we go together with family and friends as a group. It is even more exciting and super fun to scream it out with everyone else.
Minimum height and other requirements: 102 cm and above and weigh under 136 kg for single riders and 181 kg as a group.
---
Wave Rider & Tidal Tube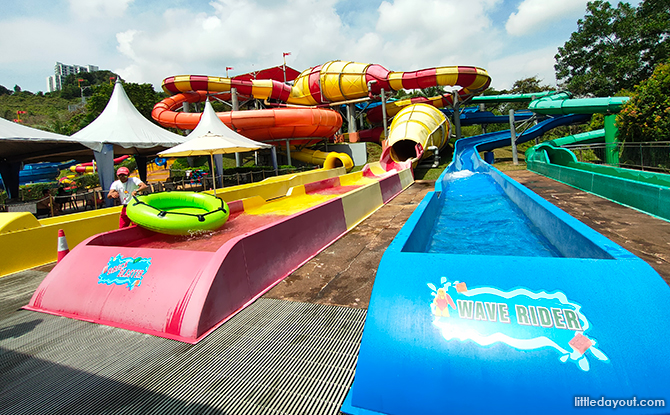 These two water slide rides are both 240 feet long. What's the main difference between the two water sliddes?
Wave Rider is an open slide and Tidal Tube is an enclosed water slide. This means thatyou can choose either go down the slides in either darkness or in the light. Better yet, experience both and decide for yourself which one you prefer!
The Wave Rider and Tidal Tube rides make use of the same platform as the Brick Blaster and Splash & Swirl rides.
When we were there, there were almost no queues for the Wave Rider and Tidal Tube because most people were queuing for the Brick Blaster and Splash & Swirl rides.
As as a result, it can appear that Wave Rider and Tidal Tube have long queues when in fact they don't. The long queues are actually for the Brick Blaster and Splash & Swirl rides.
Minimum height and other requirements for Wave Rider: 107 cm and above, and weigh under 136 kg to enjoy this ride.
Minimum height and other requirements for Tidal Tube: 107 cm and above, and weigh under 136 kg to enjoy this ride.
---
LEGO Slide Racers
At the rear of the park, and also at its highest point, is the LEGO Slide Racers. Riders, up to six at a time, can hurl themselves downwards in a race to the bottom!
Minimum height and other requirements: 107 cm and above and weigh in at under 136 kg to enjoy this ride
---
LEGOLAND Water Park's Other Amenities
There are two food outlets at LEGOLAND Water Park. Beach Grill is found just beside the LEGO Wave Pool. It serves up burgers, hot dogs and nasi lemak sets. The other is the Brick Café by the Joker Soaker which has lighter fare like sandwiches and cocktail style drinks.
Locating the Beach Grill beside the LEGO Wave Pool has an unintended side effect. It becomes a convenient location for people to sit by and watch the kids in the wave pool, resulting in a shortage of tables at meal times as people have "planted" themselves there.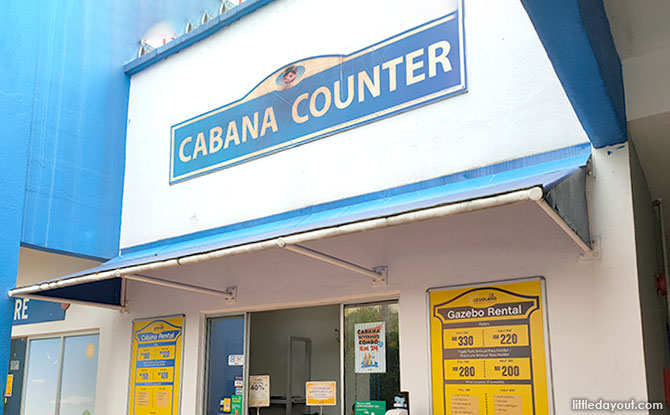 Other amenities at the park include cabanas and gazebos that are available for rent
Each cabana comes with seats, complimentary towels and drink.
Cabana is available for a maximum of four guests per cabana. Each cabana features two deluxe chaise lounges, two seating chairs, safe deposit box and a table.
Here are the rates for the cabana and gazebo rentals:
Cabana rental – Full Day RM180 (Annual Pass: RM 150)| Half Day RM120 (Annual Pass: RM 100)
Gazebo rental – Full Day RM 330 (Annual Pass: RM 280)| Half Day RM 220 (Annual Pass: RM 200)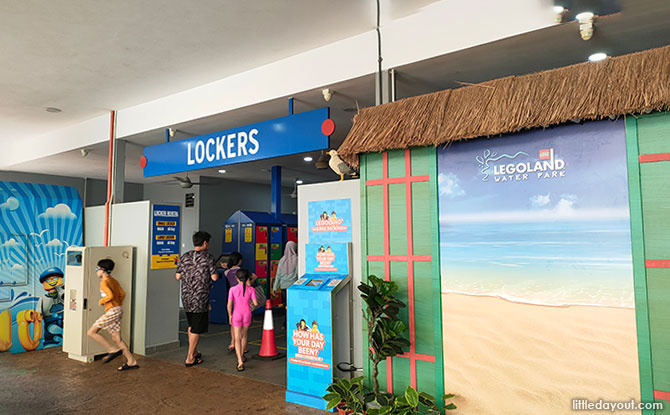 Locker rentals, changing rooms and showers are found by the Water Park's entrance.
Small lockers are priced at RM20, and large lockers are RM40.
The lockers have the option for cash to be used for the rental fees. Just slot the cash into the machine. If in doubt, there are staff present throughout the day to assist with enquiries and issues.
The lockers will ask for a passcode that includes a birthdate "dd/mm/yy" and a favourite colour (out of six possible options).
There are also drying machines at the park. The drying machines cost RM10 per use. We even saw a family of six made up of two adults and four children squeeze into one of the drying machines and using it to dry themselves!
One other point that we noticed. We felt that floors in the Water Park can get slippery. This was particularly so on the pathway leading up to the tower with the Brick Blaster and Splash 'N' Swirl. Do watch out for the kids on those sloped steps and remind them not to run.
---
Tips For Enjoying LEGOLAND Water Park
Want to get the most out of your day at LEGOLAND Water Park in Malaysia? We've got a few pro tips and tricks to help you along:
Be ready to get wet and not be a bystander. It is a water park after all. Prepare proper wet attire according to the Park's Rules & Regulations.
Children under 3 years old are required to put on wet diapers, which can be purchased at the Water Park shops.
Baby Care centres available in the water park with baby-changing facilities such as bottle warmers, high chairs, rockers for nursing moms and a microwave. In addition, all restrooms in the water park are equipped with diaper-changing tables while family restrooms are also available.
It is best to wear waterproof slippers which can be slipped on and off easily. Colourful cones can be found at the start of each ride, slide and attraction for you to store your slippers.
While you can store your valuables at the locker room, when we were there, we wondered where to park our bag of essentials like towels, change of dry clothes, sunscreen, water bottles, mobile phone and camera, some cash and plastic money, whenever we were going into the water. A plastic sling pouch for your mobile phone can be purchased separately. The best would be if someone in your party can hold on to or watch over your belongings; otherwise you would have to take the risk and leave them unattended. We do wish that there was a proper place to stow away each bag at the base of each ride – like a temporary locker or something to that effect.
There are some lounge chairs available around the pools. However, do take not that htey are available on a first-come-first served basis. If you do wish to get hold of one of the lounge chairs, you should try to come early and get one of the chairs.
Bring your own waterproof phone carrier to take photos in all the wet sections. The shop sells them but it is quite pricy.
Food and drink at LEGOLAND Water Park is expensive. One way to stretch one's dollar is to purchase any meal that has the LEGOLAND kids cup with straw. After the initial purchase, it can be refilled for RM4 at any LEGOLAND food outlet
---
So, was LEGOLAND Water Park Fun?
Yes, it was fun! We particularly liked that the park does make an effort to cater to families with young children. The rides are mild-to-moderate and are suitable for young kids.
There are other little touches as well. For example, at some other park's lazy rivers, there is typically only one type of float – a donut-shaped one. However, these can sometimes be too large for younger children who may be scared to "sit" in them.
LEGOLAND Water Park's Build-A-Raft River has donut-shaped floats with the hole sealed up. This allows young children to sit on top of the float as if it was a raft. A small touch but one that parents with finicky kids will definitely appreciate.
LEGOLAND Water Park is a refreshing, cool (pun intended) complement to LEGOLAND Theme Park and SEA LIFE Malaysia. Coupled with the fun to be had at LEGOLAND Hotel, these are great reasons to head to LEGOLAND Malaysia Resort for a day or two of family fun.
You can easily spend an entire two-day weekend at the LEGOLAND Resort.
Start off the first day with time spent at the LEGOLAND Theme Park and the kids will surely enjoy the various kid-friendly attractions and rides. There is also the mini land for them to explore and there is also the 4D movie where they will be thrilled by all the action.
On day two, you can then hit the LEGOLAND Water Park for a change of pace to simply soak out. It is an amazing bonding experience where parents and children can enjoy the various water slides and water rides together. Wherever possible, we recommend doing the rides as a group to experience the fun together.
When you are done with all the excitement, you can then chill out at the lazy pool of the water park.
---
LEGOLAND Water Park
Where: LEGOLAND Malaysia Resort
Get your tickets to LEGOLAND Malaysia Resort's theme parks here.
Book your stay at LEGOLAND Hotel here.
Related Articles
If you enjoyed this story, we suspect that you will also enjoy other stories like this one about Sentosa in Singapore, or this other one on food that you can enjoy at another major attraction in Singapore. If you love the outdoors, do check out our stories on a Singapore's third national garden, or this other one on the OG national garden in Singapore.
Note: This story was first published on 19 October 2013 and updated on 29 August 2022 and 23 August 2023.
This story contains affiliate links. This means we earn a small fee if you purchase something through a link from our website. There is no additional cost to you and goes towards supporting Little Day Out's efforts to deliver the best news and reporting for families.