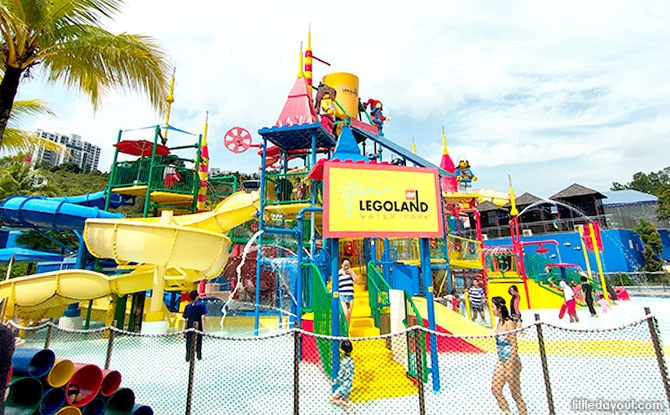 The bright yellow, blue and red colours of the LEGOLAND Malaysia Water Park first opened on 21 October 2013. Designed especially for families with young children, the new LEGOLAND Water Park at Iskandar Puteri, Johor, is the largest LEGOLAND Water Park in the world and the first to have a gate adjoining the LEGOLAND Theme Park.
The entrance to LEGOLAND Water Park can be found to the left of the LEGOLAND Theme Park's entrance. Tickets to the Water Park can be purchased at this entrance.
Built on a hill, LEGOLAND Water Park's 20 rides and attractions roughly rise in "excitement-quotient" with the terrain. These water-based rides and attractions cater to younger children and can be surprisingly fun even for adults.
One aspect of the LEGOLAND Water Park that came through was the interactivity of the rides and attractions. The Water Park features attractions such as a lazy river that invites families to play with blocks while floating along in it.
There are also side-by-side racing water slides and water slides that two, four or even six persons can enjoy together. Rather than catering to individual adrenalin junkies, LEGOLAND Water Park feels like a place that was built for families to enjoy together.
---
Getting to Know LEGOLAND Water Park
LEGOLAND Water Park is roughly divided into three sections – the lower, mid and upper sections with 20 body slides and tube slides.
The lower section is best for younger children. Rides and activities here include the DUPLO Splash Safari, Imagination Station, Build-A-Raft River, Joker Soaker and the LEGO Wave Pool.
---
DUPLO Splash Safari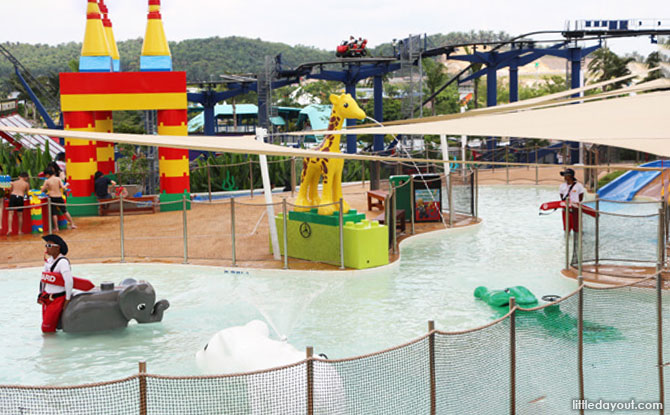 Designed for toddlers, this shallow wading pool is home to oversized DUPLO animals such as an elephant, giraffe and polar bear. Fountains come alive with a twist of a handle, and there are broad, gentle slides for toddler-sized swooshes.
---
Imagination Station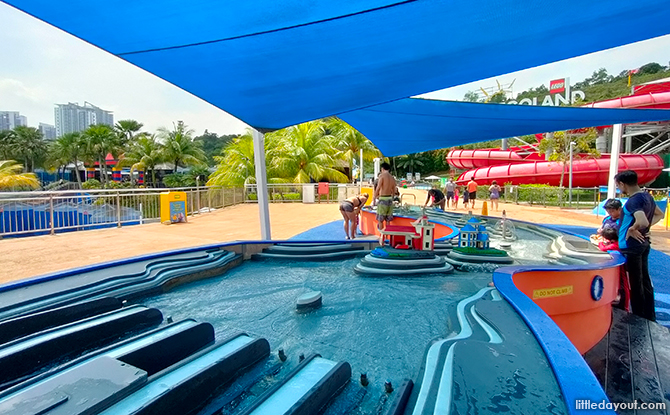 What is a LEGO park without a chance to get creative? At the Imagination Station, kids can use DUPLO bricks to create their own structures and use water jets to test them to destruction.
---
Build-A-Raft River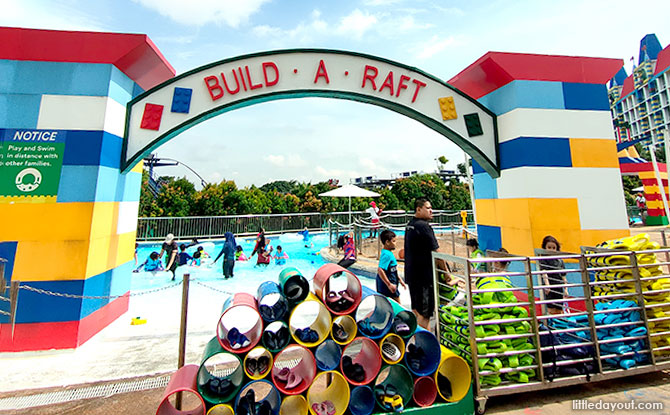 Every water park needs a lazy river. LEGOLAND's twist is to have hard foam LEGO pieces floating along theirs. Kids can grab at these colourful soft blue, red and yellow bricks to snap on to their floats as they sail along.
---
Joker Soaker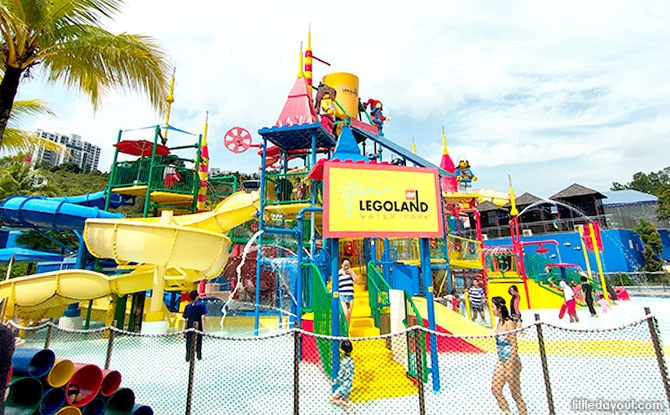 We were wondering why it was called Joker Soaker until we stepped inside. This brightly coloured water play structure feels like a circus fun house. There are many corridors with hidden water bobby traps waiting for unsuspecting "victims" and dangling ropes with a surprise at the other end that are not possible to resist pulling.
Have fun scaling the Joker Soaker and make your way back down the fun way through one of its many slides. A surprise punch line awaits when the LEGO jester model pours out 350 gallons of water!
---
LEGO Wave Pool
This wave pool has a LEGO dolphin flanked by two LEGO mermaids as its centrepiece. Only 1.4 metres at the deepest end, the pool has gentle to moderate intensity waves.
The next section of the Water Park is just beside the LEGO Wave Pool. It consists of three water rides – Red Rush, Splash Out and Twin Chasers.
---
Red Rush
Hop into an inflatable raft and swish down a curving track with a super wide half-pipe. Families can ride together in the raft, and it is a good way for children to have a go at a water slide together with their parents.
---
Splash Out
This blue-coloured water slide heads off from the same platform as Red Rush. This is a fun one-person slide that splashes out to the pool below.
---
Twin Chasers
Great for a two-person contest, racers start off side-by-side at the top of the two green water tubes before disappearing into them and eventually emerging at the splashdown pools side-by-side. Racers don't who know if they have won until they emerge at the end of the tunnel!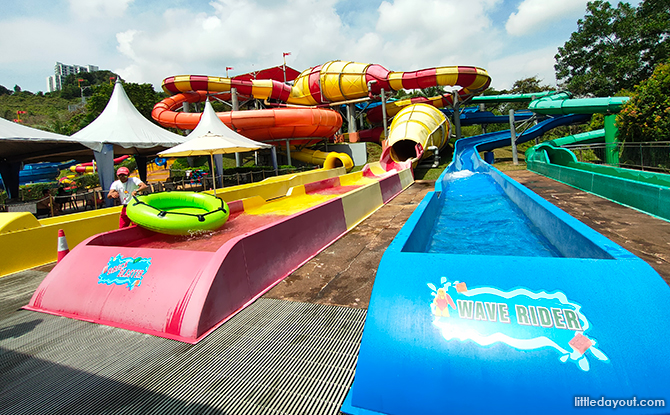 The last section of the park is home to five water rides, Brick Blaster, Splash 'N' Swirl, Wave Rider, Tidal Tube and LEGO Slide Racers.
Brick Blaster and Splash 'N' Swirl both require floats and can accommodate multiple riders, whereas Wave Rider and Tidal Tube are rides for individuals. Right at the back of the park is the LEGO Slide Racers.
---
Brick Blaster
You will see many people clutching green floats and queuing up the stairs for the red-and-yellow Brick Blasters ride. Two tunnels and a huge funnel make this ride highly popular and expect long waiting times.
---
Splash 'N' Swirl
This orange water slide can be done individually or as a tandem ride. As the name suggests, get ready to be taken for a swirl.
---
Wave Rider & Tidal Tube
These two rides are both 240 feet long. Wave Rider is an open slide and Tidal Tube is enclosed. Choose between darkness and light, or do both!
---
LEGO Slide Racers
At the rear of the park, and also at its highest point, is the LEGO Slide Racers. Riders, up to six at a time, can hurl themselves downwards in a race to the bottom!
---
LEGOLAND Water Park's Other Amenities
There are two food outlets at LEGOLAND Water Park. Beach Grill is found just beside the LEGO Wave Pool. It serves up burgers, hot dogs and nasi lemak sets. The other is the Brick Café by the Joker Soaker which has lighter fare like sandwiches and cocktail style drinks.
Locating the Beach Grill beside the LEGO Wave Pool has an unintended side effect. It becomes a convenient location for people to sit by and watch the kids in the wave pool, resulting in a shortage of tables at meal times as people have "planted" themselves there.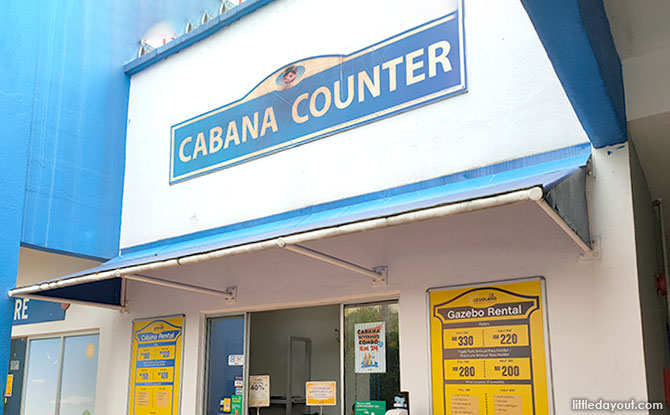 Other amenities at the park include cabanas and gazebos that are available for rent, and there are even drying machines. Each cabana comes with seats, complimentary towels and drink, as well as DUPLO bricks to play with, but these do not come cheap.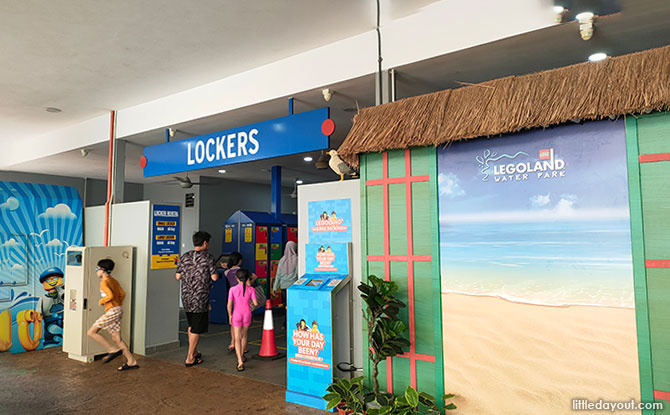 Lockers, changing rooms and showers are found by the Water Park's entrance. Small lockers are priced at RM20, and large lockers are RM40. Access to the lockers is by biometric finger scans. This means that, in a group, whoever's fingerprint is used to rent the locker must be prepared to head back each time anything needs to be taken out from it.
We also felt that floors in the Park can get slippery. This was particularly so on the pathway leading up to the tower with the Brick Blaster and Splash 'N' Swirl. Do watch out for the kids on those sloped steps.
---
Tips For Enjoying LEGOLAND Water Park
1. It is a water park after all. Be ready to get wet and not be a bystander. Prepare proper wet attire according to the Park's Rules & Regulations. Children under 3 years old are required to put on wet diapers, which can be purchased at the Water Park shops.
2. it is best to wear waterproof slippers which can be slipped on and off easily. Colourful cones can be found at the start of each ride, slide and attraction for you to store your slippers.
3. You can store your valuables at the locker room. However, we wondered where to park our bag of essentials like towels/dry clothes, sunscreen, water bottles, mobile phone and camera, some cash and plastic money etc, when going into the water. A plastic sling pouch for your mobile phone can be purchased separately. However, unless someone in your party can hold on to or watch over your belongings, you would have to take the risk and leave them unattended. There is no proper place to put your bag.
4. There are some lounge chairs available but on a first-come-first served basis.
---
So, was LEGOLAND Water Park Fun?
Yes, it was fun! We particularly liked that the park does make an effort to cater to families with young children. The rides are mild-to-moderate and suit young kids.
There are other little touches as well. For example, at some other park's lazy rivers, there is typically only one type of float – a donut-shaped one. However, these can sometimes be too large for younger children who may be scared to "sit" in them. LEGOLAND Water Park's Build-A-Raft River has donut-shaped floats with the hole sealed up. This allows young children to sit on top of the float as if it was a raft. A small point but one that parents with finicky kids will appreciate.
LEGOLAND Water Park is a refreshing, cool (pun intended) complement to LEGOLAND Theme Park and SEA LIFE Malaysia. Coupled with the fun to be had at LEGOLAND Hotel, these are great reasons to head to LEGOLAND Malaysia Resort for a day or two of family fun.
---
LEGOLAND Water Park
Where: LEGOLAND Malaysia Resort
Get your tickets to LEGOLAND Malaysia Resort's theme parks here.
Book your stay at LEGOLAND Hotel here.
Related Articles
Note: This story was first published on 19 October 2013 and updated on 29 August 2022.
This story contains affiliate links. This means we earn a small fee if you purchase something through a link from our website. There is no additional cost to you and goes towards supporting Little Day Out's efforts to deliver the best news and reporting for families.