Jurong Lake Gardens is a huge and inviting park, beckoning visitors to explore its lush and verdant grounds. With its close proximity to the heartlands, it is convenient enough for those living close by to visit regularly, and yet is also enough of a draw to warrant a visit from those living further away.
Jurong Lake Gardens covers an extensive area. It takes its name from Jurong Lake, which was created by the damming of Jurong River.
The park has something for everyone. Play areas for families and kids, quiet trails for nature lovers and even dining spots for those who wish to grab a bite amidst lush surroundings.
Here's a guide to Jurong Lake Gardens and its various attractions.
Jurong Lake Gardens Map
This Jurong Lake Gardens map shows that, currently, the majority of the Garden's can be found on the western edge of Jurong Lake. It is an area also known as Lakeside Garden.
In the future, when they reopen, the Chinese and Japanese Gardens, will occupy the two islands within Jurong Lake.
Jurong Lake Gardens extends all the way from Boon Lay Way at the northern end, where the MRT line runs, to the Ayer Rajah Expressway in the south. It is flanked by Yuan Ching Road to the west.
The Jurong Lake Gardens map can be downloaded here.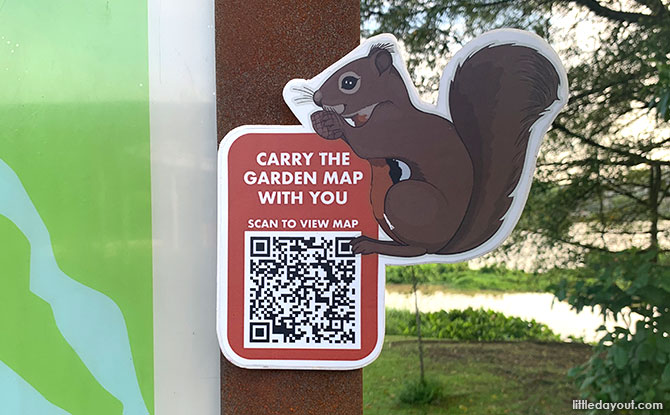 Here are all the features found at Jurong Lake Gardens, starting from the northern end to the south.
---
Jurong Lake Floating Wetlands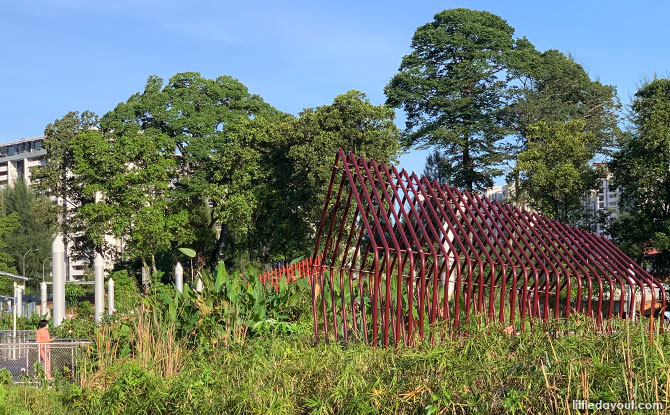 Jurong Lake Floating Wetlands, developed as part of the Public Utilities Board's ABC Waters (Active, Beautiful, Clean Waters) programme, provides a spot for visitors to enjoy views of the lake as well as to learn about water-based flora and fauna. This is Singapore's largest man-made wetlands and serves as a nice spot to enjoy the views of Jurong Lake.
The Jurong Lake Floating Wetlands is easily accessible from Lakeside MRT Station.
---
Starbucks at Jurong Lake Gardens
Just beside the Jurong Lake Floating Wetlands is a Starbucks. With floor to ceiling glass panes on one end, it offers those sitting inside nice views of the lake. There is also an outdoor deck.
A family room can also be found at the same building as the Jurong Lake Gardens Starbucks.
The address of Starbucks at Jurong Lake Gardens is 106 Yuan Ching Road, Singapore 619616. It is also within easy walking distance from Lakeside MRT Station.
---
North Promenade Boardwalk and Viewing Decks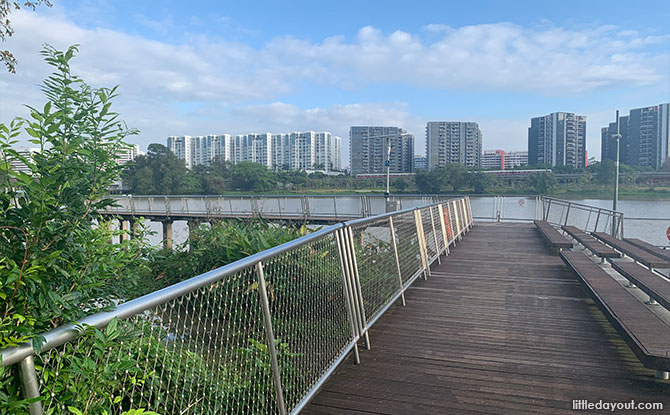 A stretch of boardwalk provides a great spot to step out over the water.
Close by, there also two viewing decks that overlook the water towards Boon Lay Way.
---
North Car Park
One of two car parks at Jurong Lake Gardens, the North Car Park is suitable for those heading to the Forest Ramble Jurong Lake Gardens children's playground, Lakeside Field, Clusia Cove and Passion WaVe.
The entrance to the North Car Park is opposite Toh Ching Road.
An Entrance Pavilion at the North Car Park is often used to house temporary artworks or exhibitions.
---
Clusia Cove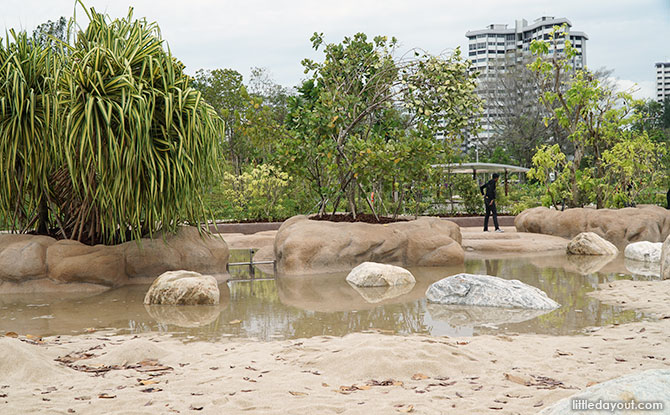 Clusia Cove is a water play area where children can wade into the water and have some fun, cooling off from the heat. There is also a pavilion with toilets and changing areas at Clusia Cove.
Find out more about Clusia Cove.
---
Fusion Spoon and Eco Pond
Located beside Clusia Cove is Fusion Spoon. This eatery offers a range of local options, pizzas and drinks like bubble milk tea. It is the only dining restaurant at Jurong Lake Gardens.
Fusion Spoon overlooks the Eco Pond.
---
Lakeside Field
This huge field next to the North Car Park is an event space. During the Mid-Autumn Festival, you can often find lanterns on display at Lakeside Field.
---
PAssion WaVe and Wave Plaza
Want to get onto the lake itself? Rent a boat at Passion WaVe and take to the calm waters of Jurong Lake.
There is a diaper changing room within the PAssion WaVe building.
Situated just in front of the PAssion WaVe building is Wave Plaza, another event space. The bridge that links Lakeside Garden to Chinese Garden can also be found next to Wave Plaza.
---
Forest Ramble – Jurong Lake Gardens Children's Playground
Based on the theme of animals from a freshwater swamp, the Jurong Lake Gardens children's playground features many different play areas. The animals that have inspired the various play areas include heron, frogs, butterflies and more.
There is also climbing tower where kids can slither up and down, which has been inspired by a snake at this extensive nature playgarden.
There is a diaper changing room at the Play Pavilion at the southern end of Forest Ramble.
Forest Ramble is open from Tuesday to Sunday and Public Holidays from 8 am to 10 pm. It is closed for maintenance on Monday, unless the Monday happens to be a Public Holiday. It is closed on Tuesday if the preceding Monday is a Public Holiday.
Take note that no pets are allowed on play equipment and no bicycles, scooters and PMDs are allowed inside either.
Find out more in depth about Forest Ramble, the Jurong Lake Gardens playground.
---
Butterfly Maze and Jurong Lake Gardens Therapeutic Garden
Go on an adventure through the Butterfly Maze and learn about the lifecycle of the winged beauties. There is also a children's discovery area that kids will appreciate.
Adjacent to the Butterfly Maze is the Jurong Lake Gardens Therapeutic Garden. This has been fashioned as a sensory garden.
Find out more about the Jurong Lake Gardens Therapeutic Garden and Butterfly Maze.
---
Logs Trail and Butterfly Field
And extension of the nature play found at the children's playground and Butterfly Maze, the Logs Trail features a cluster of log that kids can climb up and down on. This nature trail is made from the wood of rain trees and Senegal Mahogany.
For an added touch of nature, there are some logs where fungi have been left to grow, offering a chance for a close up look for visitors.
Beside the Logs Trail is the Butterfly Field.
---
Freshwater Swamp and Alstonia Island
A short trail runs through a freshwater swamp just south of the Therapeutic Garden. This include some stepping stones that go across a little stream. The flora and fauna at the freshwater swamp forest have adapted to deal with constant flooding.
There is also a look out point to Alstonia Island, a small habitat found in the waters of Jurong Lake. The island is named after the dominant tree special that has been planted on it, the Alstonia spatulata, commonly known as Marsh Pulai.
The freshwater swamp is beside the bridge that will link Lakeside Garden to Japanese Gardens when the latter reopens.
---
Gardenhouse and Allotment Gardens
Gardenhouse is home to the NParks offices at Jurong Lake Gardens. There is a little path that connects Gardenhouse to Grasslands which cuts across a stream. It also has exhibition spaces and a diaper changing room for families with young children.
Beside Gardenhouse is the Allotment Gardens which is used by community farmers to grow plants and vegetables.
---
Grasslands, the Lone Tree and Rasau Walk
A prominent are in the southern part of Jurong Lake Gardens is the Grasslands. This picturesque spot will a favourite with photographers. Beside the bird hides found amongst the tall grass, there is also a lone tree that stands out at the grasslands.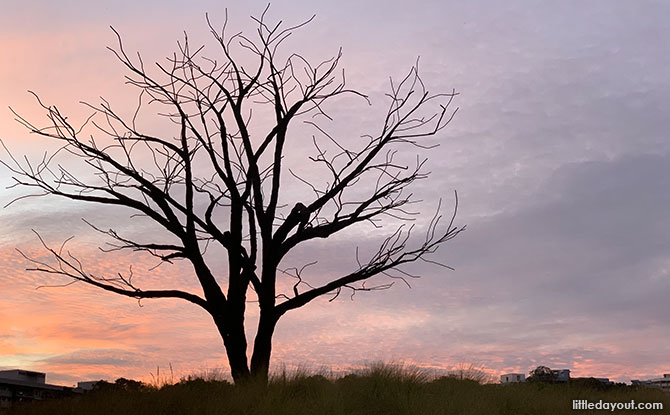 The lone tree is made from metal salvaged from the old Jurong Lake Gardens park. The metal now serves as a photo spot and a place for birds to perch.
Read more about the story of the Lone Tree.
Head down to the water from the Grasslands and you will come to Rasau Walk, a meandering boardwalk that skirts beside the water. Keep a look out for plants like the Nibong Palm and Sealing Wax Palm at the restored freshwater swamp habitat along the 300-metre boardwalk.
---
Jurong Lake Gardens Dog Run
Between the Grasslands and Yuan Ching Road is the Jurong Lake Gardens Dog Run. This spacious dog run is the perfect spot for large breeds to be able to run freely within the dog run! There are water points provided and there are also grass mounds that provide natural obstacles for dogs to enjoy.
---
South Car Park
The Jurong Lake Gardens South Car Park can be accessed by two entrances, one opposite Tao Ching Road and the other closer to Yung Kuang Road. The South Car Park is suitable for those going to the Grasslands, Dog Run, The Oval and Gardenhouse.
---
The Oval
The Oval is a large event space located just beside the South Car Park. When it is not being used for events, it is recreational lawn where visitors can enjoy the open space.
---
ActiveSG Park
This is where you can the only swimming pool in a national garden and it also has a gym and hosts workout classes. Even if you are not intending to get a workout, you can take a walk to the rooftop terrace to admire the view.
There is also a small children's playground at ActiveSG Park.
---
Heron Island and Neram Streams
This is another nature area where visitors can take a walk along off-road trails within Jurong Lake Gardens.
These unpaved paths will bring you down to the gentle waters of the Neram Streams, tributaries that flow into the Jurong Lake. This area now features 1.3 km of naturalised waterways and was originally a 300-metre long concrete drain.
---
Southern Promenade
Right at the far south of Lakeside Garden, not far from the Ayer Rajah Expressway, there are viewing decks at this quiet section of the park.
---
Cycling at Jurong Lake Gardens
For those who wish to rent a bike to explore Jurong Lake Gardens, there are bike app bikes available at Jurong Lake Gardens. One area where you can find them is close to the northern entrance of Forest Ramble, close to the Chinese Garden bridge.
Another place to rent a bike is at GoCycling located at the HDB shop houses near Chinese Garden MRT Station. From there, if you wish to explore Lakeside Garden, you will have to cycle along the MRT line to reach the park.
Take note that not all places at Jurong Lake Gardens are accessible by bike. For example, the nature areas such as the Freshwater Swamp is off limits to bikes.
Eventually, Jurong Lake Gardens will be part of Round Island Route.
---
Dining Options
The only full restaurant at Jurong Lake Gardens is Fusion Spoon at the northern end of the Gardens. Closer to Boon Lay Way, across from Lakeside MRT Station is Starbucks. At the southern end of the park, at the junction of Yuan Ching Road and Yung Ho Road, there is Superbowl Jurong with dining options such as McDonal's, KFC, Pizza Hut and other restaurants.
Around 500 metres westwards from the South Car Park, cutting through the housing estates, there is the Taman Jurong Food Centre, which as quite a fair bit of food options too.
---
Upcoming Attractions
In the future, the northern section of Jurong Lake Garden will have a lawn, pavilion and a youth park. This stretch of the park will run parallel to the MRT tracks.
The lawn will have pink flowering tree close to the water while the pavilion will be surrounded by colourful bougainvilleas and have amenities. The youth park is expected to have a street plaza with a skate park.
This northern shore of Jurong Lake Gardens is still undergoing development.
The other sections that we are looking forward to at Jurong Lake Gardens include the Chinese Garden and Japanese Garden, both of which are still undergoing redevelopment.
The Chinese Garden will maintain many of its existing features such as the Main Arch, Twin Pagodas, Cloud Pagoda, Stone Boat and Bonsai Garden. There will be new features added based on the theme of garden artistry.
The Japanese Garden will have floral and aquatic gardens and pavilions such as a Water Lily Pavilion and a Wind Chime Pavilion. Terraced water gardens will feature the largest collection of water lilies in Singapore.
We look forward to the opening of Chinese Garden and Japanese Garden in the future.