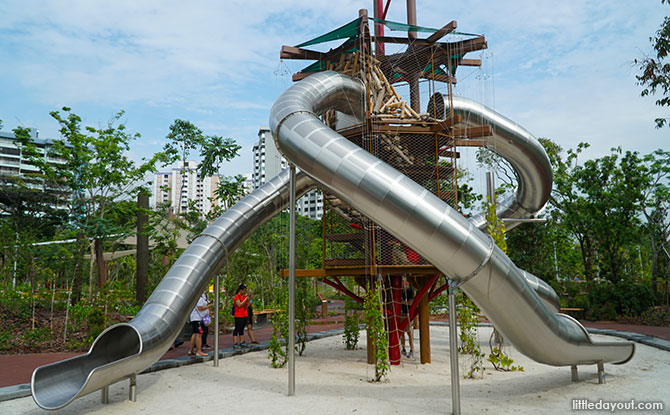 Forest Ramble, the Jurong Lake Gardens Playground, is the largest nature playgarden in the heartlands. The 2.3-hectare playground at Lakeside Garden draws inspiration from the animals that live in a freshwater swamp forest and the result is inspired and interesting play stations for kids to enjoy.
---
Jurong Lake Gardens Playground: Forest Ramble
Butterfly Play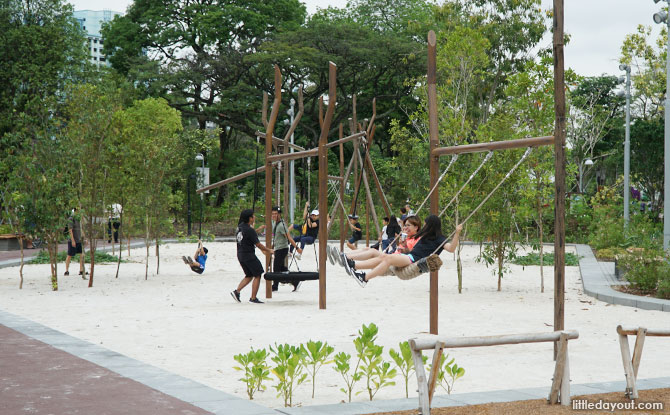 Fluttering butterflies are the source of inspiration for the Jurong Lake Gardens Playground's swings. Besides regular swings and circular basket swings, the play area features several interesting slides.
This includes a swing for two persons to sit on at the same time and a four-way swing which bounces in different directions.
---
-- Story continues below --
A hammock area nearby provides a nice view of the iconic Chinese Gardens bridge and gateway.
---
Heron Play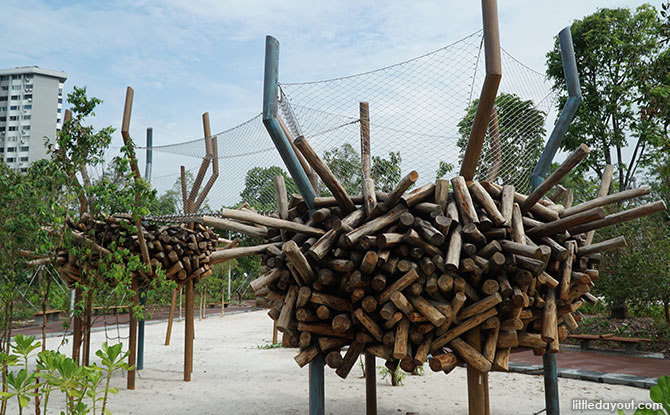 Fly across a zipline and roost at two "nests" at the Heron Play area. Kids can imagine they are soaring through the air as they make their way from one nest to another.
---
Frog Play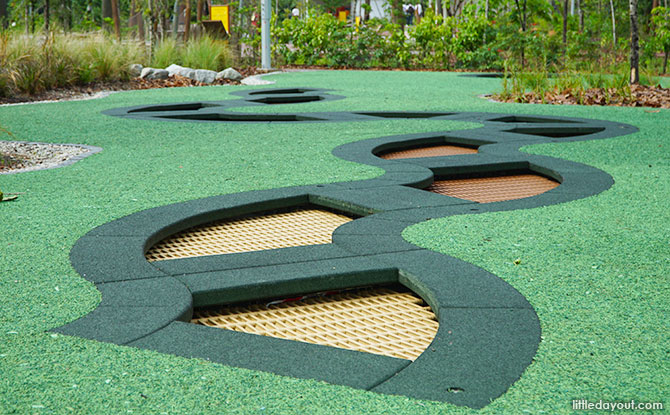 "Ribbit, ribbit." Frogs commonly inhabit a swamp forest and children will have fun hopping about at the sunken trampolines at Jurong Lake Gardens children's playground's Frog Play zone. They can pretend to be a frog like the Common Greenback and jump about from one "lily pad" to the next.
---
Crab Play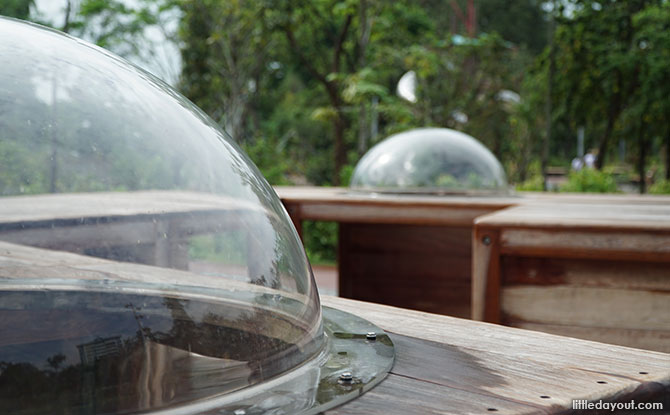 Ever wondered what it feels is like to be a crab popping out from the sand to spy on the world around you? That is what kids can do at the Crab Play section of Forest Ramble. A passage of wooden crates is dotted with pop-up windows for kids to play peek-a-boo with the world outside.
---
Adventure Bridge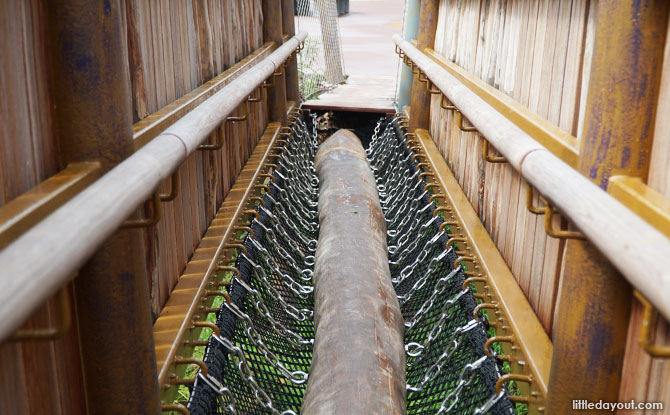 One of the play features at Forest Ramble is the Adventure Bridge. Kids can pluck up their courage and make their way across this log bridge. The helpful handholds will aid in boosting their confidence!
---
Otter Play
It is a little log jam at the Otter Play zone. Scamper and climb over the logs in a test of motor skills. There is also a simple water play area where kids can pump water into little wooden channels and watch it flow along.
---
Snake Play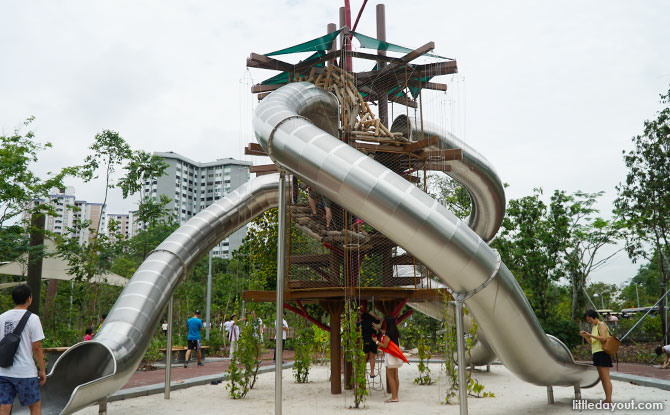 Scramble up the central wooden tower and slide down like a slithering snake at the Snake Play zone at the Jurong Lake Gardens Playground. There are different "ssss….slides" to experience, including one tube which holds a special surprise inside.
---
Squirrel Play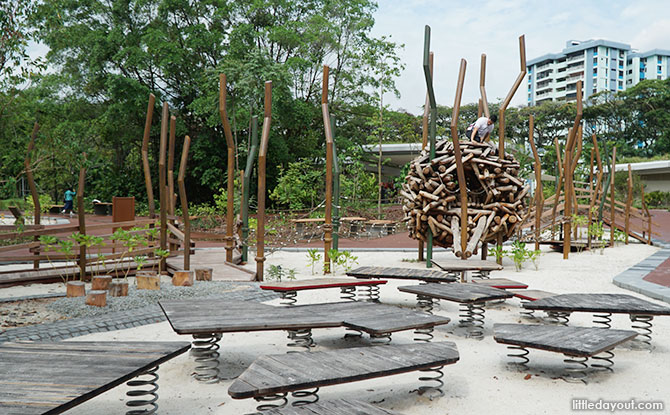 Bounce from platform to platform and climb into a little hideout at the Squirrel Play zone. It is not just fun, but a test of balance and dexterity too.
---
Monkey Play
Hit the ropes at Forest Ramble's Monkey Play. Swing from vine-to-vine at this low ropes play area.
---
Ant Play
Little ones can get as busy as an ant at the Ant Play area. Children can work together with their fellow "ants" to build a structure from the blue foam blocks. The blocks are only brought out on certain days.
---
Go a Ramble Through The Forest
We liked that the playground makes use of a lot of wood and natural materials. This makes it blend in with the greenery of Jurong Lake Gardens. It also makes imaginative use of the nature-theme to engage children in active play. There are also signages around the playground which introduce animals such as the Common Birdwing Butterfly and the Paradise Tree Snake to visitors.
Forest Ramble, the Jurong Lake Gardens Children's Playground, is located at Lakeside Garden, close to the Chinese Garden gateway and bridge. It occupies the site of the former Chinese Garden car park.