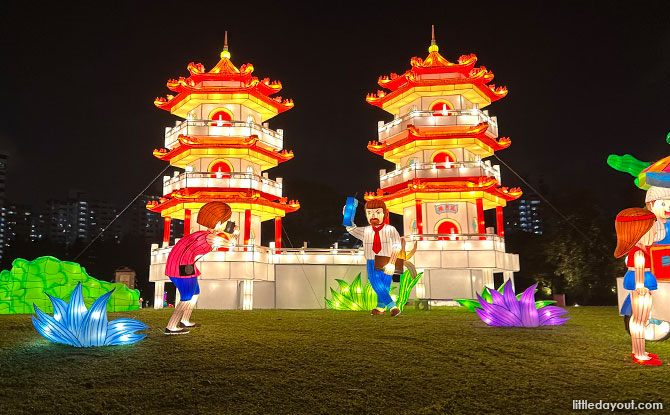 Jurong Lake Gardens is celebrating the Mid-Autumn Festival by decking up with lanterns and holding a variety of different activities with Lights by the Lake 2023. This event is one of the best places in the heartlands to view large-scale lanterns and light-ups, and will be held from 16 September till 1 October 2023.
---
At a Glance: Jurong Lake Gardens Mid-Autumn Festival
The Jurong Lake Gardens Mid-Autumn Festival Lights by the Lake 2023 will feature:
lantern displays
performances
programmes and activities
---
Lantern Displays at Lights by the Lake
Admire the captivating lantern displays that have been set up at Jurong Lake Gardens for the Mid-Autumn Festival. These lanterns have been hand-crafted by skilled artisans from China and can be found at Lakeside Field, close to the North Car Park of Jurong Lake Gardens.
The lanterns will come on from 7 pm to 11 pm from 16 September till 1 October 2023.
---
-- Story continues below --
Here is a look at the lantern sets that you can view at the Jurong Lake Gardens Mid-Autumn Festival Light Up.
As visited it on 13 September 2023, we only managed to get a view of the lanterns in the daytime. Nonetheless, they are still pretty to look at.
---
Entrance Arch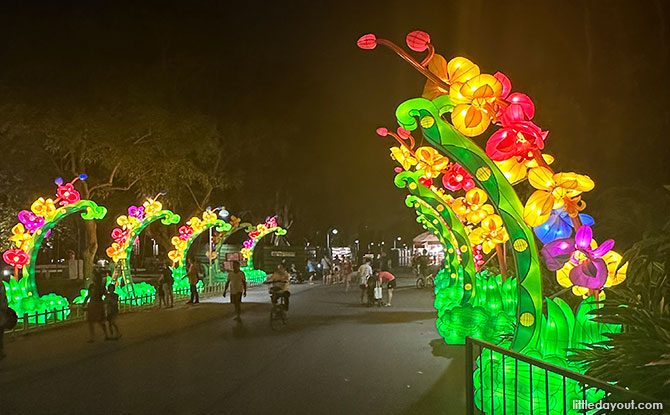 The Entrance Arch is made up a series of lanterns with patterns that have been inspired by the beauty of orchids.
The individual lanterns feature orchid designs and have been crafted as a tribute to nature's artistry and Singapore's floral heritage.
Wildlife Odyssey
Go on a Wildlife Odyssey through a lantern display that showcases diverse habitats. This display highlights the wonders of nature in a celebration of Earth's incredible diversity. Kids will love to view the various animals represented in this lantern set. See if they can spot their favourite animals.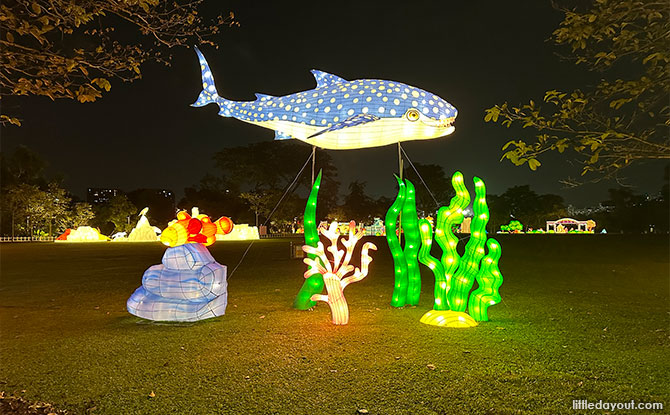 Be transported to the mysterious depths of the Underwater World. Amongst the marine animals featured in lantern-form is a friendly looking whale shark.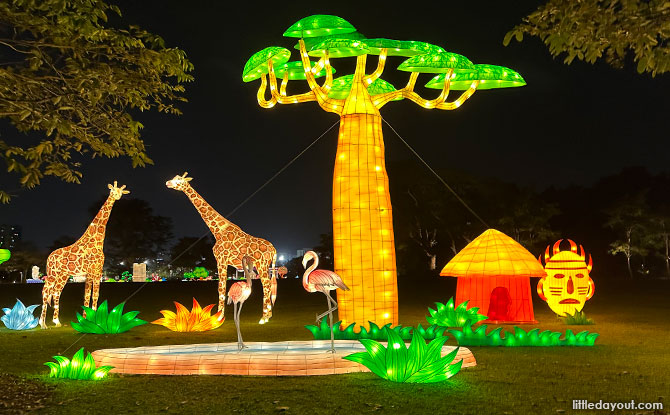 Then be whisked away to the vast African Savannah. There are flamingos and giraffes, along with a baobab tree.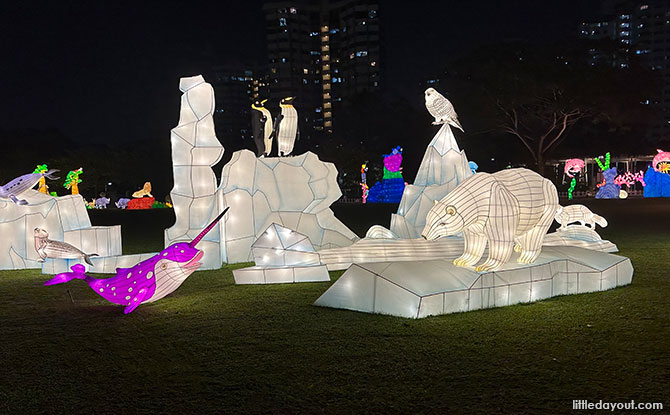 You will also be able view the frozen landscapes of the Ice World.
And find yourself in the lush Southeast Asian Rainforest with animals that you can find in Singapore like the wild boar, pangolin and the tiger (which you can find at Singapore Zoo).
---
Echoes of the Lion City
The Echoes of the Lion City lantern display at Jurong Lake Gardens provides a lantern-lit journey through Singapore's rich history and evolution.
Go on a journey through the city's transformation across different eras.
Soak in the the nostalgia of each era, depicted through lantern displays that capture the essence of Singapore's past, present and future.
Take a step through the 1930s to the 1940s. See if you can recognise places like the Kallang Airport and Haw Par Villa.
Then journey through the 1950s to the 1960s where you can see beloved icons, like the National Theatre and the old National Library at Stamford Road, that have now disappeared.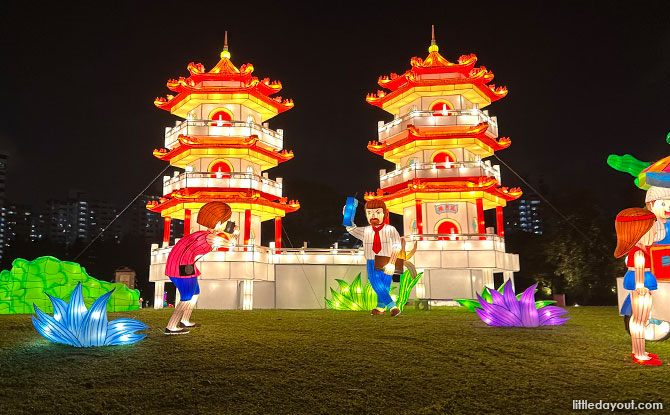 At the 1970s to the 1980s section, we can see the emergence of icons such as the Merlion, as well as Jurong Lake Garden's Chinese Garden's very own twin pagodas.
In the 1990s to the 2000s, Singapore shifts towards being a City in Nature. This is represented in lantern form with the bandstand at Singapore Botanic Gardens and Henderson Waves.
If you enjoy revisting Singapore's past, you may also be interested in reading about this exhibition about Singapore's journey from mudflats to metropolis.
---
Music Under the Moonlight 2023
Local talents will be serenading audiences on selected dates in September. Enjoy the melodious tunes at the Wave Plaza at Jurong Lake Gardens.
Here's the schedule of performances.
| | | |
| --- | --- | --- |
| | 7.30 pm to 8 pm | 8.30 pm to 9 pm |
| 16 September | Ding Yi Music Company (starting at 7 pm) | Raghaa Jazz |
| 22 September | Eight Tones | Rex |
| 23 September | Likie Low | Jess |
| 29 September | Jason Yu | DDE Trio |
| 30 September | New Gen Wind Symphony | The Mad Trio |
---
Music Oasis by Singapore Chinese Orchestra
The Singapore Chinese Orchestra will also make an appearance on 23 September 2023, 6 pm to 7 pm, to present their harmonious symphonies that showcase the rich cultural heritage and musical prowess of Singapore's Chinese musical traditions.
---
Other Activities at Lanterns by the Lake
Lantern Riddles
Head to Wave Plaza from Sunday to Thursday to put your riddle-solving prowess to the test. Solve the lantern riddles and get the chance to win prizes.
When: 17 Sep to 21 Sep, 24 Sep to 28 Sep, 1 Oct 2023, 7.30 pm to 9.30 pm
Nagomi Art and Other Craft Try-Outs
PAssionWaVe @ Jurong Lake Gardens is holding free Nagomi Art Try-Outs. Create beautiful, soothing art with a touch of Japanese serenity.
When: 16, 23, 30 September, 4 pm to 6 pm
In addition, there will also be paid workshops covering Zumba Fitness, Introduction to Leather Craft and Terrarium Making. Get more details here.
Dragonboat, Kayak and Pedal Boat Try-Outs
Want to get on the water at Jurong Lake Gardens? You can sign up for dragonboat, kayak and pedal boat try-out.
The Dragon Boat Try-Outs will be organised by Team Swoosh and participants will need to be at least 10 years old to try out the dragonboats.
For the Kayak and Pedal Boat try-outs, participants must be at least 7 years old. Children between the ages of 7 to below 12 must be accompanied by an adult above 21 years of age.
There will also be Kid-in-a-Kayak (KIAK) try outs on 16 and 23 September by the ActiveSG Canoe Academy. This is suitable for children and youth between the ages of 9 and 14.
Multiple sessions for these water sports activities being held throughout the September and they costs just $2 for each try outs.
Get more details here.
---
Food at Lights by the Lake 2023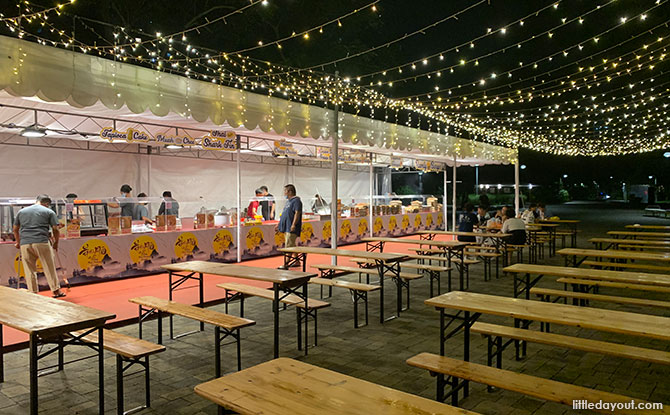 If you are feeling peckish, head over to the food and beverage section of Lights by the Lake, near Wave Plaza. It will be open from 7 pm to 11 pm, 16 September till 1 October 2023.
If you enjoyed this story, we think that you will also enjoy this other one about Mid-Autumn Festival events around Singapore, and another National Garden that is being lit up for the Mid-Autumn Festival and the Chinatown Mid-Autumn Festival light up.
Or if you want to make sure that you get the most out of your visit to Jurong Lake Gardens, read our Jurong Lake Gardens guide to for ideas on how to make a day or half-day out it.