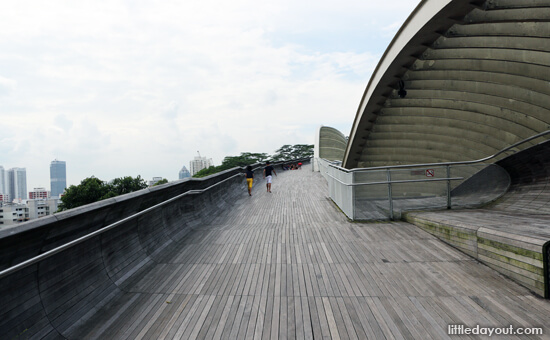 Even though less well-known than Mount Faber, Telok Blangah Hill Park has a history of its own. It was once a hot spot for traders in early Singapore but, nowadays, you are more likely to find families and trekkers at the park instead, with the motorbike ice cream man appearing occasionally.
Filled with mature trees and spotted with picnic tables, Telok Blangah Hill Park is a peaceful spot, uninvaded by the tourist buses found at neighbouring Mount Faber. In fact, there was a time in the past when Telok Blangah Hill and Mount Faber were one and the same – part of a single continuous ridge of hills. It was only in the mid-1970s did the ridge get split into two by Henderson Road into what we now know as the Mount Faber and Telok Blangah Hill Park.
If you are not familiar with this Park, which often gets treated as little more than a passageway for trekkers heading from Hort Park to Mount Faber, here are four reasons to pay a visit.
Reason #1: Henderson Waves
In 2008, Mount Faber and Telok Blangah Hill Park were reunited with the opening of Henderson Waves. Standing 36 metres above Henderson Road and 274 metres long, it is Singapore's highest pedestrian bridge.
What surprises most first-time visitors is how broad its yellow, balau wood timber decking is. Its distinctive wave shape comes from seven undulating "ribs" that rise above and drop below the walkway. These "waves" also serve as sheltered rest stops for visitors who need to take a break.
From the bridge, you can take in the views of Keppel Harbour and thereafter, if you wish, carry onwards to the summit of Mount Faber.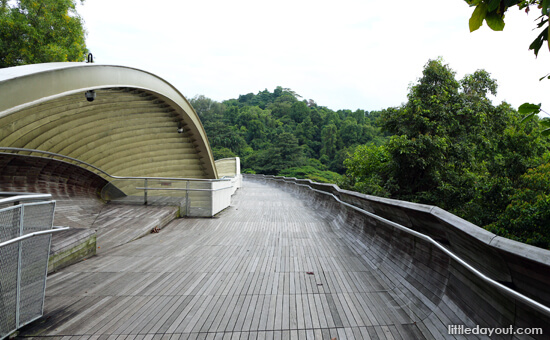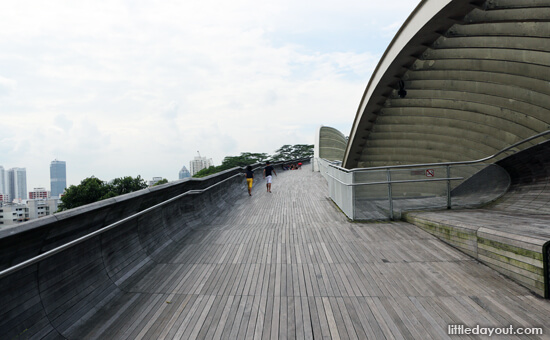 Reason #2: Alkaff Mansion
Built by an Arab trader who had come to Singapore from Yemen, Alkaff Mansion was once a family home and its colonial-style architecture echos the wealth of the traders that used to operate at Telok Blangah Hill.
Today, Alkaff Mansion houses restaurants where guests can imagine what it must have been like in the days when the Alkaff family used to entertain and host their friends and clients on the property.
Weekend brunch is a good excuse for a visit to Alkaff Mansion with the family.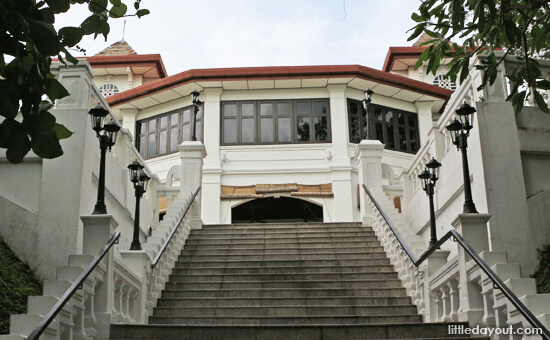 Reason #3: Terrace Garden
In the middle of Telok Blangah Hill Park is the Terrace Garden. A series of stairs and terraces give way to an open space with a small shelter at the top where the main attraction is the view. From here, you can see the cityscape in the distance and, closer by, Sentosa's southern shores.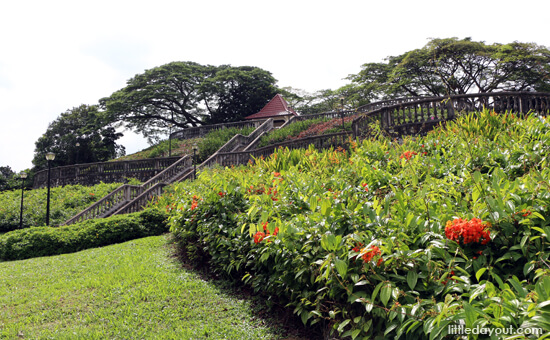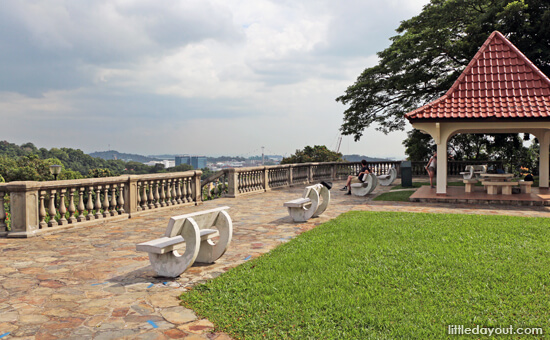 Reason #4: Forest Walk
At the far end of Telok Blangah Hill Park is the start (or some say end) of the Forest Walk. Comprising elevated, metal walkways that takes visitors above the foliage of the ridge below from Telok Blangah Hill Park to Alexandra Road, the Forest Walk is also accessible from Hort Park and the Alexandra Arch.
The main advantage of starting from the Telok Blangah Hill Park end of the Forest Walk is that it is a downhill walk to Alexandra Road below. Provided you don't need to make your way back up to Telok Blangah Hill Park again, this makes for a relaxing stroll.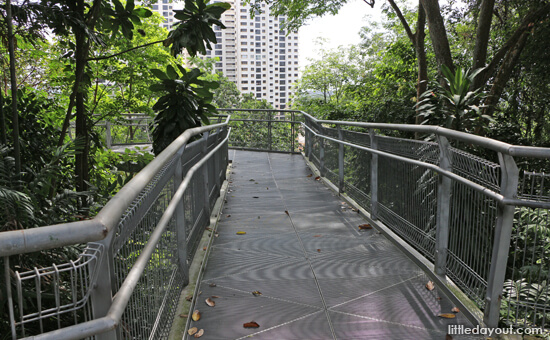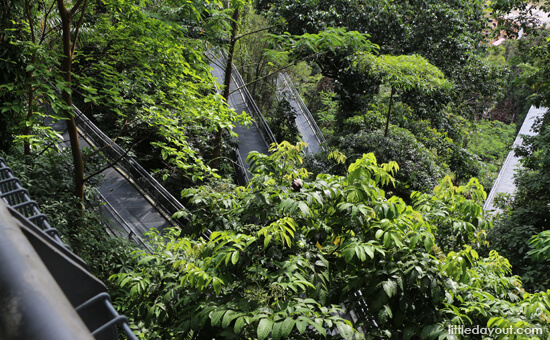 Reason #5: Therapeutic Garden
A new therapeutic garden has opened at Telok Blangah Hill Park in 2020. Explore various themed zones and enjoy the scenic views from the Garden.
Foot (of the Hill) Note
At the bottom of Telok Blangah Hill Park, next to Telok Blangah Heights, is the Stream Garden. Here, a little stream runs beside a foot reflexology path but, on dry days, don't be surprised to see it reduced to a trickle.
In the past, there used to be a small children's playground found close to the Stream Garden. Unfortunately, this is now gone and all that remains is a sandy patch.
Nowadays, you are only likely to pass through the Stream Garden only if arriving to Telok Blangah Hill Park by bus from Telok Blangah Heights road.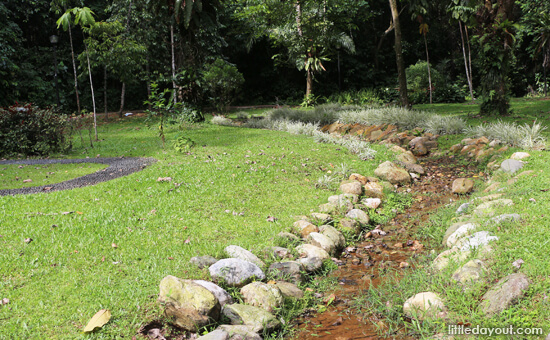 Suggested Itineraries for Visiting Telok Blangah Hill Park
Itinerary 1: Cross the Henderson Waves to Mount Faber. Find the murals and Merlion at Mount Faber. Carry on down Mount Faber to VivoCity or return to Telok Blangah Hill Park.
Itinerary 2: Have brunch at Alkaff Mansion. Take a walk up to the Flower Terrace.  See what buildings you can recognise and spot from the Flower Terrace.
Itinerary 3: Make your way along the Forest Walk down to Alexandra Arch and Hort Park.
Telok Blangah Hill Park
Where: Telok Blangah Green; three carparks available (Car Park 1 is closest to Henderson Waves, Car Park 3 is closest to the Forest Walk)
Closest MRT: Telok Blangah MRT (Circle Line)