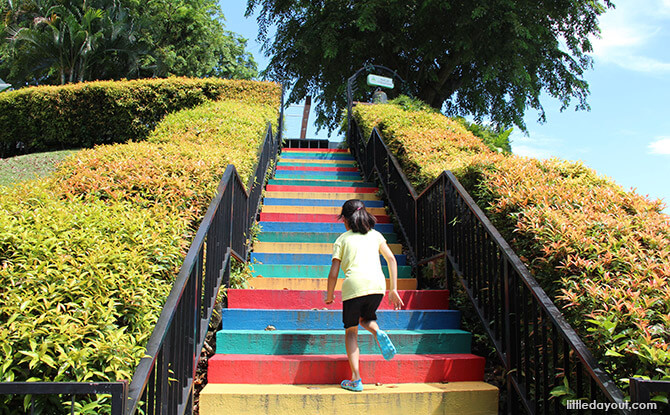 Mount Faber Park stands like a towering guardian watching over Sentosa and Keppel Harbour below. It is a popular spot for tourists, with busloads making their way up the road to catch panoramic views of the city from its peak.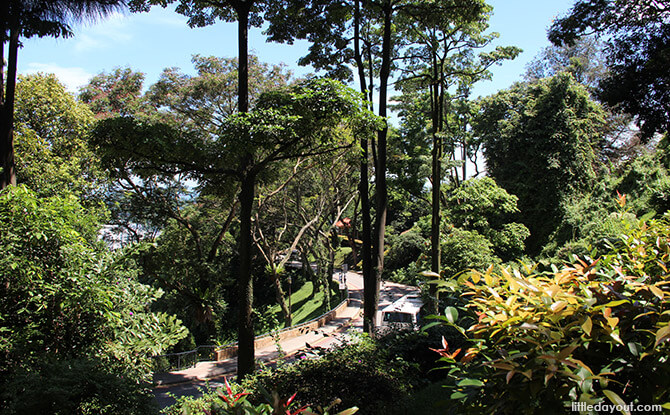 The hill was known as Telok Blangah Hill until 1845 when Charles Edward Faber from the Madras Engineers built a road to the top of the hill. This led to the hill being renamed after him.
A signal station was located at Mount Faber in 1845 before being shifted to another nearby hill in 1936.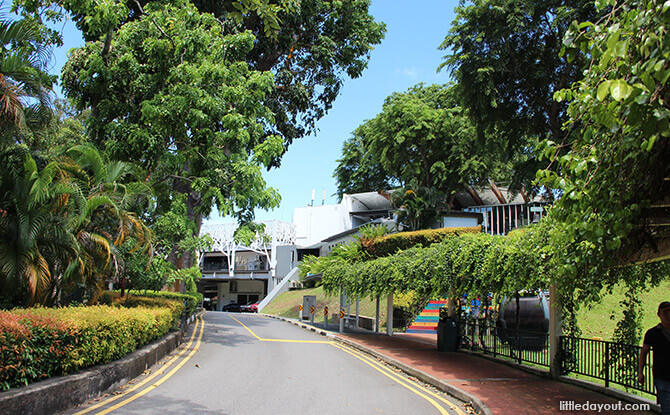 In January 1965, Mount Faber Park was opened and this was followed by the Singapore Cable Car station opening in January 1974, linking Mount Faber Park to Sentosa.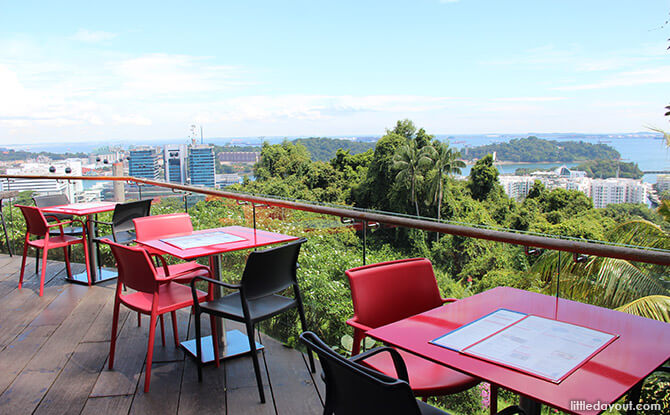 Today, Mount Faber Park stands at one end of the Southern Ridges Walk and is home to a popular dining spot at Faber Peak where the cable car station is located. There are also plenty of other spots to explore around Mount Faber Park.
Here are 7 things you can see and do at Mount Faber Park, the hilly guardian of Singapore's Keppel Harbour.
---
1. Take a Cable Car
From the Singapore Cable Car station at Mount Faber, you can take either a one-way or return trip on the Mount Faber line to Sentosa. Over the years, the Singapore Cable Car lines have been upgraded to increase their capacity and technology with the most recent being in 2010. Up to eight people can share the cable car cabin on the 120 metre high ride above sea level. Once you get onto Sentosa, you can check out Sentosa's cable car line too.
---
2. Take a Picture inside a Cable Car without Riding in One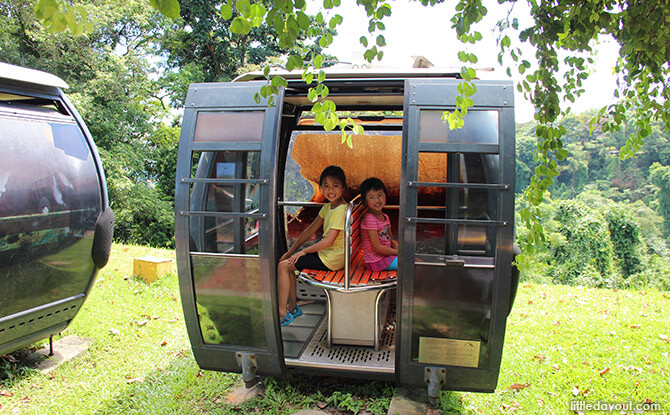 Even if you are not planning to take a ride in the cable car, there are two static cable car displays at the base of the Cable Car Station at Mount Faber Park. Hop inside and take a picture to remember your visit.
---
3. Ring a Bell of Polish Friendship
Over at Faber Peak, you can also ring a ship's bell, known as a Bell of Happiness. The bell, dating back to 1909, was from the Polish ship Dar Pomoza, a famous Polish tall sailing ship which trained elite young sailors for international races. The bell was originally presented as a gift to Sentosa in 1992. In 2012, it was moved to Mount Faber and jointly launched by the Polish Ambassador to Singapore and the General Manager of Mount Faber Park Pte Ltd.
Today, it stands in Faber Peak's garden of happy promises. Visitors and newlyweds believe that when two or more ring it together, they would be blessed with everlasting happiness, peace and harmony.
Close to the Bell of Happiness is a fence full of "Wishing Bells". This is similar in concept to "love-locks". If you wish, you can purchase a "wishing bell" from the shop at the entrance to the cables cars, pen your wishes and attach them to the fence.
---
4. From Temasek to Singapore in a Mural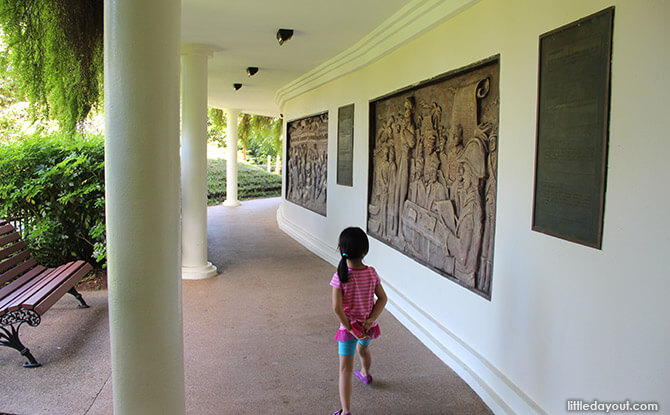 Under Faber Point's platform is a copper-tooled mural wall that depicts that story of Singapore. The story starts from ancient times when Singapore was still known as Temasek and charts the passage of time to its present day. It is a great way to get a snapshot of Singapore's history in a short walk with the kids.
---
5. See a Merlion Baby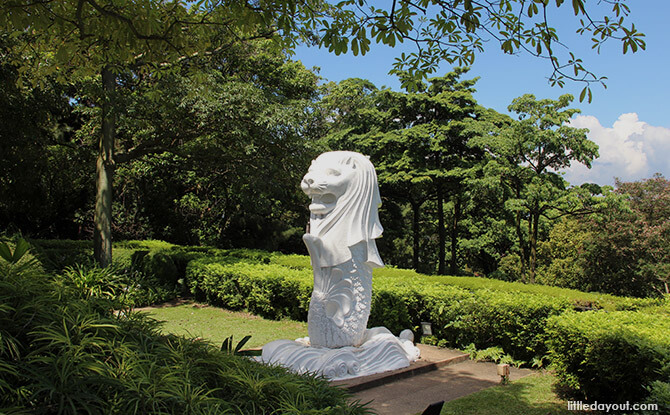 At the highest point of Mount Faber, Faber Point, there is a little "baby" Merlion. Standing at three metres tall, it is a "baby" in comparison to famous, large Merlion at Merlion Park. This Merlion is one of five official Merlions approved by Singapore Tourism Board.
---
6.Vistas of Singapore from Mount Faber Park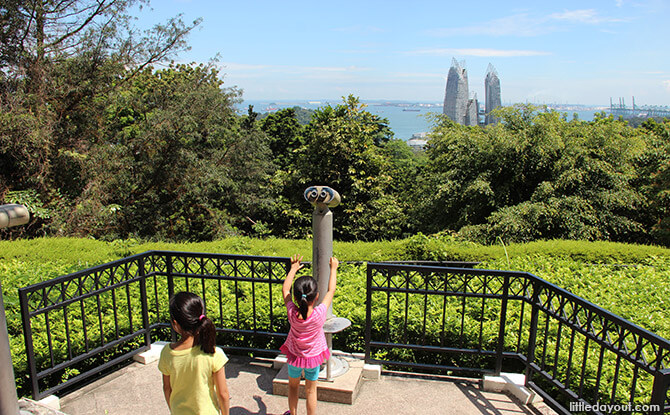 At Faber Point, you can also take in the views of Keppel Harbour. On a clear day, you can look out as far as Indonesia's Riau Islands and the southern tip of Peninsula Malaysia.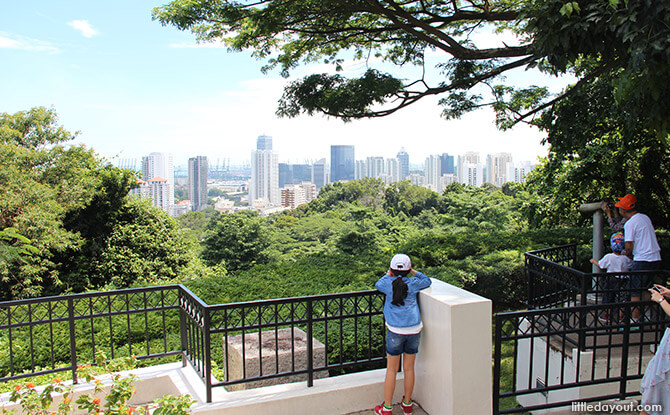 While the views out to sea are lovely, be sure to take in the sights in the opposite direction.
From Mount Faber Park, you will be able to soak up a picturesque view of Singapore's urban landscape below you.
Look out for the arrows on the floor all around Faber Point. They act as a compass pointing the way to the Bird Park, Southern Islands and more places around Singapore.
---
7. Hilltop Walks
Mount Faber Park provides some lovely walks. The Marang Trail connects the base of Mount Faber to Faber Point where the cable car station is.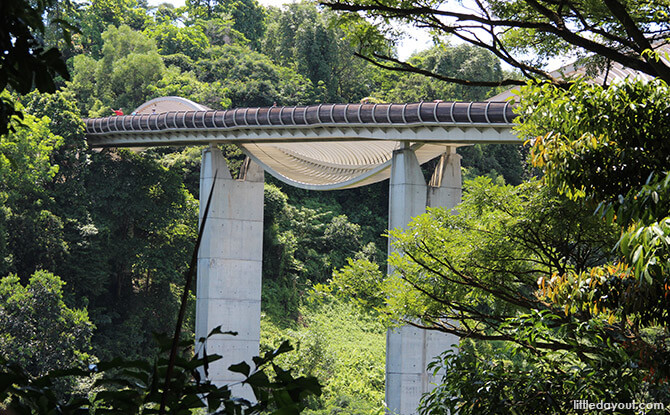 The 274-metre long Henderson Waves, Singapore's highest pedestrian bridge, connects Mount Faber to Telok Blangah Hill Park.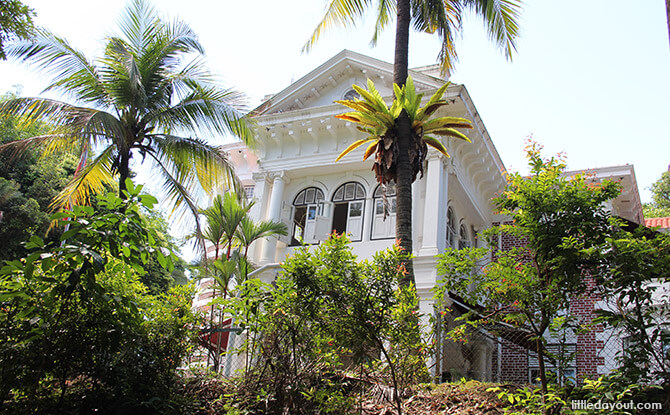 If you are walking around Mount Faber Park, do keep an eye out for Golden Bell Mansion. It was originally owned by the great-grandson of Tan Tock Seng and played host to Chinese nationalist leader Sun Yat Sen in 1911. Today, it is the home of the Danish Seamen's Church.