How many hills in Singapore can you think of off the top of your head, other than Singapore's highest point – our famed Bukit Timah Hill?
No, we're not talking about Redhill, Goldhill, Mount Serapong, Peng Kang Hill, FOFO Hill, Bunker Hill nor Elephant Hill (the first two as you know are now mainly residential areas; Mount Serapong or Cement Hill in Sentosa with its more than a century old fort, network of tunnels, gun batteries and lookout posts is not safe structurally; and the last four would be well traversed only by our NS men at SAFTI in the wild, wild west of Jurong).
There are actually eleven other hills in Singapore that are highly accessible. And though many of our skyscrapers and apartments may dwarf these natural peaks and offer panoramic views, these highpoints are great places to take in the fresh air, experience serenity, venture into the rainforest and get close to nature.
So here's the list of Singapore hills ranked according to height, but not necessarily in descending order of difficulty for younger kids. You and your family can get going and experience the high life in Singapore too!
1. Bukit Timah Hill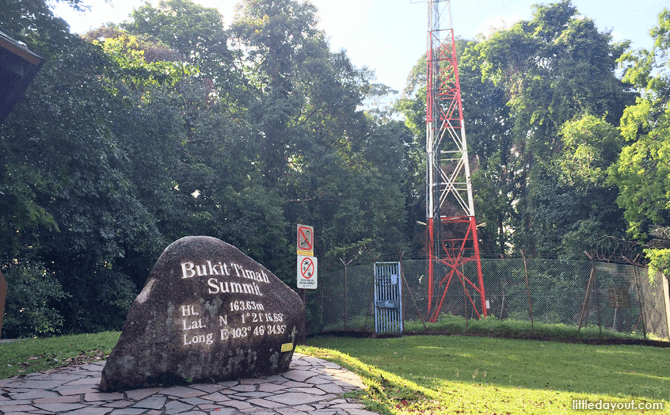 Standing proud as the tallest hill in Singapore at 163.63 metres, Bukit Timah Hill is the "Mount Everest" of Singapore. Kids as young as four have managed to ascend the steep slope with its well paved tarmac all the way to the summit.
Where: Upper Bukit Timah Road
Height: 163.63 metres
Related Article: Bukit Timah Hill: Journey to the Summit
2. Bukit Gombak Hill

With a large rock sitting within the lake at Bukit Batok Town Park, you can take some family photos and possibly fool some into thinking that you have just taken a holiday in Guilin, China. The park, more commonly known as Xiao Guilin or Little Guilin (as it is a chip off the old block), holds Singapore's second-highest hill at 133 metres tall. Gammon, Seng Chew and Lian Hua Quarries used to excavate norite, one of Singapore's oldest rock formations, here.
Now, the Ministry of Defence occupies most part of the northern side of this 4 km long ridge. Although the Bukit Gombak Trail within this park was closed in 2007 due to landslides, you can take a stroll around the tranquil quarry lake and beautifully landscaped park for a quick escape from the everyday hustle and bustle of city life.
Where: Along Bukit Batok East Avenue 5. Near Bukit Gombak MRT Station and Stadium
Height: 133 metres
3. Bukit Batok Hill

If you take the path that leads straight to the old granite quarry, the way to the foot of this hill is literally an easy horizontal 10-minute stroll through the 36-hectare Bukit Batok Nature Park. Spotted on this path were other parents with strollers, and kids on their bikes. Take in the tranquility that surrounds the pond against the high cliff wall, watch the tortoises swim past and say hi to the occasional squirrel that stops by. Or simply let the kids be kids and have a go at the sand-filled playground near the quarry pond.
For those itching for more adventure, go further on to the meandering forest path with steps leading to 10-storey high lookout points around one side of the quarry. At the end of the footpath, kids with boundless energy will probably want to race up the 121 concrete steps. This place is of historical significance and the storyboard at the base of the long flight is a good spot to relate to them the history of World War II. The steps were built by 500 to 800 Prisoners-Of-War and used to lead to the Syonan Chureito, a memorial by the Japanese to commemorate the soldiers who died. Today, the Mediacorp Transmission Centre stands in its place.
Where: Along Bukit Batok East Avenue 2 and Bukit Batok East Avenue 6. Car park at Bukit Batok East Avenue 2 entrance or Lorong Sesuai
Height: 113 metres
Guide: A Guide to Bukit Batok Nature Park Walking Trail by NParks
4. Telok Blangah Hill

There was a time when Telok Blangah Hill and Mount Faber were one and the same part of a single continuous ridge of hills, till Henderson Road came along and divided the two. Today we have Henderson Waves, the 36-metre high and 274-metre long pedestrian bridge that reconnects the hills once again. In the middle of Telok Blangah Hill Park stands the Terrace Garden, which is a great place for young legs looking to release some energy. At the top, you get rewarded with a panoramic view of the city and Sentosa.
Go westwards and the Forest Walk is another treetop walk you can take. The metal walkways give an interesting view of the Adinandra Belukar, a distinct type of secondary forest below your feet, and you will reach Hort Park and Alexandra Arch. Venture even further and you will reach Kent Ridge Park, the start of the 10-km Southern Ridges trail. Move eastwards and you'll reach Mount Faber.
We've ventured on the Southern Ridges stretch from HortPark to Telok Blangah Hill (one-way) with pre-schoolers and their little legs made it through with energy to spare for games at the top of Singapore's fourth highest hill. Read our story about Telok Blangah Hill Park: Henderson Waves and More.
Where: Telok Blangah Green
Height: 106 metres
Related Article: Telok Blangah Hill Park: Henderson Waves and More
Guide: Your Guide to Hort Park & the Southern Ridges by NParks
5. Mount Faber

We wonder if more tourists than Singaporeans have been to this hilltop destination. As one of the oldest parks in Singapore, Mount Faber Park offers fantastic vistas of the southern part of Singapore, its islands and bustling port. Most visit The Jewel for its many dining options or take a cable car ride from here on to Sentosa.
If you walk up to Faber Point, the highest point in the park, you will find a Merlion waiting for you at the top, and a huge compass to give you bearings to the various landmarks in Singapore and the region. Wrapping around the lower level of Faber Point is a mural wall that illustrates the history of Singapore. Surrounded by lush greenery, this park is a natural highpoint to learn about our past and literally give us bearings to our next destination.
Where: Mount Faber Road
Height: 105 metres
Guide: Your Guide to Hort Park & the Southern Ridges by NParks
6. Mount Imbiah
Anyone who has been to Sentosa would have probably set foot on Imbiah Hill as it contains the biggest cluster of attractions in Sentosa. At 110 metres high, it offers a scenic view of Singapore, the Southern Islands and Sentosa. There is the Images of Singapore LIVE, Madame Tussauds Singapore, Butterfly Park and Insect Kingdom, Megazip Adventure Park, Sentosa Luge Sentosa, Singapore Cable Car and Sentosa Nature Discovery. There are also walking trails on Mount Imbiah to explore.
Where: Imbiah Lookout, Sentosa
Height: 110 metres
7. Kent Ridge Park

The top of 47-hectare Kent Ridge Park gives you decent views of Pasir Panjang and ships in the Southern part of Singapore from the Observation Deck. As a park for fitness buffs, there are 20 fitness stations along the different terraces on the slopes with overhanging trees for shade. Being secluded and quiet, its lush greenery in the secondary forest is a magnet for birds. The 280-metre long Canopy Walk offers a panoramic view of Alexandra. Continue eastwards and you will be well on your way via the Southern Ridges.
Where: Vigilante Drive off South Buona Vista Road
Height: Estimated 65 metres
8. Jurong Hill
The next time you visit Jurong Bird Park, located at the western slope of Jurong Hill, take 10 minutes and climb a little higher up. With a "Garden of Fame" located within the park, Jurong Hill is one park that has seen trees being planted by many visiting foreign dignitaries, including Queen Elizabeth II. The three-storey spiral lookout tower atop Jurong Hill gives you aerial views of Tuas and Jurong. At night, this is an excellent spot to admire the twinkling lights from the nearby Jurong Island. At the park, you can simply bask in the well-shaded park with its mature trees and appreciate its quiet beauty.
Where: Bounded by Jalan Ahmad Ibrahim, Pioneer Road, Jalan Buroh and Jurong Pier Road
Height: 60 metres
9. Fort Canning Hill

Previously known as Forbidden Hill or Bukit Larangan, Fort Canning Hill was once the palace of Malay rulers in Singapore and holds historical secrets from as far back as 14th century Temasek. As a fort, it was used to defend Singapore from attacks from the sea. Explore the paths that crisscross the hill and come across 9-pound cannons and even the Fort Canning Service Reservoir. In 2019, Fort Canning Park was refreshed with new gardens and a new playground too!
Where: Hill Street/ Canning Rise/ Clemenceau Avenue/ River Valley Road
Height: 60 metres
Related Article: Fort Canning Park: Beauty and History
10. Pearl's Hill

Interestingly, Pearl's Hill (named after Lt. James Pearl, Commander of the Indiana who bought the hill in 1822) was once higher than Fort Canning. When the latter was completed in 1861, Pearl's Hill was in the trajectory of the guns mounted at Fort Canning. A military engineer simply cut off the top of Pearl's Hill. Today, Pearl's Hill, also known as Mount Stamford Hill, is a tranquil oasis tucked away and largely forgotten in Outram. While spice plantations peppered the hill in the early 1800s, there are now mature Tembusu trees on its slopes and a reservoir and pond on top of this hill in this serene 9-hectare park.
Where: Along Chin Swee Road and Pearl's Hill Road
Height: Estimated 56 metres
11. Bukit Peirce and Bukit Kalang

Though the lowest hills on our list, this is probably the most strenuous but most interesting walk of all to embark on. More well known as The TreeTop Walk, it is one of the long hiking routes within MacRitchie Nature Reserve that brings you through the mature secondary forest. The highlight of the walk is the 250-metre long freestanding suspension bridge that connects Bukit Peirce and Bukit Kalang, the two highest points. Get the bird's-eye view from here. If you start from the park, the distance to the entrance of the TreeTop Walk is approximately 4.5 km. From the car park at Venus Drive, the walk is about 2.5 km.
Where: MacRitchie TreeTop Walk
Height: 25 metres
Related Article: Views from the TreeTop Walk at MacRitchie
Guide: A Guide to Walking Trail at the TreeTop Walk
The hills of Singapore are certainly alive not just for couples posing for wedding photos, but also for nature lovers, history buffs and adventure-seekers. Take your pick and explore these highest natural points with your kids for a new perspective of Singapore! And when you get to the top, take a deep breath and tell yourself – you have arrived!
Sources for elevation information: Wikipedia, Sentosa and NParks websites and Elevation iPhone app.