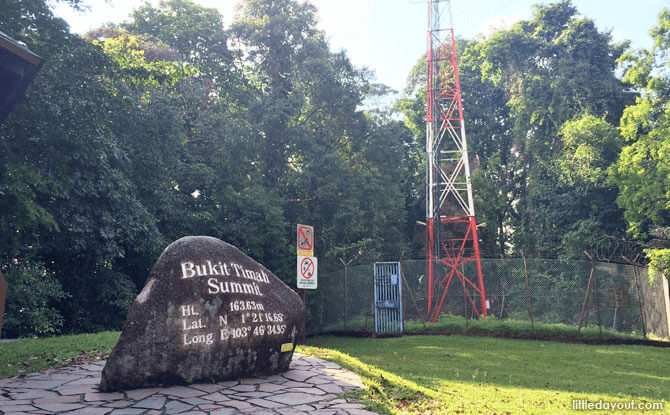 Every day, many people make their way to Bukit Timah Nature Reserve. It is a popular nature spot with those looking for a challenge and to escape to nature. As such, it can get quite busy in the mornings and evenings, but you can still enjoy the beauty of Singapore's tallest hill.
For those planning to make a visit, here are five essential things that you should know about Bukit Timah Nature Reserve.
Getting to Bukit Timah Nature Reserve
For a nature spot, Bukit Timah Nature Reserve is relatively easily accessible. Those who are driving can turn into Hindhede Drive, off Upper Bukit Timah Road. About 200 metres in from the main road is the car park.
For those taking public transport, seven buses will take you to Bukit Timah Nature Reserve. These are 67, 75, 170, 171, 184, 852, 961. You can alight at either Jalan Anak Bukit Road or Upper Bukit Timah Road and make your way in.
---
-- Story continues below --
The closest MRT station to the Nature Reserve is Beauty World MRT Station. Get out at Exit A and cross the roads to find your way to the Reserve.
Climbing Up the Hill
Standing proud at 163 metres, Bukit Timah Hill is the tallest in Singapore. However, in comparison, it really isn't that high at all.
There is one main road that "charges up" Bukit Timah Hill. This is the road which most people take as they ascend the hill. Be mentally prepared for the walk up – it is steep at the initial section. However, stay the course. After the first steep section of the hill, the gradient tapers off and it is much easier going.
Heading down is a different matter. At the same steep section, go slow. Some people would even turn around and walk backwards down the hill in order to stave off the effects of gravity.
Many Paths to Explore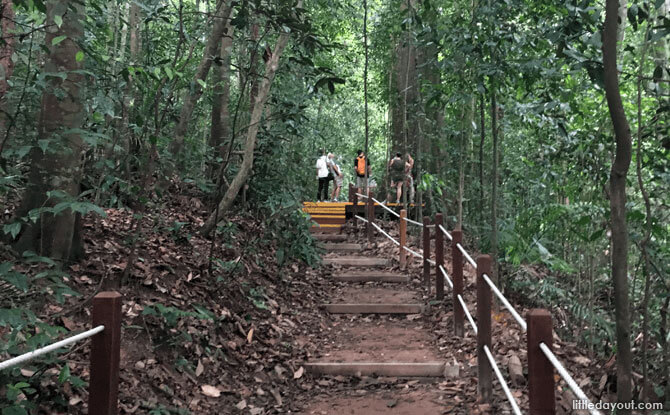 While most people stick solely to the Main Path, other less trekked paths exist as well around Bukit Timah Hill. These are accessible off the main path.
For those who wish to try something a bit more challenging, they will be glad to know that there is another approach to Bukit Timah Hill as well. From Dairy Farm Nature Reserve, there is a "loop path" which makes its way up the hill, leading to the very top as well. This second path was introduced to relieve some of the pressure off the Main Path which attracts plenty of walkers each day.
Other paths to explore include one that leads to a granite cave, and other around the foothills surrounding Bukit Timah Hill.
Another off-shoot from the main trek is the Hindhede Nature Park, one which provides a good view of the former quarry at Bukit Timah Hill. The quarry has now been flooded and it makes for a very nice and scenic spot. In addition, Hindhede Nature Park is where you can find a playground with different sets of play equipment for children.
The Nature Reserve underwent restoration works from 2014 to 2016. These works helped to make the path safer and improve accessibility, while also helping to preserve the natural environment within the reserve.
Animals in Bukit Timah Nature Reserve
Many nature seekers venture to Bukit Timah Nature Reserve in hopes of spotting wildlife. As a forest reserve since 1883, which means the trees in the area has never been logged, the area is home to many different species. These include the Greater Racket-tailed Drong and Malayan Colugo.
More recently, Bukit Timah and the Central Catchment Areas were declared as Nature Reserves in 1990, helping to preserve and protect the natural wildlife found within these sparse Singapore forests.
However, it takes a keen eye and a dose of good luck in order to be able to spot these animals. They would often hide away when they hear people approaching, or they are nocturnal.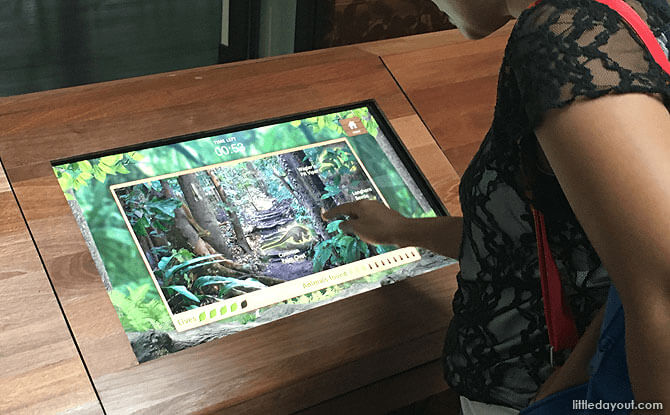 Keep your fingers crossed, but if not, the you can always pay a visit to the Visitor Centre at the bottom of the hill to learn more about the flora and fauna found in the nature reserve. Amongst the displays in the Visitor Centre are taxidermy animals, including tigers and pangolins. It is a good place to learn about the natural world that exists at Bukit Timah Nature Reserve.
Amenities at Bukit Timah Nature Reserve
The main facilities at Bukit Timah Nature Reserve is located at the base of the hill. This is where the restrooms are found, as well as the ranger station and vending machines. At the very top of Bukit Timah Hill, while there is a broadcast station, there are no amenities besides a rest hut.
Therefore, plan accordingly.
Unfortunately, at the summit of the hill, there isn't much of a view either. Instead, what you get is a sense of accomplishment and satisfaction from making it to the top of Singapore's tallest hill.
Happy trekking and remember to take only photographs and leave only footprints on your visit to Bukit Timah Hill.