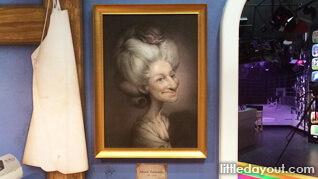 It appears that things have come full circle as Madame Tussauds Singapore is housed in the building that used to be known as the Sentosa Wax Museum back in the 1980s.
However, Madame Tussauds Singapore is nothing like the old Wax Museum with its staid old wax figures that used to line the rooms of this old building.
Madame Tussauds Singapore
Open to the public from 25 October 2014, the brand new attraction at Sentosa's Imbiah Lookout features more than 60 wax figures of both local celebrities and international stars. It is also the first Madame Tussauds attraction, out of the 18 around the world, to have a boat ride housed within its premises.
Water Spirits
The boat ride, "Spirit of Singapore", is what visitors first encounter upon entering the attraction. Hop aboard the boat and bob along for a quick overview of the sights of Singapore.
Visitors are floated past "traditional" icons of Singapore such Stamford Raffles and the Merlion, as well as modern sights such as the three towers of Marina Bay Sands and the Singapore Flyer. It feels like a cross between a "Honey, I've Shrunk It's a Small World" and a tourist montage.
Come Face-to-Famous-Face
Leaving the boat ride behind, visitors get to what Madame Tussauds is most famous for – their amazingly lifelike wax figures of celebrities and famous personalities.
At Madame Tussauds Singapore, these figures are broadly grouped into seven sections – world leaders, sports personalities, a behind-the-scenes look at how Madame Tussauds creates its wax figures, television personalities, music and pop icons, movie legends and A-listers.
A mix of local and international personalities can be found throughout museum with the home team represented by the (waxy) likeness of Fandi Ahmad, Stephanie Sun and Jack Neo.
Each wax figures cost approximately S$300,000 and takes 3 months to create. The wax heads alone taking up to six weeks to get right with each strand of hair (real human hair) painstakingly inserted one-by-one.
You'd think that with such a hefty price tag tied to each wax figure, they would be protected behind a velvet rope. However, this is hardly the case. Instead, Madame Tussauds Singapore is a high-touch museum.
Visitors are welcomed to drape themselves like old buddies over their favourite stars. Pull out a camera and snap away. Selfies are most welcome too of course.
Alongside many of the wax figures are props for visitors to use to glam up their paparazzi shots. After all, how can you not take a picture with Phua Chu Kang without jumping into those famous yellow boots? Or you can rock out with Taylor Swift by draping on a feathered boa and feeling 22 again. It's next to impossible to sit on the mean-looking Harley beside Arnold Schwarzenegger as the Terminator without donning a pair of sunnies and muttering, "I'll be back".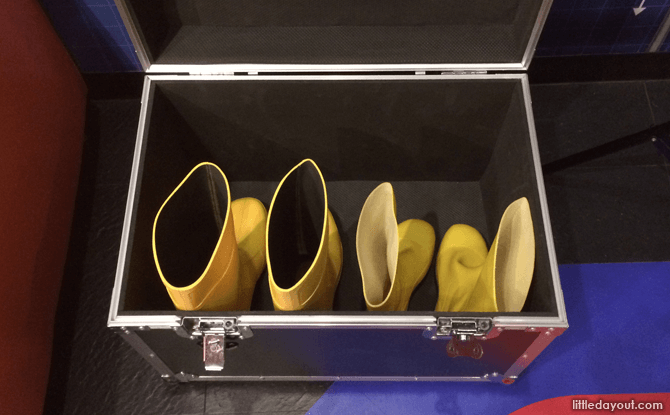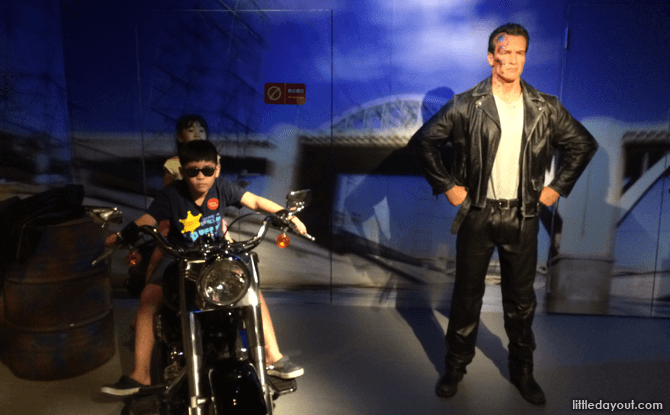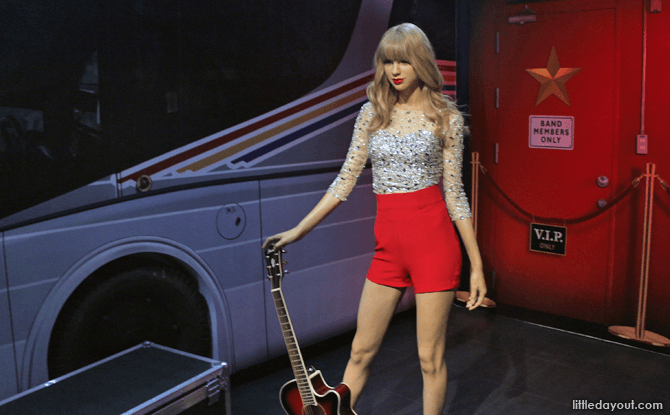 Families with younger children may find that the kids don't recognise many of the celebrities. This is not surprising when you recall that Phua Chua Kang hung up his boots in 2007. In fact, they may more likely recognise Maleficent disguised as Angelina Jolie instead.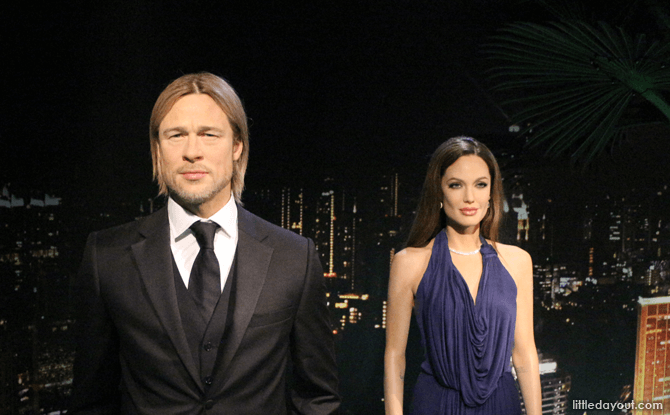 Nonetheless, there is plenty for kids to marvel at, such as the towering Yao Ming. The music icons section with its real, not wax, drum set will be a hit with them too – literally, and they will enjoy taking a free kick on goal under the watchful eye of Cristiano Ronaldo.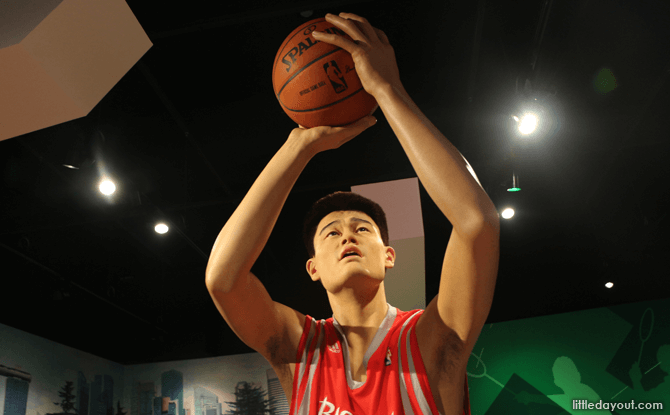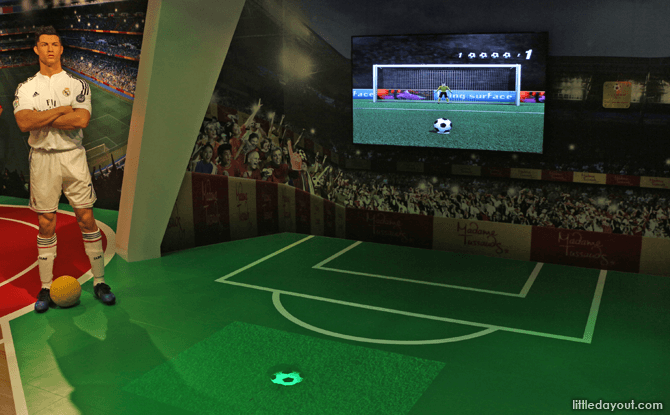 A visit to Madam Tussauds Singapore is also a good opportunity to introduce the kids to the personalities on display. For example, one of the first wax figures visitors will encounter at Madame Tussauds Singapore is our first President, Yusof Ishak.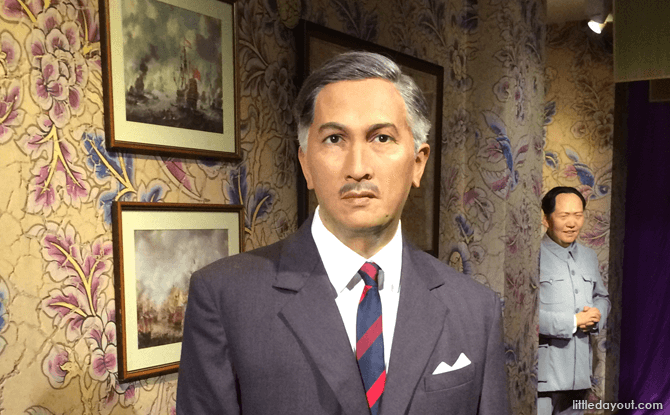 A particularly touching set of figures is that of Mr Lee Kuan Yew and his late wife Madam Kwa Geok Choo. While Madame Tussauds Hong Kong has a wax figure of Mr Lee in a statesman-like pose. The one here at Madame Tussauds Singapore captures him in a more relaxed, casual and intimate moment with his late wife. Based on a photo taken back in 2008 by his niece, this pair of wax figures stand out in the room full of national and world leaders that include current Prime Minister Lee Hsien Loong, and Emeritus Senior Minister Goh Chok Tong.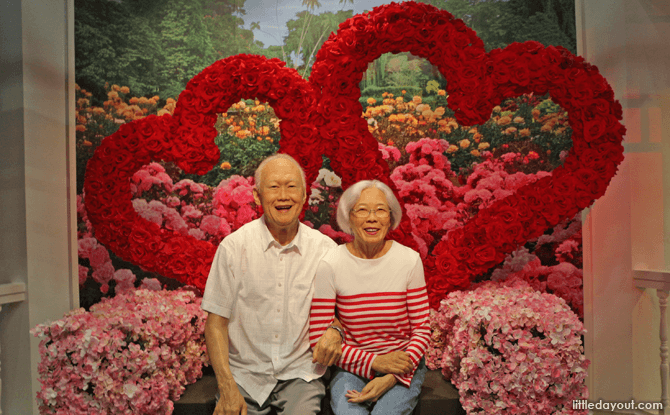 Wax, wax off
If wandering through Madame Tussauds Singapore tempts you to take a piece of memorabilia home, don't even think about breaking off a wax digit as a souvenir. Instead, there is a Wax Hands counter where you can cast a wax version of your own hand to bring home. Alternatively, stop by the well-stocked souvenir shop by the exit for a less hot fix.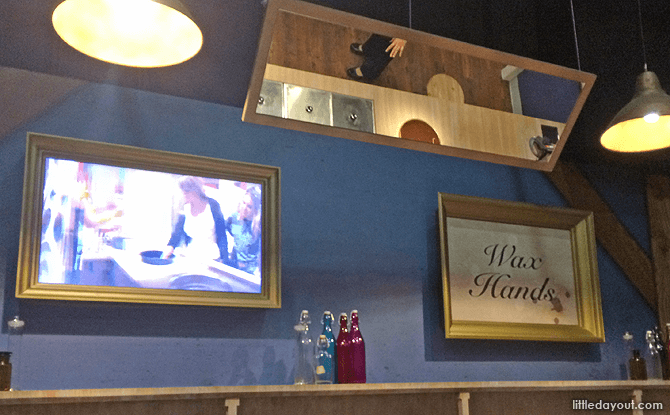 Have a great Little Day Out!
Madame Tussauds Singapore
Address: Imbiah Lookout, Sentosa
Price: Adult – $30, Child – $27, Concession (Student or Senior) – $27.
Website: www.madametussauds.com/Singapore/