Jurong Bird Park is unlike the rest of Wildlife Reserves Singapore's properties – Singapore Zoo, Night Safari and River Safari.
While the other three are set along the waters of Mandai in the North, Jurong Bird Park is located on a hillside in Southwest Singapore.
The zoo and two safaris showcase a variety of animals across different genus in the kingdom Animalia while Jurong Bird Park focuses on birds.
And, at the Mandai properties, animals are largely kept in open enclosures, separated from visitors by moats or thick panels of glass. At Jurong Bird Park, it is hard not to notice the wire mesh cages. (Ok, it is probably a bad idea to use a moat to contain free-flying birds.)
Despite being the odd-child in the WRS family, Jurong Bird Park has a charm of its own.
An Oasis in Jurong
It had its origins in the vision of the late Dr Goh Keng Swee. After visiting a free-flight aviary at the Rio de Janeiro zoo, he proposed the idea of building a bird park in Jurong to counter balance its increasingly urban landscape.
The park opened its doors to its first visitors in 1971. 12 countries, seven zoos and private donors contributed birds to its collection. It boasted the world's tallest manmade waterfall, built by taking advantage of a natural cliff face in Jurong hill.
Favourite Spots at Jurong Bird Park
In 2014, the possibility of the bird park moving to Mandai was raised. While we pondered whether Jurong Bird Park would keep its name if relocated to Mandai (well, River Valley High School is still called River Valley High School even though it is found in Jurong West), we also thought that it is timely to share some of our favourite spots around Jurong Bird Park.
1. Penguin Coast
Housed in a ship-shaped building, you can find four species of penguins suitably cooled in the air-conditioned Penguin Coast exhibit – the Humboldt, the Macaroni, the King Penguin and the "spikey-haired" Rockhopper. Beside them, a a flock of contented-looking puffins nest on "rocky cliffs". Feeding sessions at Penguin Coast take place at 10.30 am and 3.30 pm.
2. World of Darkness
Enter the mysterious realm of night flight at World of Darkness. The sentient owls here often hide in the corners. Their plumage camouflage them well with the surrounding environment. Wait a moment for your eyes to adjust to the darkness and have a hoot looking out for them in the dark enclosures. You will be able to find the Eurasian Eagle Owl, Common Barn Owl, Boobook Owl and a Harry Potter's favourite, the Snowy Owl, amongst the other owls in World of Darkness.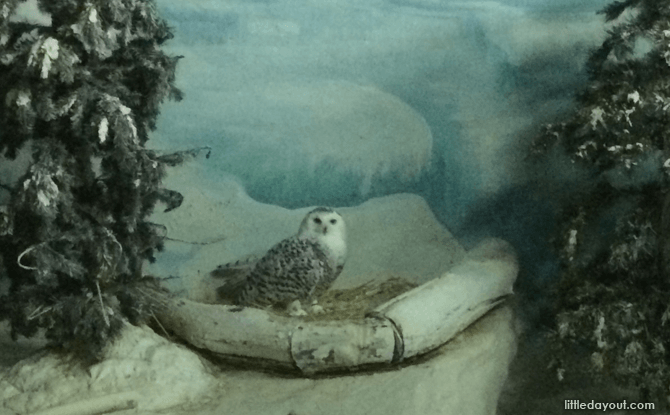 3. Lory Loft
A walk-in aviary was what inspired the development of Jurong Bird Park back in the late 1960s. Today, one of the best spots at Jurong Bird Park is Lory Loft at the top of the hill. Inside the gigantic aviary, brightly-coloured arboreal parrots fly freely around you. Buy a cup of sweet nectar to feed them and don't be surprised if you quickly become the centre of squawking attention. Spend some time exploring the multi-levelled Australian-inspired aviary, as high as 14 metres off the ground at some spots, and its two suspension bridges.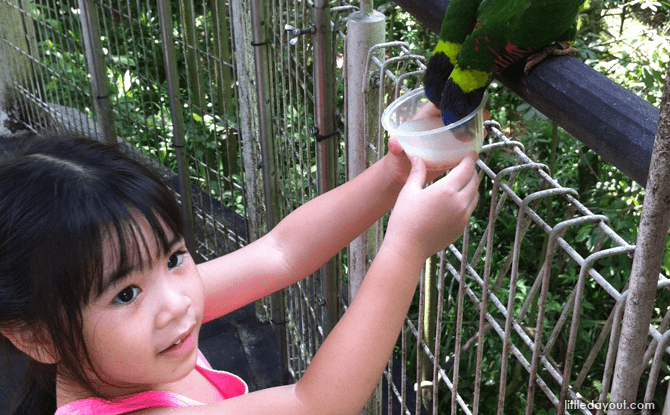 4. Bird Discovery Centre
Pop into the Bird Discovery Centre where the kids can find out more about birds in a museum-style setting. Marvel at the variety of legs, beaks, wings and nests found among the species of birds.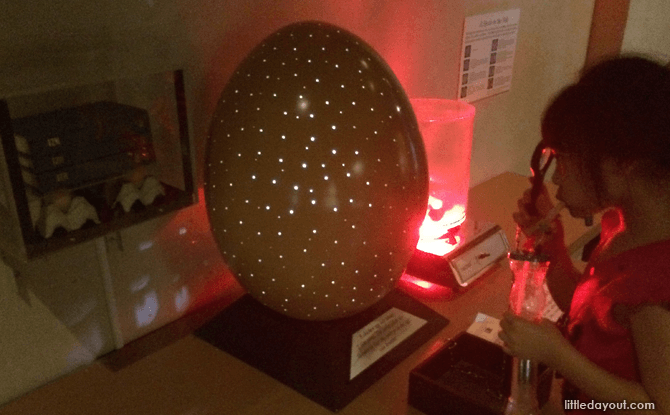 5. Kings of the Skies Show
Majestic birds of prey take to the air in the Kings of the Skies show. Watch as eagles, vultures, hawks and even owls demonstrate their hunting ability. This show takes place daily at 10 am and 4 pm at the Hawk Arena and is something not to be missed.
6. Wings of Asia Aviary
This large aviary was officially opened in January 2015. Home to a collection of birds from around Asia, some are kept in enclosures while others are free-ranging. Look out for threatened species such as the Bali mynah and Luzon bleeding-heart dove. Cute ducks and other birds can be spotted wandering underfoot at this the well-landscaped, free-flight aviary. Read more about Wings of Asia: Close Encounters with Asia's Rare Feathered Friends.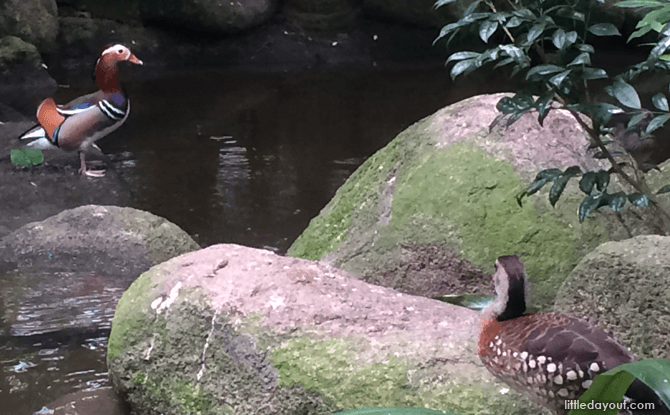 7. Birdz of Play
A must-stop spot for the kids. Take a break from the birds and have some fun at this colourful playground. The wet play area has a shallow pool for kids to cool off in, and a play structure complete with a tipping bucket dunking gallons of water to those beneath it. Even if you didn't bring your swimmers, there is a dry play area with a 6-person swing and an obstacle course. A café nearby offers refreshments and a welcomed rest stop.
Editor's note: The water play area is currently closed for renovations from 24 August till 4 September 2015.
8. Waterfall Aviary
The Waterfall Aviary is so large that you will forget that you are inside an enclosure. In fact, it is the world's largest walk-in aviary. While most visitors will take the gentle path along the stream to the 30-metre waterfall, climb up to one of two lookout points for a better view of the waterfall and to encounter more birds along the way.
9. Dino Dusting
This little sand pit is sure to keep little ones busy. Found beside the ostriches and emus, grab a brush and dust away.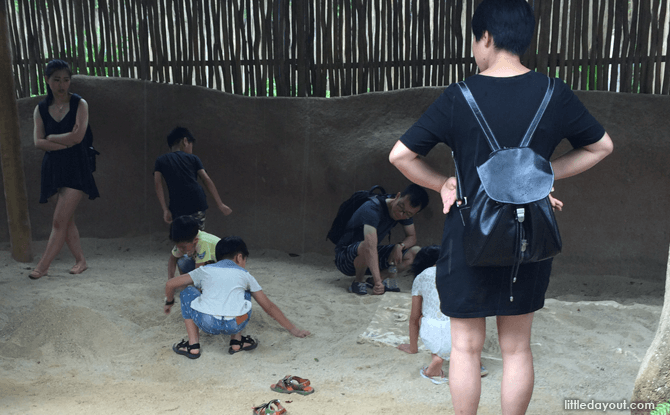 10.  High Flyers Show
Taking place at 11 am and 3 pm everyday, High Flyers Show features Jurong Bird Park's birdy stars. From hornbills to parrots, and pelicans to flamingos, the High Flyers Show entertains visitors with brightly-coloured and charming feathered talents. Look out for "personalities" like Sassy the Cockatoo and Amigo the Yellow-naped Amazon Parrot.
As at August 2015, Jurong Bird Park is having a promotion where local residents can purchase a year-long membership to Jurong Bird Park for the price of one full-priced ticket. Find out more about the Feather Friends membership here.