The 2,600 square metre Southeast Asian Birds Aviary went through a three-month overhaul and emerged as the new Wings of Asia aviary at Jurong Bird Park on 21 January 2015. Wings of Asia is now home to one of the world's most comprehensive and admired collections of Asia's rarest birds, with over 500 birds representing 135 species when complete.
Many of these feathered residents are facing rapid population decline in the wild due to unsustainable trapping for illegal cage-bird pet trade and habitat destruction. Through conservation breeding, Jurong Bird Park is working closely with various Asian agencies to maintain and safeguard these winged wonders and eventually introduce selected species back into the wild, in their native lands.
You can look out for the refreshed educational displays to learn about the different species of birds and special experiences such as feeding and chit-chat sessions with the keepers.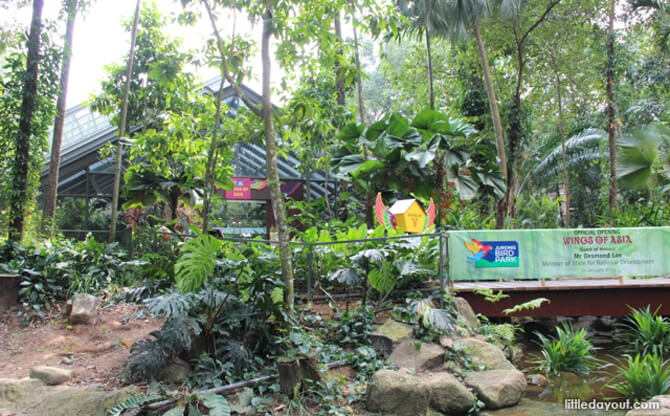 ---
-- Story continues below --
Meanwhile, here are eight birdie takeaways you can peck away at together with your children during your next visit.
1. Free Roaming Wonders

As you enter the aviary, you may have a turkey-sized personal escort in the form of a Victoria Crowned-Pigeon. These Indonesian and Papua New Guinean natives have an impressive crown of feathers and make dramatic piped hoots. Other free-roaming birds within the aviary include the Black-winged Starling, a favourite of the cage-bird trade, Masked Plovers, parrots, cockatoos, turtles, ducks and geese.
2. The Appointed Lesser Sulphur Cockatoo

You'll find different types of Cockatoos in Wings of Asia, but Sassy, the Lesser Sulphur Cockatoo, deserves special mention. If you already find her familiar, you may be right. She's the ring bearer at wedding ceremonies conducted at Jurong Bird Park and was duly appointed to pass Mr Desmond Lee, Minister of State for National Development and Guest-of-Honour the key to unveil Wings of Asia. Well, she did a little about-turn back to her keeper during the opening ceremony, possibly because she had the innate bird sense to know that he is already married!
3. Peafowl Terms
Peafowl is a broad term for the galliformes family of peafowls, pheasants, quails, chickens and the like. The male is called a peacock, the female a peahen and their little ones are known as peachicks. Interestingly, the male Argus Pheasant picked the perfect time to strut his stuff and display all his feathers in full glory, not once, but four times, when the Guest-of-Honour and his contingent gathered outside his aviary.
4. Best Birdie Parents
You may have seen these Masked Plovers roaming around the Singapore Zoo car park in Mandai. Apparently, these walkers are one of the top contenders of the Best Parent award due to their instinctive ability to peck at and chase away intruders approaching their nests or little ones. It's breeding season almost all year round in Singapore due to our warm and humid climate, so don't get to up close and personal with them!
5. Rare Asian Birds

This Blue-Rumped Parrot is native to Southeast Asia and is one of only 20 birds that have been recorded in the Central Catchment Reserve. Males have a blue head and rump while females have a brown head. Check out five new additions that will soon be displayed for the first time in the park, including the Javan green magpie, rufous-fronted laughingthrush and racquet-tailed parrot.
6. Rescued Birds

Some of the migratory birds that have made their way to Jurong Bird Park are courtesy of kind souls who have rescued them. As these birds mistake the clear glass panels on our skyscrapers as clear horizons, they often end up hitting them and injuring themselves. You'll find a Ruddy Kingfisher, Pittas and Stirlings here.
7. Bird Food for Thought

The Lories and Lorikeets feed on a special diet of Lory dried powder imported from Australia that is re-constituted with honey, water and Gula Melaka. This is their substitute for the nectar from flowers blossoms and fruits, and these parrots have brush-tipped tongues to lick them all up.
8. Manchurian Cranes

Don't miss the two red-crowned Japanese cranes guard the entrance to the Wings of Asia aviary. They are revered as a symbol of longevity and fidelity and the males and females are paired for life.
Have fun making deeper discoveries of our rare feathered friends at your next Little Day Out at Jurong Bird Park!
Related Articles
Read more about the Official Opening of the Wings of Asia aviary at Jurong Bird Park.
---
GWY
Share with hashtag #ldogwy