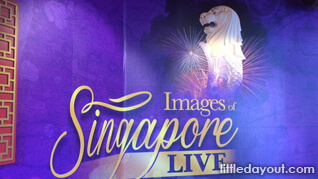 In the movie, Night at the Museum, Ben Stiller's character takes on a job as a night watchman.
During the course of the night, he discovers that the museum's exhibits, including a Tyrannosaurus skeleton, Neanderthals and US president Teddy Roosevelt, come alive every evening under the power of an Egyptian artefact.
Fantasy?
Yes, but have you ever wondered what it'd be like to come face-to-face with people from the past?
---
-- Story continues below --
The revamped Images of Singapore LIVE gives you a chance to experience just that.
Images of Singapore LIVE – Revamped Attraction
Originally opened in 1983 as the Pioneers of Singapore & Surrender Chambers museum, it was renamed Images of Singapore in 1994 and given a makeover in 2005. The old Images of Singapore was home to a motley crew of wax figures. Like Night at the Museum in the daytime, the dioramas at Images of Singapore provided a static (though fascinating) snapshot into Singapore's history, starting from Raffles' landing in 1819.
In contrast, the new Images of Singapore LIVE, which reopened in December 2014, takes a completely different approach to telling the Singapore story.
Meet & Greet Through History
After a short introductory presentation, visitors are ushered through the revamped exhibition on a tour.
Wax dummies have been replaced by articulate live actors who play interesting characters such as an Orang Laut from 1819, a Samsui Woman working in Chinatown, and a Theatre Manager from 1941.
Dressed in period costumes, these actors-in-character provide personal perspectives on pivotal points in Singapore's history. Combined with the use of props and clever animation, visitors are taken on a time-travelling trip into Singapore's past.
Part dinner theatre and part "haunted house adventure", this format allows visitors to actively experience Singapore's historical events. Much better than reading a label beside a glass case.
Images of Singapore LIVE & Madame Tussauds
The 30 to 45 minute Images of Singapore LIVE tour eventually leads on to its sister attraction Madame Tussauds Singapore. Both Images of Singapore LIVE and Madame Tussauds Singapore are operated by Merlin Entertainments plc.
"We are thrilled that we are able to use our Merlin magic to enhance the popular Images of Singapore attraction, ahead of Singapore's biggest national celebration to date – SG50. This will be a very special time for Singapore and we are happy to play our part in re-launching Images of Singapore LIVE into an exciting, contemporary, world-class attraction which can be enjoyed by both local Singaporeans and international visitors of all ages," said Lily Lim, General Manager of Images of Singapore LIVE and Madame Tussauds Singapore.
With its emphasis on Singapore's colonial history, Images of Singapore LIVE is a good complement to exhibitions such as SINGAPURA: 700 Years which have a heavier emphasis on Singapore's post-WWII history and nation building efforts. We enjoyed its live-action format and hope that this engaging approach is something we would be able to see more of around the museums in Singapore.
Images of Singapore LIVE
Imbiah Lookout, Sentosa
Opening Hours: Weekends – 10 am to 7.30 pm (last admission at 6 pm), Weekends – 10 am to 9 pm (last admission at 7.30 pm)
Images of Singapore LIVE Tickets only: Adult – $15; Child (3 to 12 years old) – $10.
Images of Singapore LIVE Tickets & Madame Tussauds combo: Adult – $35; Child (3 to 12 years old) – $25.
www.imagesofsingaporelive.com