Are you up for an adventure? Have your next mega-adventure at Mega Adventure at Sentosa, which also has an awesome zipline!
Located at Sentosa's Siloso Beach, visitors can conquer not one but five different sections in this highly recommended attraction.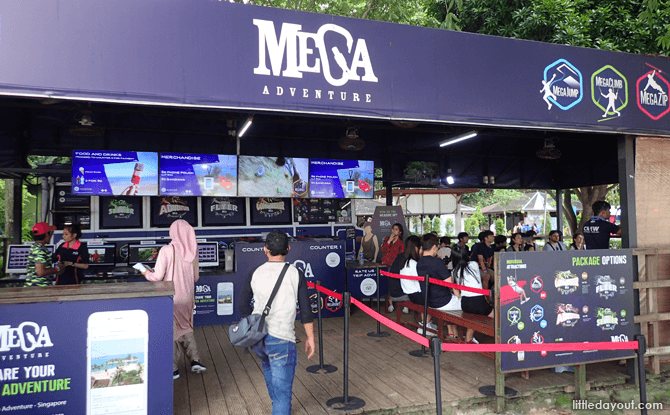 Mega Adventure made up of the five different high element attractions that are sure to leave your heart racing and adrenaline pumping. Be prepared to trade your fears for enjoyment as you choose between the Mega Climb, MegaWall, MegaJump, MegaBounce and MegaZip!
There are no age requirements for the different attractions, and specific height and weight requirements for each attraction can be found on the Mega Adventure website.
Wondering which activity at Mega Adventure to have a go at? We've tried and tested the different attractions, so here are our thoughts about each of them. We also provide some tips on how to stretch your dollar on this little day out!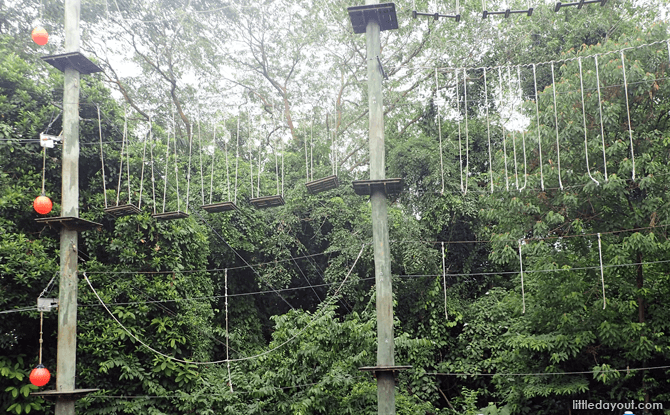 After checking in and gearing up, hopping onto a jeep that will bring you to the Mega Adventure Park! There, you choose between four of the different attractions and try them in any order that you wish!
---
MegaWall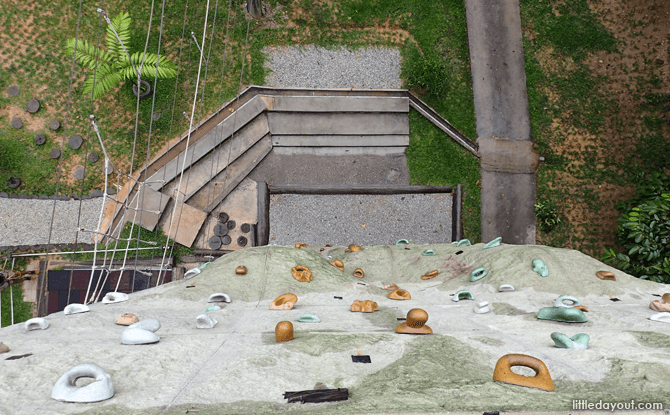 Push your limit and try and conquer one of the highest rock climbing walls in Singapore!
Standing at 15 meters high with three different routes to the top, the MegaWall is one high element that will test your strength and endurance up to the very summit!
Don't worry about having to find a partner to belay you down as this will be supported by an auto-belay system that will ensure that you reach both top and bottom safely. This is the best attraction at Mega Adventure Park to race your friends and family to the top, or perhaps relive that fantasy of being Spiderman.
---
MegaClimb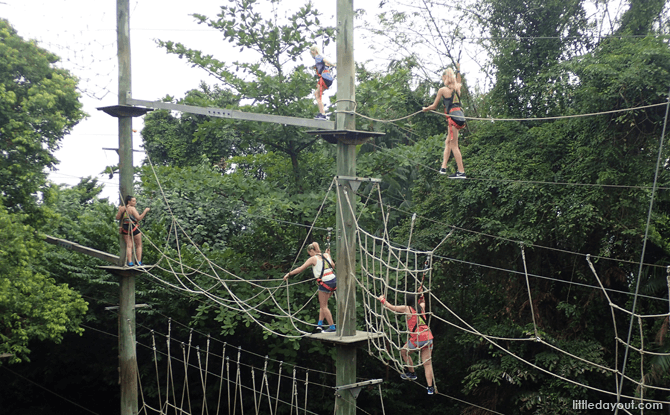 Enjoy a whole new experience of a tree-top walk at Mega Adventure's MegaClimb station!
With 3 different courses, each level gradually increases in height by five to 15 metres. This makes it is one of the best places to overcome your fear of heights as you conquer each level.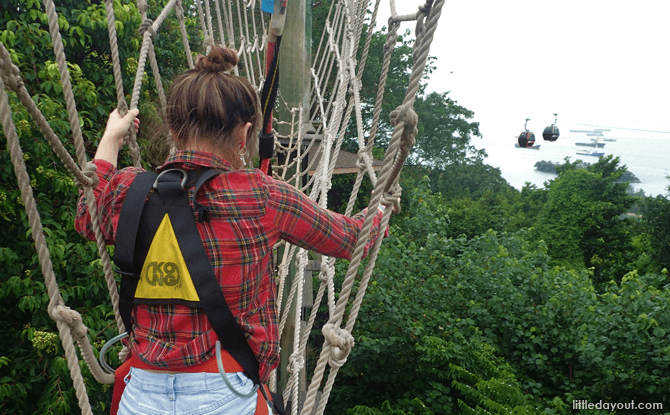 The different obstacles include a series of ropes, wires wooden planks and a flying fox!
Get ready to use some upper body strength on a total of 36 different types of obstacles as you not only work a sweat but treat yourself to the view from above which overlooks a whole section of Sentosa! (Hint: the higher you climb, the better the view!)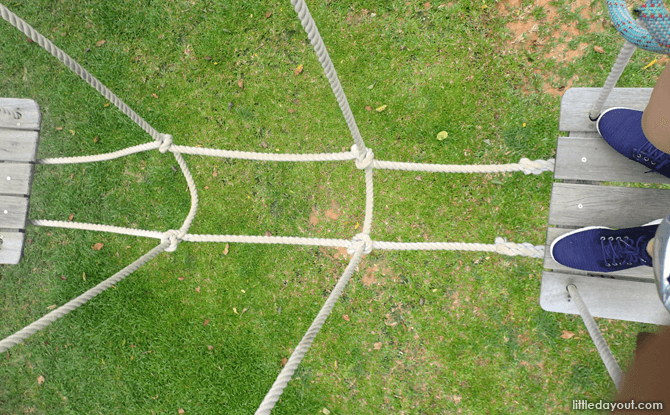 It is a great family activity which builds confidence and allows the entire family to conquer fears together as one!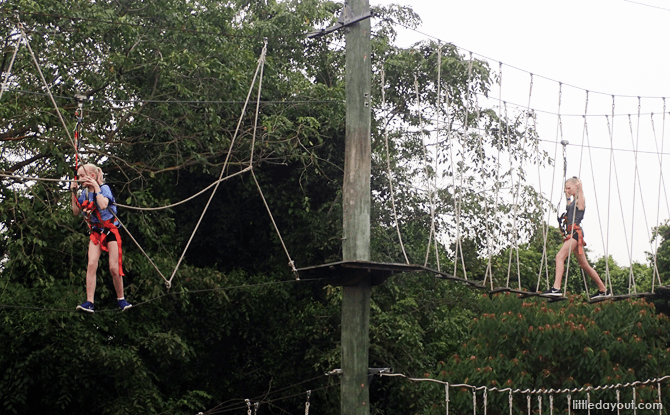 As each standard MegaClimb ticket allows you to choose two levels, we recommend going to the first level for a warm-up and the third level to challenge yourself and fully experience how this station got its name!
---
MegaJump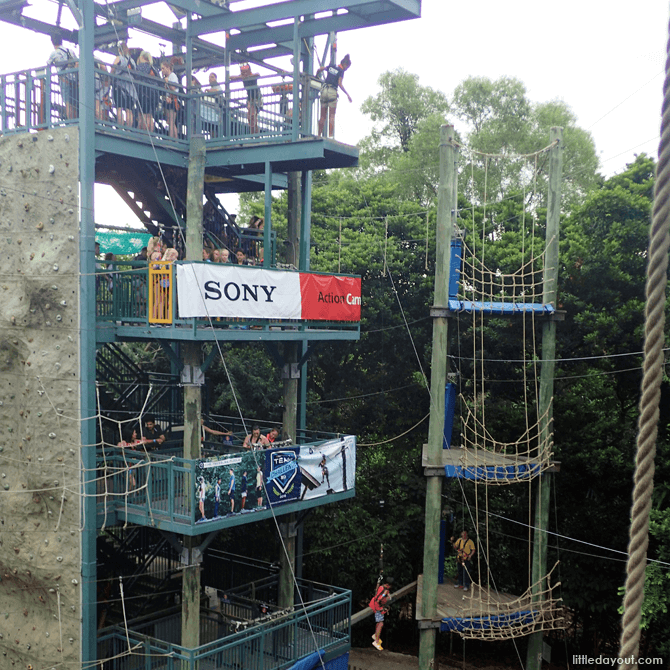 Adrenaline junkies, this stop is definitely for you!
At the MegaJump station, get the experience of a parachute jump – without the plane ride and without burning the hole in your pocket!
Harness up and step onto the leaping point where you can get a sweep view Sentosa's Mega Adventure park…before taking that step out and dropping 15 meters downwards!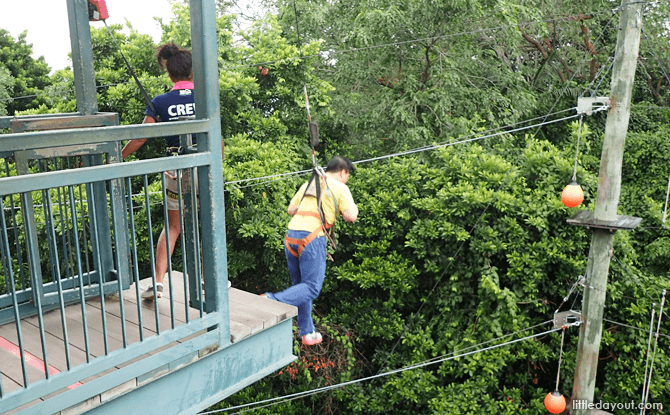 It's sure to give you a rush like no other! Go with your family or friends and ensure that they catch this thrilling moment on camera from down below!
---
MegaZip
MegaZip was the highlight of our Mega Adventure visit. MegaZip combines adrenaline, speed and fun, which is probably the best way to make an exit out of Mega Adventure Park!
The ride starts from 75 metres up and is 450 metres long. Before you know it, you will be racing along at a heart-pounding speed of 60 km/h. Megazip feels like a really fast and long rollercoaster, except that it is through the lush jungle canopy of Mount Imbiah down to the white sands of the finish point at Siloso Beach.
It is even possible to request to take this breath-taking adventure upside down!
Parents and young children need not worry about the little ones taking the ride alone, as you can also request to go together as a pair. Hang on tight!
---
MegaBounce
This attraction is a hot favourite among the little ones as they try what it's like to go up up and away! Discover hidden acrobatic skills and try some flips and turns on this dynamic bungee assisted trampolines!
Do note that the MegaBounce attraction does rove around to different places around Singapore.
---
Mega Tips for Mega Adventure
As you get geared up and excited, here are some additional tips to take note before you head to the Mega Adventure park.
1. You will definitely want to capture all the memories of this exciting day out, so, ensure that phone cameras or cameras have a strap or lanyard to secure them to yourselves. Lanyards are also available for purchase at the ticketing counter. Selfie sticks are not allowed.
2. Wear covered shoes and clothes that are not too loose and baggy to prevent them from getting caught on the obstacles and so that the various safety harnesses can be as comfortable as possible. Skirts and dresses are not recommended.
3. Lockers and bottled water are provided by Mega Adventure, but in case of wet weather, do bring along a poncho or waterproof jacket if you do not wish to get wet.
---
Mega Adventure
Address: 10A Siloso Beach Walk, Singapore 099008
Website
Originally published in December 2017.