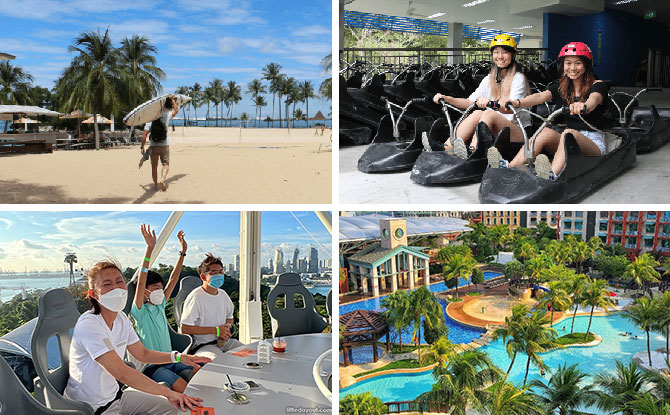 Sentosa is the island everyone flocks to for fun, food and sun-soaked staycations. And to help you navigate around it, we have the ultimate Sentosa guide with all you need to know about where to play, stay and eat around the island.
Sentosa – a former military base and also one that saw plenty of pirates roaming, is now a island for leisure activities, hotel getaways and dining with beachside or golfside views.
Sentosa's colourful past and rich history is evident in the restored heritage buildings, conserved military structures and everyone can experience a slice of it. There is so much to see and experience on this well-loved island destination.
What's there to see in Sentosa? Plenty – take your pick from off the beaten paths to well-trodden sights. There is surely something for families to enjoy. Here's our mega list of recommended activities, places to eat and stay!
---
-- Story continues below --
---
History of Sentosa
Sentosa was once known as Pulau Blakang Mati which meant "death behind the island", known for the dangerous straits where pirates prowled. It was home to the native Malays who were relocated to the mainland from Pulau Brani. It was fortified by the British in 1880s to protect the economic interests. Four forts built were Fort Siloso, Fort Serapong, Fort Connaught and Mount Imbiah Battery.
During WWII, the island was a British military fortress and gun fortifications were set up at various points targetting a seaward assault. After the Japanese surrender, the island was the base of the locally enlisted First Singapore Regiment of the Royal Artillery in 1947.
In 1970, the island was renamed "Sentosa" which means peace and tranquility in Malay.
---
Map of Sentosa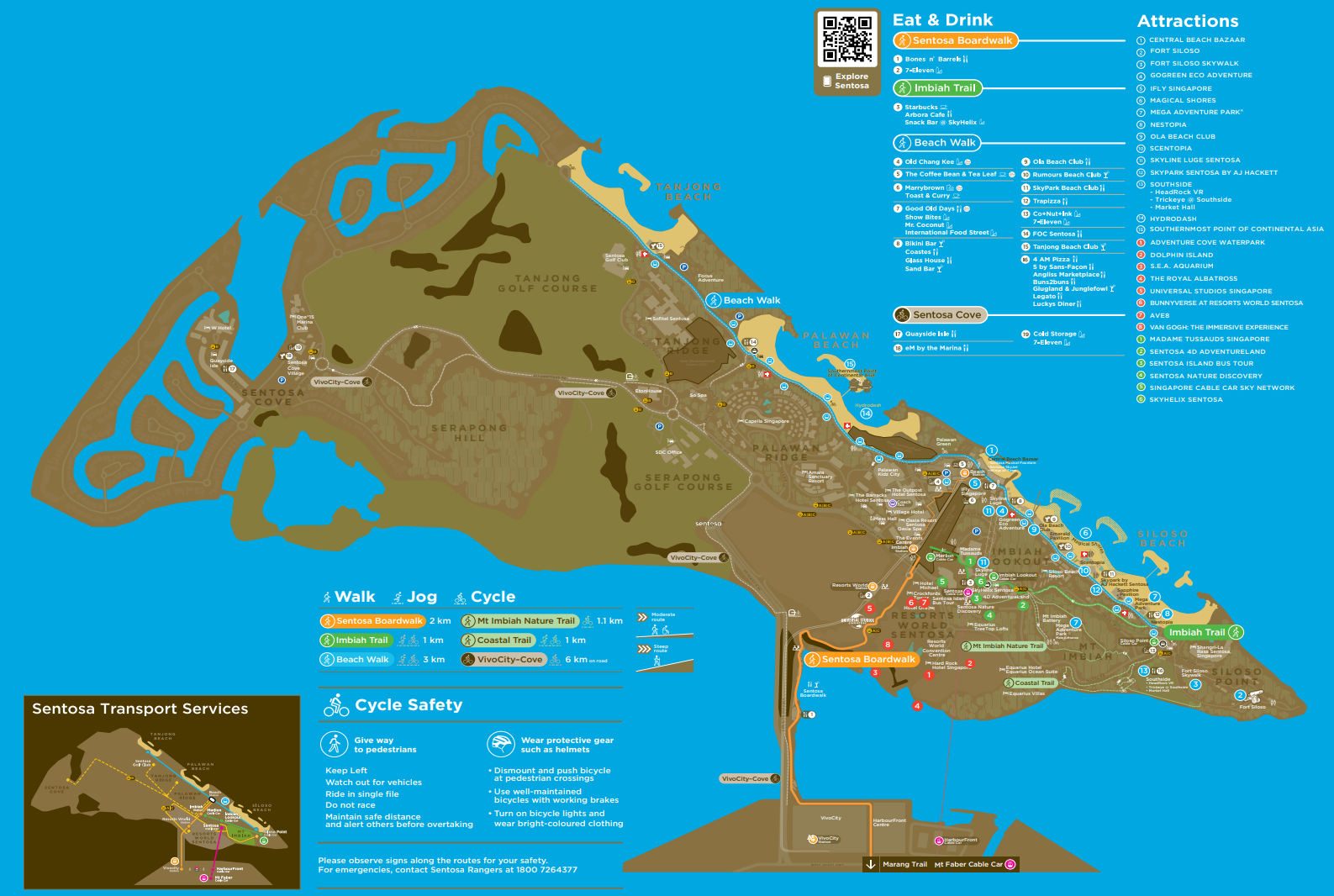 Sentosa Island, formerly Pulau Blakang Mati, is an island located off the southern coast of Singapore. The island is separated from the main island of Singapore by a channel of water, the Keppel Harbour.
---
Sentosa Guide: Where & What to Do for a Good Time
Singapore Cable Car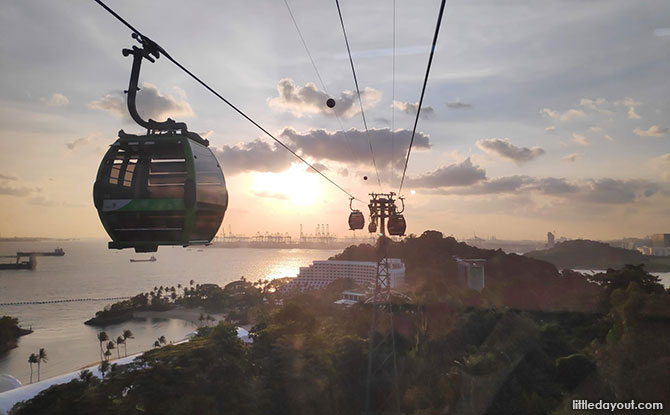 Arrive in Sentosa in style on the Singapore Cable Car. The ride offers a panoramic view of the island and brilliant sunsets if you get on at the right time. The Singapore Cable Car will take you from Mount Faber, or Harbourfront (depending where you start), to the heart of Sentosa. You can also choose to take the intra-island Sentosa line to Siloso Point. Book your cable car experience here.
---
Attractions at Imbiah Lookout
SkyHelix Sentosa
SkyHelix Sentosa is Singapore's highest open-air panoramic ride! Expect breathtaking views from 79 metre above sea level and enjoy the 360 degree sights of Sentosa.
Get your tickets to SkyHelix Sentosa here.
---
Madame Tussauds Singapore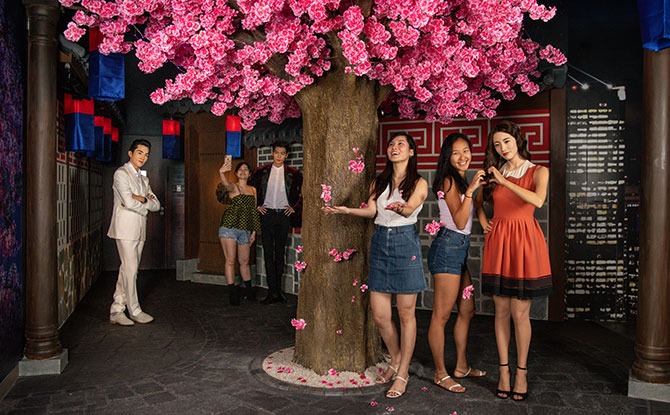 If meeting celebrities and important political figures in wax rocks your boat, head to Madame Tussauds Singapore to "meet" K-pop idols, famous world leaders, superheros and more. There is also a Marvel Universe 4D movie experience and The Spirit of Singapore boat ride to check out! You can wax lyrical about "seeing" Captain America and Lady Gaga here.
---
Skyline Luge Sentosa
Looking for an adrenaline rush? Try Skyline Luge – a fun outdoor activity suitable for all ages and experience. It starts with the Skyride which is a chairlift offering a bird's eye view of the Singapore Skyline and South China Sea. Then navigate your way downhill a gravity-powered luge. There are four thrilling tracks to chose from. They have features including hairpin corners, exhilarating funnels and exciting downhill slopes.
---
Sentosa 4D AdventureLand
Sentosa 4D AdventureLand, Sentosa's high­‐tech interactive entertainment zone is home to three exciting experiences at Imbiah Lookout – Journey 2: The Mysterious Island, Extreme Log Ride and Desperados. For those who love 4D rides, particularly the children, you could try the three immersive experiences!
---
Imbiah Walk & Imbiah Battery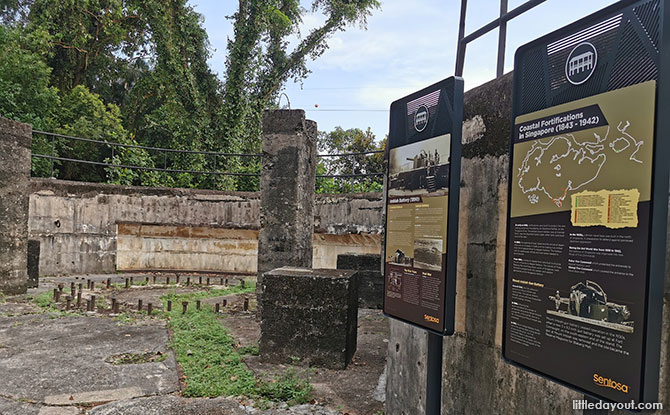 Take a walk up Mount Imbiah where a lush forest trail awaits. Hear the birdsong of the Racket Tailed Drongo and Tailor birds, spot the wildlife that is often unseen by visitors of Sentosa. "Mount" Imbiah is a mere 65 metres above sea level.
As you ascend the hill, you will reach Imbiah Battery, built in the 1880s. The battery has been abandoned since before WW2, with the guns removed. It is a fun spot to explore, especially for the children.
---
Sentosa Nature Discovery & Geology Gallery
Did you know there are eight different types of habitats found on Sentosa including coastal rainforests, rocky seashores and wetlands? You can also find out how Singapore and Sentosa came into existence at the Geology section which showcases earth processes, rock formation, geological maps, rock samples and fossils.
Explore the Imbiah Trail and Sentosa Nature Discovery on a guided tour.
---
Mega Adventure Park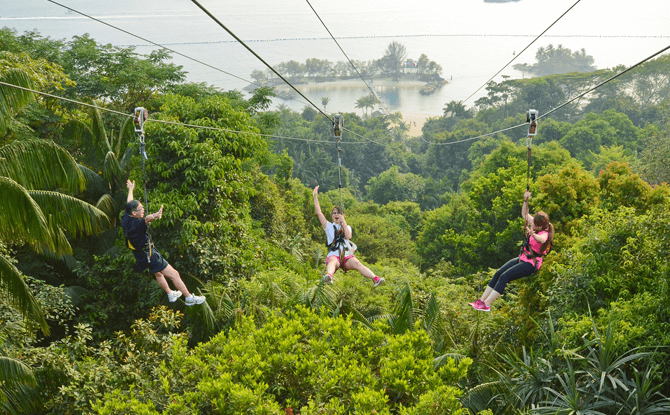 Mega Adventure is made up of the five different high element attractions that are sure to leave your heart racing and adrenaline pumping. Be prepared to trade your fears for enjoyment as you choose between the Mega Climb, MegaWall, MegaJump, MegaBounce and MegaZip!
---
Sentosa's Beaches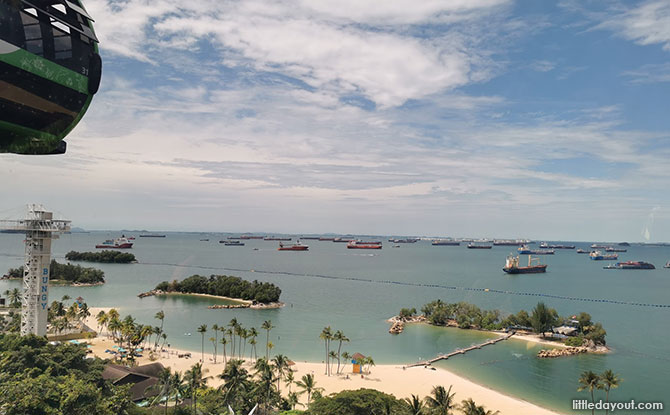 Going to the beach is one choice activity! There are three beaches to choose from – Siloso beach is the easiest to get to from Sentosa Express Beach Station, the main monorail station closest to the shore. You can also rent kayaks and stand up paddles at Ola Beach Club, Siloso beach.
Palawan Beach is just next to it followed by Tanjong Beach. Palawan Beach is where Hydrodash and Southernmost point is located. Lay out a towel, soak in the rays by the water and enjoy the breeze.
You would probably see fewer people at Tanjong Beach because of its distance from the main monorail station. Pick this beach for its tranquility and also Tanjong Beach Club.
---
Attractions at Siloso Beach
iFLY Singapore
Want to feel wind beneath your wings? iFLY Singapore's largest vertical wind tunnel for indoor skydiving, in an acrylic glass wall will leave you suspended in the air. Eager to skydive in a less intimidating setting – iFLY will fulfil your dream of flying.
---
Wings Of Time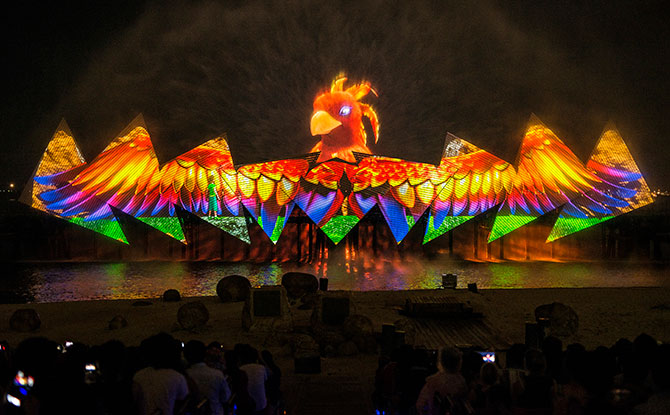 Catch this nighttime water and light show with upgraded pyrotechnics using state-of-the-art Sparkular machines! Wings of Time follows the story of two teenagers – Rachel and Felix, who help a bird-like creature, Shahbaz, find its way home.
Catch it at Siloso Beach every evening. Buy your tickets here.
---
Central Beach Bazaar
Located next to the Sentosa's Beach Station, the Central Beach Bazaar offers new food concepts and fresh experiences such as musical fountain shows and the tallest water jet in Southeast Asia.
The highlight of Central Beach Bazaar is the International Food Street, a collection of various food concepts located in a mix of food trucks, kombi vans and upcycled shipping containers.
---
Air Combat Virtual Reality Experience
For Top Gun fans, you might like to try the virtual reality fighter jet experience located at Central Beach Bazaar. Guests can experience the thrill of aerial combat while soaring through skyscrapers. Find out more about Air Combat VR at Central Beach Bazaar.
---
Nestopia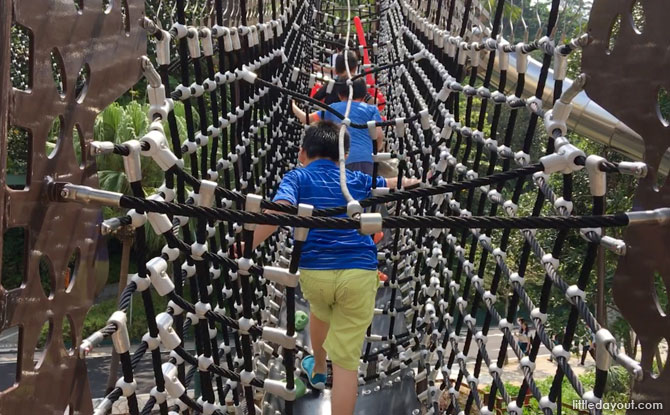 Nestopia at Siloso Beach has open spaces for kids to roam and play freely. It has climbing structures and obstacles to scale, walkway bridges to traverse and swinging ropes to hang from. There are shorter roped obstacles for toddlers and younger kids too.
---
Gogreen Segway
How about getting around Sentosa in the coolest way? Scoot around Sentosa on a Segway; opt for the Eco Adventure which is a 30 minute ride to explore Palawan and Siloso Beach. You can also choose a shorter 800 metre introductory ride!
---
Skypark Sentosa by AJ Hackett
Another extreme sport available in Sentosa is bungee jumping! AJ Hackett's Skypark has a 50 metre high bungy tower where you leap off! Jump head first or throw a flip off, choose your way of free falling. You can also take the Skybridge which is a 40 metre walkway with see-through section. Or take on the Giant Swing with friends. It swings at a speed of 120 km/h.
Take the plunge here
---
Scentopia
Go on a perfume tour and leave with your very own personalised fragrance at Siloso Beach. Explore an AR perfumery tour and take part in DIY perfume-making sessions at the perfume bar with a diverse selection of over 6000 Scented Wands to choose from. Follow the scent to Scentopia.
---
Magical Shores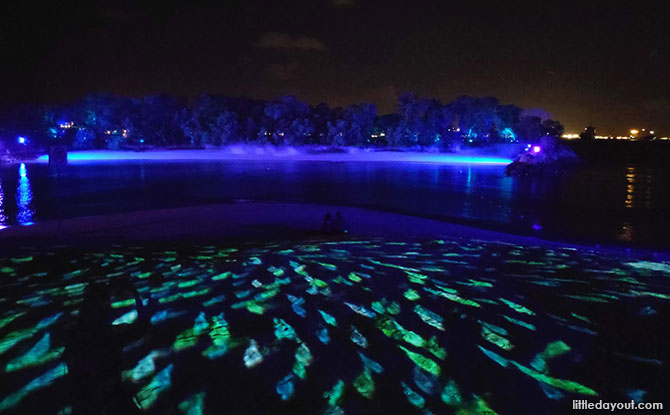 This free activity is a must-do! Magical Shores – the multisensory light show spans across a 400-metre stretch of Siloso Beach with projections on two islets. There are two main spots to enjoy and interact with the lights – each in front of the two islets.
---
Siloso Point Attractions
Fort Siloso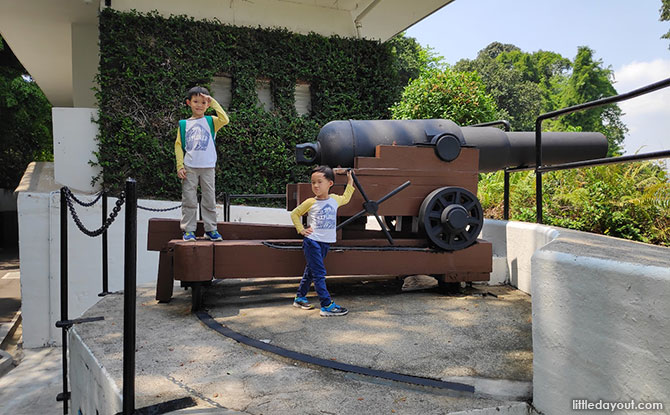 We think Fort Siloso is a must-visit, as it is the only preserved coastal fort in Singapore. It was built in 1870s, expanded and enhanced as late as 1941. During the Japanese Occupation, it was used as a prisoner-of-war camp.
Visitors can first head to the Fort Siloso Skywalk for a panaromic view of the shore and Singapore's Southern islands. Then venture into tunnel complexes and take the various trails as well as see the original gun emplacements. Visit the Surrender Chambers with wax figures, showcasing the two surrenders in Singapore. Finally check out Yip Yew Chong's Waves of the Straits murals at the base of the fort.
For a unique way to discover Fort Siloso, join a puzzle hunt and solve clues around the historic attraction.
---
Headrock VR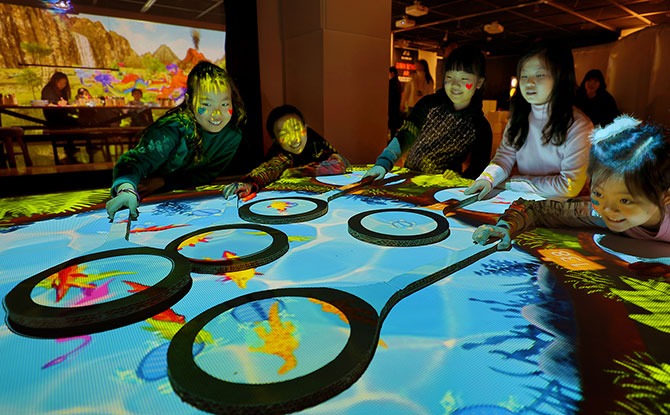 A virtual reality theme park? HeadRock VR, located at Southside, has eight different VR themes to experience. There are two zones, one for the kids and one for the big kids! The Kids Media Interactive zone has a futuristic children's playground that combines analogue and digital technology suitable for children ages 3 to 9. Buy your tickets here.
---
TrickEye Museum
Experience optical illusion exhibits which defy belief at TrickEye Museum at Southside. Use the Augmented Reality App to interact with exhibits in the AR Trickeye Zones. Get more details and book tickets here.
---
Palawan Beach Attractions
Hydrodash
Climb, slide, leap and bounce through HydroDash – Singapore's first floating aqua park. You can challenge friends, family and loved ones through this floating obstacle course. See if you can stay on the float for as long as possible! We have tips for you here.
---
Southernmost Point of Continental Asia

From Palawan Beach, Sentosa, cross a swinging suspension bridge to reach the Southernmost Point of Continental Asia. You can also climb up one of the two towers on this little islet to get a better view of the surrounds.
---
Kidzania (Open First Quarter of 2024)
Sim Leisure Group has announced that it will be bringing back the edutainment attraction KidZania to Singapore at Sentosa's Palawan Beach. The 7,600 square metre Family Entertainment Centre located at Sentosa's Palawan Beach where the original KidZania Singapore was housed will be refurbished. Some of the offerings that will be available at the refreshed KidZania Singapore will include jobs like being a YouTube Entrepreneur, an Animation Studio and Makers Space. Stay tuned for the details about KidZania Singapore.
---
Forest Play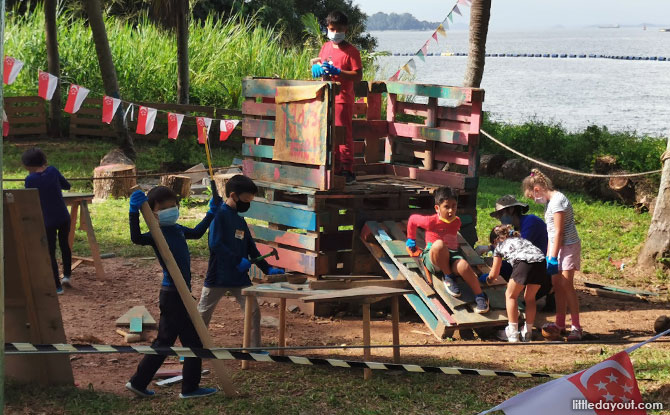 Located at Palawan Beach, ForestPlay is an adventure ground for children between the ages of 4 to 14 years old. Children are entrusted with real work tools like saws and hammers and, under supervision, encouraged to build and collaborate together in an outdoor environment. This is one of our favourite places in Sentosa.
Buy your tickets here.
---
Resorts World Sentosa
On the north side of Sentosa is Resorts World Sentosa, an integrated resort with a host of attractions, dining places and hotels.
Adventure Cove Waterpark
Adventure Cove has Southeast Asia's first hydro-magnetic coaster and also situated right next to S.E.A. Aquarium and that means you will get to see some of the marine creatures in the park. Plus, it has our ultimate favourite activity: snorkelling with 20, 000 marine fish.
Expect fast and thrilling rides, a gentle float down the Adventure River, get splashed and definitely wet at Adventure Cove.
---
S.E.A. Aquarium
Love marine creatures? Dive deep and see the splendour of the underwater world at S.E.A. Aquarium. It is home to more than 100,000 marine animals of over 1,000 species in 45 different habitats. See sharks, sting rays, jellyfish, turtles, dolphins and other exotic marine creatures.
Go beneath the waves here.
---
The Royal Albatross
Want to board a luxury yacht? Royal Albatross is four-masted ship. Book a sunset sail or a dinner cruise for an evening to remember. Tickets are available here.
---
Universal Studios Singapore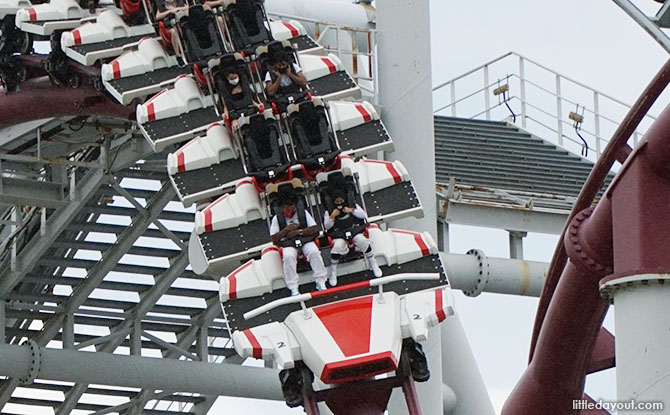 The biggest themed park in Singapore – Universal Studios Singapore – is where many families love to flock to. Southeast Asia's only Universal Studios has what everyone looks for – adrenaline pumping rides, interactive shows, attractions based on blockbuster movies and television series.
Head to the most popular rides – Transformers The Ride, Revenge of the Mummy and junior rollercoasters such as Puss In Boots, Battlestar Galactica. Meet the characters for photo-taking, strike a pose at the themed attractions and tuck into your favourite snacks!
---
Hotels & Staycations on Sentosa
Looking to stay at one of Sentosa's hotels or resorts?
Siloso Beach Hotels
Shangri-La Rasa Sentosa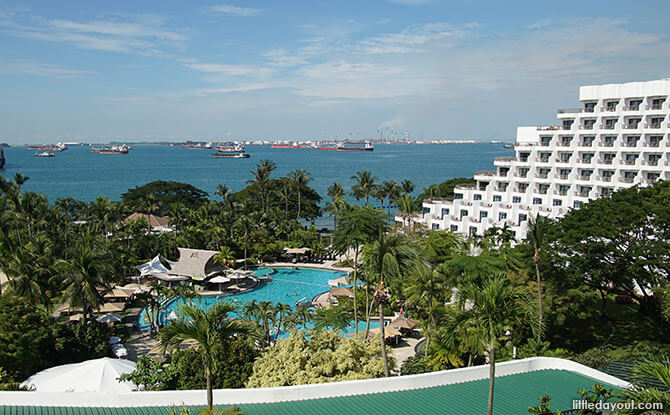 A popular destination for families – Shangri-La Rasa Sentosa has its own private beach and lagoon! Lazing about a gorgeous pool, an indoor play centre for the kids and fun activities at the beach – a staycation at Shangri-La Rasa Sentosa Resort & Spa staycation is all you could want from a relaxing family getaway. Tucked away at Sentosa's Siloso Point, a staycation at the resort offers the promise of an escape from busy city life to a tropical, resort-style experience.
Book your Sentosa getaway here.
---
Siloso Beach Resort
For those who prefer a frills-free option, Siloso Beach Resort is conveniently located a quick walk away from Beach Station and near the eateries at Siloso Beach. The eco resort boasts 156 rooms, 10 family rooms, 16 roof garden suites and 12 villas built over eight levels on a hillside.
---
Palawan Beach & Tanjung Ridge Hotels
Village Hotel Sentosa
Village Hotel Sentosa has rooms for families and four themed pools! It is a getaway for families who wish to spend some bonding time together. Other hotels in the same group and around the same vicinity include the Barracks Hotel Sentosa, a luxury heritage hotel, and the Outpost Hotel, a stylist hotel targeted towards couples.
Make a booking at Village Hotel Sentosa, The Outpost Hotel Sentosa and The Barracks Hotel.
---
Amara Sanctuary Resort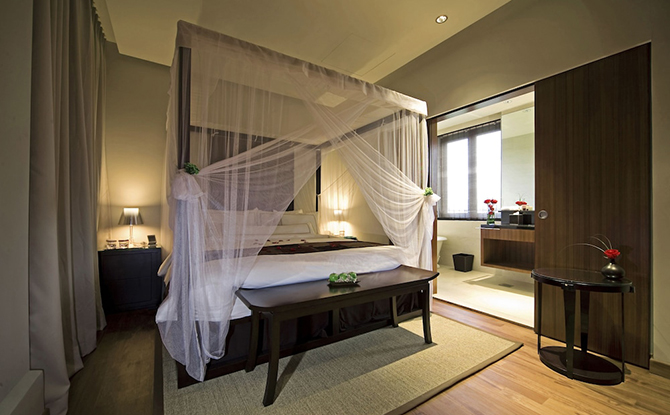 Amara Santuary Resort Sentosa is a luxury resort with suites, villas and a mansion for guests. The tranquil resort has a private pool for guests in suites amidst lush foliage and amenities like a spa.
---
Capella Singapore
Capella Singapore is exudes luxury and sits in a restored colonial military building. It has amenities that would please the fussiest of guests – triple tier infinity pool, gourmet restaurants and more.
---
Oasia Resort Sentosa
Oasia Resort Sentosa is a popular destination for guests who wish to getaway and relax. Choose from a selection of wellness itineraries, each is designed by health experts to improve fitness, nutrition and mindfulness.
Book your wellness retreat here.
---
Resorts World Sentosa Hotels
Hotel Michael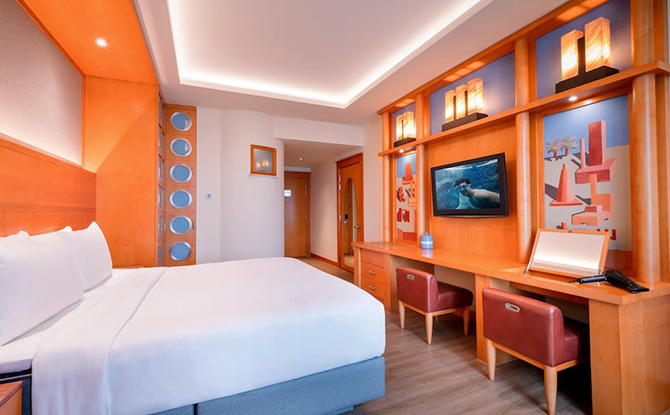 Hotel Michael pays tribute to America's contemporary architect Michael Graves. All rooms are designed to look like a gallery with mural-adorned walls and artistic furnishings. It is the closest hotel to Universal Studios Singapore.
Choose your artsy staycation here.
---
Hard Rock Hotel
Modern glamour meets cutting edge contemporary design. Hard Rock Cafe Hotel also has one of the best pools in Singapore. It is close to many of Resort World Sentosa's attractions.
---
Sentosa Cove Hotels
One15 Marina Sentosa Cove
Head on a staycation just next to private yachts at One15 Marina at Sentosa Cove. This waterfront staycation has an infinity pool, balcony with a guaranteed view as well as a children's arcade. Rooms are nautical-themed, naturally, and face the cove.
---
W Sentosa
Another luxury hotel, W Sentosa is a hotel under Marriott International which overlooks Sentosa Cove. Its vibrant interiors and huge pool is perfect for family staycations.
---
Where to Eat on Sentosa
There is a huge variety of food and beverage options available on Sentosa. From beach bars, local delights, fast food, Western fare and family-friendly spots, there are plenty of choices on the island. Here is a selection of places to eat on Sentosa.
Trapizza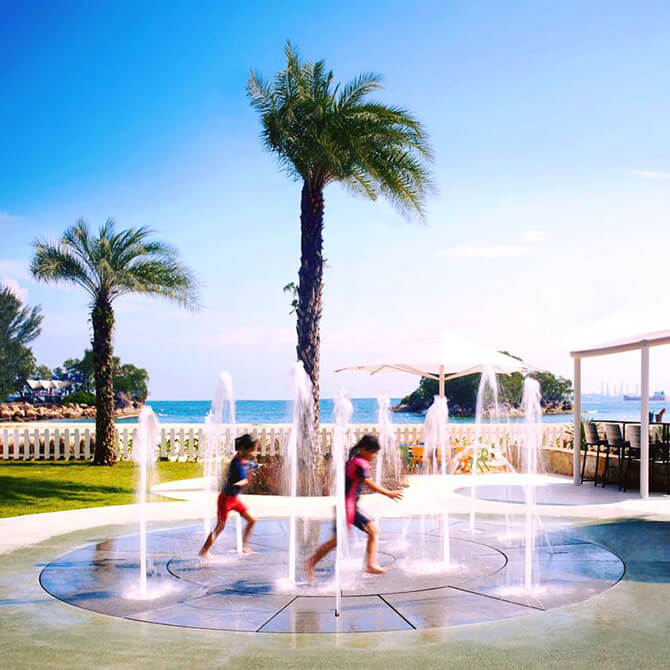 Renowned for its wood-fired, thin crust pizzas, Trapizza is a family-friendly Italian restaurant along Siloso Beach. It is perfect for casual dining with the kids after a day out on Sentosa's beaches. Children can also play at its fountains, mini playground and sandy strip while parents focus on their meal.
---
Coastes
Also located at Siloso Beach, Coastes beach bar and restaurant has a laid-back beach vibe with sunbeds and deck chairs. Get beers, beach cocktails, beach food, desserts at this distinctly blue and white dining spot.
---
Baristart Coffee
Need a coffee break? Get your caffeine dose from Baristart Coffee at Siloso Beach. It serves soft serve and other desserts too!
---
Ola Beach Club
Ola Beach Club lets guests sunbathe on the day beds while sipping cocktails or grabbing quick bites. There is also a pool which is perfect for a splash right after visiting the beach. The menu is inspired by Hawaiian cuisine, perfect for beach-goers.
---
Tanjong Beach Club
Tanjong Beach Club, located on Tanjong Beach, welcomes pets and families to dine at their sun-soaked outlet. This lively beach club transforms into an elegant dining room in the evenings.
---
Panamericana
Overlooking the Sentosa Golf Course, Panamericana is hidden away from crowds and is a top spot for families. Sip wine and delight in Argentinian and Latin American flavours.
---
Resorts World Sentosa
Resorts World Sentosa makes for an ideal meal-stop. It has plenty of casual dining eateries like Din Tai Fung, LeNu, Putien, Paradise Classic as well as street fare at Malaysian Food Street. Something that is easy and quick is McDonalds.
---
Quayside Isle, Sentosa Cove
The food enclave at Sentosa Cove includes Gin Khao, Blue Lotus, Greenwood Fish Market and whole variety of restaurants. We love the breeze as we dine al fresco style.
---
Interim Market at Southside
From pizzas to cocktails, seafood to beers, tickle your tastebuds with some of the newest brands at Southside. The Interim Market is located next to Fort Siloso. Get more details here.
---
How to Get to Sentosa
Sentosa is accessible by car, bus, monorail, cable car and on foot.
For those heading to Sentosa by train, take the MRT to Harbourfront Station, which is found on the North-East Line. From the MRT station, enter the VivoCity shopping mall. Head up to the third floor of the mall to reach the Sentosa Express Monorail Station. Purchase a train ticket to take the train and ride it into Sentosa.
Those who are planning to take the bus can take bus number 123 to directly enter Sentosa.
For those who are taking a car or taxi into Sentosa, entry is via the Sentosa Gateway bridge.
You may also be interested in the Sentosa Islander membership where you can earn points to redeem for vouchers and other perks.
It is also possible to walk to Sentosa using the Sentosa Boardwalk.
This story contains affiliate links. This means we earn a small fee if you purchase something through a link from our website. There is no additional cost to you and goes towards supporting Little Day Out's efforts to deliver the best news and reporting for families.