Resorts World Sentosa's Adventure Cove Waterpark offers more than just thrills and spills.
A visitor looking for fast slides and splashing fun won't be disappointed, but the Adventure Cove Waterpark also offers a whole new dimension of exploration with its immersive water programmes.
Between the waterslides and marine life at Adventure Cove Waterpark you will be scooting to try out everything. When you are done, you can take a break before heading back out again.
Adventure Cove Waterpark's Adventure River
The best way to get started at Adventure Cove Waterpark is to sink into a tube and float along the Adventure River. This long and winding lazy river encircles Adventure Cove Waterpark. Enjoy the journey as the Adventure River meanders through a mysterious Grotto, an Aquarium Tunnel teeming with fish and past the Ray Bay. Sounds of a mysterious forest resound along the river, surprising waterfalls and hidden ruins lie just around the corner on this 620-metre long channel.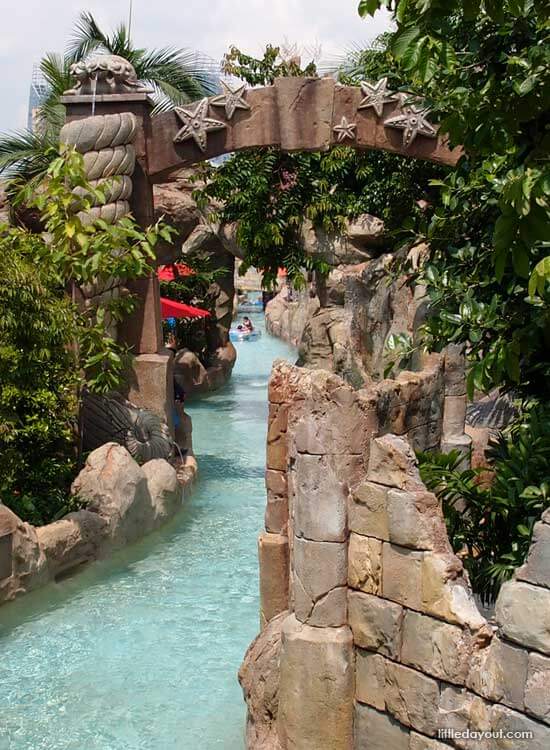 The Adventure River is 0.9 metres deep and visitors can also swim along the river if they wish. Young children and weak swimmers should don a brightly coloured life vest before going into the river.
Bluwater Bay
At the heart of the waterpark is Bluwater Bay, Adventure Cove's wave pool.
Waves start up every 15 minutes. When that happens, watch everyone quickly make their way into the pool to catch a wave. The waves rise up to 2 metres, children should put on one of the provided life jackets and be closely supervised, even though there are lifeguards keeping vigilant watch over this favourite attraction at Adventure Cove Waterpark.
Water Slides
Adventure Cove Waterpark's slides flank Bluwater Bay. To the left are the Spiral Washout and Whirlpool Washout, while the remaining slides, Tidal Twister, Pipeline Plunge, Ripetide Rocket and the Dueling Racers are to its right.
They are roughly laid in order of excitement and work their way from left to right. There are height limits on the various slides; check before embarking on them.
A good thing about these rides (except the Dueling Racers) is that they each have two-person float options. This means a parent-child pair can take them on together, helping even a timid child muster up the courage to give them a whirl.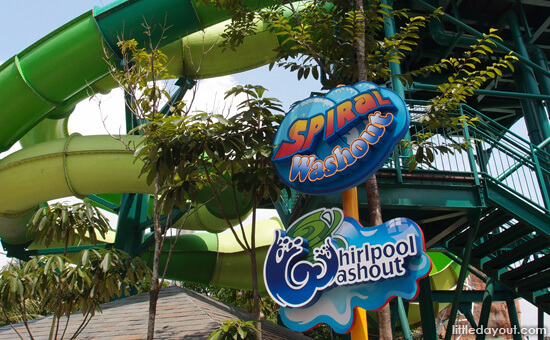 At the Spiral Washout, a series of spirals lead to an open cone before heading back into another series of spirals. The Whirlpool Washout literally sends riders in a huge bowl, swirls them around before flushing them down a chute. When we went on it, we ended up going down the chute backwards!
On the other side of Bluwater Bay are the Tidal Twister and Pipeline Plunge. The Tidal Twister sends riders down the slide rocking side-by-side while the Pipeline Plunge gives a fast ride that is over too soon.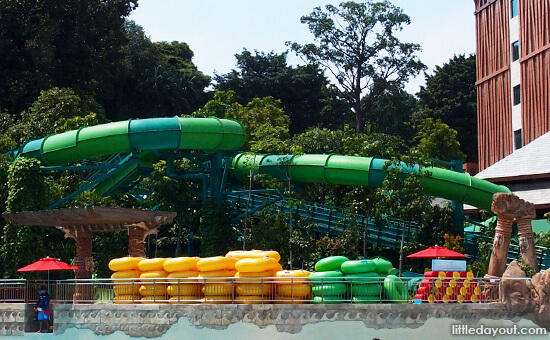 Our favourite water slide at Adventure Cove Waterpark has to be the RipTide Rocket. This is a hydromagnetic ride – a fancy way of saying the boat you sit on for the ride will be accelerated by a series of magnets.
And accelerate it does as you will find out along the different stretches of the ride. The anticipation starts when you sit in the boat and get pulled up a conveyor belt – in rollercoaster style – to the top where you are released into the thrilling ride.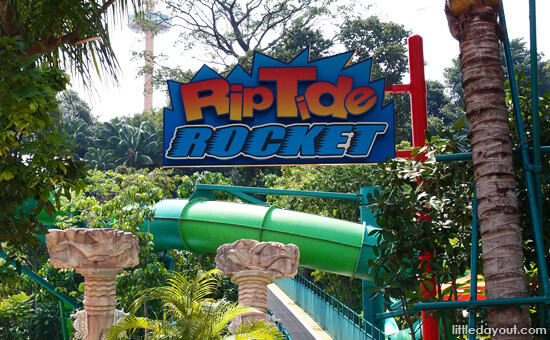 The Dueling Racer is the final water slide and it is straightforward drag race between two persons in prone position, side-by-side.
Why is the Treehouse Raining?
These slides are great fun for older kids. However, with the minimum height requirement, there is a problem of what to do with younger (or shorter) children.
Adventure Cove Waterpark's Big Bucket Treehouse is a fun hideout for younger ones. Water depth here is only 0.3 metres and there are cargo nets, spray guns and water buckets in this water play area which looks like it has sprung a leak. Two gentle slides allow young kids to experience the joys of being flushed down a ramp as well.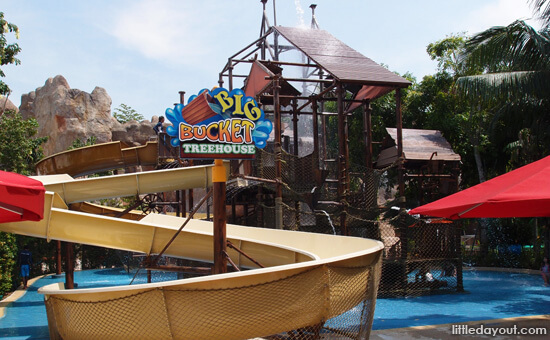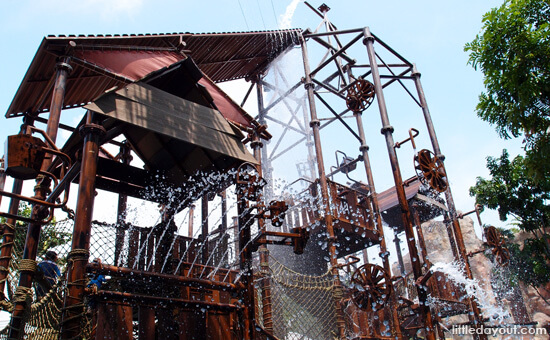 There is also a shallow wading pool, the Seahorse Hideaway, just next to the Dueling Racer ride. Spouts of water splash into the pool. Parents can keep a watchful eye over the kids from the nearby cabanas.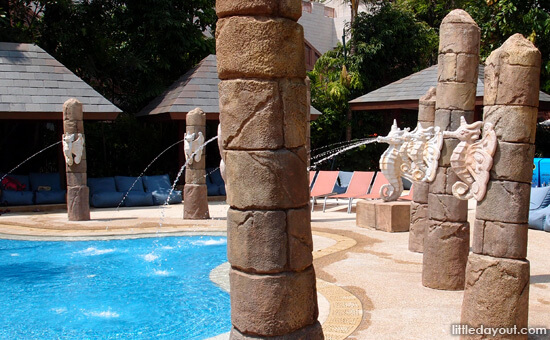 Other things you may end up doing with under 5 years olds are hanging out at Bluwater Bay or making rounds along the Adventure River.
Meet the Cove Residents for an Adventure
When you want to give the thrills a short break, there is still more to see.
Adventure Cove Waterpark offers encounters with marine life.
Rainbow Reef gives visitors a chance to snorkel with a multitude of fish over a coral reef environment. Even if you have never snorkelled before, you can strap on a personal floatation vest, mask and snorkel for this amazing experience. Just be prepared and get used to the REALLY cold water.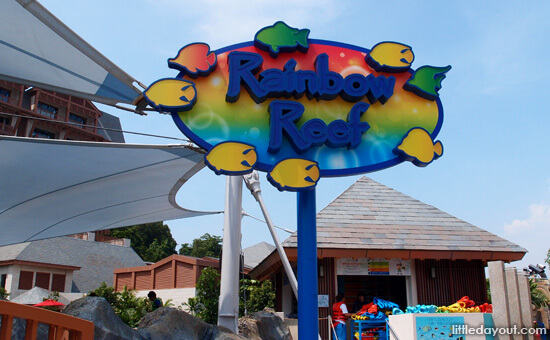 First-timers should practise getting used to breathing through the mouth with a snorkel before embarking into the tank. Once you do, you will find yourself surrounded by thousands of fish.
We were amazed that none of them seemed to run into us and the coral surroundings made us forget we were in a tank in a waterpark. It was truly a highlight of our visit to Adventure Cove Waterpark.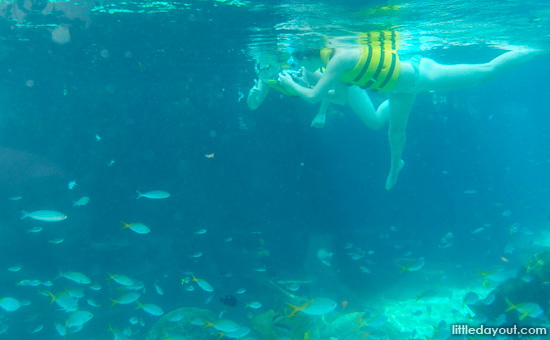 You need to be a competent swimmer to go into the Rainbow Reef as the water gets as deep as 2.9 metres. Children who meet this requirement (and a minimum height of 107 cm) can also take part in this experience.
Adventure Cove Waterpark's Ray Bay
Over at the Ray Bay, visitors get a chance to put on boots and gloves to feed velvety rays.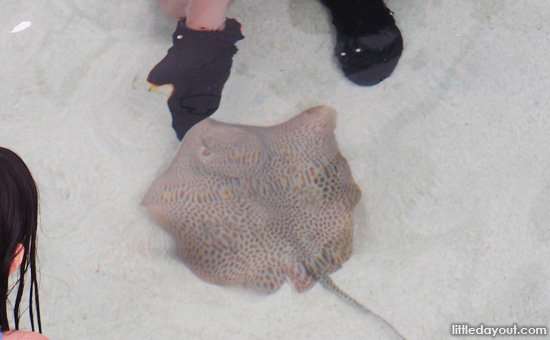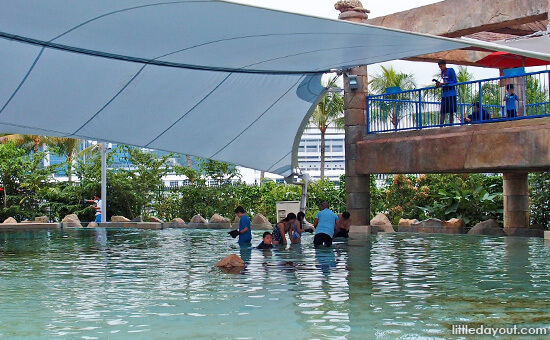 Challenge Yourself
Rounding up the attractions at Adventure Cove Waterpark is Splashworks, a water-based obstacle course at the rear of the park. There is a balancing beam, rope bridge and a victory bell for those in need of some friendly competition.
Information about Adventure Cove Waterpark
A day out to Adventure Cove Waterpark is a great fun. You can easily spend a couple of hours there and once is never enough on the rides. Even on the Adventure River.
The place is full of lifeguards. There is at least one at each attraction, even at the Seahorse Hideaway wading pool. Along the Adventure River, they are lined up like secret service agents.
Facilities
Lockers are available near the park's entrance and at Bluwater Bay. These are a bit pricey at $10 for a small locker and $20 for a big locker per day. However, they can be opened and closed multiple times throughout the day. If you come early, you may wish to try to get the locker at Bluwater Bay. This is so you can avoid having to walk back to the entrance each time you need something from the locker.
Changing rooms can also be found at the entrance and at Bluwater Bay, although the number of shower facilities will probably be insufficient when the park is at full capacity. For families with young kids, there is also children's restroom near Bluwater Bay.
Other facilities at RWS' Adventure Cove Waterpark include a restaurant and food stands.
The RWS Marine Life Park Adventure Cove Waterpark has the makings of a great Little Day Out. Remember to observe water safety, slap on some sunscreen, and after that, let the fun begin!