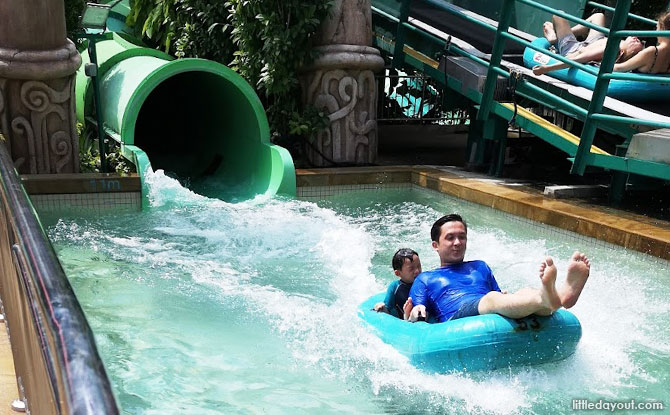 Who doesn't love water parks in our tropical climate? Get wet in many fun ways at Adventure Cove, RWS Sentosa!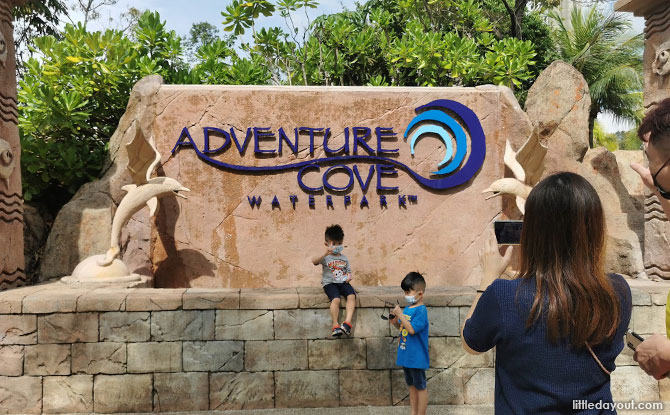 Adventure Cove has Southeast Asia'a first hydro-magnetic coaster and also situated right next to S.E.A. Aquarium and that means you will get to see some of the marine creatures in the park. Plus – our ultimate favourite activity: snorkeling with 20, 000 marine fish.
Expect fast and thrilling rides, a gentle float down the Adventure River, get splashed and definitely wet at Adventure Cove.
---
-- Story continues below --
Adventure Cove Water Park Orientation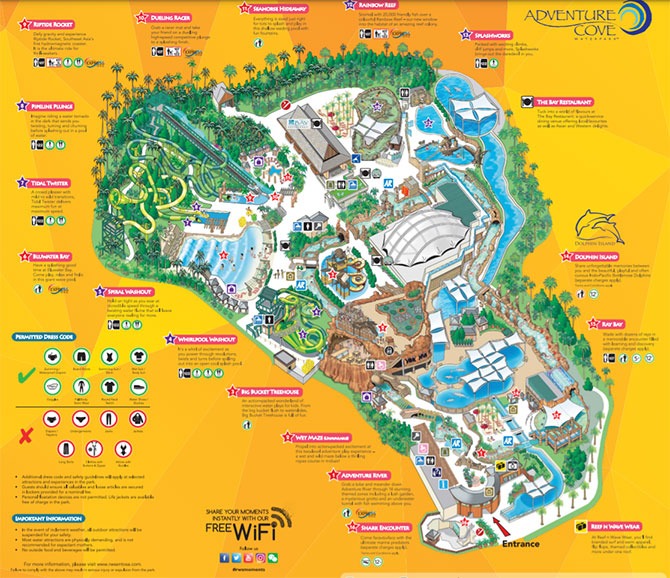 There are 15 segments to check out at Adventure Cove, and we will take you through most of them, protips included. Given that it is a popular destination, do be sure to start getting in line by 9.45am as the water park opens at 10am. We experienced long queues recently, possibly because of safe management measures and holiday crowds, especially at popular rides.
As you enter the park, you will see the washrooms and lockers on the left while the souvenir shop – Reef N Wave Wear on the right. Before you decide to rent a locker – small ones at $10 per day and larger ones for $20 a day with unlimited access, do walk right into the park to lockers situated across Dueling Racer as it is less crowded and bathrooms within reach.
Masks will need to be worn only when you are queuing up for food and drinks, so bring along a waterproof pouch to store masks, water bottles and other essentials.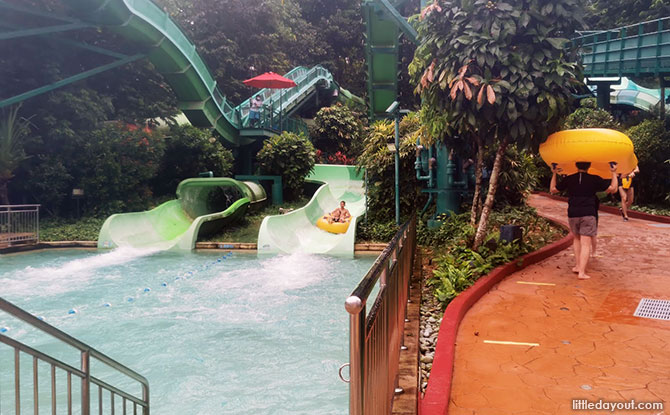 The middle section of the park consists of the water slides – height and weight restrictions apply.
Bluwater Bay commands a strong crowd and queue, only 50 people are allowed into the bay at any one time. We would strongly recommend making a beeline upon entry.
Or you could head to the furthest end of the park where Rainbow Reef and Splashworks are. At the time of visit, Rainbow Reef and Splashworks were opened at different times. So be sure to visit Rainbow Reef early before it closes at 1.30pm.
Due to SMM, queues tended to form to restrict the number of people at a certain spot. Hence, it would be wiser to strategise prioritising popular rides like Riptide Rocket, Bluwater Bay and Rainbow Reef.
---
The Thrilling Rides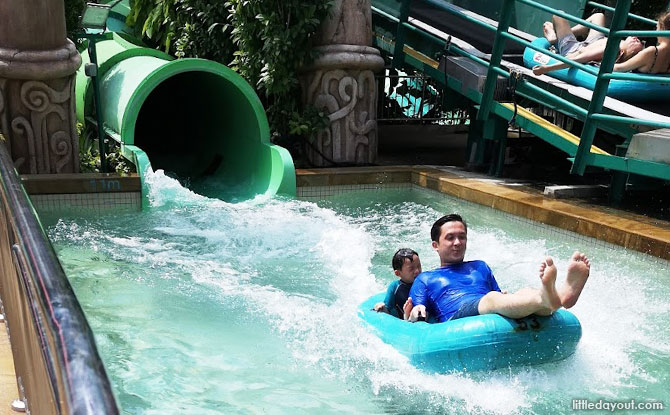 There are six thrilling rides and slides to take, mostly for children above 122cm. For children between 107 to 122cm, the Riptide Rocket and Dueling Racers are great options.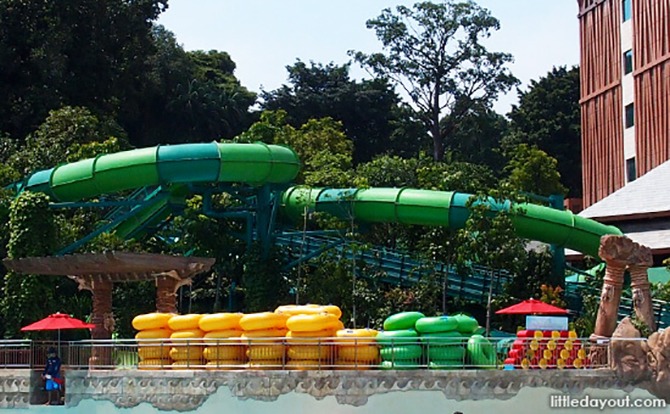 Riptide Rocket, perhaps the ride with the longest queue, is a hydromagnetic coaster that simulates a roller-coaster ride for adrenaline junkies. Riders are transported up on a conveyor belt on a tube slide to the top and released into the ride like a rocket and in a matter of minutes flushed into a pitch dark tunnel to the end.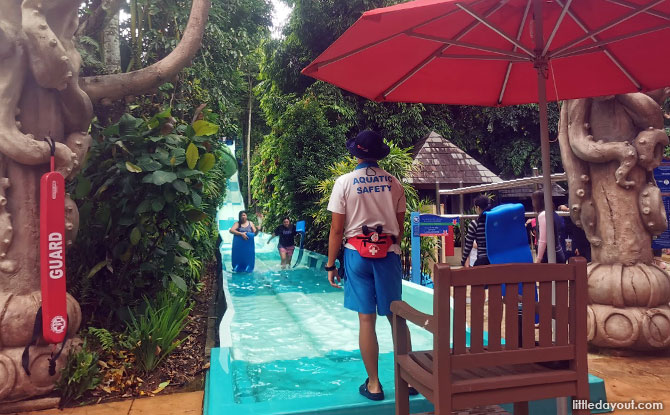 Dueling Racer is situated right next to Riptide Rocket, consists of dueling on a racer mat down a slide.
Pipeline Plunge, Tidal Twister, Spiral Washout and Whirlpool Washout are other rides consisting of swirls, spins and plunges.
---
Bluwater Bay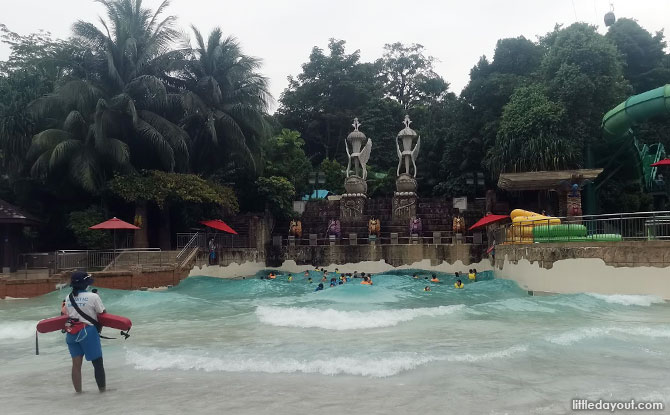 We were told Bluwater Bay was the best wave pool in Singapore. Queues were testament to this fact as only 50 people are allowed into the bay in one session. Two-metre high waves might knock you off your feet. Waves start up every 20 minutes, once the session is over, a fresh batch of visitors can enter the bay.
Life jackets are recommended especially for children.
---
Rainbow Reef – Snorkeling amidst the Marine Life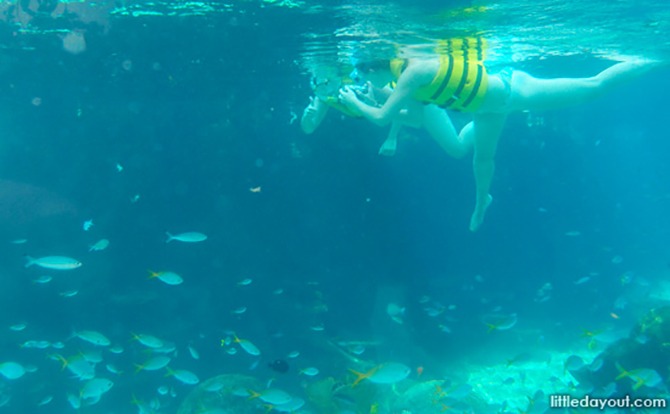 We love Rainbow Reef as it offers a unique opportunity to snorkel in a safe environment with plenty of fish and lifeguards around. Snorkeling in the open sea can be an intimidating experience, hence Rainbow Reef is an absolutely noob-friendly spot to start under-the-sea adventures!
Children will need to be a minimum height of 107cm to enter Rainbow Reef. Each visitor will have to wear a life jacket when entering the tank.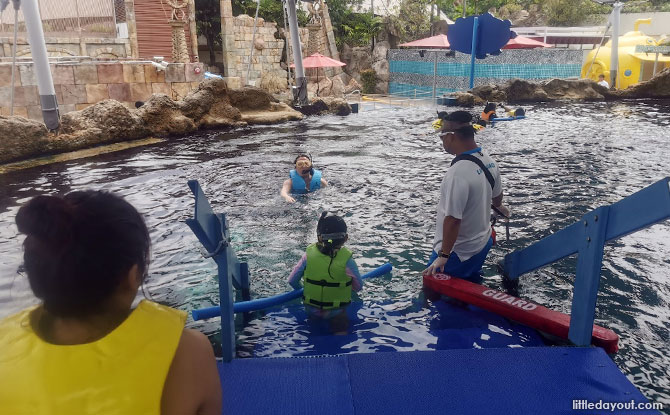 First-timers should get used to breathing through the mouth. Swallowing bits of salt water might be a common occurrence, simply breath slowly and try not to swallow the water. What will greet you in the water will be the myriad of sealife – Sea Stars, schools of fish and spot Dory – the Blue Tang. Our efforts to try to touch the fish were in vain obviously, as they would deftly swim out of our reach.
---
Splashworks – For Tweens, Teens and Adults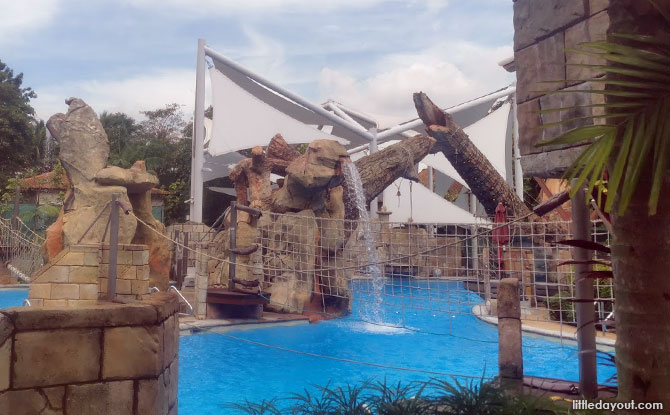 Prove you are the ultimate daredevil at Splashworks! This is a water-based obstacle course at the furthest end of the park. Expect exciting cliff jumps, balancing beam, rope bridge and a victory bell only for those who can deftly climb up an inclined wall before jumping straight into the 2.9m deep pool.
---
Water Fun for Everyone in the Family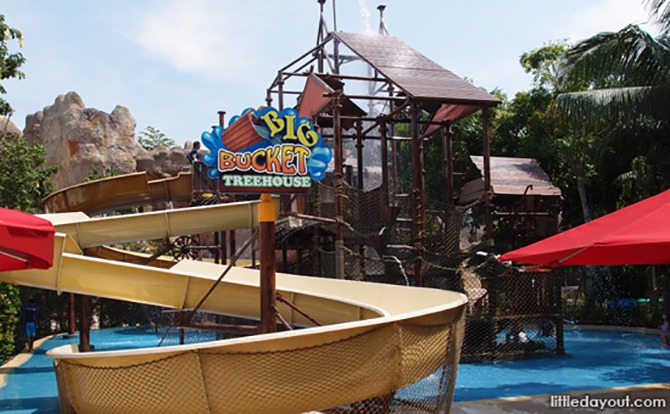 There is something for everyone at Adventure Cove. For the preschoolers, they would enjoy Big Bucket Treehouse! The water depth is a mere 0.3m, there are cargo nets, spray guns and water buckets to make everyone soaking wet.
While there are two slides, one of them is closed due to SMM. There is a bit of queue time for the only slide which is gentle and apt for the younger children.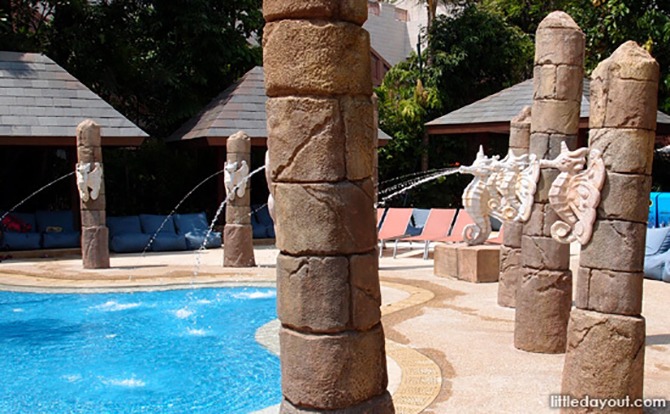 There is also a shallow wading pool – the Seahorse Hideaway next to Dueling Racer. The number of visitors to the pool is restricted as of now.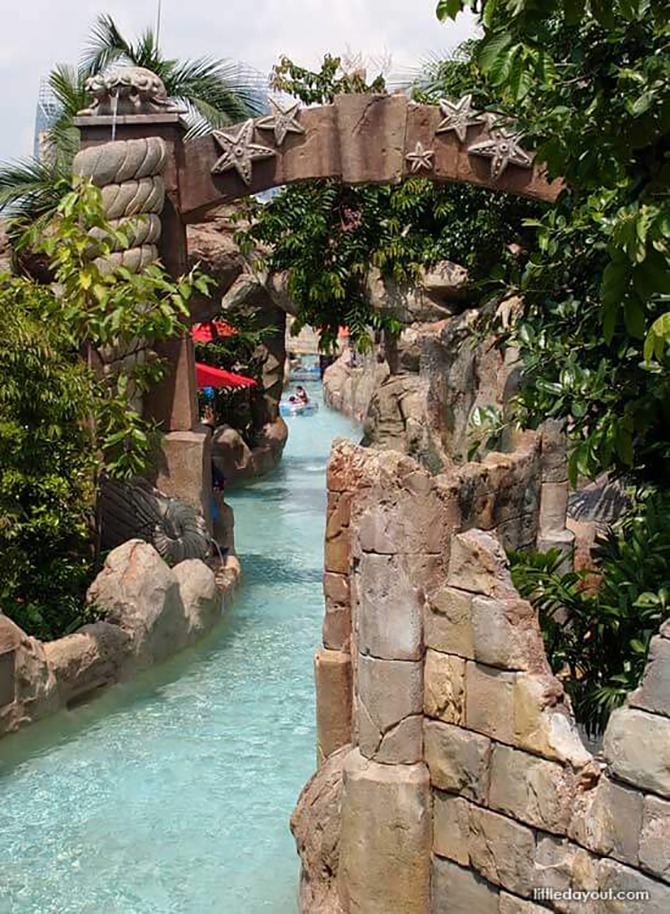 Visitors can end with Adventure River, which is a lazy river winding around Adventure Cover Waterpark.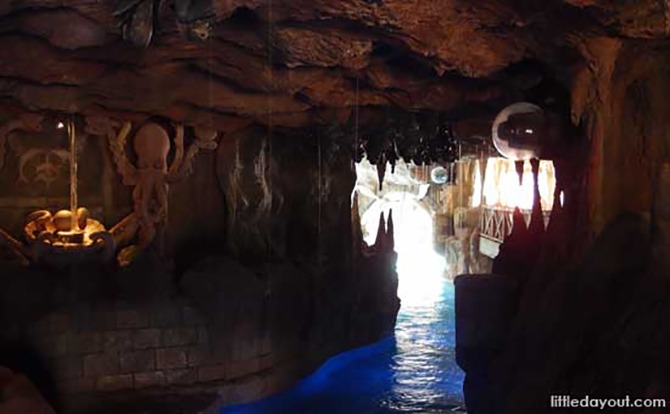 It meanders through a dark Grotto with bats and treasure boxes, …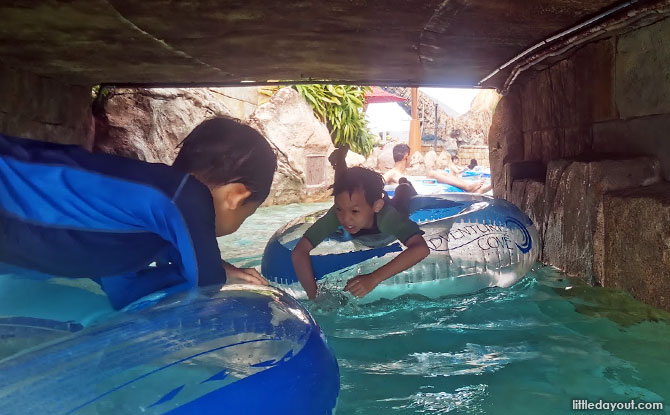 … an Aquarium Tunnel teeming with riverfish, past the Ray Bay where enthusiastic rays and sea turtles are close by. You may even try to steal a peek at the dolphins, just look out of the barriers once you see dolphin sculptures!
Enter the Adventure River near The Bay Restaurant, this is where you can have access to the tube floats since floats near the entrance are quite limited.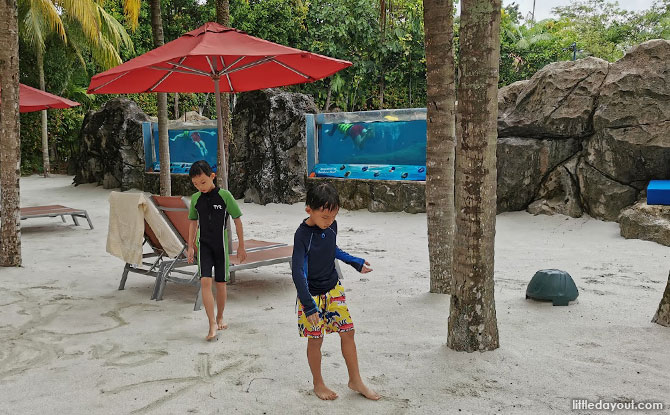 We would also recommend families visit the sandy spots in Adventure Cove for the adults to take a break from the heat on the deck chairs while watching the children play with sand.
Sadly, Wet Maze is currently closed at the moment.
---
Water Safety and Life Jackets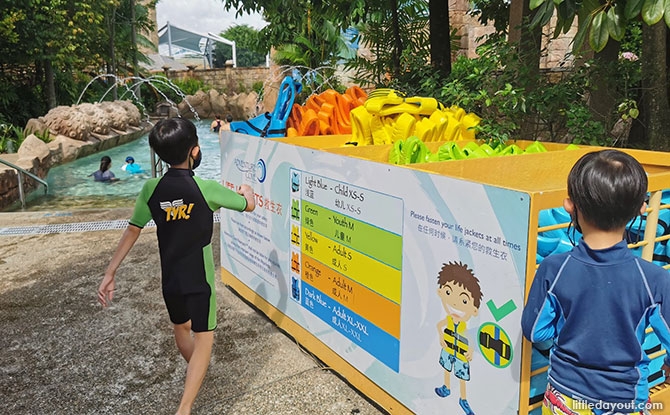 Googles and floats are not mandatory as every visitor can wear a life-jacket. However, parents should supervise their child at all times. Although there are lifeguards keeping vigilant watch in many parts of Adventure Cove Waterpark, parents and caregivers should be mindful of slippery surfaces, steps and other potential hazards.
---
Premium Add-ons at Adventure Cove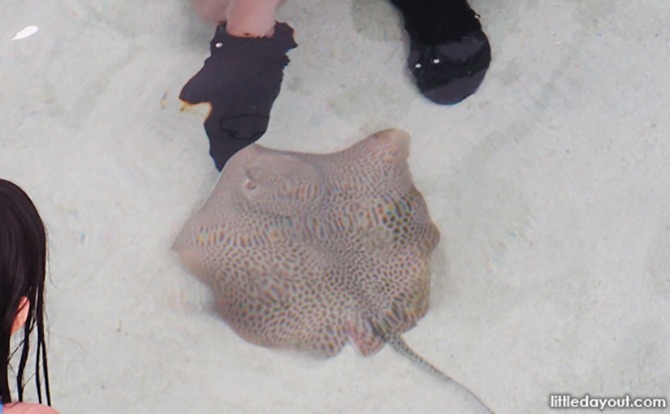 If you would like a close encounter with marine creatures, you can check out Ray Bay and feed velvety rays or meet sharks face-to-face at Shark Encounter. Dolphin Island lets you meet the dolphins up close too!
For a more comfortable stay at Adventure Cove, you could also rent a Cabana to chill in a sheltered and private spot.
Separate charges apply.
---
Other Essential Information for a Day at Adventure Cove
During our recent visit to Adventure Cove, The Bay Restaurant was not open, this meant limited options of food & drinks at kiosks. Since the kiosks served mainly snacks, don't expect wholesome meals. Alternatively, bring your own food especially if you have dietary concerns.
One protip is to wear aquashoes throughout the visit so you don't need to walk around barefoot.
For more about Adventure Cove, click here. Do plan you visit and book a timeslot in advance. Play safe and have a whale of time!
Opening hours: Fridays to Sundays, 10 am to 5pm.