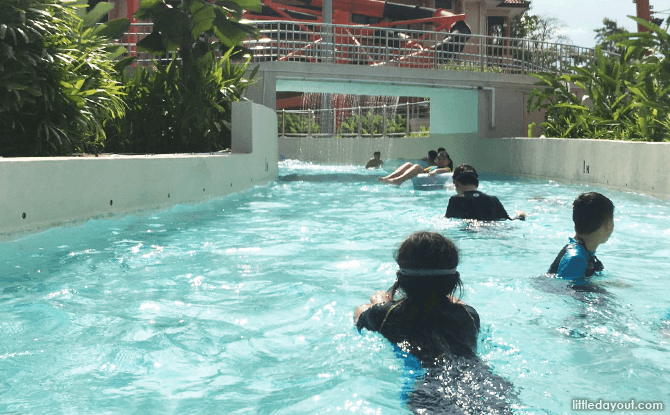 There is something relaxing about floating along a lazy river and, thankfully, there are quite a few lazy rivers in Singapore. From jungle-themed lazy rivers to ones with curtains water, you can look forward to drifting along leisurely at various lazy rivers around Singapore.
Here are the locations where you can find lazy rivers in Singapore. Ready? Grab your float and here we go.
Lazy Rivers in Singapore
Adventure River, Adventure Cove, Resorts World Sentosa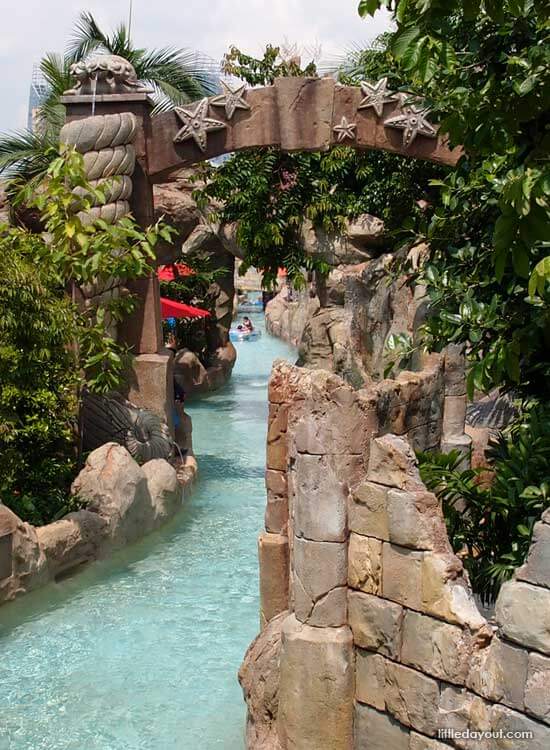 Adventure River, at RWS' Adventure Cove Water Park, is the longest lazy river in Singapore. You will feel as if you have ended up in an adventure movie set as you float along the 620-metre long lazy river. There is grotto with bat statues hanging from the ceiling, a tunnel filled with fish swimming all around you and Ray Bay where you can watch stingrays waving at you as they glide by. Adventure River is one of the nicest lazy rivers in Singapore.
Shiok River, Wild Wild Wet
The lazy river at Wild Wild Wet is known as the Shiok River. The 335-metre lazy river encircles the Professor's Playground childen play area and the slide tower where rides such as Torpedo and Ular-lah can be found. There are water curtains along the river and some underwater surprises too.
Jurong East Swimming Complex Lazy River
Jurong East Swimming Complex has a lazy river with a current that moves along pretty quickly. It is located next to Jurong East Swimming Complex's wave pool, making it convenient to scoot out of the lazy river and to the wave pool once oscillations start. You can rent a float for a small additional fee to take into the lazy river.
Jurong West Swimming Complex Lazy River
Another swimming complex in the west of Singapore with a lazy river. This one at Jurong West also has water curtains along its tiled channel and a depth of 0.8 metres. You can also choose to rent a float for an additional fee and chilled-out drifting around the lazy river.
Choa Chu Kang Swimming Complex Lazy River
What is it about the West and lazy rivers? The Choa Chu Kang Swimming Complex, in the Northwest of Singapore is also home to another windy, lazy river.
Splash N' Surf Lazy River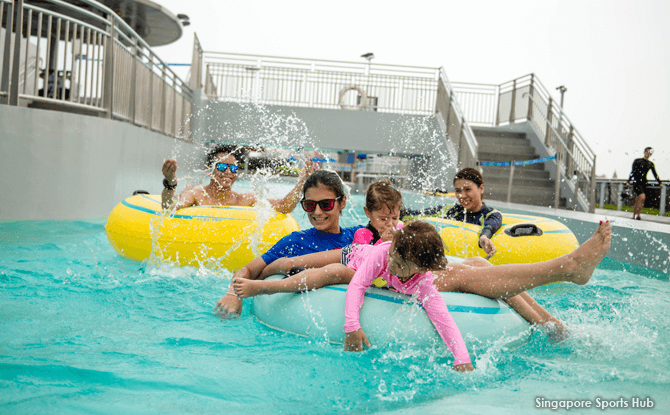 The Splash N' Surf Lazy River at the rooftop of Kallang Wave. There is an entry charge to make use of the lazy river (unlike the use of the children's play area nearby). If you sign up for the Stingray wave rider, you will also get admission to the lazy river. The Splash N' Surf Lazy River is open from 8 a to 10 pm daily and has a depth of 1 metre.