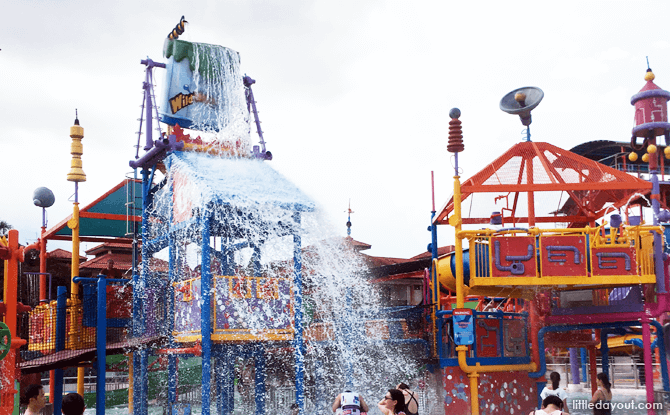 Whether you are there for the thrills or just to splash around with junior, water parks can be great fun. And, thankfully, we have more than a few water parks in Singapore where you can soak in the fun.
Water Parks in Singapore
These water parks in Singapore are places where you will find play structures and different rides to keep up the fun. Water slides are almost mandatory and having other watery amusements such as water cannons doesn't hurt either.
In this feature, we round up 15 water parks in Singapore, including swimming complexes and a few other water spots, that you can turn to for a fun and wet day out.
---
The Big Ones
Wild Wild Wet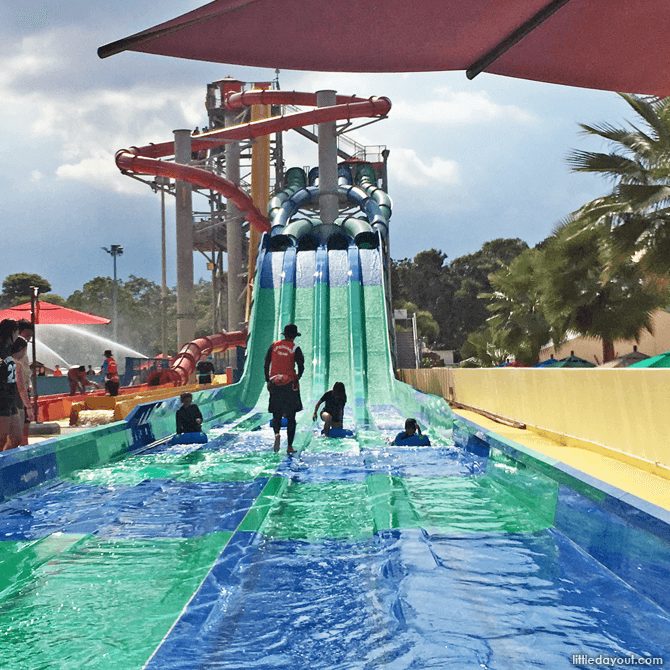 ---
-- Story continues below --
The granddaddy of water parks in Singapore, Wild Wild Wet is located in Pasir Ris at Downtown East. It has a range of rides and attractions that will appeal to everyone. Families with young kids can enjoy child-friendly water play areas and slides around the water park. The more daring can take on body slides and 360-degree loops. Wild Wild Wet also has a lazy river and wave pool. It is a place where you can easily spend hours of fun splashing around under the sun. Read more about the attractions and rides at Wild Wild Wet here.
Address: 1 Pasir Ris Close, Singapore 519599
---
Adventure Cove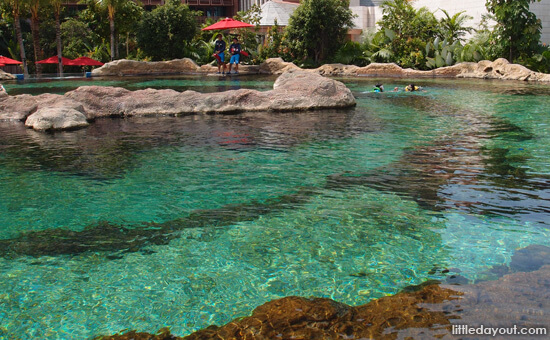 Located at Resorts World Sentosa, Adventure Cove is a water park that takes its commitment to "adventure" seriously. This is reflected in the park's Indiana-Jones-meets-Tomb-Raider look along its lazy river and at the wave pool. A key differentiator of the Adventure Cove water park from the others is its integration of marine animals into the visitor experience. The lazy river flows past a bay full of rays and the Rainbow Reef attraction allows adventurers to swim amongst schools of fish. Adventure Cove is also home to Singapore's only water coaster, Riptide Rocket. Get more details here.
Address: 8 Sentosa Gateway, Singapore 098269
---
LEGOLAND Water Park, Malaysia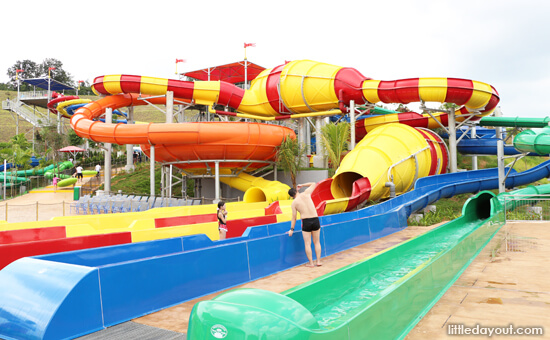 Okay, this is not in Singapore but, since it is only twenty minutes away AFTER you clear the Tuas Second Link, we had to include it. The LEGOLAND Water Park at Nusajaya, Johor is part of LEGOLAND Malaysia Resort. It is filled with plenty of fun water rides and slides, many of which are suitable for younger children and families. You can even choose to stay overnight at the LEGOLAND Hotel and spend a day exploring the neighbouring LEGOLAND Theme Park too. Read more here.
Address: 79100 Nusajaya, Johor, Malaysia
---
Fun For Kids
Splash @ KidzAmaze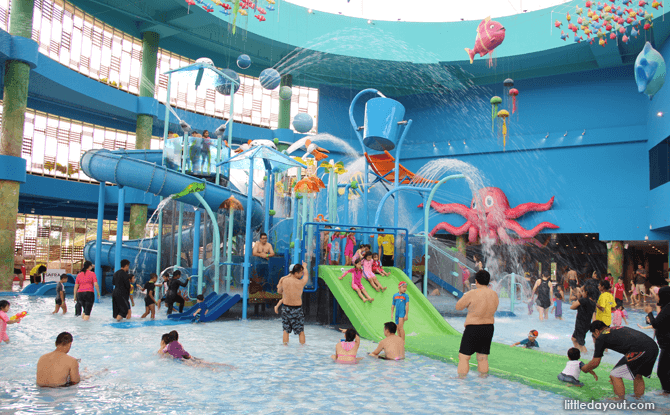 Located at SAFRA Punggol, Splash @ Kidz Amaze is a water park in Singapore just for kids. It is a sister facility to the other SAFRA Kidz Amaze play facilities such as the sprawling Kidz Amaze indoor playground at SAFRA Toa Payoh and the towering one at SAFRA Jurong. The Splash @ Kidz Amaze water park also holds the distinction of being indoors and sheltered. This means that kids get their water play whether rain or shine. Find out more here.
Address: 9 Sentul Crescent, Level 3, Singapore 828654
---
HydroDash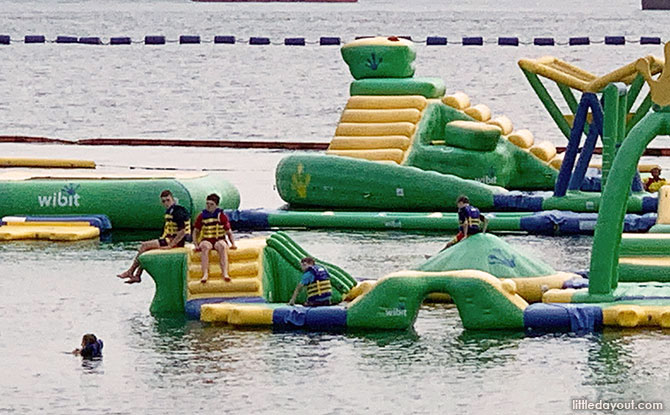 Sentosa's Palawan Beach used to be home to the Palawan Pirate. While it has closed, there is a new inflatable water park set in the water, HydroDash. It consists of various levels which fun-seeking kids, families and adults can conquer together. Get more details about HydroDash.
Location: Palawan Beach, Sentosa
---
Far East Organization Children's Garden
Swirling fountains greet visitors who arrive at the wet play area of Far East Organization Children's Garden. Older kids will enjoy splashing about while younger ones can head to the small toddler water play area. Find out more here.
---
Birdz of Play
Located at Jurong Bird Park, this water play area offers kids plenty of fun with splashing buckets and water slides at the children's playground. In addition to water playground, Birdz of Play also has a dry playground.
Location: Inside Jurong Bird Park, 2 Jurong Hill, Singapore 628925
---
Rainforest Kidzworld
Rainforest Kidzworld is Singapore Zoo's children's play area. Stepping inside, you will not be able to miss the massive water play area which offers plenty of fun to kids of all ages. The animal-themed play structure features water cannons, jets of water and water slides too. A huge water bucket sends torrents of H2O splashing downwards at regular intervals.
Location: Inside Singapore Zoo, 80 Mandai Lake Rd, Singapore 729826
---
In The Neighbourhood
Oasis Waterpark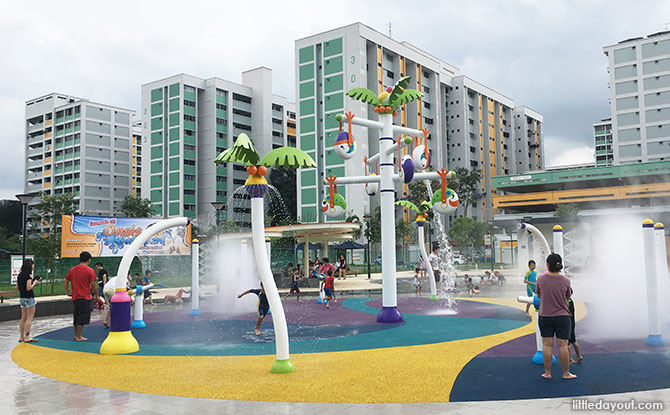 Oasis Waterpark @ Nee Soon East, a community water park located in the midst of an HDB estate at the Yishun heartlands. It features water sprays and shooters and is place to have a spot of fun in the neighbourhood. Read more about it here.
---
Pasir Ris Swimming Complex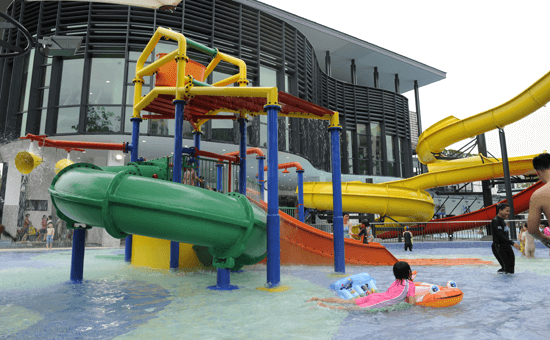 The Pasir Ris Swimming Complex is located at Pasir Ris Central. It has a competition pool, teaching pool and two water slides – a red straight body slide and another yellow flume slide.
Address: 120 Pasir Ris Central, Singapore 519640
---
Sengkang Swimming Complex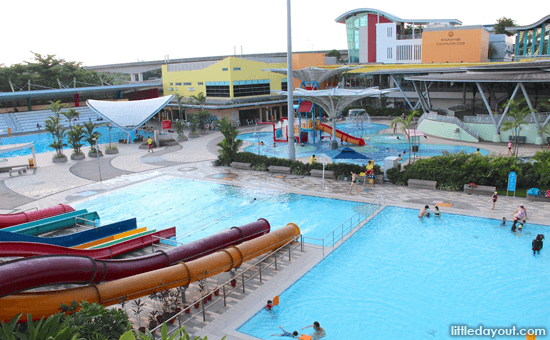 Sengkang Swimming Complex is located together with the Anchorvale Community Club, beside Sengkang Riverside Park. In addition to children's play area, the swimming complex also has several water slides. These include open-top, side-by-side slides and tube slides.
Address: 57 Anchorvale Rd, Singapore 544964
---
Jurong East Swimming Complex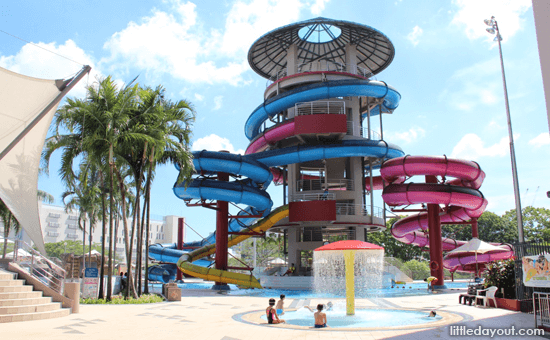 The Jurong East Swimming Complex offers plenty of fun for visitors of all ages. At the centre of this water park in Singapore is a tower with slides coming out at different levels. The Jurong East Swimming Complex also has a lazy river, a wave pool and wet children's play area.
Address: 21 Jurong East Street 31, Singapore 609517
---
Jurong West Swimming Complex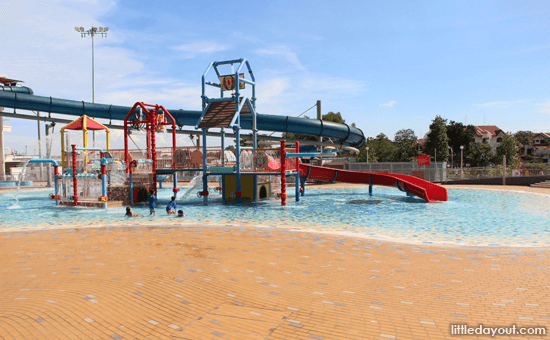 This public swimming complex has a colourful water play area for kids with red and green water slides. In addition, Jurong West Swimming Complex has a long, blue tubular one that starts from three storeys up and snakes its way down to the splash pool below. You need to be at least 1.2 metres tall to ride this blue slide. You will also find a lazy river at this swimming complex.
Address: 20 Jurong West Street 93, Singapore 648965
---
For Active Bodies
Singapore Wake Park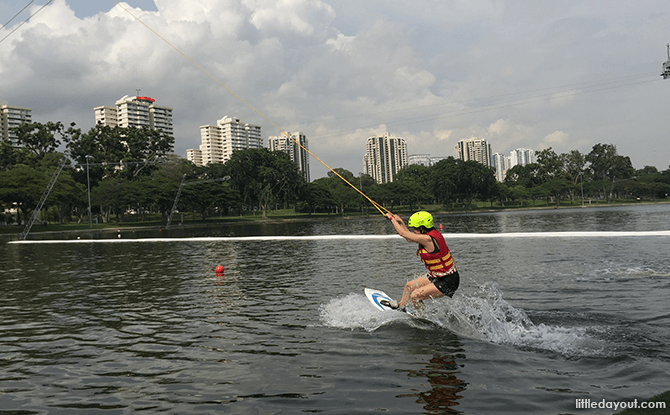 Go wake boarding at Singapore's only cable-ski water park. Beginners, both children and adults, can try out the System 2.0 where they can focus on getting used to a kneeboard or wakeboard. More experienced riders can make use of the full-sized cable system and even catch some air-time around the water. Singapore Wake Park is located at the East Coast Park Lagoon. Read more about it here.
Address: 1206A East Coast Parkway, Singapore 449891
---
Stingray at Splash-N-Surf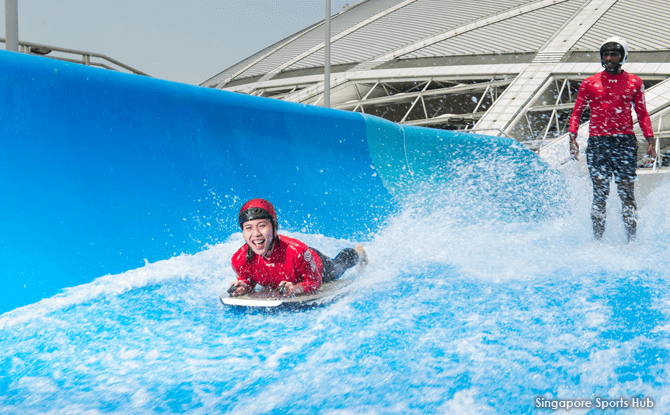 Found on the rooftop of the Kallang Wave shopping mall at Singapore Sports Hub is Splash-N-Surf. Part of its draw is its children's water playground which features a tower, slide and shallow kids pool. In addition, Splash-N-Surf has a small lazy river and Stingray, a bodyboarding activity that brings the surf to Splash-N-Surf. Enjoy the rush of the waves at the half-pipe surfing facility at Kallang Wave.
Address: 1 Stadium Place, Singapore 397628