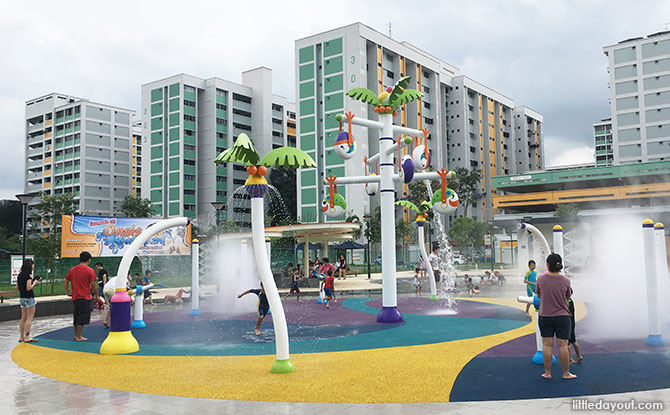 Kids can have a wonderful splashing good time at the Oasis Waterpark @ Nee Soon East, a popular community water park, located in the midst of a heartland HDB estate in the Yishun neighbourhood.
The Oasis Waterpark @ Nee Soon East occupies an area of 5,600 square metres and can be found between the Block 307 Yishun Ring Road, a multi-storey car park, and Blocks 325 and 326 Yishun Ring Road. It is just a short distance from the Yishun River Green whimsical houses playground.
---
Enjoy Water Fun at Oasis Waterpark @ Nee Soon East
There are several different zones for kids to enjoy water play and splash out with their frends at Oasis Waterpark @ Nee Soon.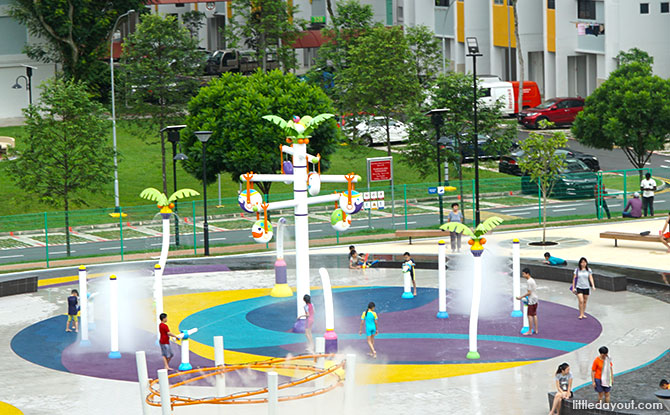 ---
-- Story continues below --
The main water play area at Oasis Waterpark @ Nee Soon East features water sprays and shooters. Swaying bird-themed buckets send water splashing down to the kids below.
One play area is filled with mist emanating from the orange pipes above, a creating a cloud for little ones to run through over the yellow, soft foam mat. At another area, a set of water jets shoot up from the ground, providing a playful spot for kids to dart about and under.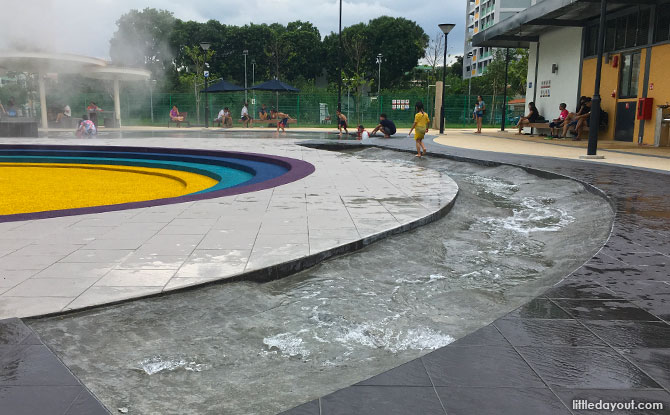 A shallow pool skirts the main water play area.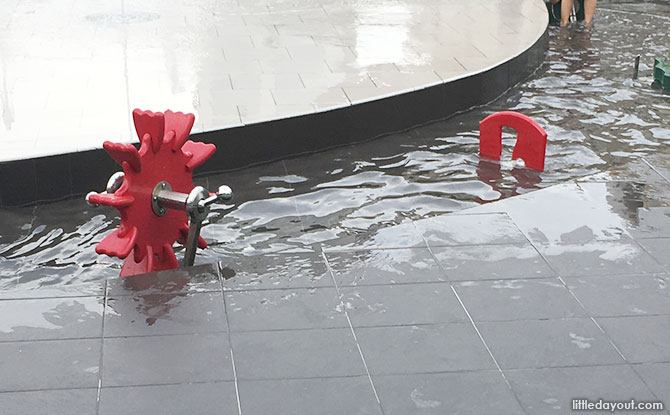 Installed into the pool are little contraptions and gadgets, such as a water wheel, for kids to play with.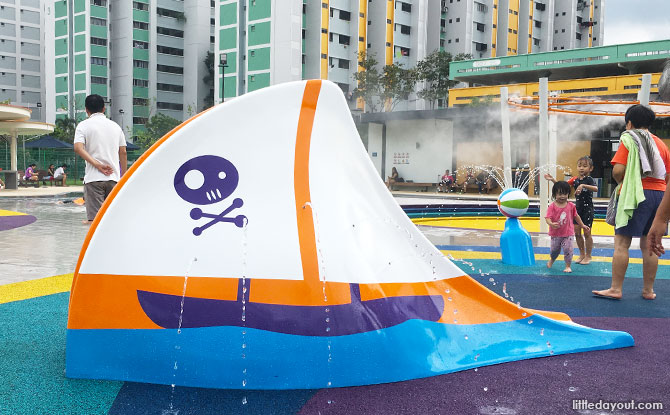 A pirate ship-themed slide beckons children to get ship-shaped and sliding.
Thankfully, there are also seats around the water play area allow parents to keep a watchful eye over their children who may be splashing about in the water. The design of the water park is well thought out with all these different aspects catered to.
---
Giant Games
Aside from the water play area, Oasis Waterpark @ Nee Soon East has a separate section which features giant game boards. These include classic games such as snakes & ladders, chess and ludo.
There are hopscotch markings too. These offer kids a chance to enjoy some simple play time with their friends and family.
---
Other Facilities at the Yishun Community Water Park
To cater to the needs of families, Oasis Waterpark @ Nee Soon East also has toilets and, just in case the kids get hungry after playing in the water, vending machines.
The community water park will be open from 9 am to 7.30 pm each day. Admission is free and no bookings are required.
It is quite wonderful how there are water parks just like the Oasis Water Park in the heartland neighbourhoods of Singapore. They provide a great way for families to spend time together and for neighbours to get to know each other as it is just conveniently located close to their homes.
Places like Oasis Water Park offer a chance for simple fun outdoors, providing the opportunity for kids to get away from electronic devices and focus on some physical and activity play instead.
Other neighbourhoods that also have water play areas include Toa Payoh where Heights Park now has Play @ Heights Park, and the Jelutung Harbour in the Sembawang neighbourhood. These make great additions to the other water playgrounds found in Singapore.