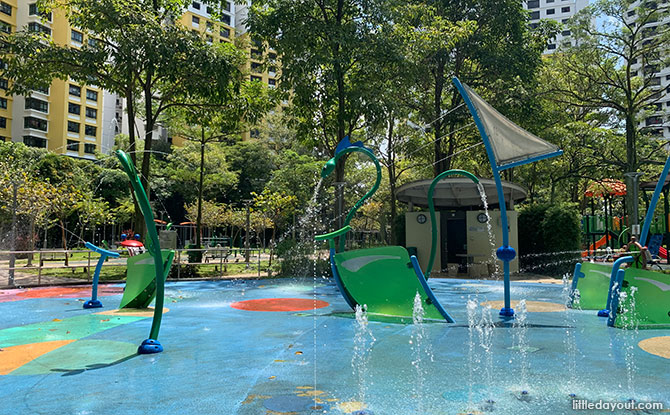 Anyone else been feeling the heat recently? If you are looking for somewhere to take your child where he or she can cool off and have some fun at the same time, how about paying a visit to a water playground in Singapore.
Water playgrounds offer a place to get away from the heat with the added bonus of some simple and fun distractions. And water playgrounds do not necessarily need to be those with slides and fountains. Some of these offer other types of play opportunities with sluice gates and more.
Here are some water playgrounds in Singapore where you can cool off. Unfortunately, many of the water playgrounds, especially those in shopping centres, are still closed. However, here are some that are open again.
---
Water Playgrounds in Singapore
Causeway Point's Dino-themed Water Playground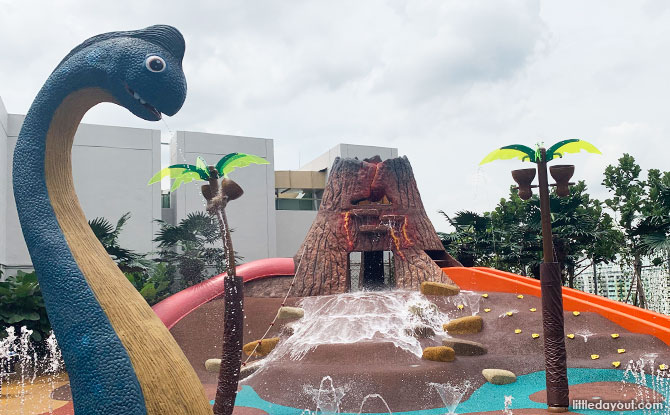 Have fun splashing about with the dinosaurs at Causeway Point's water playground. Opening Monday, 20 June, the themed play area has a volcano. Look out for the erupting splashes of water coming down! Find out more about the new Causeway Point water playground.
---
Splash-N-Surf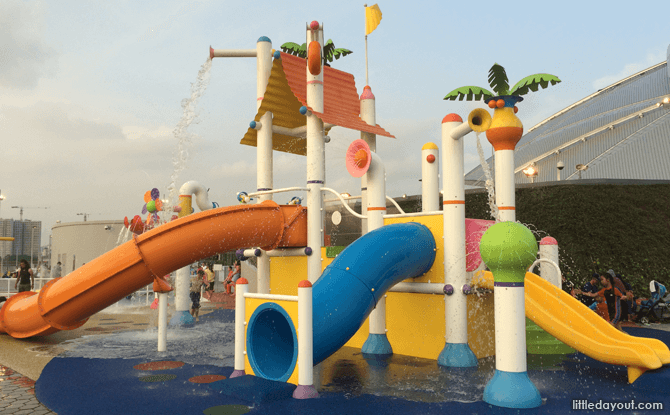 The kids water playground at the roof of Kallang Wave Mall is a great place to enjoy a bit of fun splashing about in the water with a great view to boot. The Splash-N-Surf water play area includes water jets and sprays to entertain kids while they frolic in the water.
If you don't mind paying a nominal fee, you can also enjoy the Lazy River near by too. Or if wave riding is your idea of fun, sign up for the Stingray wave rider experience and get free access to the Lazy River as a bonus. Yet another alternative is to head to the bubbling fountains at the Stadium Riverside Walk.
---
Play @ Heights Park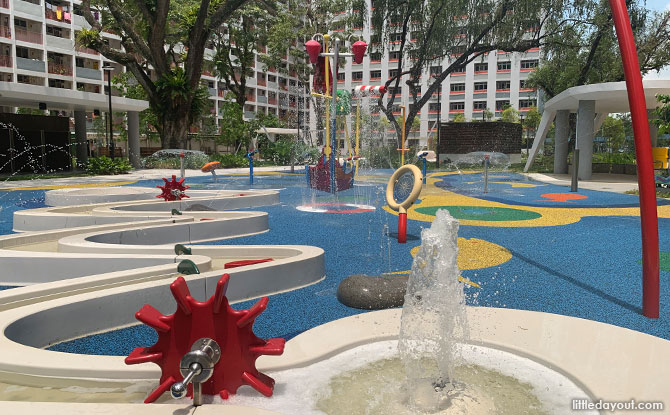 The likelihood is that you would have heard abut Play @ Heights Park by now. The Toa Payoh neighbourhood park has been getting a lot of attention recently. The water playground has fountains and jets, as well as a little channel where kids can play with the water. Other play features at the neighbourhood park include dry playgrounds and a sand pit. Find out more about Play @ Heights Park.
---
Jelutung Harbour Park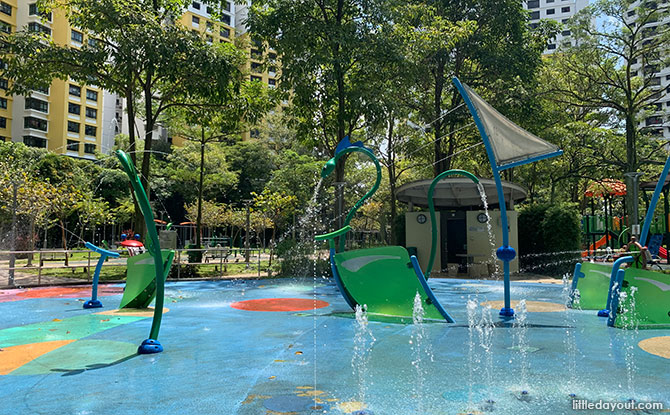 This water playground in the Sembawang / Admiralty area is a neighbourhood play spot where kids in the neighbourhood can cool down without venturing out too far. Press a button to activate the jets of water and flowing fountains of the water playground. Besides the water play area, we think some of the dry playground elements, like the netted discs, are quite fun too. Find out more about Jelutung Harbour Park.
---
Lower Seletar Reservoir Park
With jets of water, swirling "water flowers" and a little wading area, Lower Seletar Reservoir Park offers kids a chance to have a simple fun and to cool off. Read more about what to expect at Lower Seletar Reservoir Park.
---
Bishan-Ang Mo Kio Park Water Playground
The Bishan-Ang Mo Kio Park water playground consists of channels of flowing water. This  springs from a source at the top of the gentle slope the playground is built on and flows downwards by gravity. There are little mounds and sluice gates which kids can move about to manipulate the flow of water. Find out more about the Bishan-Ang Mo Kio Park water playground.
---
Coastal PlayGrove Water Play Area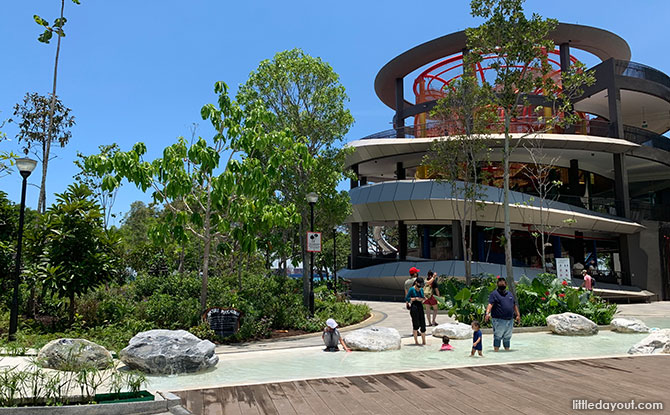 Kids can wade about at the Coastal PlayGrove water play area. While not exactly a playground per se, it is still a fun way to get into the water and out of the heat. There's also the option of heading to the beach, or drying off and climbing the tall play tower before sliding back down too.
---
Clusia Cove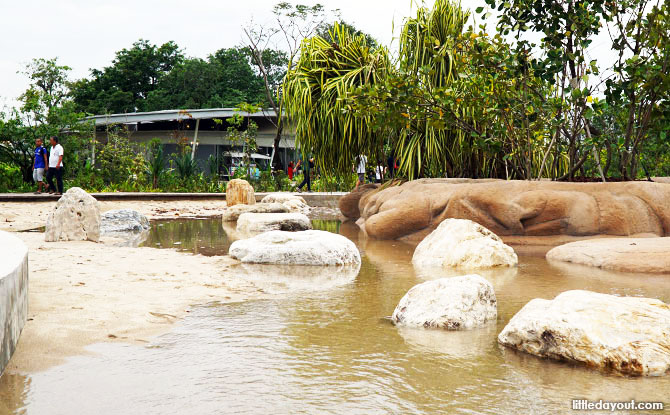 The Jurong Lake Gardens water play area, Clusia Cove, is built to mimic the ebb and flow of the tides. It is also nice place to have some fun and escape into the water on a hot day. Find out more about Clusia Cove.
---
Far East Organization Children's Garden
This water playground offer plenty of fun with swirling poles of water that kids can enjoy. There's also the awesome dry playground too. Read more about Far East Organization Children's Garden.
---
Waterworks at Science Centre Singapore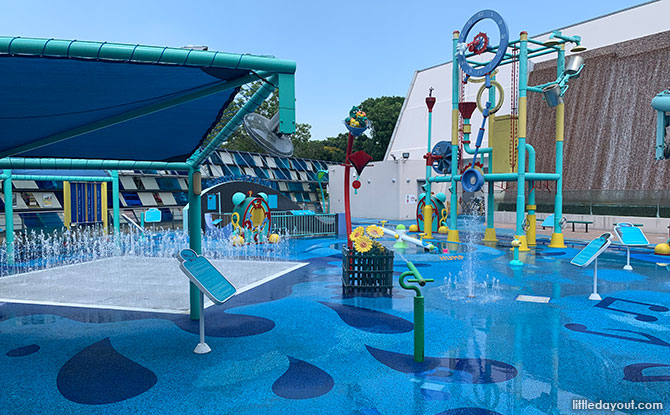 The water play area at Science Centre Singapore is a place where kids can have fun and also learn about the importance of water in our lives through hands-on exhibits. Read more about Waterworks, Science Centre Singapore's water play area.
---
Oasis Waterpark
The Oasis Waterpark in Yishun is reopening on 12 June, according to a post by MP Louis Ng. Get splashing about at this neighbourhood water playground in the north of Singapore. Read more about Oasis Waterpark.
---
More Water Playgrounds in Singapore
Other water play places in Singapore include the big water parks like Wild Wild Wet and Adventure Cove. There's also Kidz Amaze water park at SAFRA Punggol. Sadly, the free water play area at Punggol Waterway Park is no more. Another water playground can be found at Sentosa – Hydrodash.