After my recent – and very first – visit to the lush Far East Organization Children's Garden at Gardens By The Bay, I wondered why it was that I hadn't taken my daughter there sooner!
The Children's Garden at Gardens by the Bay is really a sprawling playground designed to enhance a child's physical and cognitive through different sensory play elements – from water play to rope climbing obstacles, your child will be begging to return time and time again!
Water Play (6 to 12-year-olds)
The basketball-sized water play zone is what greets you at the entrance of the Far East Organization Children's Garden.
Complete with orchid-shaped splash buckets, hydro-vaults and water sprinklers, the water play zone is heaps of fun and will look so very inviting on a hot day!
Also, the water actually goes in sync with the songs that are playing in garden!
The centrepiece of the Children's Garden, the water play area will absolutely delight child and adult alike! Run through the water sprinklers or wait with bated breath for a massive splash from one of the splash buckets – I personally could have played on all day.
The splash pad equipment is in fact linked to sensors which detect movement to create a corresponding sequence of water effects. The equipment also dance in sync with the songs that are played through the Children's Garden sound system.
For the younger children, Fish Fountain is a mini water play area that is calmer and more baby-friendly.
Adult supervision is strictly required at all times in the water play zone. Young and old are allowed in the water play area and although swimwear is not required, footwear is an absolute no-no.
Toddler Play Area (1 to 5-year-olds)
Just off to one side of the Far East Organization Children's Garden water play area – with lovely dense shrubbery acting as a partition – is the Toddler Play Area.
Featuring play equipment such as a sway bridge and stepping springs, a slide and a couple of hammock-like swings, the Toddler Play Area is perfect for toddlers to camber around and play in.
The Toddler Play Area isn't large by any means, so parents catching their breaths under the large umbrellas can easily supervise without breaking too much of a sweat.
Adventure Trail (6 to 12-year-olds)
This is where jungle adventure fantasies come to life! Located within a dense canopy of trees, the Gardens by the Bay's Children's Garden is home to Adventure Trail, which spans 130 metres long and consists of 14 obstacles.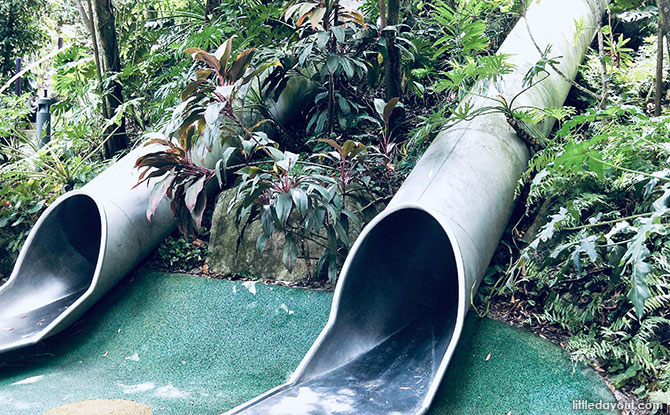 Think wobbly suspension bridges, super-sized slides, a spider web and a rock wall, and monkey bars. Being the adventurous toddler that she is, my daughter happily and easily scaled the rock wall and even speedily made her way down the tube slides twice!
At the end of Adventure Trail is a long suspension bridge that leads to the two Rainforest Treehouses of Children's Garden. Hammock swings, swinging nets and a suspension bridge made entirely of rope can be found in the Treehouses which are have some nifty safety features incorporated, so mummies and daddies, you can let your little ones play here with peace of mind.
Need to Know – Far East Organization Children's Garden, Gardens By The Bay
Far East Organization Children's Garden is a great outdoor playground nestled within a beautiful manicured environment; the best thing about it is that admission is absolutely free!
Let's Play! Watch our Video of the Far East Organization Children's Garden, Gardens By The Bay
Click here to subscribe to our YouTube channel and to see more great videos!