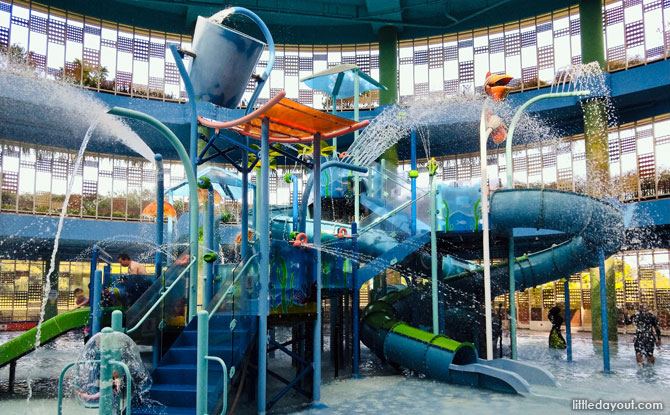 Located at SAFRA Punggol, Splash @ Kidz Amaze is Singapore's very first – and largest – indoor water playground. Spanning 24,000 square feet, the whole family will have a great time splashing, sliding, and rolling your way through the 'Enchanted Deep Sea'.
Wet and Wild Water Play For Young and Old
The main water play feature in Splash @ Kidz Amaze is a three-storey high attraction, complete with tube slides, mini slides, a massive splash bucket right up the top, and numerous water spray features.
If you weren't soaked before stepping onto the climbing frame, you will be as you make your way to the top!
That said, with so much water in your face constantly, be super-duper careful.
---
-- Story continues below --
When we were at another water playground (not Splash @ Kidz Amaze), my daughter slipped and fell a few times as she made her way up that climbing frame. The steps were really slippery, and the water in her eyes didn't help too.
I was pleasantly surprised that there are no such incidents to report from our visit Splash @ Kidz Amaze. In fact, she very bravely made her way to the very top of the structure without once looking back at me!
It was nerve-wracking watching her work that playground with a fair few big children running up and down excitedly. She managed very well but the point is, your two-year-old might need – and want – closer supervision.
Once at the top of the climbing frame though, my daughter didn't attempt any of the tube slides, even when I was prepared to.
However, she was game for the open-faced green slide that everyone else there loved too. It was especially fun watching families go down this slide together, hand-in-hand!
If even this open-faced green slide is too daunting for the littler ones, there are a couple of mini slides just off to the side. They'll enjoy them just as much since they'll still get to finish off with a big splash!
A see-through glass ceiling means that on a lovely sunny day, the main water play zone will always be brightly-lit, and it almost feels like you're outdoors!
Toddler Play Zone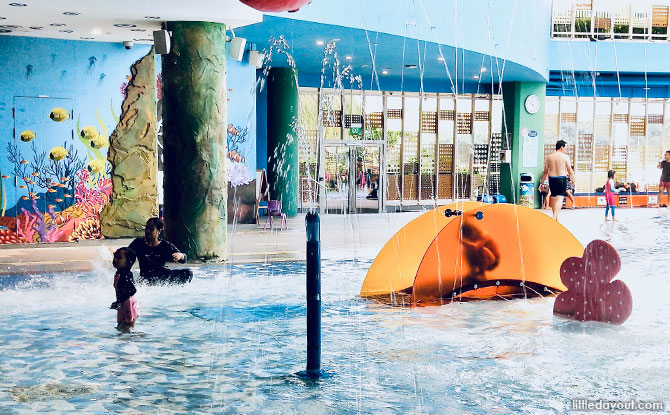 The Toddler Play Zone is right at the entrance of Splash @ Kidz Amaze, and unlike the main water play area, it is shaded and could afford to be better lit.
With the water only ankle-deep at about 30cm, the Toddler Play Zone is fairly safe, and far calmer for the younger, less gung-ho children.
There are water shooters, some water spray features, and a wee slide to keep babies entertained for a good while. The Toddler Play Zone is the perfect introduction to the bigger, badder water playground that their big sisters and brothers are conquering!
Tips and Advice For Your Next Visit
I don't know about the other guests but the water got far too cold for me and my daughter within the hour. Soon, she was shivering, as was I. So mummies and daddies should take note to monitor little ones and make sure they aren't too cold in the water.
There are lockers available for your use but do remember to get tokens from the token machine out by the Toddler Play Zone. That said, the locker ate up my tokens, and I didn't end up using one.
Instead, I placed my bag on one of the benches off to the side of Splash @ Kidz Amaze. I didn't have too many valuables in my bag then, and I also trusted that my belongings would be safe.
There is a Stroller Parking corner which is really handy, and keeps the surroundings neat. I can imagine that on a busy day, there'd be strollers everywhere, if not for this Stroller Parking area.
And there are, of course, shower and change facilities. The best thing about the showers is the hot water! If the older children are hopping into the shower alone, please do a quick check to ensure that the water isn't too hot for their use.
For more information on admission to Splash @ Kidz Amaze, and opening hours, please go here.
Splash @ Kidz Amaze, SAFRA Punggol
Where: 9 Sentul Cres, Level 3, Singapore 828654
Website