Wild Wild Wet at Downtown East is a huge water park in Pasir Ris, in eastern Singapore. Its mix of rides and attractions cater to both adrenaline-fuelled thrillseekers and families with young ones who are just starting to get their feet wet.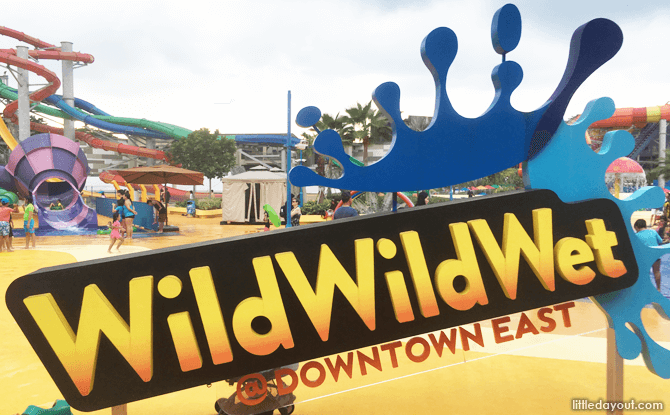 The water park first opened in 2004 and has since been renovated several times, with the latest rides opening in October 2017.
Wild Wild Wet has a decidedly local flavour with attractions named Ular-Lah and Shiok River. There are eight thrill rides and three play areas for children at the water park. This means that whether you are looking for fast-paced action or a place to just enjoy splashing about, Wild Wild Wet has something to offer.
Here is a guide to Wild Wild Wet's rides and attractions.
---
For Families with Young Children
Professor's Playground
Kids can easily lose track of time at Professor's Playground. This fun water playground features splashing buckets of water, spraying fountains and easy-to-ride slides – plenty of slides.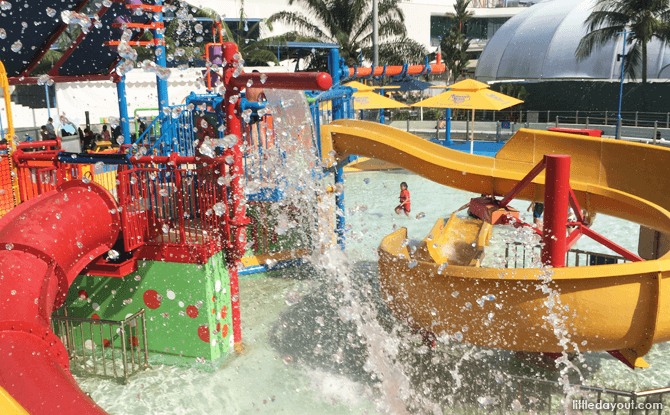 There are six slides in total coming out from the water play structure, including both the tube and open-top variety.
Professor's Playground has a water depth of 0.3 metres, making it fun spot that even young kids would dare to venture around.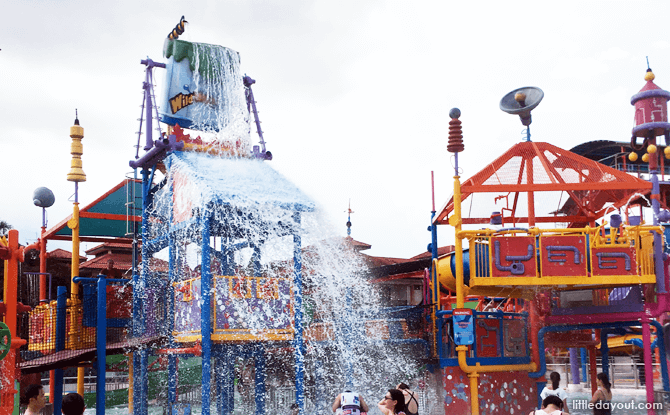 And, when the bells starts ringing, you will find a crowd gathering under the water bucket, waiting for the big splash of water to come raining down.
Kidz Zone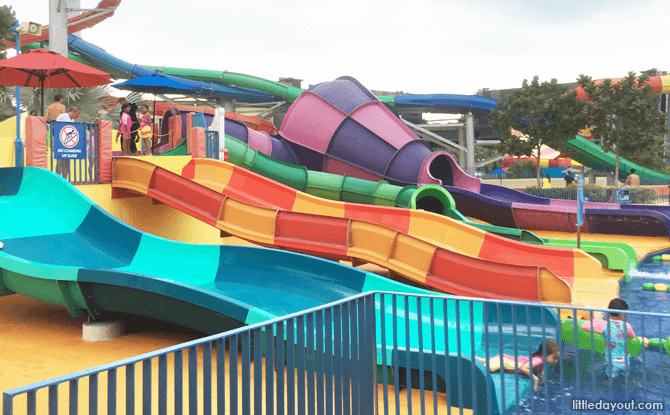 The Kidz Zone is designed for toddlers and young children. It features kiddy-sized versions of water slides. There are both straight and curved slides available. Kids can grab a tube to sit on and zip (ok, may be zip is overstating the speed) down the slides.
The highlight of the Kidz Zone is the purple miniature funnel. Kids can oscillate back and forth inside the purple funnel before landing into the splash zone.
Splash Play
If your kids are looking for simple water fun, they will enjoy the Splash Play area. There are water tunnels, water cannons and a little play structure in the middle.
---
For Those Who Want to Get Their Adrenaline Pumping
The Waterworks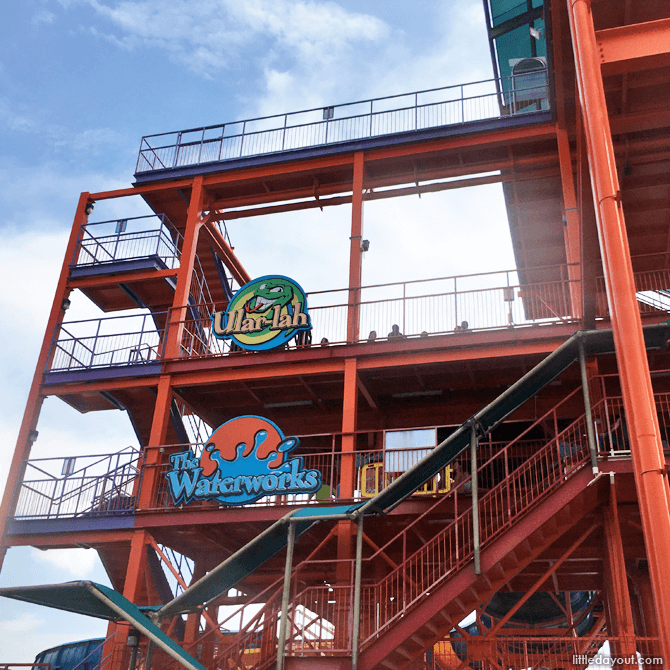 The Waterworks is Wild Wild Wet's "intro-level" water slide for thrillseekers. This body slide comes in two variations – an open-aired version and a tunnel slide version. You must be at least 1.2 metres tall to ride The Waterworks.
Ular-Lah
One level above The Waterworks is Ular-Lah. This is a raft ride that can accommodate up to six persons at a time. This flume ride sends riders banking up the sides of the slide on the way to the bottom. Children between 1 metre and 1.21 metres tall must be accompanied by an adult.
Torpedo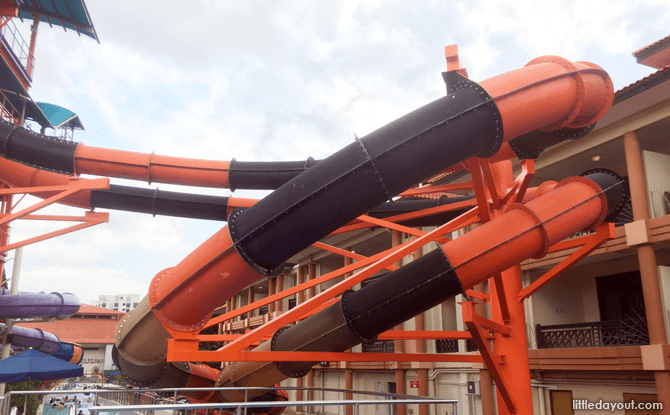 Get dropped from four-stories up and go on a 360 degrees loop in this thrilling ride. Step into a launch chamber and wait for the trap door under your feet to open, sending you plunging downwards at speeds of up to 70 km/h. Minimum height to go on the ride is 1.2 metres.
Royal Flush
The orange-and-yellow attraction combines a bowl and a zero-gravity wall in one ride. Sit in a four-person raft and hold on tight as you get swirled around, swooshed up a wall and down a tunnel. Minimum height to go on this ride is 1.2 metres.
Slide Up
Slide Up is a giant u-shaped half-pipe. Launched from four-storeys up, experience the sensation of free-fall as you zip down the half-pipe water slide and up the other side of the u-shaped slide and oscillate back-and-forth.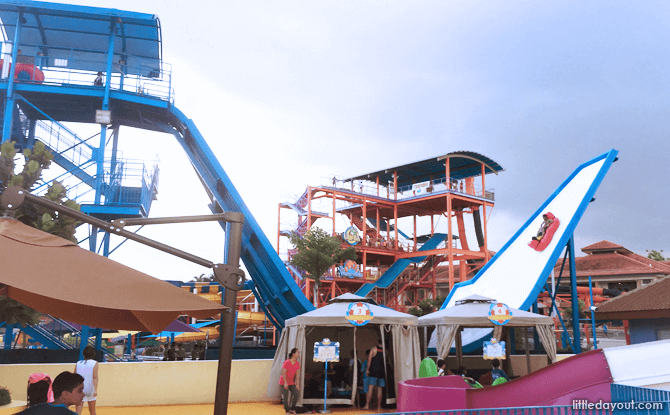 The minimum height for this ride is 1.2 metres. Children between 1.2 metres and 1.46 metres must be accompanied by an adult.
Vortex
Vortex is one of the new rides that opened to the public at Wild Wild Wet in October 2017 (with the other new ride being Kraken Racers).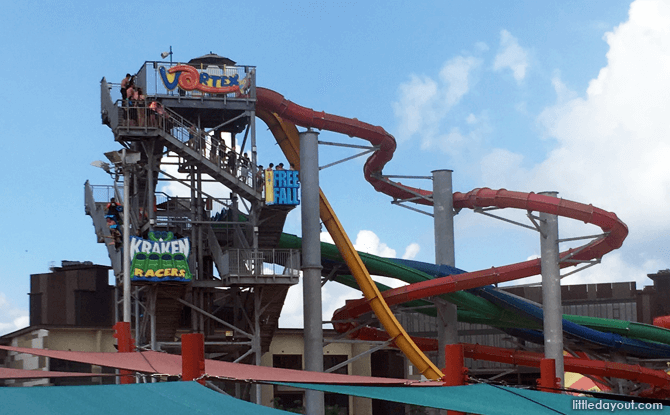 It is one of three rides, along with Free Fall and Kraken Racers, at the "Tower of Three Thrills" close to the entrance of Wild Wild Wet.
This orange-coloured, enclosed flume ride starts 18 metres above the ground and will take you on twists and turns, including a 360 degree loop, before shooting you out at the bottom. The ride is about 135 metres long. You need to be a minimum of 1.2 metres tall to ride Vortex.
Free Fall
You will barely have time to scream as you speed downwards in one of Asia's longest, near-vertical water slides, Free Fall. You need to be a minimum height of 1.2 metres to go on this yellow slide. And have guts of steel.
Kraken Racers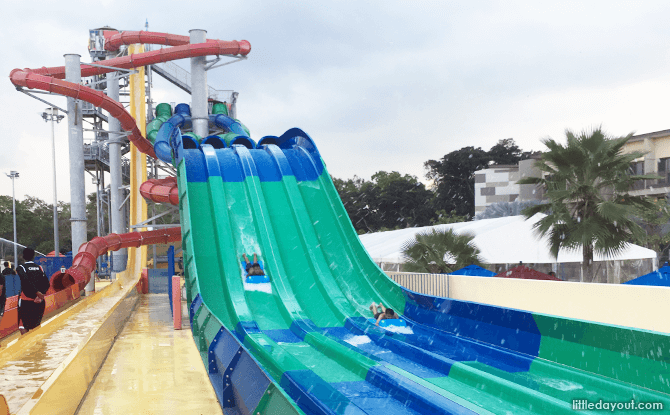 Kraken Racers is Wild Wild Wet's multi-lane racer where up to four riders can zip down head first in friendly competition. Grab a blue mat, climb the stairs up 12 metres and get ready to release the kraken down the approximately 90 metre long slide! The minimum height to ride Kraken Racers is 1.1 metres.
---
For Those Who Want to Chill
Shiok River
Every water park must have a lazy river and at Wild Wild Wet, it is dubbed Shiok River. The 335-metre long lazy river with a water depth of 1 metre is great for those who wish to float along and relax. Tubes are available.
Tsunami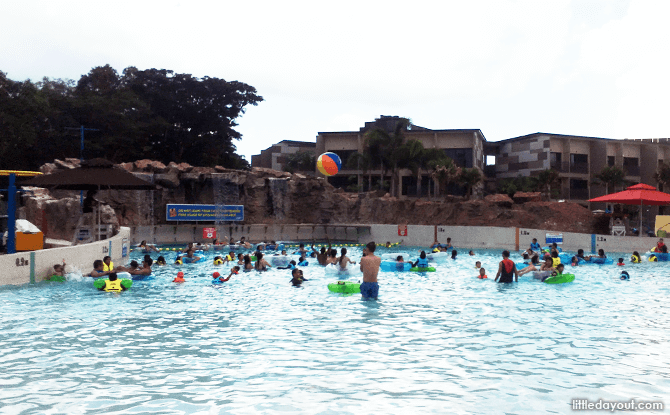 Tsunami is Wild Wild Wet's wave pool. It has a depth of 1.8 metres at the far end and once the waves start, they seem to go on for a long time. Tubes are allowed in Tsunami.
---
Other Facilities at Wild Wild Wet
Wild Wild Wet's other amenities include changing and shower rooms (of course), including those for children and lockers ($8 for a small locker – only dollar notes accepted and no change given so bring along the exact amount).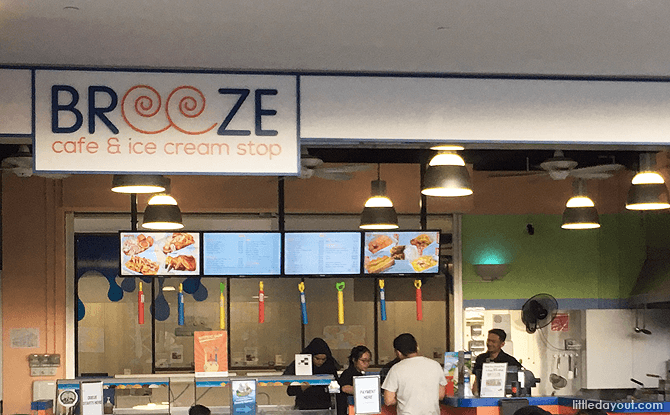 There is also food and drinks available for purchase at the Breeze Café & Ice Cream Stop beside the entrance.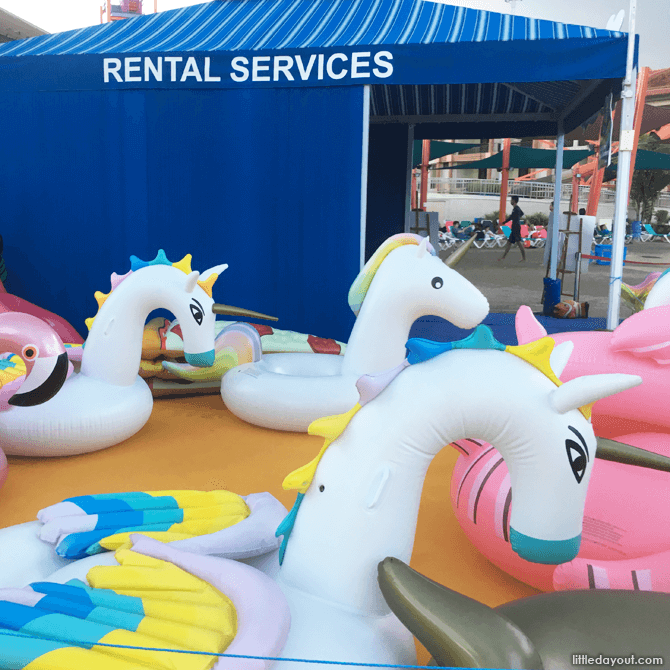 You can also rent crazy floats at Wild Wild Wet. Unicorns, anybody?
If you wish to spend a whole day there and splash out a bit of cash, cabanas are available for rent as well.
Wild Wild Wet
Address: 1 Pasir Ris Close, Singapore 519599