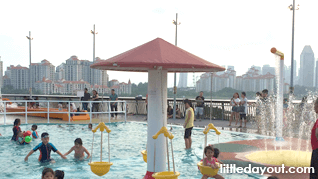 Hands down, the water playground with the best view has to be found above Kallang Wave Mall at Singapore Sports Hub.
Kallang Wave's water playground is not very big but its vista of the Kallang Basin and the city skyline makes up for its diminutive size.
Kallang Wave's Water Playground
Splash-N-Surf at Singapore Sports Hub consists of two facilities.
The children's water play area is already open to the public. The other facility, consisting of a half-pipe surf zone and lazy river, is as yet not operational as of January 2015.
The water play area consists of a play structure with five colourful slides. These range from a pink slide with a very gentle gradient to an orange tubular slide that ends in a trough of water. Sprays of dancing water jet out of whimsical fountains while "trees" burst out from the top of the "aquatecture".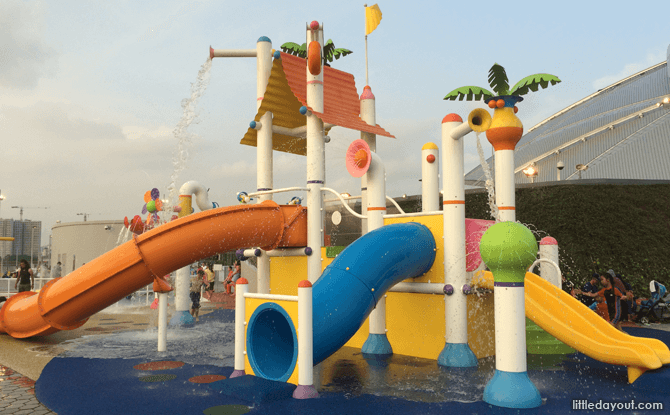 Make a Splash at Splash-N-Surf
A unique feature of the water play area is its Splash Area.
While many shopping mall playgrounds have water play structures, here, the Splash Area takes the fun deeper – 50 cm deeper. At the Splash Area, kids can take a dip in shallow pool that has a carousel with yellow bucket seats for toddlers in a corner.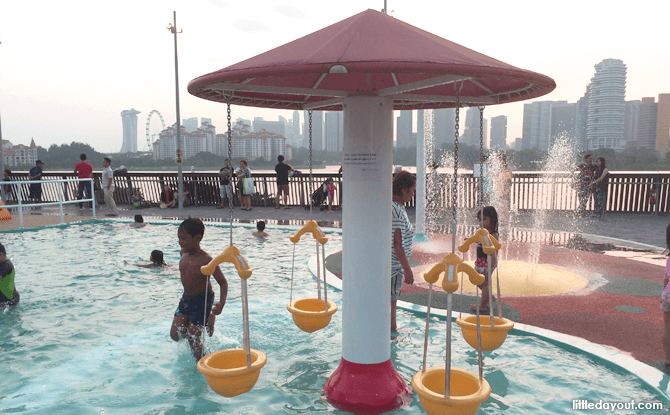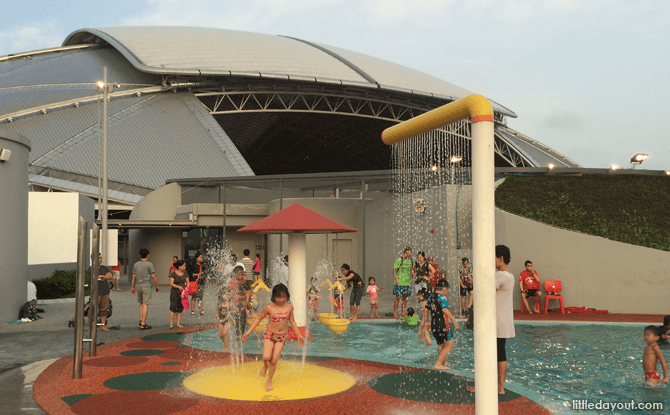 Changing and shower facilities are available at nearby toilets. The Splash Area can be found at the rooftop of Kallang Wave Mall, Singapore Sports Hub. Admission is free.
Splash-N-Surf, Kallang Wave's Water Playground
Rooftop above Kallang Wave Mall
1 Stadium Place, Singapore 397628
Open from 8 am to 10 pm daily
Website