Looking for outdoor places to take your kids for some fun? Here are our picks of 15 of the best outdoor playgrounds in Singapore – from exciting themed play areas to those that simply offer unbeatable fun in the neighbourhood.
The best outdoor playgrounds in Singapore allow children can expand their physical abilities and gross motor skills, practise interacting with their peers and, most importantly, have loads and loads of fun.
All ready to take the family for a fun time out at playground near you?
---
Best Outdoor Playgrounds in Singapore for Kids
1. Coastal PlayGrove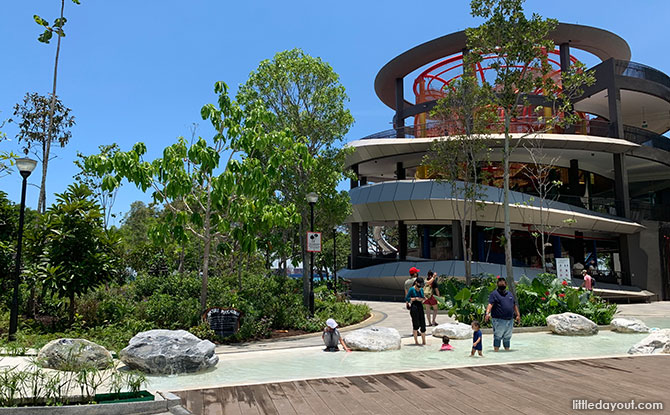 Located at the site of the former Big Splash, Coastal PlayGrove is a family-friendly outdoor enclave with play areas, nature spots and dining outlets which cater to everyone. It is dominated by its 16-metre tall play tower.
Ascend the tower through a series of nets or via a ramp. Then take one of two slides back down to the ground. This is one of the best outdoor playgrounds in Singapore. Read more about Coastal PlayGrove.
---
2. Forest Ramble, Jurong Lake Gardens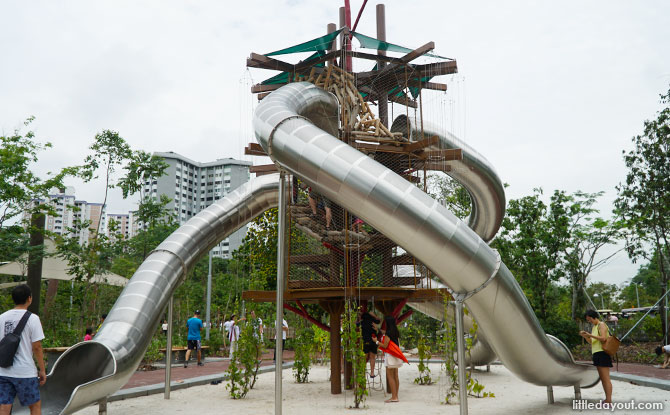 The awesome Forest Ramble playground at Jurong Lake Gardens is simply amazing. There are so many different play areas – from climbing to swings to trampolines. It is designed to mimic the movements of swamp animals and it is perfect to get kids moving and grooving.
And just beside Forest Ramble is the Butterfly Maze and Children's Discovery Area. It is simply fun for the family. Be sure to check it out.
---
3. COMO Adventure Grove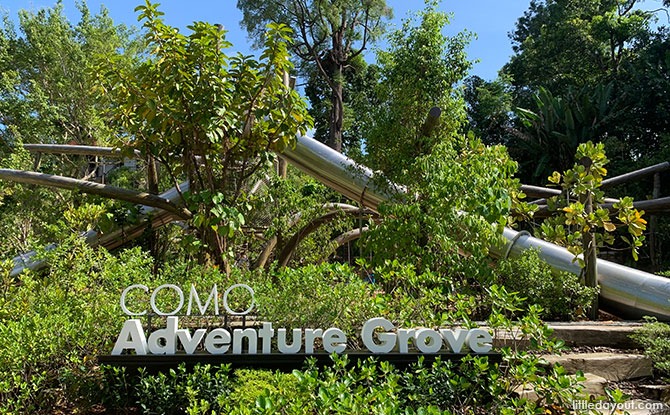 The Gallop Extension at Singapore Botanic Gardens is home to the COMO Adventure Grove. The family-friendly section of the Gardens is filled with play elements which draw inspiration from the greenery of natural habitats.
There is a Weeping Fig Tower as well as a giant cempedak fruit they can climb all over. This outdoor playground in Singapore offers kids a way to reconnect with nature through play.
---
4. Jacob Ballas Children's Garden
Jacob Ballas Children's Garden is a section of Singapore Botanic Gardens specially set aside for children 14 years old and under. There are different outdoor play areas to explore and enjoy around the Children's Garden.
One of our favourite is the wooden treehouse built around a tree. Once kids get to the top, they can hop into the slides and make their way back to the ground. Find out more.
---
5. Admiralty Park Playground
Slides, slides and more slides. Admiralty Park Playground has 26 of them, including the longest and highest in a public playground. It offers amazing fun for kids of all ages. Read more about it.
---
6. West Coast Park Playground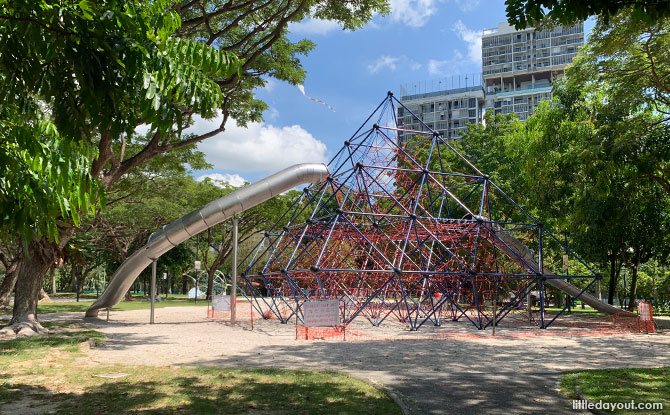 With the theme "Play Centre in the West", the West Coast Park Playground had to be on our list of the best outdoor playgrounds in Singapore.
The massive playground has multiple play spaces that cater to all ages. From the iconic red climbing rope pyramid to the little red fire engine, there is loads of fun waiting at West Coast Park Playground for kids from two to 12. Find out more here.
---
7. Pasir Ris Park Playground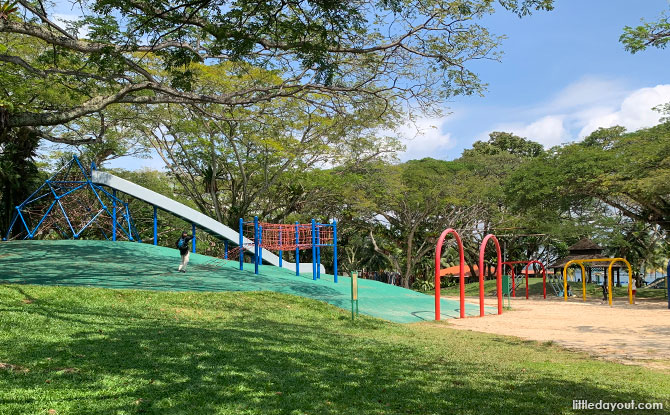 Pasir Ris Park Playground is a well-shaded playground with plenty of play spots for kids. From swings to net tunnels, it is one of the best outdoor playgrounds in Singapore.
Located at Elias Road, it is not far off from Pasir Ris Beach. And after you are done at the playground, you can go cycling around the park too. Read more about Pasir Ris Park Playground.
---
8. Gardens by the Bay's Far East Organization Children's Playground
The Gardens by the Bay Children's Playground consists of both wet and dry play areas. Spinning flower-shaped showers create a watery playland for kids at the wet play area.
If water play is not your thing, try the treehouse-themed dry playground and its rope suspension bridges. Read more about it here.
---
9. Marine Cove Playground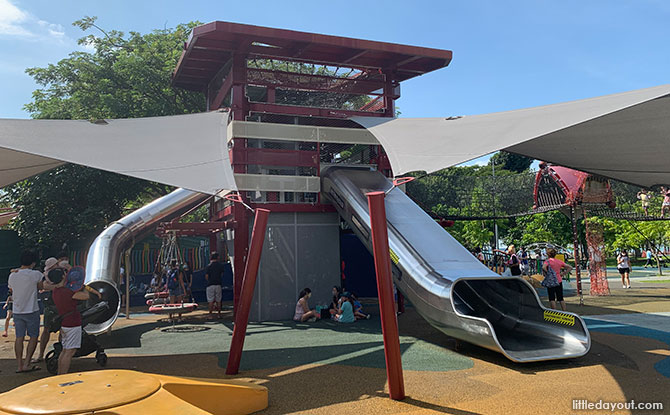 Unsurprisingly, the Marine Cove Playground at East Coast Park is based on a nautical theme. Its main structure is modelled after a lighthouse and there are different areas keep children busy.
Younger children can have fun with crazy mirrors and circular swings found around the 3,500 square metre playground. After working up a healthy appetite, there is a row of restaurants and cafes nearby conveniently provide a place to grab a bite. Find out more.
---
10. Choa Chu Kang Mega Playground
The Choa Chu Kang Mega Playground not one, not two but three play areas for kids of different ages. Two of its outdoor playground are unlike others that we've seen in the neighbourhoods. There is a treehouse playground and a playground themed after a stack of acorn. Get more details here.
---
11. Sembawang Park Playground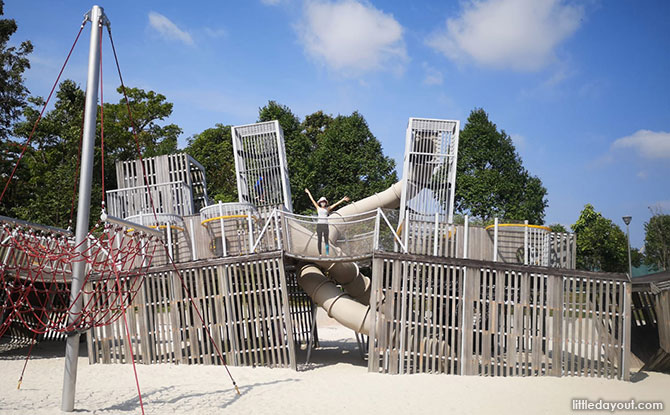 Sembawang Park in the north of Singapore is a beautiful green park. The park's Battleship Playground is a unique playground that pays tribute to two British ships, The Prince of Wales and Repulse, that were sunk during World War 2.
This awesome outdoor playground in Singapore opened in July 2013 and kids can explore both inside the ship and its upper decks. There is even a hole in the hull where it was "hit" by a torpedo. Read more here.
---
12. Tiong Bahru Park Playground
The Tiong Bahru Park Playground has a whacky train structure that kids love to climb aboard. The best way to exit the train is through one of the fun slides running out from the train.
The train makes it a fun outdoor destination and one of our picks for the best outdoor playgrounds in Singapore. Read more about Tiong Bahru Park Playground.
---
13. Marsiling Park
Often overlooked, Marsiling Park has an interesting butterfly playground which younger kids can play on. In addition, there is also a Ribbonscape playground and a more standard-type playground in the park. You can also enjoy the views of the water around the park. Find out more about Marsiling Park.
---
14. Play @ Heights Park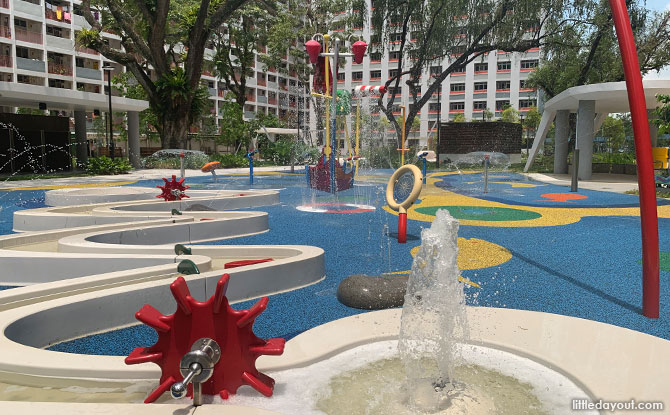 Located in Toa Payoh Lorong 2, Play @ Heights Park is a family-friendly park which invites kids have some fun at a neighbourhood water play park and at its playground, while other members of the family can enjoy its fitness facilities.
Don't forget to try out the walking rollercoaster or the giant trampolines that the whole family can jump up and down on together.
Find out more about Play @ Heights Park.
---
15. Woodlands Waterfront Playground
The high rope playground at Woodlands Waterfront is great for older kids. They can scramble up to "crows nests" suspended high above the ground at this unique outdoor playground.
While there are also other high ropes playgrounds around Singapore at locations such as Tampines Green Forest Park, Tampines Green Foliage and at West Plains, Bukit Batok, the one at Woodlands Waterfront is the granddaddy and probably one of the most challenging.
Younger kids that don't want or can't make the ascent are not forgotten. They can play at a regular playground at Woodlands Waterfront too. Find out more about Woodlands Waterfront.
---
BONUS: Honourable Mentions of Outdoor Playgrounds in Singapore
Jubilee Park
Found at the foot of Fort Canning Park, Jubilee Park playground features slides which have been built into the slope of the hill as well as see-saws and a nature play area. Get more details here.
---
Canberra Park Playground
If your kids love swings, they will love the Canberra Park playground. There are a myriad of swings at this neighbourhood park. There is also a tunnel made out of dinosaur bones, raised walkways and platforms to run around on, and one of the longest rope obstacles courses we've come across for kids to tackle. Find out more about Canberra Park here.
---
Changi Beach Park Playground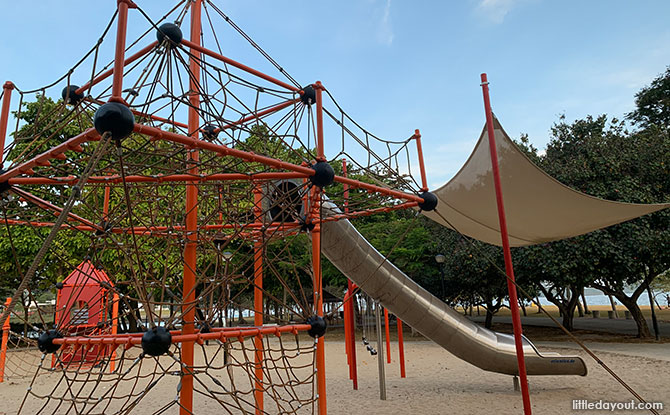 Changi Beach Park's playground is painted a bright orange and has a nautical tinge with a wooden raft in one corner. Besides the swings, there is a climbing pyramid and netted obstacles for kids to have fun on at this park playground. The Changi Beach Park Playground is located close to the Changi Village bus terminal. Read more about it here.
---
Fuji Hill
Fuji Hill at Bukit Batok has several playground areas but the most eye-catching one is the slide which has been built to take advantage of the hill's slope. There are also elevated boardwalks and viewing points at the top of the hill. Read more about Fuji Hill park.