Canberra Park and its playground is a fun spot for a day out in the north of Singapore. This large neighbourhood park serves the surrounding residential areas and is clearly designed with play in mind.
Canberra Park opened in 2006 and underwent a $2.2 million revamp in 2014, reopening in 2015. It has three distinct play areas that provide varying levels of challenge for kids of all ages.
If Admiralty Park is THE "Slide Playground" of Singapore, we think Canberra Park deserves to be THE "Swing Playground" of Singapore.
---
Swing, Swing, Swing
Canberra Park has the largest variety of swings in any playground that we have come across in Singapore. While it can sometimes be hard to find heartland playgrounds with swings, that is not an issue here.
---
-- Story continues below --
Canberra Park has quite a wide variety of swings.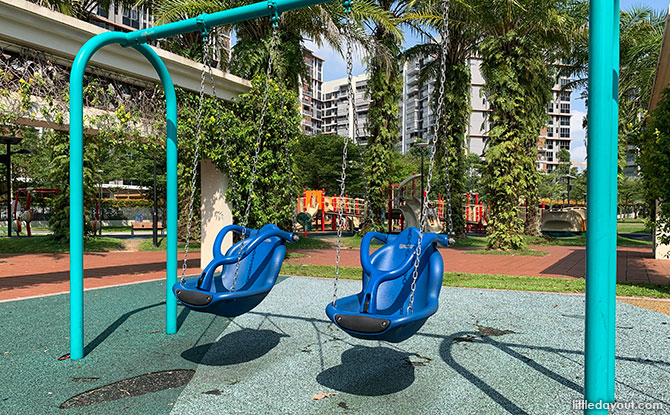 There are swings for children with disabilities. These are designed to be wider and incorporate a lap bar for safety. There are also bucket seat swings for toddlers and the standard swings.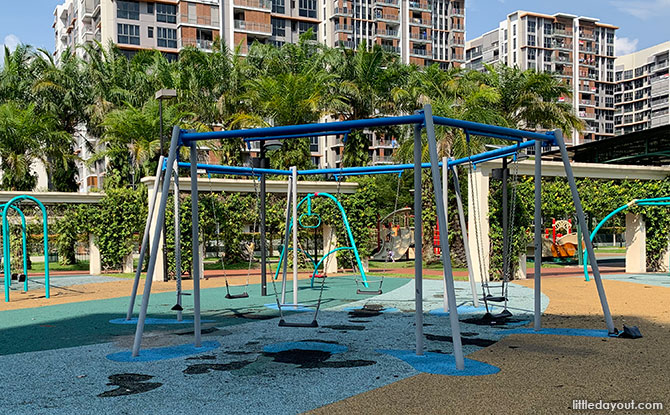 Adding to the variety is a six-sided swing structure where kids can swing in towards each other.
For a more innovative takes on what a swing is, there is a standing swing (with a handhold to help users keep from toppling off).
The single standing swing is a good lead-up to the rope swing which can accommodate multiple people riding on at the same time.
---
Dino Bones & Ramp Playground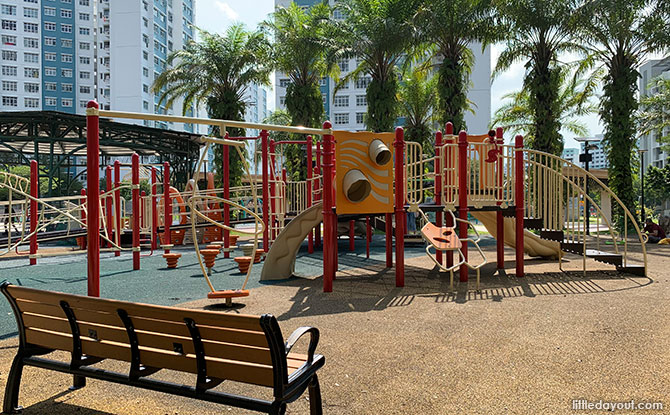 Besides the various swings, there is also a red-and-beige playground structure at Canberra Park. It acts as a spot for kids to explore and have fun. The playground has ramps and walkways and has been designed to accommodate wheelchair users.
Another distinctive feature that can be found at Canberra Park is a dinosaur fossil play structure.
---
Rope Adventure
The third play area at Canberra Park Playground is a rope obstacle course.
This rope course is amongst the longest that we have encountered in any park in Singapore.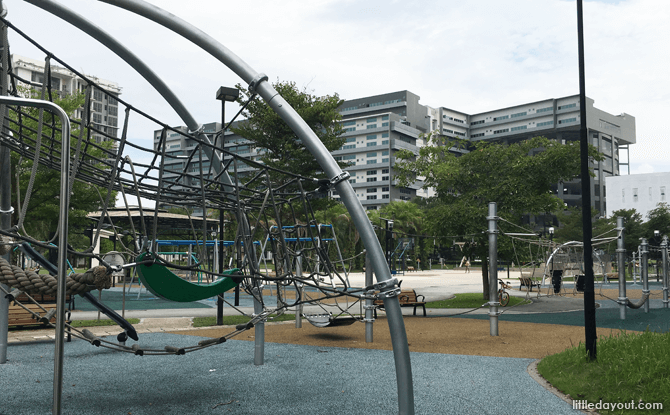 Starting from a rope dome, kids can challenge themselves to make their way along net bridges, rope handholds, step plank bridges and cargo nets to get to the other side.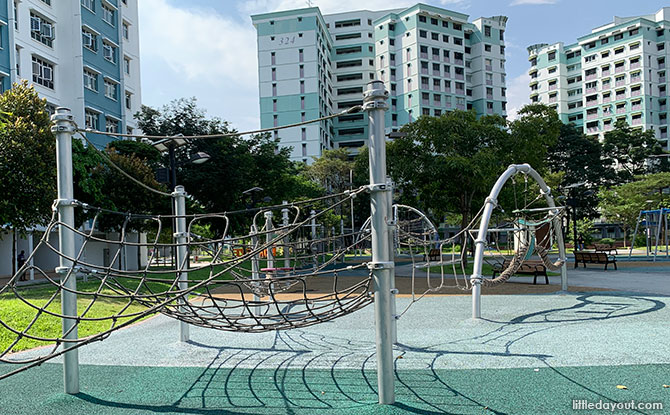 It is a fun challenge for kids.
---
Other Facilities at Canberra Park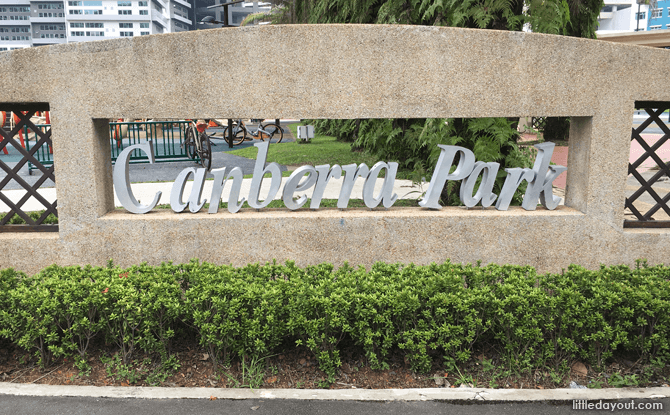 Other facilities found at the 1.5 hectre Canberra Park include a basketball court and fitness stations. A pavilion in the centre of the park provides a sheltered spot to take a break from play.
Canberra Park does not have a car park. Visitors have to park at the nearby housing estate car park and make their way to the car park.
---
Canberra Park and Playground
Location: Opposite Block 325 Sembawang Crescent