Tampines Green Forest Park is a hidden gem of the East. This playground is sure to be at the top of the kids' list of favourite playgrounds in Singapore and will definitely be a place for parents to enjoy too. Why the high praise? Read on to find out!
Surrounded by the flora and fauna of Tampines Green Forest Residences, this impressive playground captivated us immediately from a distance away. It can be split into three sections, from a large playground structure, a fitness corner and a tall tower with cargo nets and a huge slide that will send riders whooshing down!
---
Tampines Green Forest Park Playground
With so many components in the structure, it's no wonder that they named it the "Adventure Playground". Kids can go wild with their imagination because of the many ways to interact and have fun with the playground structure at Tampines Green Forest Park and create their own adventure.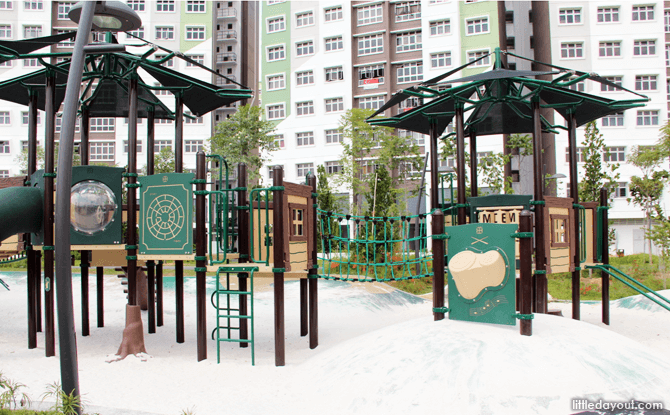 There are many ways in which one can climb up the elevated platform, from either the ladders, pole or ramp located around the play structure. Bridges, as well as cargo net bridges, allow children to get around the different sections of the platform.
Interactive panels surround the sand pit area. There are boards with images on them, a play-board with movable letters, and also boards that allow children to make sounds and music with the different materials and attachments.
The possibilities are endless!
---
Cargo Net Challenge
The cargo nets are probably the highlight of Tampines Green Forest Park!
With the tall and complicated-looking cargo net structure, children or even adults can challenge themselves and navigate their way up the sturdy hexagonal spaces to the first tower.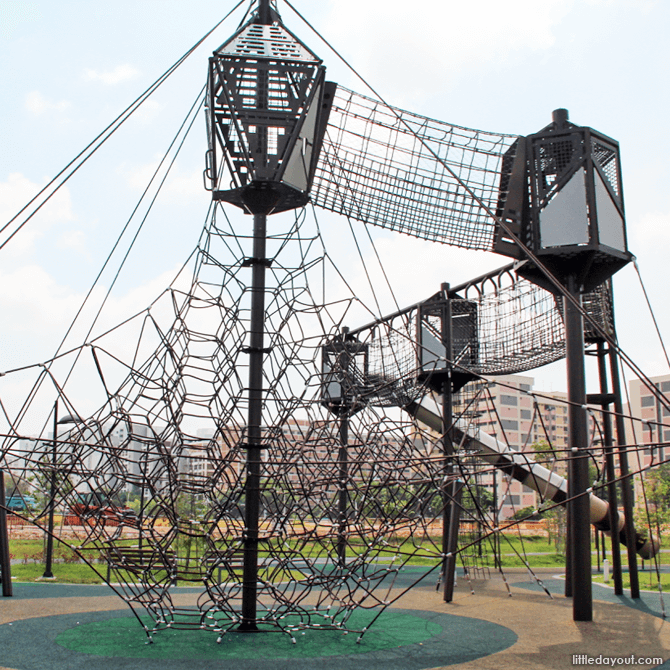 From there, they can exit the tower and cross a series of cargo net bridges and be rewarded with a thrilling view and ride down the equally fast and tall slide! Take note that the slide is still closed at the moment.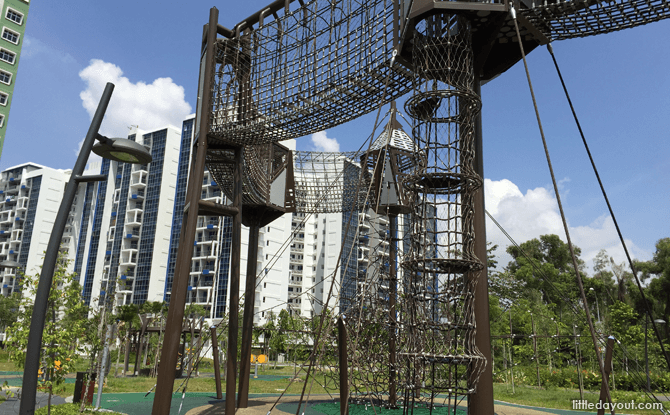 This is a great structure to build the confidence and motor skills of the children, as long as younger ones are supervised by a responsible adult.
---
What Else Is Around?
The large surrounding space of Tampines Green Forest Park is an ideal location for a run or a stroll around the area. There are jogging paths with a great scenery, as well as lawn spaces.
One can also visit the rain garden, a great initiative to not only act as flood control and increase the aesthetics of the area but also provide interesting planting opportunities. Next to the park is a coffee shop to grab a bite, and there is also a supermarket and other shops around the premise to pick up any daily necessities before making your way home. The entire area is also a few bus stops or a short drive away from the Tampines Interchange and Mall area, which is also a great spot to extend the wonderful day out.
Tampines Green Forest Park
Address: 879A Tampines Ave 8, Singapore 521879